Geogshop
Geography resources designed for use with the AQA specification
5Uploads
458Views
2k+Downloads
Geography resources designed for use with the AQA specification
A bundle of 10 powerpoints designed to guide your students through the AQA Geography 2020 paper 2 as a suite of revision lessons. Each lesson follows the Rosenshine Principles including a low stakes test, teacher instruction and deliberate practice. These lessons can be delivered face to face or online and only require a 2020 paper 2 for students to complete a section of each lesson. The lessons are focused on the content of paper including the skills that the students will need to display throughout the paper.
A Complete 13 lesson bundle of resources, with powerpoints/handouts and homework activities. Using the AQA Specification and focusing on water management. Case studies include the Wakel River basin/Lesotho and Burrator reservoir. The lessons follow the Rosenshine Principles and includes low stakes tests (which are easily adapted), teacher instruction, and tasks for deliberate Practice. Lessons can be easily adapted and differentiated as needed.
This booklet can be used as a tool for delivering CPD, or to help individuals understand the power of low stakes tests as a method of retrieval practice. It shows the components of effective low stakes tests, the theory behind the component and practical ideas of how to implement them. It is fully referenced and explains the science behind retrieval practice alongside suggestions for tailoring the tests to meet the needs of your subject.
AQA GCSE Geography vocabulary mats for various units Unit 1 Section A (natural hazards) Unit 1 Section B (the living world) Unit 1 Section C (rivers and coasts) Unit 2 Section A (urban issues and challenges) Designed to be used throughout the module, and placed on the desks whilst they are working. Ideally I would suggest they are printed on A3 in colour, and laminated for durability. It can be used in conjunction with vocab tests to support weaker students and show differentiation. I have used them as part of starter activities, when adding definitions or key words to the board, supporting students in decoding exam questions, or a memory jog for other tasks. At a time when promoting literacy and subject relevant terminology is paramount I would not teach a lesson without one. The students find them really useful, and some have asked for copies of them to aid their revision.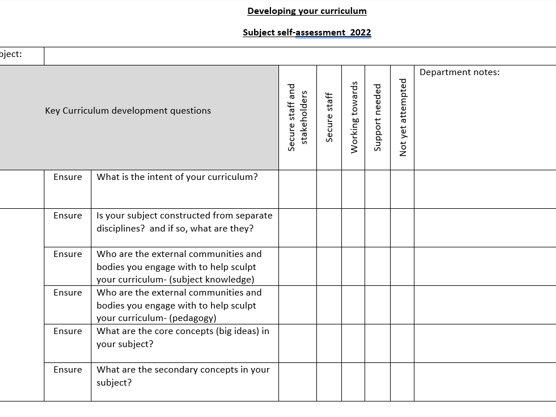 Two documents, which will help anyone looking to develop the curriculum of either their subject or in the leadership of curriculum intent and implementation across your school. The first is an extensive self evaluation document which will help departments refine their thinking about curriculum development, and will help leaders construct a strategic way forward for the department they are working with. It will help teachers understand the difference between ensuring and assuring their curriculum, and how they can do that. Includes a jargon buster for curriculum language using references from Ashbee, Counsell and Myatt The second is a proforma for a comprehensive mid term plan. Includes all elements needed for staff to be able to articulate their curriculum.