Lynny Welch's shop
Predominately resources aimed for a year 1 class but also includes wider curriculum resources for the primary phase
13Uploads
2k+Views
2k+Downloads
Predominately resources aimed for a year 1 class but also includes wider curriculum resources for the primary phase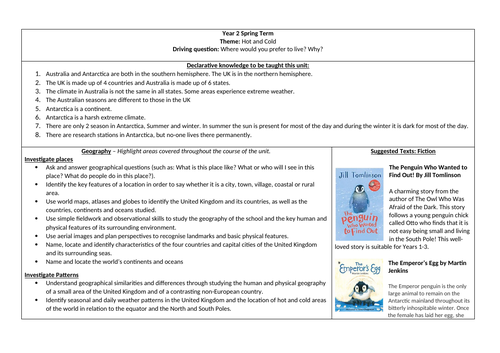 This geography unit is aimed at year 2 pupils but could easily be used in year 1 too. Children will learn about the geographical features and locational knowledge of Australia and Antarctica including weather and climate, famous landmarks and native animals and their habitats. Includes links to key tests that can be used to support children's understanding and video clips.
A six session science plan for identifying and name common plants and trees linked to the Year 1 Science National Curriculum objectives.
Help your children identify the difference between nouns and adjectives with this simple sorting activity. This can easily be turned into a simple tuff tray activity or used as part of group or whole class work.
These sentences were designed to work alongside the jigsaw piece conjunctions. I cut them and added them to a tuff tray for the children to read and create their own sentences using the conjunction and, but, so and because.
A true or false fact sorting activity to support money recognition in year 1. Children sort the statement cards E.g. There are 4 copper coloured coins into the correct piles.
This is a history timeline covering the main events taught in our school's curriculum that can be adapted for use within the primary classroom. The Key Stage 2 version is a full set of cards(35 in total) whilst the KS1 version is a smaller selection. Included is also a template for those people who wish to add their own cards to personalise their timeline with local historical events or other areas of the national curriculum.
A series of writing booklets designed to encourage and inspire writing in continuous provision in EY/ KS1. The themes were selcted to meet children's current interests and can be adapted to meet the needs of your own children. Once printed, I added a selection of coloured paper and stapled to make a writing booklet.
These natural themed labels have been designed for use in my science investigation area of continuous provision to support children's self selection and return of equipment.I have backed them on brown card.
A set of science inquiry vocabulary cards for use in a general classroom science display. Vocab included: experiment, examine, test, predict, discover etc.
A set of natural themed reading area labels with written and pictorial description designed for use in EY/ KS1 but could be adapted for KS2
A set of general classroom labels for exercise book storage with a natural theme, A publisher and a pdf version is attached to allow for editing and personalisation if desired. Font used is CCW cursive writing 1 but could be changed to the Twinkl precursive font or similiar quite easily.
Planning for a topic on Tudor Exploration designed for upper key stage 2 but could be adapted for lower ks2 as well.