Lrabbetts's Shop
Geography teacher with a passion for producing high quality, innovative resources with pupil led activities.
217Uploads
380k+Views
187k+Downloads
Geography teacher with a passion for producing high quality, innovative resources with pupil led activities.
A full set of revision cards for Paper 1.They include tectonic hazards, weather hazards and climate change, ecosystems, rainforests and hot deserts, rivers and coasts. They are editable so you change any questions to reflect the case studies you have covered.
Lesson to get pupils to understand the weather associated with the passage of a depression. Involves pupils putting together a pop up diagram to show what the depression would like on a weather map, in cross section and what weather would be experienced as the depression passes over Britain. At the end of the lesson to test understanding there are some questions asking pupils to describe the weather at certain locations. To go with this there is a peer assessment sheet to indicate what went well and what would be even better.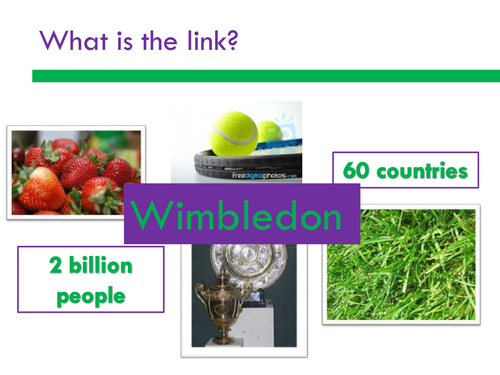 Power Point with activities and worksheet to go with it. In the notes it tells you the sigificance of the numbers on the first slide. You need to see it in slide show mode to reveal the last two clues separately.
12 lesson with a wide variety of differentiated activities including fieldwork in the school grounds. Topics covered include measuring the weather, micro climate, weather forecasting, types of rainfall, air masses, depressions, tropical storm causes and preparation as well as a case study lesson on Hurricane Irma.
Designed for the new AQA GCSE. Pupils create fact files comparing the two earthquakes uses the Oxford textbook (one with the ant on the front). Works really well as a cover lesson or as flipped learning for pupils to complete at home.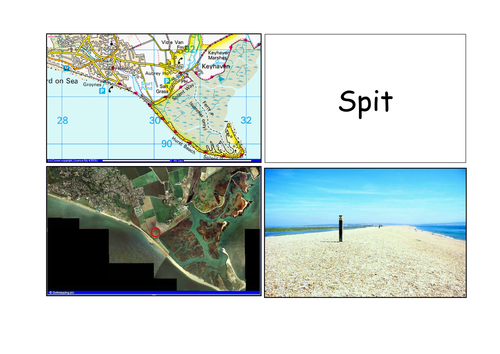 Activity for pupils to match coastal feature names, with photos, aerial photos and OS map views.
The lesson is a carousel activity with four stations covering the location, primary effects, secondary effects and responses. At each station there are a choice of 3 different differentiated activities to complete.
Lesson designed for new AQA. Includes some practice exam questions.
A lesson covering how weather forecasts are made, how they are interpreted and how useful they are. Includes a support work sheet for lower ability. Also weather forecasts interpretation exercise to improve skills and an exam style, to what extent question, with peer assessment sheet.
Knowledge organiser summary of map and atlas skills perfect as a one page summary for revision.
Pupils can cut out the cards and fold them down the middle so the questions are in the front and the answers are on the back. Perfect for at home revision.
Printable revision cards for pupils. They can cut them up and fold them in half so the questions are on one side and the answers on the other. I have used Chile and Nepal for the case study questions but these can be edited to suit what you have studied.
Pupils cut out the revision cards and fold them down the middle dotted line so they have the questions on one side and the answers on the other. The cards include ecosystems, rainforests and hot deserts. The case studies I have used are Malaysia for rainforests and the Thar Desert but the cards are easily edited to reflect any different case studies.
Introduction lesson to hot deserts. It covers what they are like, locations, climate, as well as plant and animal adaptations. Includes map and atlas skills, climate graph plotting and data calculations.
A whole lesson covering the challenges of development in a hot desert using the Thar as a case study. The lesson includes a card sorting activity as well activities to help pupils decode and answer a 9 mark exam question on the topic. It also includes a sample exam answer for pupils to mark and improve.
An assessment activity that gets pupils to design an animal perfectly adapted to living in a rain forest environment. Pupils can show their knowledge of rain forest climate and structure in this task which is designed to be peer or self assessed. There are a selection of ideas pupils can use to get them started or support the ower ability pupils. It includes what went well and even better if statements that can be highlighted to show the standard of work. There is also a SPAG assessment section too.
Lesson introducing coastal features. Includes uses maps, aerial photos, fiction and art work.
Pupils can cut out the cards and fold them down the middle so they have the questions on one side and the answers on the other.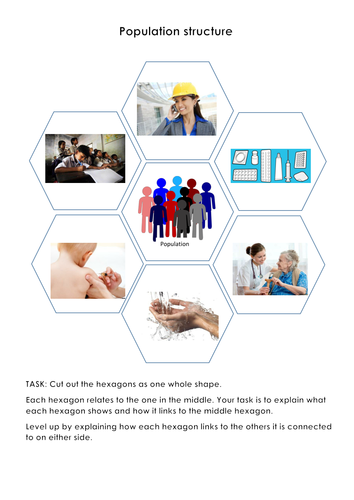 Activity for pupils to draw and compare population pyramids for The Gambia and The UK, using 2016 data. There is a outline set of axes with an example plot on it for lower ability pupils and a labelling activity to pupils to demonstrate their ability to interpret the graphs. In addition there is a visual hexagons task which asks pupils to explain various factors and their influence on population size and structure which would make a good homework task.
Pupils show their knowledge of the layers of the earth by creating a design for a machine to dig to the centre of the earth and annotating it. Includes a self/peer/teacher assessment table which can be highlighted for quick marking.