Magical world of stories
Passion for teaching makes me creative and unique.
14Uploads
354Views
29Downloads
Passion for teaching makes me creative and unique.
Need a way to effectively manage the behaviour/behavior of your students? This clip chart works well with primary students for classroom management. Students move up or down the chart (ladder) depending on the behaviour displayed. This is a great way for students to self-regulate. Students can start the day by placing themselved ( Cloth pegs with student name ) on the ready to be respectful level . Please click on PREVIEW to see all parts of the chart.
"Attitudes" are part of the Essential Elements of the PYP written curriculum. If you teach in an IB school these attitudes will help you promote the learner profile traits in your students . A positive attitude can take your students a long way.
This resource contain engaging classroom activity to support math teachers to reinforce and teach angles : Right Angle, Acute Angle, Obtuse Angle .
Print and frame these 8 beautiful IB PYP Key Concept posters in your classroom. Each poster includes the name of the key concept, a corresponding question, and the description . The Key Concepts include Responsibility, Causation, Function, Connection, Perspective, Change, Form, and Reflection. Turn this into a learning experience by having students design their own posters with symbolic images.
These IB PYPLearner Profile posters are perfect for your IB classroom! This set contains : 1.IB learner Profile Attributes poster ( both coloured and black in while) 2.Two sets of coloured ( water color and crayon ) learner profile display cards . 3.One set of black in white (beautiful on colored paper) learner profile display cards Bonus : International Mindedness poster ( both coloured and black in white) IB PYP Learner Profile Posters included: Inquirers Knowledgeable Thinker Communicator Principled Open-minded Caring Risk-taker Balanced Reflective
Keep your class behaving all year long with these bright classroom rules! Rules are written in simple kid-friendly "We" statements! IB PYP Learner Profile Attributes are integrated into the class rules/agreement. Add more rules to fit into your classroom routine!
This is an UPDATED version which replaces both the PYP and the Revised PYP Approches to learning (ATL ) Skills . It incorporates the IB wording changes that will be put in place after the enhacement .
Contains two set of buntings for all the letters in the English Alphabet. Conveniently printout the required letters to form your personalized welcome board / stations / corners in your classroom .
Contains 15 different types of editable blank labels on a PPT •Edit and add text to personalize as per your requirement to label classroom resources / work stations / books / reading baskets / class library in your classroom . • In order to add text :- Click on Insert tab – then click on Text Box . • Place the text box where required . Then type your content as required
Student initiated action is an important component in the whole learning process . IB has now defined with clarity how does Action look like in a global context . Action is re-defined under the sub categories : Participation Advocacy Social Justice Lifestyle Choices This file contains student friendly poster ( both coloured and Black in white ) for the action wall in the classroom .
This colourful set of IB PYP Trans Disciplinary themes posters is a great way to display the theme of your unit. The kid friendly language helps with the understanding of the overall theme and allows the children to make that connection between your central idea and the theme. Display them altogether or simply introduce each theme as you begin a new unit of inquiry. Either way that you choose, it's a wonderful way to introduce the new unit as you also introduce the central idea and key concepts. You can find many more IB PYP ideas and resources in my stores
Complete set of classroom display posters to begin the year with . The Bunddle comprises of IB PYP ATL Skill ( Enhanced Version ) IB PYP Key Concepts IB PYP Learner Profile Attributes IB PYP Transdisciplinary Themes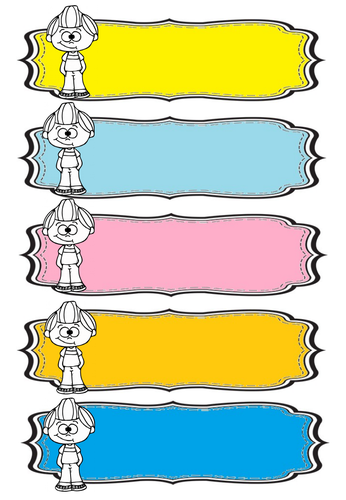 Editable Name Tags PPT Easy and convenient for labeling classroom resources and student belongings. The file contains both coloured and Black in white Labels which can be printed out on sticker sheet or on colour sheets . Classroom Labels ( Editable )