Meridian
High interest learning resources for the Middle School student - fun, challenging and varied.
63Uploads
12k+Views
3k+Downloads
High interest learning resources for the Middle School student - fun, challenging and varied.

A challenging topic, but one that needed to be discussed in my class. The worksheets cover both sides of the debate about gun control and the right to bear arms, and students are encouraged to develop their own opinions. The worksheets created a lot of discussion by focussing on the slogans, the statistics and analyzing and rewording the Second Amendment. This pack includes 12 worksheets on different aspects of the topics and like all of my work, approaches the activities from a cross-curriculum point of view. So the activities include graphing tasks, language analysis, interpreting political cartoons and identifying arguments in a debate. There is also an answer key at the end of the pack, with possible responses to all debating points and** mistypes have been corrected in this updated version.**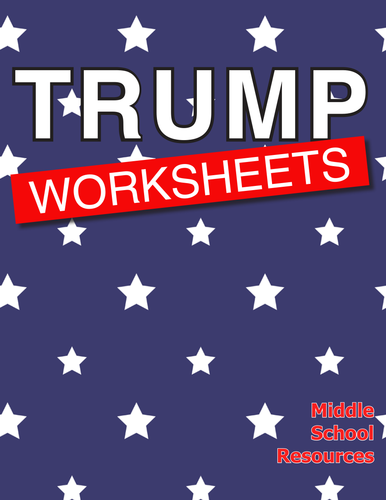 Great political topic for any middle school social studies class that can be used during the Presidential campaign. This pack includes 12 pages of worksheets with answers and a 10 page illustrated booklet of the life and times of Donald trump. Activities include political speech analysis, political cartoon analysis, creation of a timeline and a family tree, all based on the life and times of Donald Trump. The pack doesn't take any political viewpoint - just uses the biography and speeches of Donald Trump to learn skills through various cross-curriculum activities.

"I find television very educating. Every time somebody turns on the set, I go into the other room and read a book." - Groucho Marx "The problem with common sense is that most people are morons." - The Sarcasm Society Sarcasm can be witty, but in the school environment it can be hurting. Teach your students to recognise sarcasm and to be careful with its use. This bundle includes a great introductory Full Quality narrated slidedeck that introduces the topic of sarcasm. The slidedeck includes: - samples from Groucho Marx, - how sarcasm can hurt others, - some samples for students to test their sarcasm detector, and - some examples for sarcastic body language. The bundle also includes a starter pack of humour worksheets centred around the topic of Sarcasm. Topics include: - Irony v Sarcasm - Sarcasm Detector - Sarcasm as Verbal Bullying - Groucho Marx and his form of Sarcasm - Comparing Sarcasm with being Sincere - Plotting types of Sarcasm on the Nasty v Nice scale, and the Funny v not Funny scale ... and more Great fun for the classroom, but this pack also relates to the topic of emotional bullying and how some words that seem funny to others can impact a victim's feelings.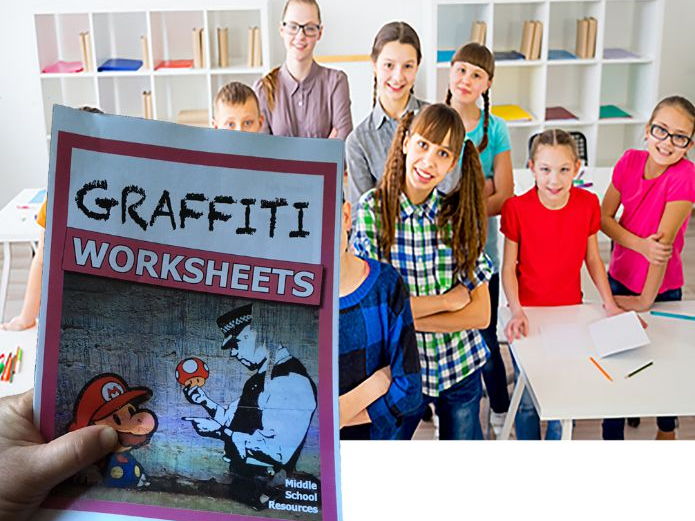 Some great investigative worksheets on the cross-curriculum topic of Graffiti. Here I have used student interest in the topic to explore various cross-curriculum areas such as math, social science, debate, visual arts, and history. I find the cross curriculum nature of these units provide so many learning opportunities. The packs covers the following topics: - Street Artists such as Banksy - School policy on dealing with graffiti - Investigation on graffiti removal products - reading a chart - Experimenting in Street Art - Art v Vandalism arguments - Creating a Tag - History of Graffiti - Graffiti Poetry Response This is NOT a course in Graffiti, but rather a stimulus pack of activities that uses various skills to investigate the topic of Graffiti. Suitable to Middle Schools Students in both interest and ability level. 23 pages in total Answer key included. For more information about the author, go to malcombrown.com.au

A great little illustrated resource pack outlining the life and times of Donald Trump. This person is very prominent in all our news and daily discussions and so my students wanted to know more about where he has come from and what he has done. Concepts such as bankruptcy, military intervention, free trade, illegal immigration - these are all touched on in this short and easy comic-book style reader, right up to point where is now the newly elected President. The presentation really brings the biography alive and encourages further research by Middle School students to find out more about some of the important topics. 11 full color pages. No political view is taken in this resource.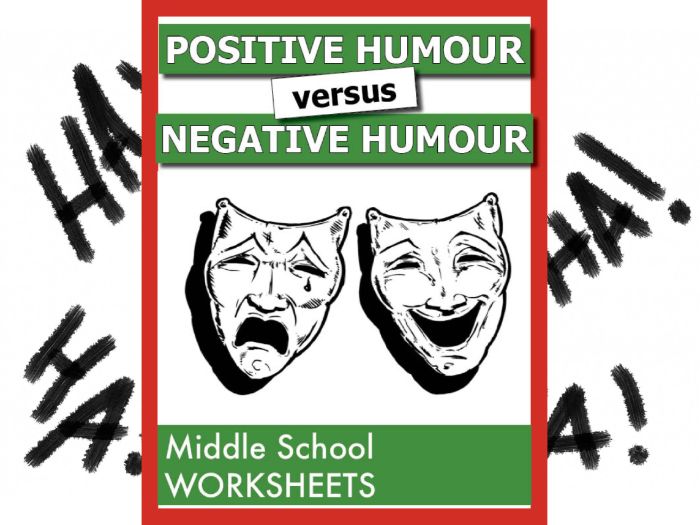 It is important for any student to understand the difference between the two types of humour - one that hurts and offends, compared to the type that makes you feel good, energised and relaxed, and there are no victims that feel bad. These ten worksheets focus on helping Middle School students identify the difference between the types of humour. The worksheets analyse the Sarcastic Wit, the Nit Wit, and the Clowning Wit. I have found that teaching humour in the classroom is such fun - of course - and it can have relevance to many parts of the curriculum. Answer key included