Meridian
High interest learning resources for the Middle School student - fun, challenging and varied.
63Uploads
12k+Views
3k+Downloads
High interest learning resources for the Middle School student - fun, challenging and varied.

A challenging topic, but one that needed to be discussed in my class. The worksheets cover both sides of the debate about gun control and the right to bear arms, and students are encouraged to develop their own opinions. The worksheets created a lot of discussion by focussing on the slogans, the statistics and analyzing and rewording the Second Amendment. This pack includes 12 worksheets on different aspects of the topics and like all of my work, approaches the activities from a cross-curriculum point of view. So the activities include graphing tasks, language analysis, interpreting political cartoons and identifying arguments in a debate. There is also an answer key at the end of the pack, with possible responses to all debating points and** mistypes have been corrected in this updated version.**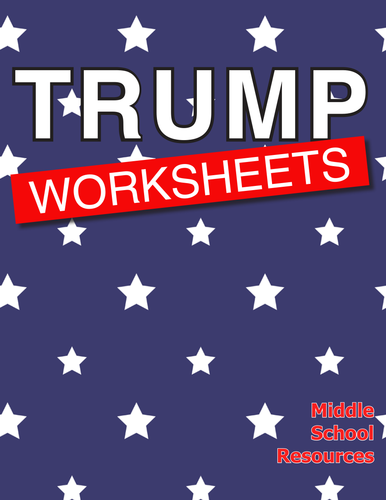 Great political topic for any middle school social studies class that can be used during the Presidential campaign. This pack includes 12 pages of worksheets with answers and a 10 page illustrated booklet of the life and times of Donald trump. Activities include political speech analysis, political cartoon analysis, creation of a timeline and a family tree, all based on the life and times of Donald Trump. The pack doesn't take any political viewpoint - just uses the biography and speeches of Donald Trump to learn skills through various cross-curriculum activities.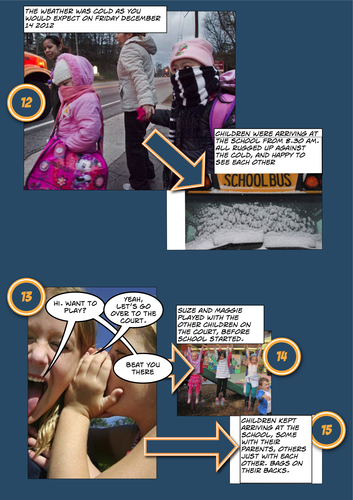 This is a resource I used with my 'Gun Control | Gun rights' pack. It was created using 'Comic Life' and steps through the sequence of events that occurred before, during and after the Sandy Hook Tragedy. The 20 page booklet is not a detailed account of the events on the day, or the desperately sad aftermath, but is a clinical description of events as they occur, and a description of the perpetrator's childhood. There is a reading response worksheet at the end of the story, encouraging students to reflect on the event and respond to its impact on life.

A great little illustrated resource pack outlining the life and times of Donald Trump. This person is very prominent in all our news and daily discussions and so my students wanted to know more about where he has come from and what he has done. Concepts such as bankruptcy, military intervention, free trade, illegal immigration - these are all touched on in this short and easy comic-book style reader, right up to point where is now the newly elected President. The presentation really brings the biography alive and encourages further research by Middle School students to find out more about some of the important topics. 11 full color pages. No political view is taken in this resource.

One of the most common events that will happen to anybody who enters work life, will be to participate in meetings. It is important for Middle School students to start learning how to conduct themselves at meetings, and to learn about meeting procedures. This pack of worksheets includes activities on: creating an agenda note taking being a chairperson taking minutes proposing a motion Have fun conducting your own class meetings once these worksheets have been completed. Learn more about the author at Malcom Brown I'd be really disappointed if anyone is not happy with these packs, so if that's you, please get back to me and your money will be very happily refunded. I'd really like some feedback too, so all comments most welcome.