Mavice's Materials
Resources for KS3 and KS4 English
85Uploads
23k+Views
6k+Downloads
Resources for KS3 and KS4 English 110 slide powerpoint with lesson plans and activities to go alongside reading of Wonder by RJ Palacio. Used with an extra literacy class in year 8 but can be adapted. A collection of poems for Section C of the AQA Literature Exam. Suitable for classwork or homework. 16 poems / 8 example exams broken up into sections. Each section has two scaffold sheets and sheets to write up an answer. On the answer sheets, there is a copy of the mark scheme and space to self/peer/teacher assess. Includes a front cover to explain how to answer the paper. Can be editted. Lesson on Gerald Croft. Focus on 'We're respectable citizens not dangerous criminals'. Link to Harvey Weinstein / exploitation of power in 2018. Worksheets included. 15 thinking mats to develop vocabulary for the study of Romeo and Juliet Thinking mats to help students learn new vocabulary. 30 page booklet suitable for starters / homework. Week of lessons - PPT and work book. Includes notes and tasks for Stave 3. Also includes writing booklet to develop skills - punctuation and sentence structures. I used these with a lower ability GCSE class but they would suit a variety of classes. FULL SCHEME for every stave is also available as a bundle. A magenta work booklet to help pupils develop tier two vocabulary. A series of tasks based on writing for purpose. Our topic this half term is teenage runaway so many of the tasks are linked to this or the issues facing teenagers. However, these can be adapted very easily. Includes analysis Boris Johnson's address to the nation on coronovirus and some links to the English Language GCSE.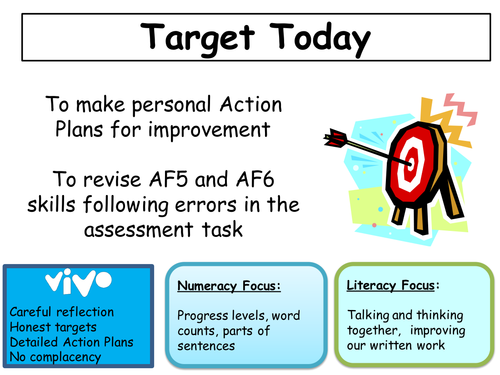 A PPT showing how to use parenthetic punctuation - links to Beyonce or football. A revision guide for pupils - lots of key quotes from each Act. Fully analysed with terminology in bold. Includes a summary of what to do for AQA Literature Paper 1 and a page about the context of the play. Useful if pupils have gaps in knowledge / poor notes. Resources linked to the pilot papers provided by AQA. They are designed for Year 9 but I have used them with low ability GCSE. Starter to help pupils understand tone and perspective, particularly in 19th century texts. PPT to scaffold answers to Questions 1 - 5. Worksheets to help with Q2, 3 and 4. Used with top set before the English Literature GCSE - we got 27 level 9s :) Includes a worksheet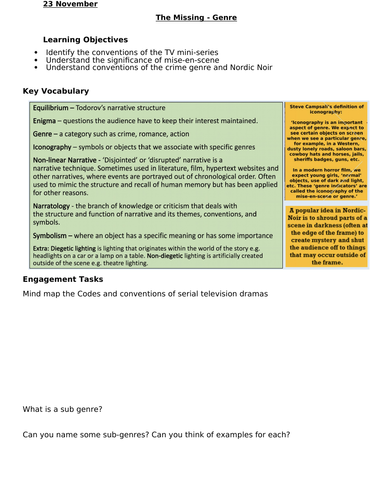 Introduction to The Missing - 3 lessons with PPTs and a student workbook Includes theory - Claude Levi-Strauss, Neale, Todorov, Gerbner. A Powerpoint with several worksheets to scaffold analysis of The Manhunt. Students from Y7 to Y11 have always loved this lesson. Worksheet on semantic fields Worksheet based on an article in National Geographic about PTSD and art therapy Worksheet on selecting relevant evidence from poems Sentence starters for PETAL paragraphs WWW EBI sheets Thinking mats to help students revise the anthology poems. This is for Love and relationships but the titles could be changed very easily to suite power and conflict. Each mat has activities linked to the AOs / magenta principles and an inspirational quote. Powerpoint and work booklet for KS3 PSHE Links to U-explore site can be used or removed. Includes: Pictionary Kagan tasks Careers Monopoly Careers Snakes and Ladders Celebrity job histories Dr Seuss Mock interviews with a speed dating twist Videos from Barbie and more! Aimed at Y8 - PPTs for context and each chapter plus reading and writing assessment tasks. Links to global learning included. Four lessons on risk - one of the topics that must be covered when PSHE becomes statutory in 2020. PPTs and worksheets/booklets as well a child friendly version of the Sensation Seeking Scale Questionnaire designed by Dr Marvin Zuckerman. Also includes an end of topic evaluation to demonstrate progress. Can be editted. A simple yet effective worksheet to help pupils consolidate learning and demonstrate progress Two copies - one A4 sheet or two A5 sheets