Mavice's Materials
Resources for KS3 and KS4 English Resources can also be created on request
103Uploads
29k+Views
8k+Downloads
Resources for KS3 and KS4 English Resources can also be created on request 110 slide powerpoint with lesson plans and activities to go alongside reading of Wonder by RJ Palacio. Used with an extra literacy class in year 8 but can be adapted. A collection of poems for Section C of the AQA Literature Exam. Suitable for classwork or homework. 16 poems / 8 example exams broken up into sections. Each section has two scaffold sheets and sheets to write up an answer. On the answer sheets, there is a copy of the mark scheme and space to self/peer/teacher assess. Includes a front cover to explain how to answer the paper. Can be editted. A Powerpoint to help students analyse the Biden speech, picking out rhetorical devices and discussing their effects. Includes an extension to write up the analysis or write their own speech. Could be used in KS or as GCSE prep. Works for home learning. Lesson on Gerald Croft. Focus on 'We're respectable citizens not dangerous criminals'. Link to Harvey Weinstein / exploitation of power in 2018. Worksheets included. Week of lessons - PPT and work book. Includes notes and tasks for Stave 3. Also includes writing booklet to develop skills - punctuation and sentence structures. I used these with a lower ability GCSE class but they would suit a variety of classes. FULL SCHEME for every stave is also available as a bundle. 15 thinking mats to develop vocabulary for the study of Romeo and Juliet A lesson exploring the theme of oppression in I Know Why the Caged Bird Sings. I have used this as part of a poetry scheme but also as a bridge into texts such as Of Mice and Men. Worksheets are included and students from Year 7 to Year 10 have loved studying this poem. A powerpoint and worksheet to support analysis of the poem. A revision guide for pupils - lots of key quotes from each Act. Fully analysed with terminology in bold. Includes a summary of what to do for AQA Literature Paper 1 and a page about the context of the play. Useful if pupils have gaps in knowledge / poor notes. Week of lessons - PPT and work book. Includes notes and tasks for Stave 4. I used these with a lower ability GCSE class but they would suit a variety of classes. Full scheme also available. A PPT and worksheet to scaffold a debate about Lady Macbeth's role in Duncan's death / Macbeth's downfall. This has worked well with set one and set 8! Links to assessment objectives throughout. Can be edited.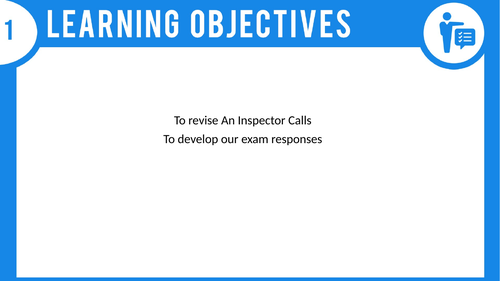 A PPT with an example answer to improve. Includes slides on vocabulary and links to the AQA mark scheme. Focus is on Sheila, Mr Birling and social responsibility. Thinking mats to help students learn new vocabulary. 30 page booklet suitable for starters / homework. A Powerpoint with several worksheets to scaffold analysis of The Manhunt. Students from Y7 to Y11 have always loved this lesson. Worksheet on semantic fields Worksheet based on an article in National Geographic about PTSD and art therapy Worksheet on selecting relevant evidence from poems Sentence starters for PETAL paragraphs WWW EBI sheets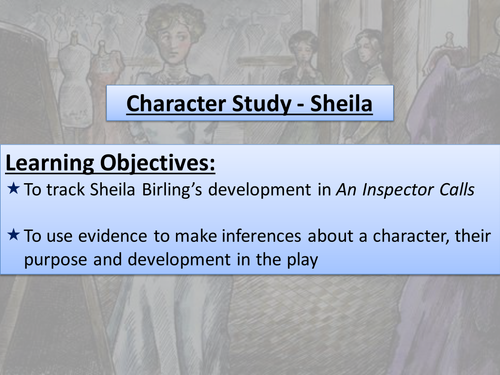 Revision of the characterisation of Sheila and tasks to help students learn key quotes and document Sheila's change during the play.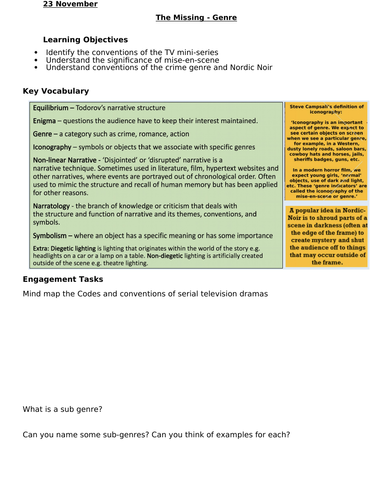 Introduction to The Missing - 3 lessons with PPTs and a student workbook Includes theory - Claude Levi-Strauss, Neale, Todorov, Gerbner. Workbook / activities to support development of vocabulary and use of subject terminology. Would also work as a homework booklet. Links to WW1 poetry and creative writing but can be adapted easily. Students write a description of New York using extended metaphors - worksheet to scaffold understanding of this. Several worksheets on using subordinate clauses, colons and semi colons. Worksheet for developing a character - we first discussed this as a class and used mini drama tasks to bring the character to life and generate more interesting descriptions (show don't tell) Additional story mountain sheet if students need support with planning. A simple yet effective worksheet to help pupils consolidate learning and demonstrate progress Two copies - one A4 sheet or two A5 sheets