Maxwell01782's Shop
Curriculum Leader of ICT, Computer Science and Public Services in an Outstanding 11-18 School.
90Uploads
246k+Views
145k+Downloads
Curriculum Leader of ICT, Computer Science and Public Services in an Outstanding 11-18 School.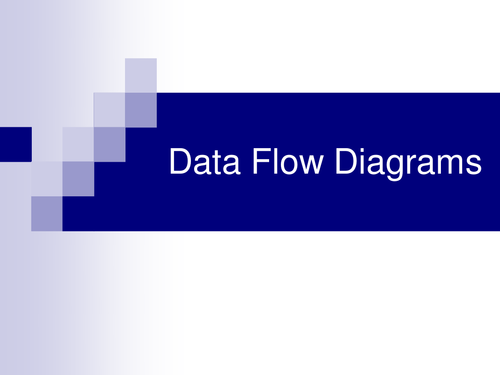 A self contained presentation on how to set up Level 0 and Level 1 Data Flow Diagrams. Can be used for GCSE and A Level lessons or as a revision aid.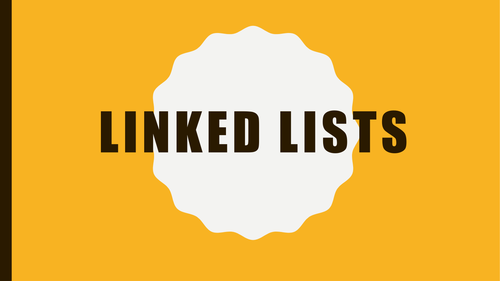 Linked List questions with answers. Can be used as a lesson resource to check understanding of how to work out Linked List's as diagrams and as Tables including adding and removing items.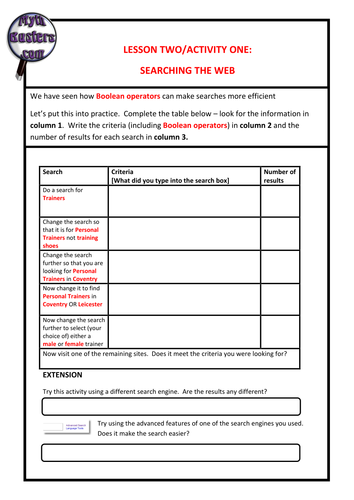 A range of resources and activities to allow you to effectively deliver the Digital Literacy 'web searching' strand.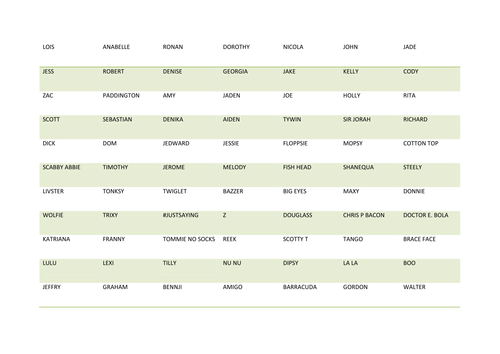 Been given the task to run a stall for a charity event in school? Short of time? Just download this activity where pupils guess the name of the teddy bear (not supplied). Blow the sheet up to A3 and you are all set - saves getting soaked in the sponge throwing stall!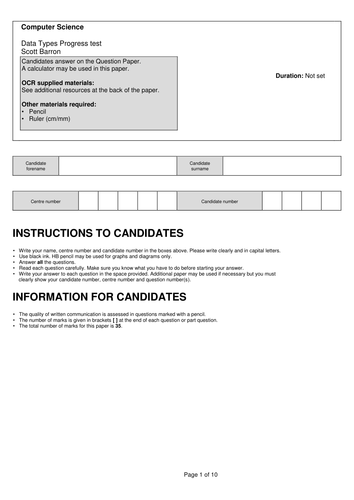 Suitable for AS and A2 revision on the topic of Data Types. Twos compliment etc. comes with mark scheme.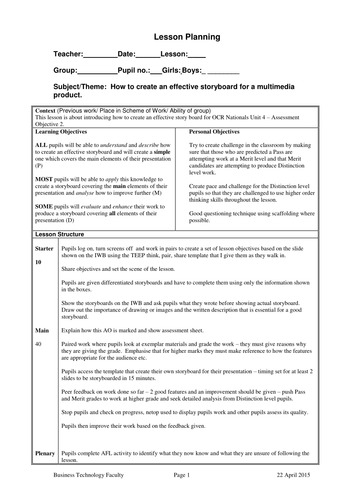 Storyboarding lesson suitable to be used at all levels. The pupils complete different storyboards depending on their ability before the actual completed storyboards are shown to them for them to compare against. They are then provided with a template to complete for their own work. This lesson was used successfully to teach this topic to OCR Nationals ICT students.
Selection & use of storage requirements, media & devices, different types of media and what the best use of them would be.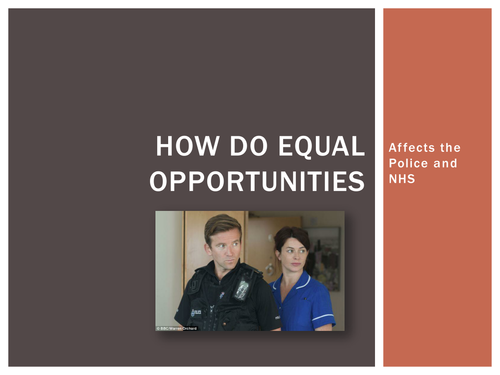 Short tasks for BTEC Public Services to help students gather and produce information for their essays or assignments. These are relevant for Unit 1 Government, Policies and the Public Services.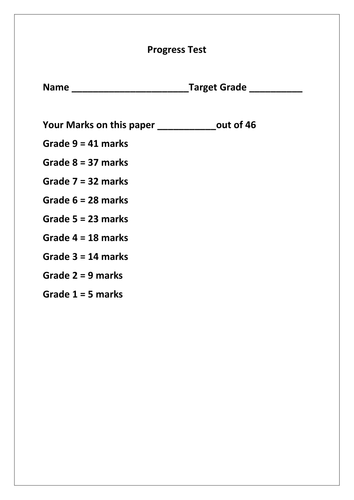 46 mark progress test suitable for year 10 or year 11 computer science students. Covers hardware, embedded systems, algorithms, algorithmic thinking, abstraction, decomposition, CPU, RAM etc. No mark scheme just the paper.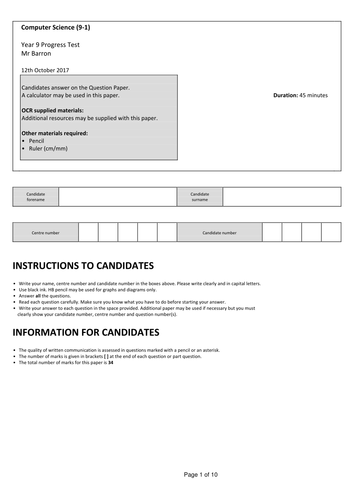 Designed to test progress of binary, hex, binary addition, digital representation of sound , ASCII, compression and logic.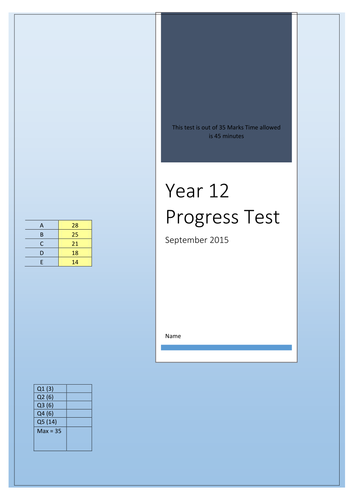 Test suitable for year 12 students to check progress or as a revision aid. There is an editable word document to allow you to customize the content/layout if you like and a .pdf file to use straight away. There is a mix of questions including a longer question at the end to test QWC. It is out of 35 marks and is designed to take 45 minutes. Covers the use of folders, application packages, generic software, use of word processing software, software distribution and a 14 mark question on presentation methods, devices and media.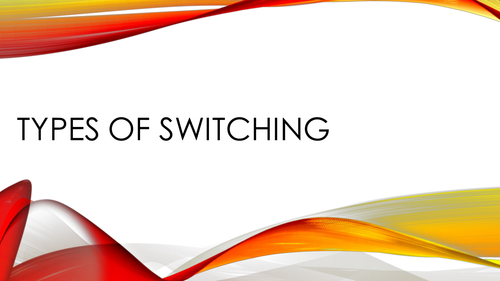 Lesson that covers types of switching as required by the new AS and A Level Computing specification. Contains an A to Z starter activity, recap questions, sample exam questions, the structure of a data packet and an idea for how you could use a practical activity, animation/video to explain, extension task. Designed to be used with OCR but would be suitable for any AS or A Level course.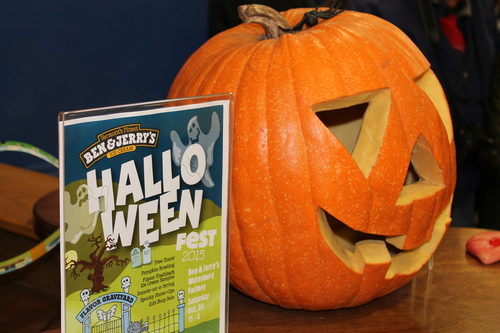 All of my BTEC resources in one bundle!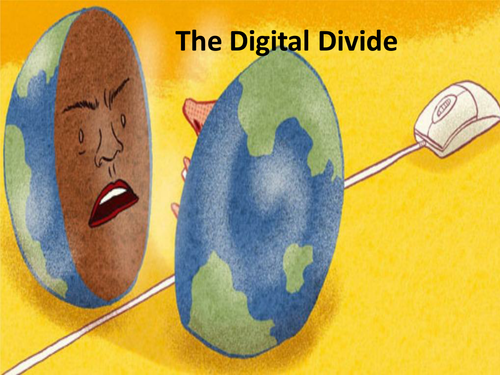 Presentation suitable to be used with KS3 or KS4 ICT students about the digital divide. Based around the questions which were in the Edexcel ICT June 2014 exam.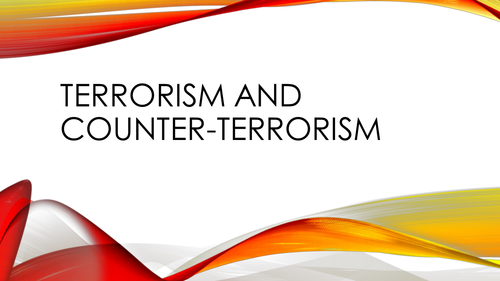 Designed for BTEC Level 3 Public Services but would be suitable for level 2 students. Covers P3 for Unit 8 War and Terrorism. Has a recap on prior lessons where they created drawings of what a terrorist looks like and who the IRA are, videos on the mindset of terrorists, 911 news video footage, an activity to challenge the students idea of what a terrorist is, methods of terrorists activity, scenarios to write a news article as part of P3. (I used this as part of a wall display which I then photographed as evidence)
AS Level project which can be used as a standalone activity or can be used to produce the sample work required for the AQA INFO1 examination. There is a scenario which has been structured to be open ended for differentiation and a presentation which guides the students through the process. There is a checklist included which can be used if using this resource to produce sample work for the exam. Enjoy.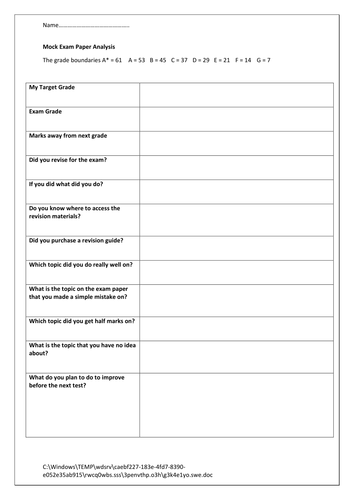 This is a sheet that can be used by pupils to analyse their own performance following mock exams or similar types of assessment. It asks them to reflect on how well they revised, what questions did they make silly mistakes on; which were easy for them; what areas to focus on in the future etc. which in these days of teacher accountability may be useful evidence to keep! There is an editable word document which just needs you to edit the exam grade boundaries for your own and a .PDF file without them that you can use straight away.
You must rename the ending of this file from .txt to .zip then double click on the folder to unzip the resources. There are 10 lessons, starters, plenaries, teachers resources, marking grids etc. This is a 10 week project which combines, word processing, spreadsheets, DTP, internet research etc to create a show to be held in your school.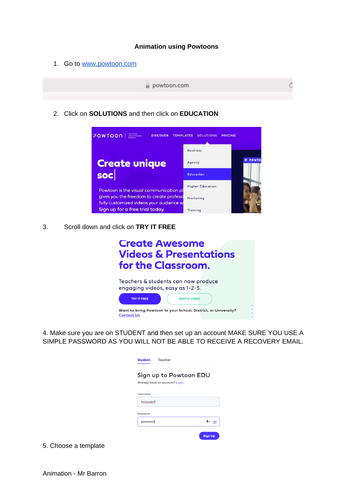 Simple guide to setting up an account using Powtoons animation online software with some challenges for pupils to work on.