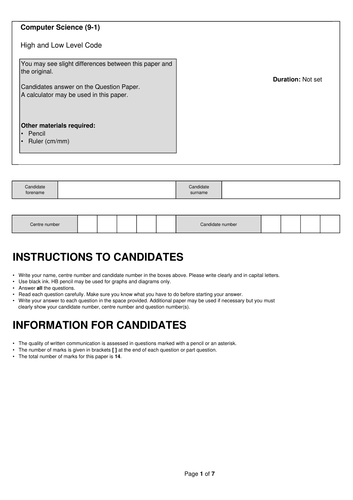 Suitable for year 9 onwards. 14 marks of questions to allow your pupils to master level of language. Mark scheme included.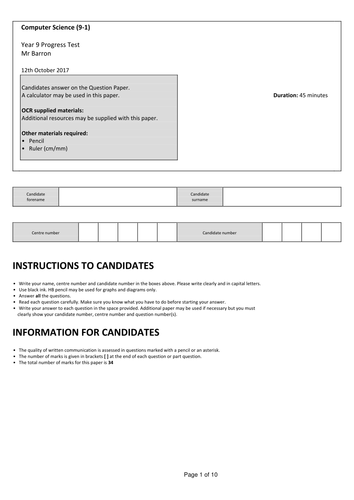 Designed to test progress of binary, hex, binary addition, digital representation of sound , ASCII, compression and logic.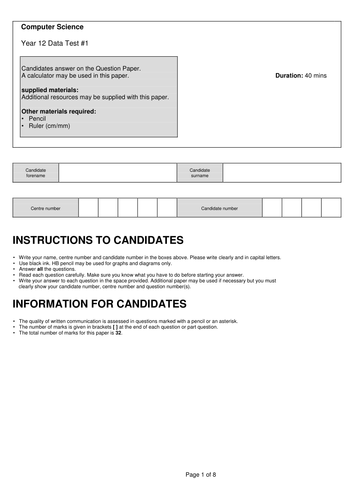 35 minute progress test on Binary, Hex, Negative Numbers, 2's compliment etc with mark scheme.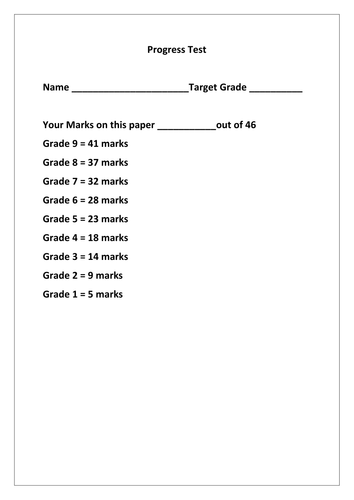 46 mark progress test suitable for year 10 or year 11 computer science students. Covers hardware, embedded systems, algorithms, algorithmic thinking, abstraction, decomposition, CPU, RAM etc. No mark scheme just the paper.
Hardware, software and utility software presentations, used with year 9 computer science classes.
Suitable for year 10 or 11. Includes problem solving, trace tables, algorithms, binary and hex and a 6 marker at the end. Designed to last for 50 minutes and worth 45 marks. No mark scheme just the questions.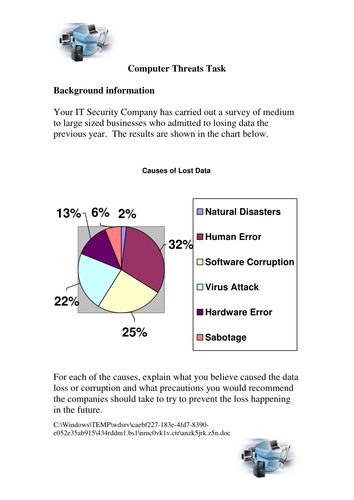 Lesson plan and three tasks. The lesson is based around 3 x10 minute group tasks on Network, Legislation and Computer Threats. Each activity can be used as a stand alone resource for a starter or plenary etc.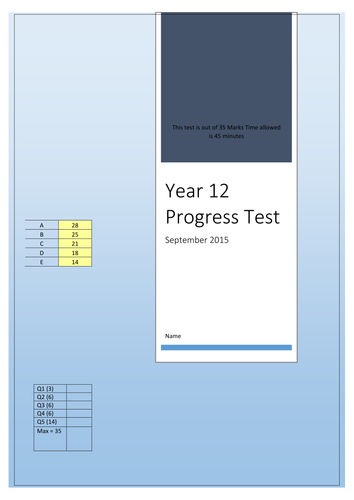 Test suitable for year 12 students to check progress or as a revision aid. There is an editable word document to allow you to customize the content/layout if you like and a .pdf file to use straight away. There is a mix of questions including a longer question at the end to test QWC. It is out of 35 marks and is designed to take 45 minutes. Covers the use of folders, application packages, generic software, use of word processing software, software distribution and a 14 mark question on presentation methods, devices and media.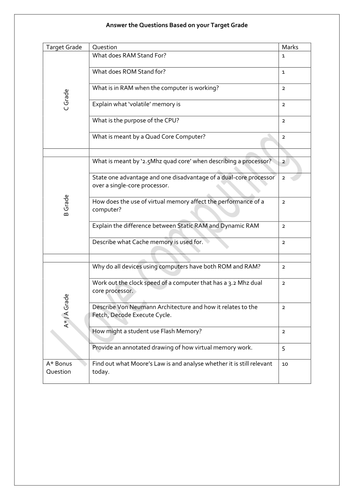 A set of questions on RAM, ROM, Virtual Memory, Cache Memory etc. which can be used in two ways. Ask the class to work through C to A* or just give the relevant questions to pupils working towards that grade.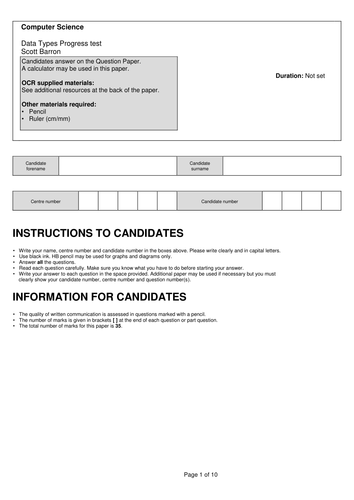 Suitable for AS and A2 revision on the topic of Data Types. Twos compliment etc. comes with mark scheme.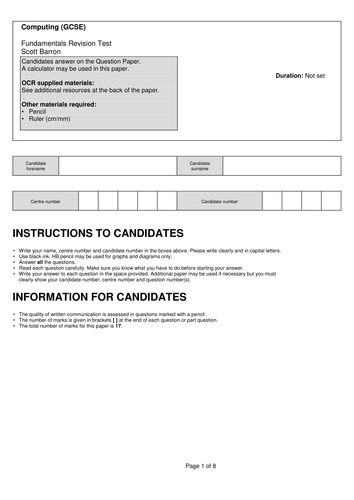 Year 11 Computing, A451 or new 9-1 Specification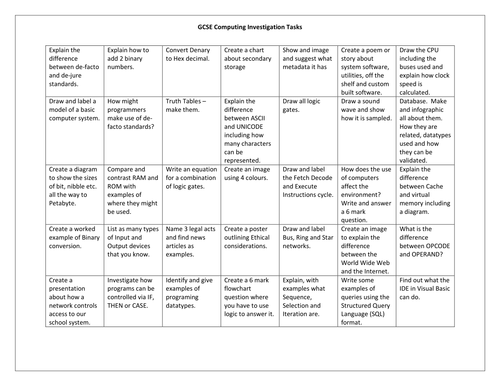 Can be used in groups or as individual tasks that all pupils attempt.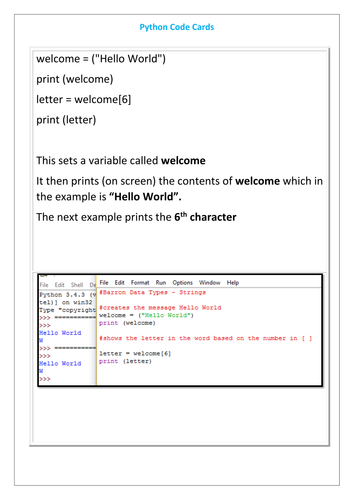 Set of 8 Python Cards in a .pdf format. Each can be printed out as a poster or printed out in A5, folded over as a task card or help sheet. The code shown is annotated to explain when should be seen.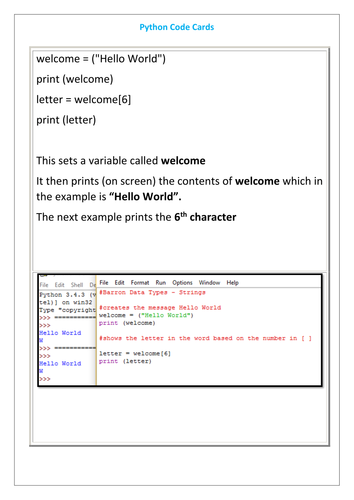 Set of 8 Python Cards in a .pdf format. Each can be printed out as a poster or printed out in A5, folded over as a task card or help sheet. The code shown is annotated to explain when should be seen. Word versions included for easy editing.
Python and Visual Basic Tasks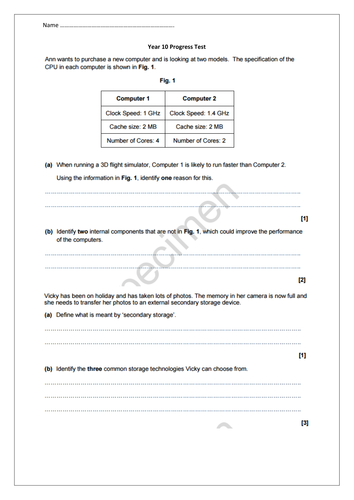 Year 10 Computer Science Progress Test (9-1). 32 mark progress test using questions from the OCR sample assessment materials (yes could do this yourself but this saves you time). There is no mark schemes but this is ideal as a cover lesson if you are off or for a bit of quiet time! The test covers hardware, WAN's, file sizing, algorithms, cloud, the acts.
Should take 1 hour. 51 marks covering Devices, Storage, Operating Systems, Testing, Test plans etc., Includes Exam paper, mark scheme, examiners notes for guidance.
GCSE Computing / Computer Science Timed Mini Test. Designed to take 25 minutes to put some pressure on them to perform. Mark scheme included, test is based on programming concepts, IDE's, logic etc.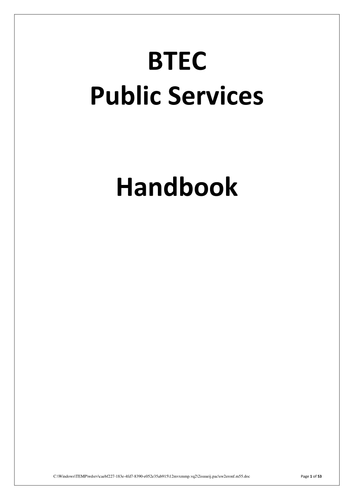 BTEC Level 3 Public Services Handbook. Includes all tasks for Unit 1 Government , Unit 2 Teamwork, Unit 3 Citizenship, Unit 5 Fitness, Unit 8 War and Terrorism and Unit 35 Land Navigation with Map and Compass. Includes a health screening questionnaire, a tick sheet for students to tick once the AO has been met. All tasks are mapped to assessment outcomes and referenced the the specification.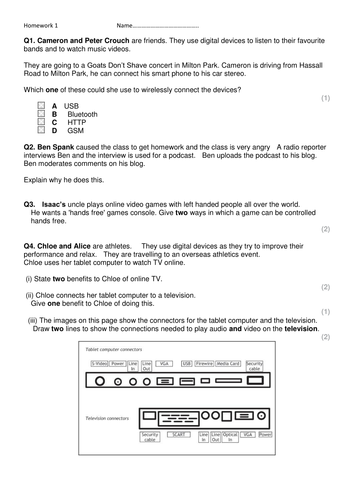 A set of 12 resources which are suitable for use as homework or in class tasks. Some have mark schemes with them, there are also some that have definitions to learn as part of the homework. They cover a good range of the GCSE ICT specification and will save you loads of time as you will have about a whole years worth of homework (e.g. one per fortnight). These are in word format so you can change the names to pupils in your class as they seem to engage with them more. Based on the Edexcel GCSE ICT specification.