SociologyRevision.com
Shop for SociologyRevision.com
14Uploads
12k+Views
2k+Downloads
Shop for SociologyRevision.com
This is a workbook to accompany lessons. Ideally, this accompanies the "Culture and Identity" lessons sold on my area as the lessons match each workbook session. This can be used either as homework or in the actual lesson as an activity. The workbook is 90 pages of activities/ questions and includes space for students to write in meaning no loose sheets (every teacher's dream). Includes differentiation and stretch and challenge questions for each lesson. Well worth the
Two key theorist sheets together saving 11%.
Complete this activity sheet for 20/20 in your MIC question. Simple and easy to use. These sheets offer the student a strong, clear structure, a checklist to ensure the student has all the items in there. I have successfully used this for many years and this ensures that all students, regardless of barriers, ensure a top band mark.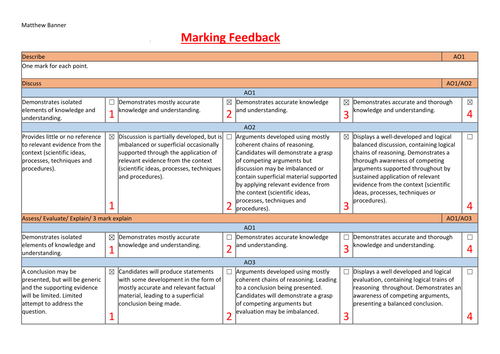 This is a simple marking sheet aimed at maximising feedback, whilst keeping time short. A simple tick of the box will allow students to know exactly where they are at for each AO in Psychology AQA. This provides students essentially with a WWW and EBI for future development. Also, on the second page there is an area for student feedback. This is an important step in understanding how students can progress. All in all, for just £3, this quickens marking whilst helping students understand how to move forward.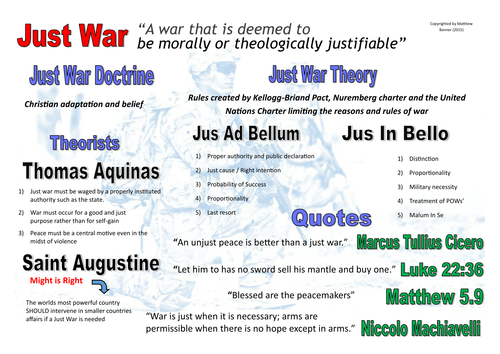 A colourful and concise detailed revision mat for the Just War topic, usually found in Religious studies or History. It measures two A3 sides (single double sided sheet) and covers all key concepts in a smart unique way which is easily accessible for students.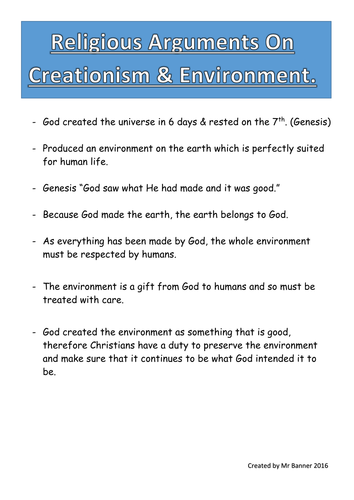 This is a work booklet which will last at least a few lessons aimed at revising students on material already taught. It has built in differentiation with posters to be displayed encouraging students to get up and move. The questions are tailored to assist with exam preparation. Want a booklet that does everything for you? Simply buy and print.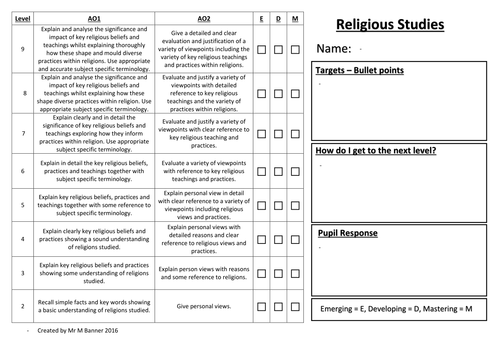 The ideal feedback sheet to give to students. Combining the Mastery technique with new GCSE grades, this is a sure way to show progress. Students can use the framework to figure out how they need to progress themselves promoting independent learning. Used succesfully for a number of years in a school with a 97% pass rate for GCSE Religious Studies.
This pack consists of 51 resources for a sale price of just £12.99 down from £19.99. This unit covers the following key sociological theories for all boards (Marxism, Neo-Marxism, Feminism, Post-Modernism, Functionalism, Social Action Theory, Ethnomethodology, Symbolic Interactionism), one revision session and one end of unit assessment accompanied with mark scheme. In addition, to support student learning, there are 3 extra readings for Functionalism, 6 for Post-Modernism, 2 for Social Action Theory, 1 for Symbolic Interactionism and one overall reading covering all aspects. In addition to this, there are 7 tasks for students to complete throughout the unit. Key Words for the unit are included so students can memorise them and there is also a Work Calendar which shows lesson by lesson what students will be studying and when their tasks are due.
This consists of a range of key theorists that students should know for their exams. It is a must have for success. It consists of around 75 theorists from a range of perspectives. Matthew Banner is an examiner for AQA and owner of www.SociologyRevision.com
This consists of a range of key theorists that students should know for their exams. It is a must have for success. It consists of around 75 theorists from a range of perspectives Matthew Banner is an examiner for AQA and owner of www.SociologyRevision.com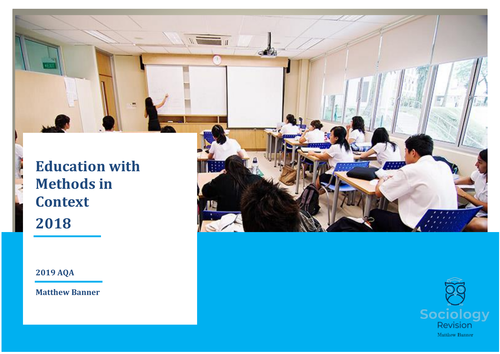 This document offers an in-depth range of theorists to use in your essays. I find this extremely useful in allowing students to pick out theorists and use them in their arguments. 16 pages of useful material. Matthew Banner is an examiner for AQA and owner of www.SociologyRevision.com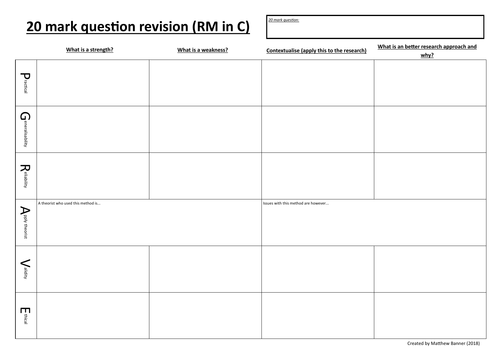 This resource is ideal for helping students break down the requirements for the 20 mark question for Methods in Context. This should be printed on A3 and students should write responses for a range of questions. Used succesfully for years. Matthew Banner is an examiner for AQA and owner of www.SociologyRevision.com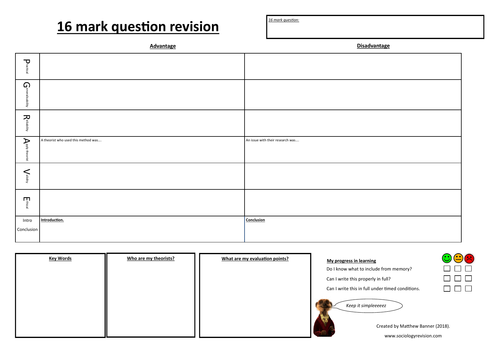 This resource is ideal for helping students break down the requirements for the 16 mark question. This should be printed on A3 and students should write responses for a range of questions. Used succesfully for years. Matthew Banner is an examiner for AQA and owner of www.SociologyRevision.com
This is for the first year of AS in Psychology Edexcel Board. This consists of over 70 pages with activities and extention activities. 4 topics are covered: Social Psychology, Cognitive Psychology, Biological Psychology and Learning Theories. Within it is the Methods part of the topics only and omits text based research such as Case studies of brain-damaged patients (HM), Brain scanning techniques and aggression, Twin and adoption research methods and Animal research. What is included: Social Psychology Self-Reports Interviews Questionnaires Closed Questions Open Questions Hypothesis Part 1 Sample selection and techniques Qualitative and Quantitative Data Measure of central tendency Measures of dispersion or variability. Thematic Analysis BPS Code of Ethics and Conduct. Cognitive Psychology Hypothesis Variables Experimental Method Experimenter Effects Experimental and Research Designs Objectivity, Reliability and Validity. Inferential Statistics Mann-Whitney U Wilcoxon Ranks Test Biological Psychology Correlations Analysis of correlational analysis. Choosing a correct Statistical Test Spearman's Rho Learning Theories Observations Animal Research (not covered) Analysis of Data (Chi Square) Scientific Status of Psychology