Mel's Teaching Guides
Teaching resources for high school students Topics covering English, Humanities, History, Geography etc.
6Uploads
1k+Views
39Downloads
Teaching resources for high school students Topics covering English, Humanities, History, Geography etc.
This is a quick activity about slogans from brands, companies and products. It can be done as a quick introductory activity to engage students. For topics relating to consumerism and persuasion. Some brands are Australian companies, as this worksheet was designed for Australian students. There is a total of 19 slogan questions. Answers are below: McDonalds Woolworths/Safeway Toyota Maybelline Mars Bar Hungry Jacks Mastercard Red Bull Nike Gillette Apple LG KitKat Adidas KFC Subway AAMI VB Swisse
These Taboo game cards are designed for upper primary / high school students. It is a fun, competitive game that helps students use new vocabulary. The learning objectives using this resource is for students to Build on their knowledge of vocabulary about the environment / sustainability Be able to describe key words To be able to use and understand key words The resources included are The Taboo game cards The powerpoint instructions and learning objectives
This resource is for high school students. It aims to teach students how inequality is present in our society, and the lasting impact poverty or wealth can have on a person's future. It is an interactive game that simulates real life scenarios. This pack contains the instructions, learning objectives, character cards, chance cards and the monopoly board itself. The teacher will need to provide students with the player pieces and tokens (coloured paper works well).
This lesson intends to help students familiarise themselves with adjectives, discover new adjectives and practice using adjectives correctly. This lesson contains: Powerpoint Introduction to adjectives Adjective Game Worksheet about adjectives When I do this lesson, I start with the Introduction, then give the students the worksheet and then finish the lesson with the game.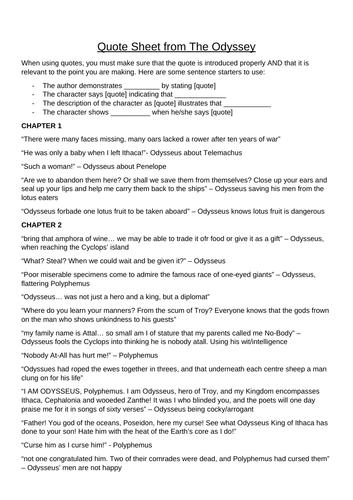 A quote sheet for the text "The Odyssey" retold by Geraldine McCaughrean
Cute, functional and all digital! Plan out your week with this beautiful digital weekly planner, designed for busy teachers. This planner will last you the whole year, simply download again or erase when it is a new week! The planner is fully editable, so you can write your subjects & lesson plans with ease and save it on your computer! The planner contains space for 6 periods a day.