Save you time!
Resources which are easy to use and encourage high achievement.
42Uploads
78k+Views
34k+Downloads
Resources which are easy to use and encourage high achievement.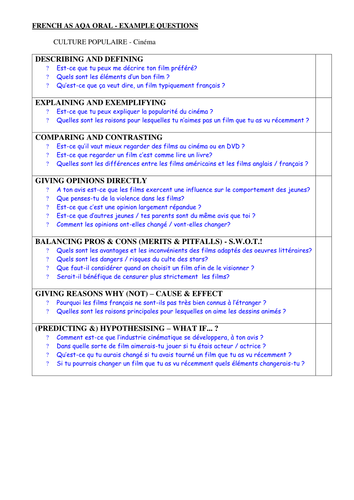 Topic-based sheets of example questions for AS AQA speaking examination. Each sheet relates to one topic area and contains a range of question types / purposes.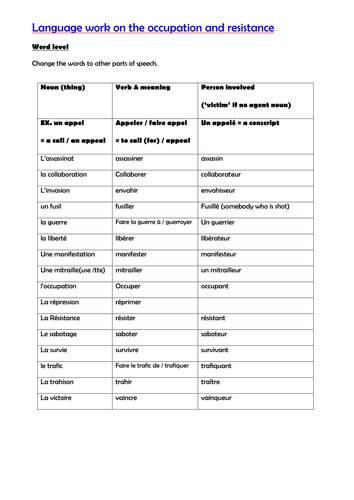 Language worksheet with parts of speech and passive voice tasks using resistance vocabulary A selection of propaganda posters from Occupied France which can be used to prompt discussion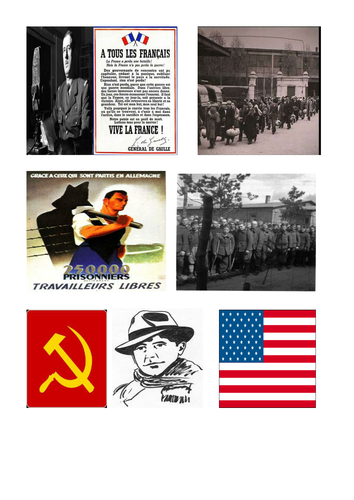 Resource to help students identify and evaluate factors prompting the French to join the resistance in WWII. Page 1 has picture prompts representing key events / figures for students to identify. Page 2 has identification, description and evaluation (rate importance) tasks. Page 3 is a worked example of completed outcome.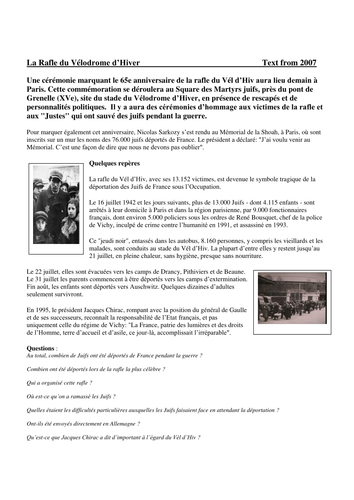 Text in French about the horrific mass round-up of Jews to Velodrome d'hiver in Paris in WWII.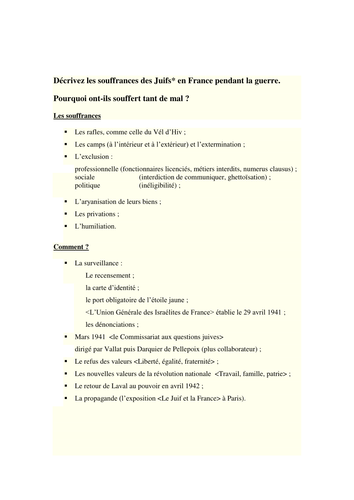 Notes on the sufferings of the Jews in Occupied France during WWII. Oral task prompt for discussion / revision of life in Occupied France in class or with assistant. Sheet gives instructions for students and historical roles to play; the boxes can be used for notemaking and / or cut out to make role cards. Words to the resistance song <Chant des partisans> with follow-up questions; needs audio (can de found online)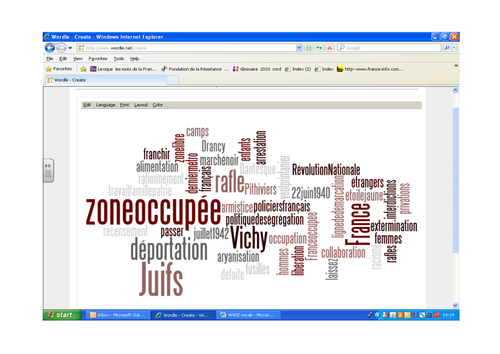 Wordle of vocabulary related to Occupied France topic, can be used for revision, as an oral prompt or for testing.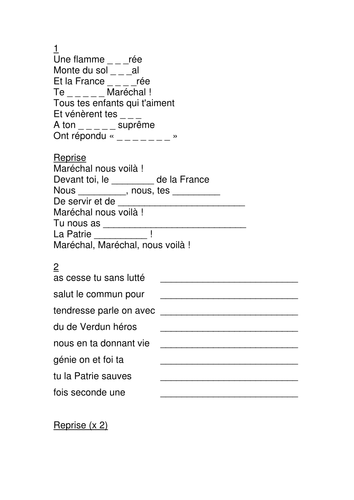 Worksheet based on the words of the Vichy song about Petain; some gap-fill, sentence ordering, needs audio (find it online)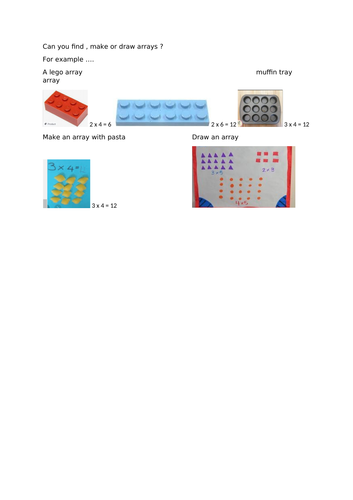 A prompt sheet to explain to Year 2 children working at home that they need to find, draw or make arrays. There are examples of Lego, muffin trays and drawings showing arrays, and the multiplication sentence is written underneath.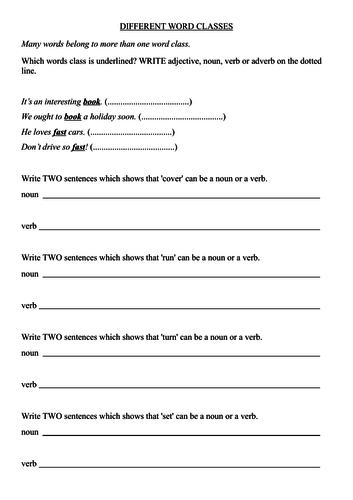 Grammar revision. Some words can be used as nouns, adjectives, adverbs and verbs. Useful for KS2 revision for the SPaG test.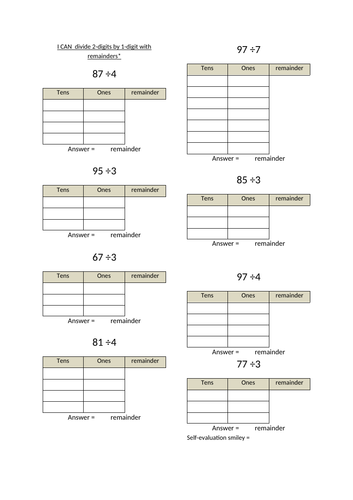 Five differentiated division sheets for Year 4, Spring 1 - Block 1 - Division - White Rose Hub. Less able pupils can use the pre-drawn grids to share out place value counters. All sheets are differentiated 2 ways. There are also sheets with answers involving remainders. Answers provided.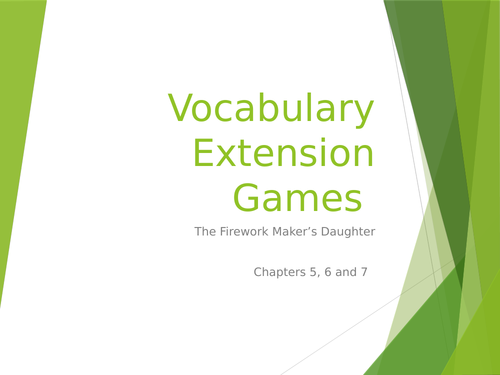 A PowerPoint containing lots of games to help familiarize children with the unusual vocabulary they will find in Chapters 5, 6 and 7 of The Firework Maker's Daughter by Philip Pullman. Interactive vocabulary games aim to increase comprehension skills and help children to integrate these new words into their own vocabulary. Perfect for before or after you read the chapter to check understanding and embed new vocabulary.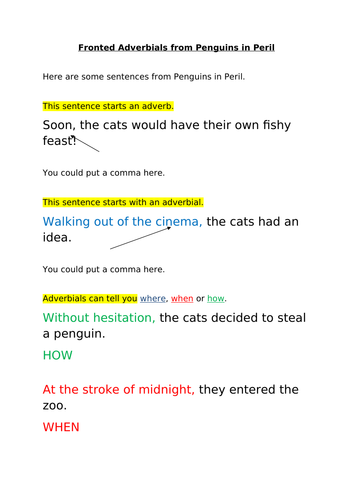 Colour coded worksheets giving examples and activities based on fronted adverbials, using commas and identifying where, when or how. . Based on Penguin in Peril by Helen Hancocks - a picture book. Particularly suitable for Year 4 as Chris Quigley mentioned Penguin in Peril in his book - Brilliant Books for Milestone 2.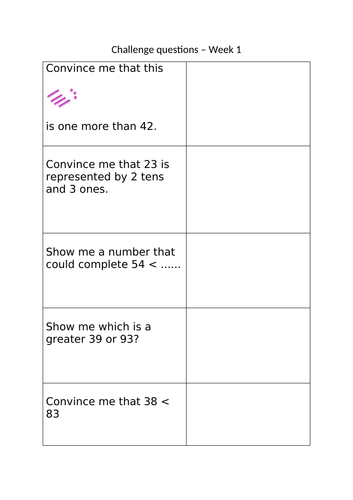 Extend and challenge Year 2 learners with these questions. Encourage your pupils to use resources or draw pictures to show their answers. Perfect for extra challenges for home learning or in school. 10 challenges in all. 4 sheets on place value. 1 on addition, 1 on addition and subtraction, 4 on fractions.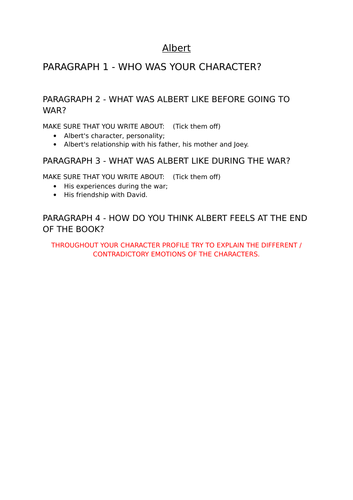 Paragraph planner to help pupils write character descriptions of Albert and Joey from War Horse by Micheal Morpurgo. Key Stage 2 or Key Stage 3. (Links well to Year 6 curriculum and WW1 History) Three word documents included. Character profile - Albert - More Able version - Paragraph planner to help pupils write their own character descriptions of Albert. This more able version gives pupils tick lists of ideas to include in each paragraph. Character profile - Joey - Less able version - Paragraph plannner with tick lists and sentence starters to aid less able pupils. PARTICUALARLY USEFUL TO SUPPORT PUPILS. Character profile- Joey - More able version gives the pupils tick lists of ideas to include in each paragraph. This Smartboard notebook resource includes an explanation of expanded noun phrases. Suitable for KS2 e.g Year 4 or Year 6 or possibly more able year 2. Colour full pictures to encourage pupils to write expanded noun phrases with adjectives and expansion after the noun. Games involving an interactive dustbin and timers,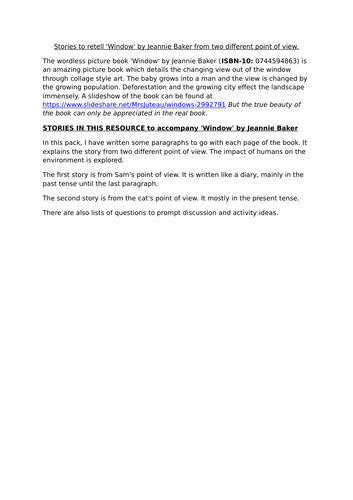 There are two STORIES IN THIS RESOURCE to accompany 'Window' by Jeannie Baker In this pack, I have written some paragraphs to go with each page of the book. It explains the story from two different point of view. The impact of humans on the environment is explored. The first story is from Sam's point of view. It is written like a diary, mainly in the past tense until the last paragraph. The second story is from the cat's point of view. It mostly in the present tense. There are also lists of questions to prompt discussion and activity ideas explaining how to use the stories to prompt the children's own writing activities.