MHA SHOP
TEACHER OF BUSINESS & ECONOMICS
89Uploads
36k+Views
15k+Downloads
TEACHER OF BUSINESS & ECONOMICS Extremely detailed 106 page knowledge organiser for AQA Economics. Two separate documents are included; one for AS and one for A2. Additional knowledge organiser attached based on the excellent work of Professor Richard Werner and his analysis of the Japanese financial crisis - a paradigm shift in macroeconomics.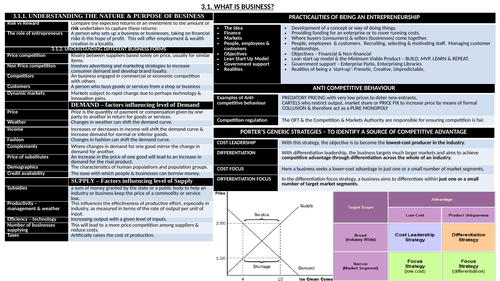 AQA A LEVEL BUSINESS KNOWLEDGE ORGANISER Fifty eight slides outlining all of the key content material for A level Business for AQA. An essential resource for your students. Check my reviews to know that this is a very high quality resource. Unit 3 Personal & Business Finance Exam These five slides consider the key exam command terms for the following types of question: # Discuss 12% of exam Analyse 8% of exam Assess 20% of exam Evaluate 24% of exam. They include exemplar structures, exemplar responses to past paper questions & mark scheme information on reaching the top level for each type of question. In total this knowledge or exam technique organiser helps the students prepare for the detailed written response questions which represent 64% of the final grade.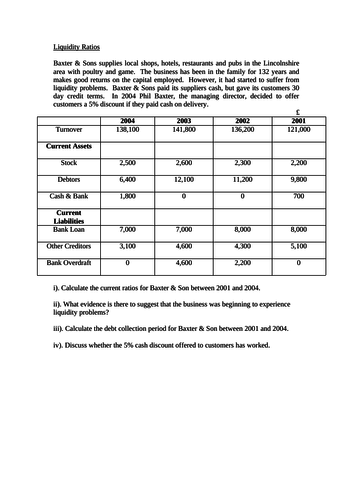 This activity covers Liquidity & Efficiency ratio analysis for a business scenario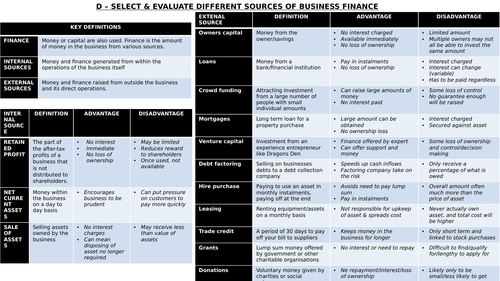 NQF BTEC Personal & Business Finance Unit 3 Knowledge Organisers Revision Pack . Written horizontally to enable students to easily conduct read, cover, write, check self-quizzing. A fabulous pack which covers all Learning Aims A-F. This resource has proven invaluable to our students revising for this tough exam. This bundle includes crucial resources for the delivery of the BTEC Level 2 Tech Award in Enterprise. This pack will become the spine of your teaching & learning approach & your student's homework & revision for the Component 3 externally assessed unit. It includes: Revision mind map structures for each part of each of the course. A complete set of approximately 20 activity resources 8 revision multiple choice quizzes to be used again & again. A detailed 6 page Knowledge Organiser outlining all of the crucial information for revision & self-quizzing. 56 page revision booklet for students to work through using the knowledge organisers. Personalised Learning Checklist of all content. Please also see the Knowledge Book, in my shop which allows students to use KOs to self study and reinforce learning.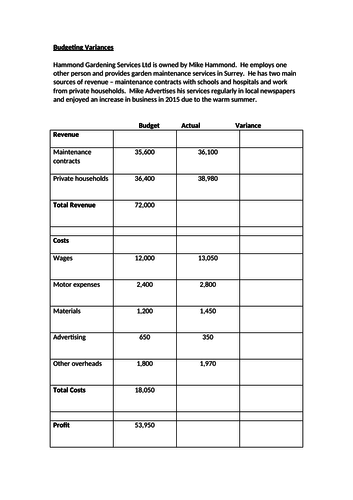 This resource is suitable for Y12 & Y13 Business Finance students. It involves calculations of budgets against actual figures and calculation of variances.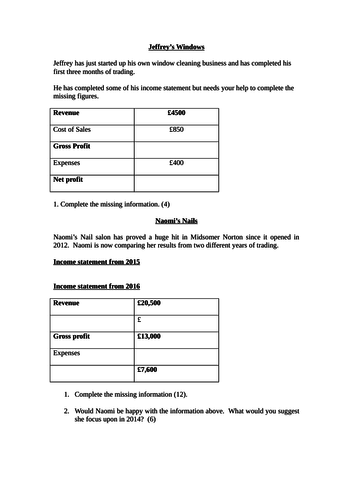 Income statements - calculating gross and net profit. Activities based upon income statements.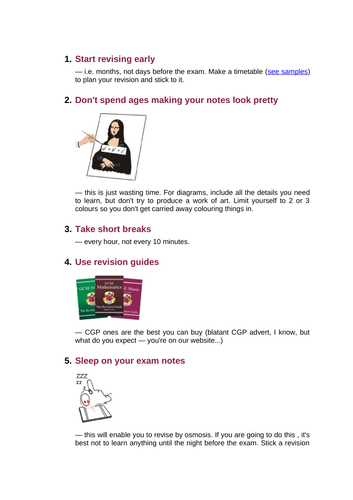 This is a resource bundle designed to support staff with helping students with dyslexia & processing difficulties. The main resource presentation is designed as a presentation/inset on Dyslexia for teachers and teaching assistants. It covers and explains the key areas of the dyslexic profile, linking theory with practical strategies for recognising and supporting learners with dyslexia in the classroom. It includes interactive content, discussion or work focus activities & video links. There are 42 slides in the presentation. The time frame for delivery is 1-2 hours depending upon how formal you make the activities and the extent to which linked videos are utilised. The presentation has been written by my wife who is a fully qualified dyslexia assessor & works for schools & Local Authorities on assessment & dyslexia provision. She has also included the following resources: 21 revision tips to support students with dyslexia a presentation on strategies to speed up processing A presentation on memory and mind mapping to support students with learning difficulties. This is a 13 page learning checklist for the BTEC Nationals Level 3 Personal & Business Finance course. It breaks down the key learning components for each of the Learning aims from A-F. This crucial resource helps to ensure that students manage their revision well & study the entire unit's content.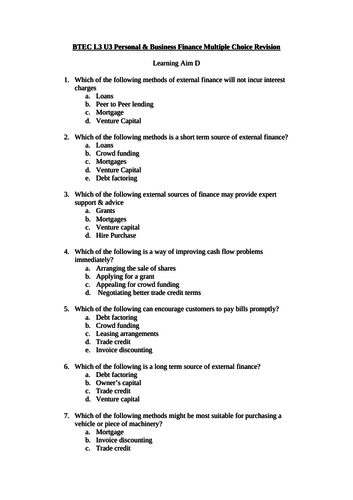 This resource is a set of revision multiple choice quizzes for the BTEC Unit 3 Personal & Business Finance Exam. It consists of 6 quizzes complete with answers for each of the different Learning Aims A-F. Each quiz consists of 12-20 multiple choice questions. The focus is knowledge & understanding of key concepts.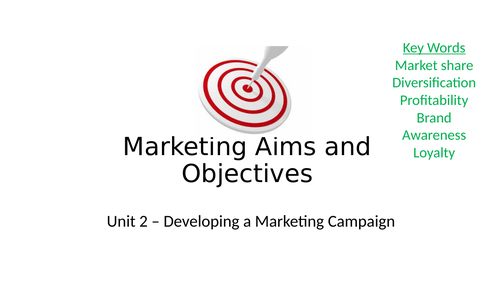 This is a complete resource pack for BTEC Business Level 3. Unit 2 Developing a Marketing Campaign. This consists of: Resources on the role of marketing Resources on Marketing Aims & Objectives The process of Developing a Marketing Campaign Market research support Powerpoints supporting key marketing concepts to understand for the exam Planning & developing a campaign Powerpoints highlighting the structure necessary to score well for Task 1 & Task 2 in the exam. Exemplar activities written by student and powerpoint exemplar for the ICE CREAM SAM concept. Examiner Feedback on each assessment criteria powerpoint.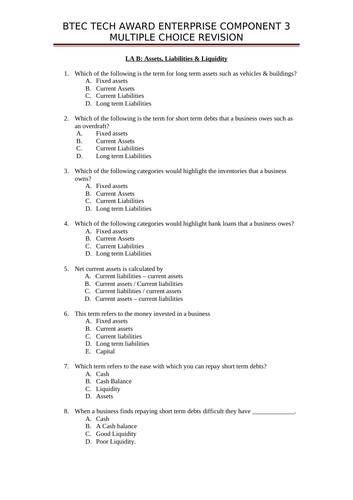 This pack consists of 8 separate multiple choice revision quizzes for the Component 3 Promotion & Finance for Enterprise externally assessed unit. They cover the following areas: Promotion Financial Records Revenue, costs & profits 1 Revenue, costs & profits 2 Assets, Liabilities & Liquidity Cash flow Break Even Financing an enterprise The questions can be used as end of section assessments, revision for final assessment or individual quizzing when clipped on to powerpoint.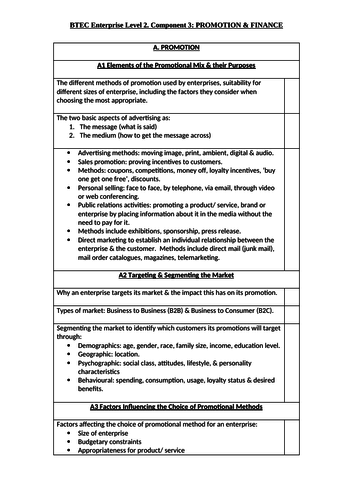 BTEC Tech Award in Enterprise Level 2 Component 3 Learing Checklist. This is a complete learning checklist for all three of the assessment objectives A, B & C for the Component 3 external assessment. This resource is a complete set of multiple choice knowledge questions for EDEXCEL GCSE BUSINESS 9-1. There are five separate quizzes for each of the modules 1.1.-1.5. Each quiz consists of 16-18 questions which are all multiple choice. The answers are also included. We set these questions off at the start of each lesson to aid revision. This extensive resource pack is exclusively written for the Edexcel GCSE Business 9-1 specification. It is designed to maximise effective revision and minimise teacher workload. It includes the following: Theme 1 Knowledge Organisers 1.1-1.5. Theme 2 Knowledge Organisers 2.1-2.5. Exam command words & model answers Exam Technique guide for targeting Grade 5 & Grade 9. Personalised Learning Checklist for entire course Theme 1 & 2 *Multiple choice revision quizzes for 1.1-1.5 to use again & again Multiple choice revision quizzes for 2.1-2.5. Theme 1. 1.1-1.5 mind maps Theme 2. 2.1-2.5 mind maps Consists of exam technique organisers for each of the discussion based questions. This includes structures, Distinction exemplars & Multiple Choice quizzes for each of the 6 Learning Aims.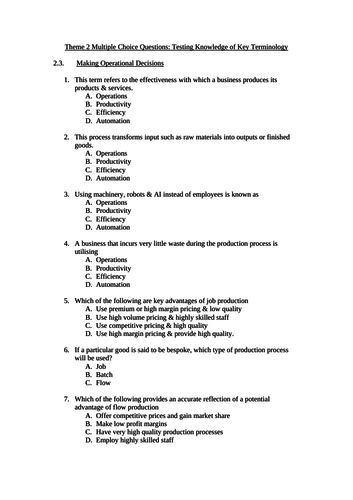 This resource is an entire multiple choice collection for the Theme 2. Building a Business GCSE 9-1 Edexcel GCSE course. Each one of the five sets consists of between 16 & 22 multiple choice questions to test student understanding of key concepts for each of these modules. We use this resource again and again to test student understanding at the start or end of lessons, together with the set for Theme 1. This extract is from my book which acts as guide to students & teacher of how to write 100% answers for the GCSE Edexcel business 9-1 new specification. The guide consists of writing structures for the different command terms and complete 100% exemplar answers for the GCSE Edexcel Paper 1 & 2 exams. This guide is available on Amazon here: https://www.amazon.co.uk/Achieve-100-GCSE-Business-9-1/dp/1096691744/ref=sr_1_1?crid=1WWPIWWEAIGUQ&keywords=mr+miles+harris&qid=1557216701&s=gateway&sprefix=mr+miles+%2Caps%2C130&sr=8-1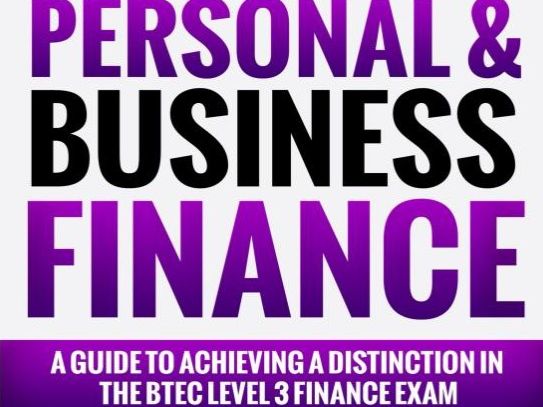 This resource is ultimately about getting the students every additional mark possible. Using the Sample Assessment Material it teaches them how to improve their written responses by clear easy-to-follow structures. It then uses a variety of exemplar responses and highlights how the answers fulfil the four different Assessment Objectives. This is a free extract of the first 30 or so pages. If you would like to get the full guide it is available on Amazon on the link below: https://amzn.to/32BDwcY