Goldilocks English
Resources from an educator with more than 10 years of teaching experience specializing in English.
11Uploads
290Views
94Downloads
Resources from an educator with more than 10 years of teaching experience specializing in English.
Christmas poetry lesson for Year 1 or Year 2. The outcome of the lesson is to create a senses poem using the structure, "I can see…". The slides focus on parts of a sentence, highlighting the position of adjectives and prepositions. There are spaces on the slides for teachers to add in Christmas pictures/photos to engage the students. The slides also come with a simple writing template with a space for the teacher to include a photo.
This is an end of term spelling assessment for Year 3 and Year 4. It aligns with the UK national curriculum.
Hi everyone, I'm sharing for free this simple and easy to use story planner. I have used it with KS1 and KS2. It's very easy to adapt to the needs of your class! Please leave a review!
The slides show Christmas pictures and the children are encouraged to describe what they can see. The slides show examples of nouns and adjectives. The children are then encouraged to verbally create simple sentences about the pictures and then to write some sentences. This resource is suitable for Reception and Year 1. This resource is also suitable for low ability children in Year 2. There is a writing template to accompany the slides.
Looking for an end of term spelling assessment for Year 5 and Year 6? Then look no further. This is an easy and quick spelling assessment to administer at the end of a term with minimum preparation. The assessment also comes with a marking scheme. This resource is perfect for Literacy Leaders or Year 5/6 teachers. Stay tuned for more spelling assessment resources and a spelling scope and sequence for the year. Look out for our bundle packages!
Simple and easy to use free phonics slides, for the sound "ee". Phase 3, Letters and Sounds or Set 2 Read Write Inc. The slides include a recap of previous sounds, words with the "ee" sound, blending and reading a sentence practise, a sound spotting game and correct the sentences. The slides also include a tricky word and an opportunity to practise some spelling. The best part about these slides is that they are a free resource. Sharing is caring! Check out my TES shop for more easy to use phonics slides! Kindly leave a review.
Are you a Literacy Leader or KS2 Coordinator looking for a spelling test? Then look no further. We have spelling assessments for Years 3-6. The assessments work best with the medium term planning which you can also find in my shop and is designed to be done at the end of term 1. However, you could do the assessment at the end of any term. The assessments also come with a basic mark scheme. More spelling assessment material coming soon!
Simple and easy to use phonics slide. The focus sound is -qu. The slides focus on range of skills including blending, word recognition, spelling and recapping previous sounds. It also includes a sound spotting game and correcting the spelling in a sentence. It is perfect for a short phonics lesson! Remember to leave a review!
Make your phonics session fun in the lead up to Christmas. Kick off your phonics sessions with these five starter activities based on phase 5 sounds or Set 2 & 3 RWI. The slides finish with an exemplar of a letter to Santa.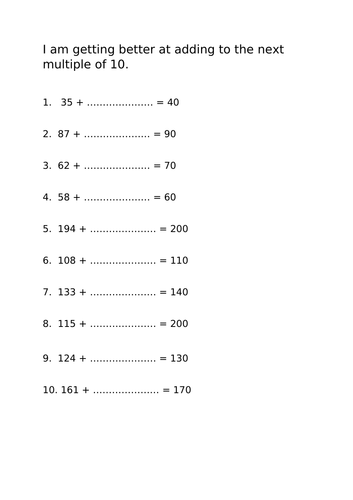 This worksheet is designed for a high ability Year 2 student. The learning objective is adding to the next multiple of 10.
Christmas Big Write for Year 1 and Year 2. The slides have the learning objectives, key words, warm up activity, explanation of the story structure and a photo prompt. Comes with a self reflection writing frame.