38Uploads
9k+Views
5k+Downloads
Spanish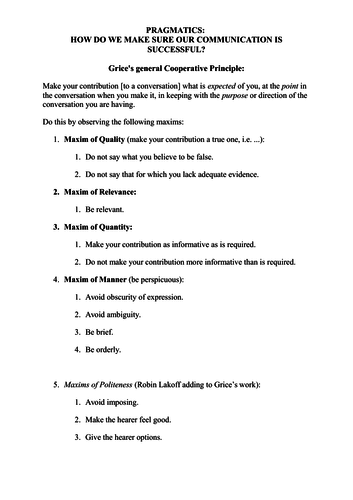 For AQA A-Level English Language, an extended PowerPoint explaining: 1. Grice's Cooperative Principle, with Robin Lakoff's Politeness Principle, and the maxims involved. 2. Violating and flouting maxims. 3. Implicatures given rise to by flouting. Also included are a one-page summary handout of all of the above (for students to keep handy) and a worksheet on flouting and implicatures.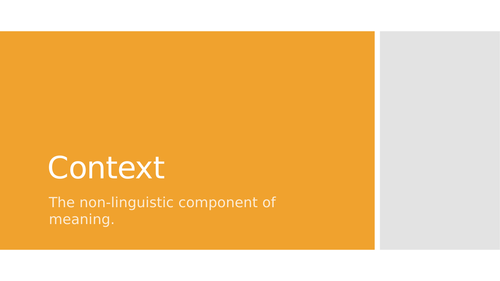 English Language A-Level lesson (AQA) to introduce students to the terminology of: embodied knowledge, schematic knowledge, co-text. Offers regular opportunities for pupils to write on the board collectively to contribute and to reflect on what they've learnt.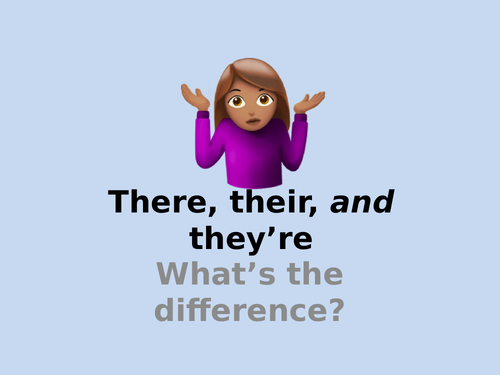 A two-part activity to revise the differences between there, their, and they're. Part One is a mnemonic poem/song (PPT and PDF formats) to help pupils understand and memorize the differences. Part Two is a humorous story in which pupils are required to fill in the gaps with there, their, or they're. Aimed at KS3 and KS4 pupils - good for any group that needs to be reminded of these vital distinctions in the English language!