9Uploads
2k+Views
1k+Downloads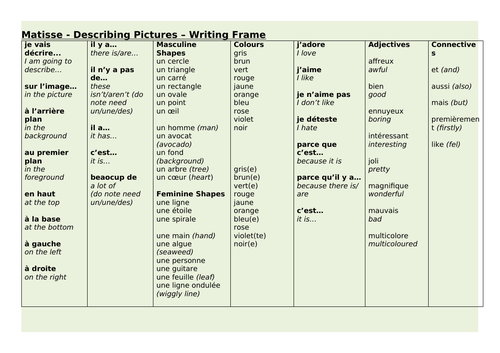 A writing frame to describe pictures/art by Matisse. Includes sentence starters, shapes, colours, opinion, adjectives and connectives. Aimed at Year 7 but can be adapted for other years.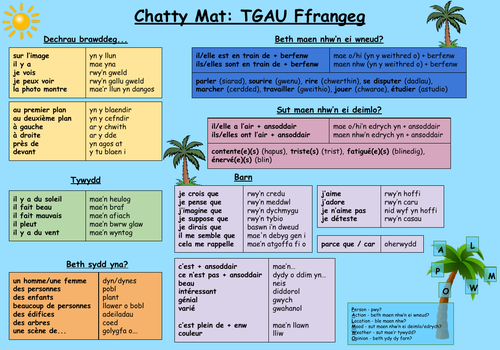 Chatty mat i ddisgrifio llun ar gyfer yr arholiad llafar Ffrangeg TGAU. Describing a photo chatty mat for the speaking exam GCSE French. PALMWO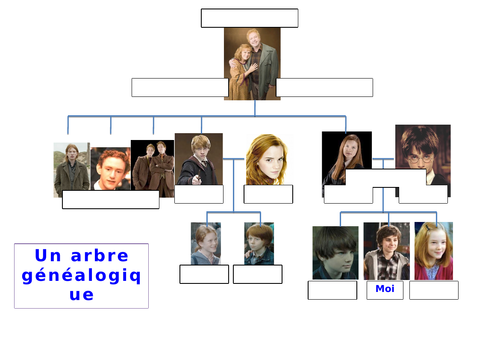 Designed to reinforce 'mon', 'ma', 'mes' and family members using Harry Potter characters (including the Weasleys and Hermione). I do not own the images.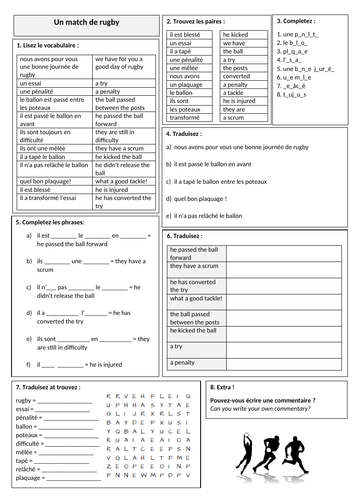 Vocab builder. Created for a year 8 group leading up to forming their own commentary for the Six Nations.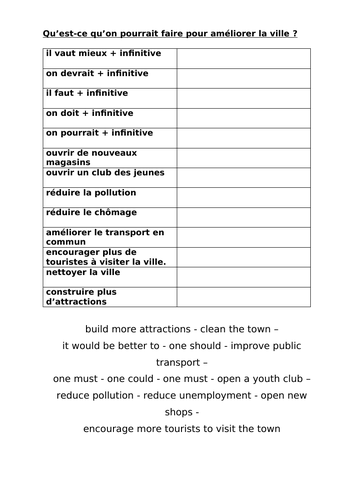 Created for mixed ability Year 10 group. Match up activity with example sentences on how to improve the town (can differentiate by allowing more able pupils to use dictionary to translate the French). Letter to the mayor as an example text. Highlight familiar words. Exercise to look for new words in the text. Write in own language a summary of what happens in each paragraph to use as a success criteria for writing their own letter. Please rate and review - would appreciate any feedback!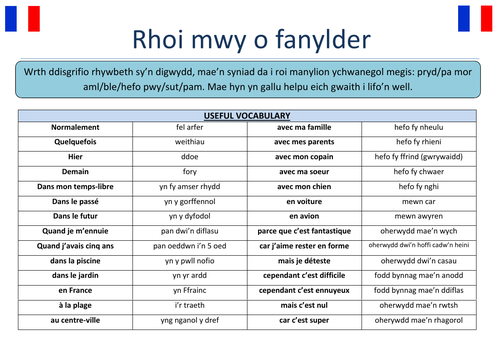 Matiau iaith Ffrangeg/Cymraeg ar fynegi barn, ansoddeiriau, cysyllteiriau, geiriau amser, amserau gwahanol, ayyb. Adnoddau gan https://www.tes.com/teaching-resources/shop/Dannielle89 @MorganMFL wedi eu cyfieithu i'r Gymraeg. Gadewch i mi wybod os ydych chi'n sbotio unrhyw gamgymeriad neu 'typo'!
A display using ASBARAGWS as a mnemonic to improve French writing and speaking for Welsh-medium students. Similar to CROISSANT. Arddangosfa yn defnyddio ASBARAGWS fel mnemonig i wella gwaith ysgrifennu a llafar yn Ffrangeg. Tebyg i CROISSANT Ansoddeiriau Symudiad (berf) Barn Amser Rhesymau Adferfau Geiriau cysylltu Wedi negyddu Serennu
Quand il fait beau, on va au parc Sentence builder for Studio 2 Vert, Module 1, Unit 5 Weather, activities, free time, opinion. Hefyd ar gael yn Gymraeg - holwch am gopi.
A full lesson on describing what you would like to do/eat/have for Christmas in French. Could be stretched to 2 lessons with more extensive drilling. Conti-style activities that include: oral/written translations, memorise the phrase, listening bingo. Includes full PowerPoint presentation and a sentence builder. Hefyd ar gael yn Gymraeg - holwch am gopi.