4Uploads
40Views
7Downloads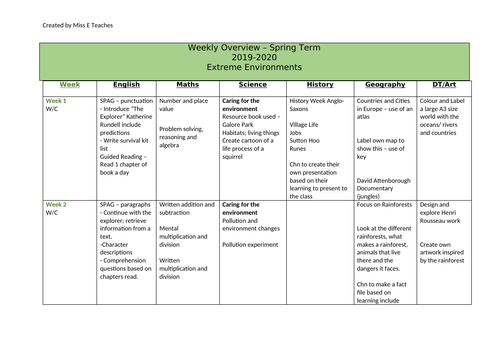 Termly Overview for the topic of Extreme Environments aimed at Year 4. This can also be tailored for Year 3 and 5 if needed. This document includes planning for English, Maths, Science, Geography, History, Art and DT as well as having a project based elements to help with practical learning. This planning has been tried and tested in my own classroom and has a good balance between practical and learning experiences that will hopefully really engage your learners. My Instagram handle is misse_teaches which can also give you an idea of the different practical lessons that can be produced with this planning. Any feedback would be hugely appreciated!
I have created a document that puts together all of the ideas I have built up over the last three years of teaching Year 4. The Romans is a brilliant topic with so many possibilities! I hope this topic overview gives you ideas and inspiration for your own Romans Topic. Please feel free to see some of the activities in action over on my Instagram misse_teaches As always, please review and let me know what you think!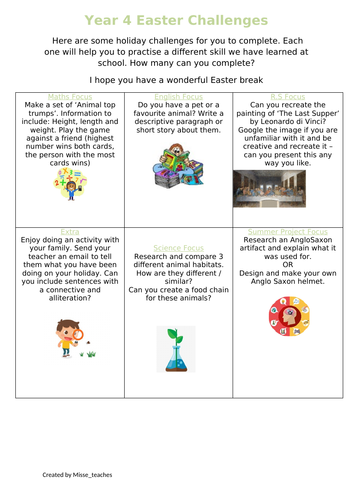 I have created a fun and interactive holiday challenge sheet that can be optional for children to complete over the holidays. There is subject focuses, craft activities as well as family based tasks to keep it varied. My class love choosing their favourite activities to complete during the holidays and it also a good way of consolidating their learning from the term! These can be tailored more specifically to your class if needed! I hope your class enjoys them as much as mine. Any feedback on all resources that you use would be hugely appreciated!
This is a Termly overview for the topic of The Romans for Year 4, this can also be adapted for Year 3&5 to suit. I have developed this across the last three years that I have taught Year 4. Thee is so much that you could do/ include in this topic, I hope this is good start to help with ideas. If you would like to see these resources in actions then head to my Instagram misse_teaches I hope your class enjoy it as much as mine!