Mratcliffe88's Shop
TES Author. English teacher and Whole School Literacy Coordinator. Main knowledge - Shakespeare and plays in general.
111Uploads
28k+Views
32k+Downloads
TES Author. English teacher and Whole School Literacy Coordinator. Main knowledge - Shakespeare and plays in general.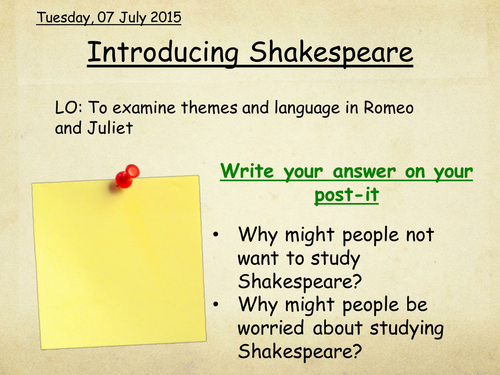 Powerpoint lessons and resources to go with a short scheme of work based on Romeo and Juliet by William Shakespeare. This unit involves pupils getting to grips with the plot, characters, themes and the text itself. It was an enjoyable unit to teach, so hopefully you will find it fun also. This was taught to a Year 7 set of middle ability but can be adapted for whomever.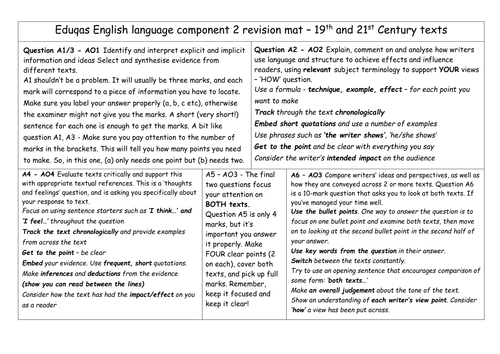 Here is a revision mat for the Eduqas English Language Component 2 (19th/21st Century Non Fiction) exam. It covers how to answer all the reading questions A1-6 with helpful, handy tips and tricks! Great for GCSE pupils to have in front of them revising or stuck up somewhere in their house! Many thanks.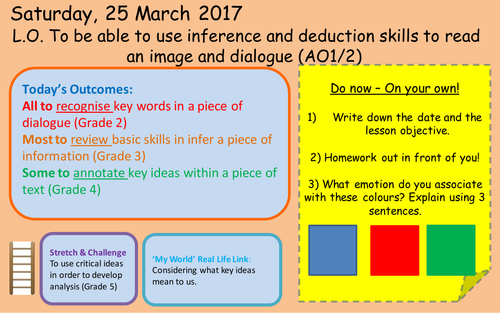 A scheme of work consisting of 72 files including 35 powerpoints and differentiated resources. The only one missing is a resource for lesson 24 as it is corrupted but only consisted on 3 speech bubbles! The assessment objectives are written towards Edexcel, 9-1 GCSE, but can be easily amended to any exam board. I really enjoyed making these as I enjoy teaching Shakespeare! Many, many thanks for looking,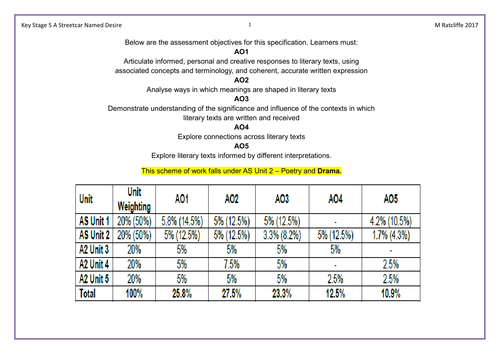 Written for the EDUQAS A Level English Literature exam, this scheme of work is a detailed, 12 week overview (one term) to assist you in the teaching of the play. It features a weekly overview and detailed, weekly tasks including ideas for More Able pupils and Support for weaker pupils. The assessment objectives are also mapped to each of the weeks and there is a, suggested, weekly task to consolidate learning. Many thanks for looking!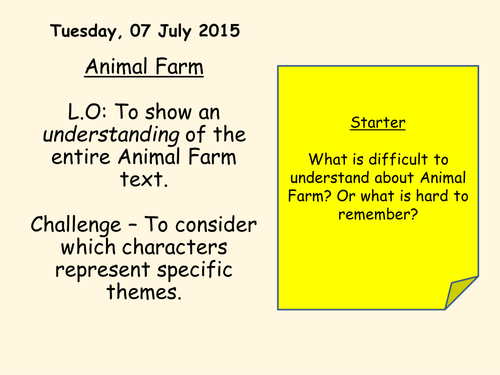 A unit based on Animal Farm by George Orwell. Lessons were taught to a middle ability year 11 group and the resources for each lesson also feature. Hopefully you will find this time saving!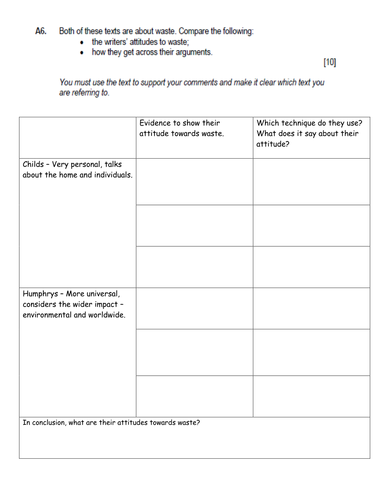 This PPT was used with a mid-high set year 10 focusing solely on the answering of question A5 and A6 only (comparison question). Goes through examiner advice, how to achieve the marks through model examples, mark scheme and independent investigation of the comparison between the 'Waste not want not' and 'American Frugal housewife' articles.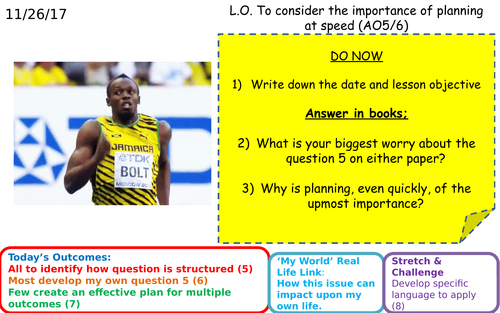 One of my all-time favourite lessons to teach! This hour long lesson can be used with any GCSE group as it all about them, they pretty much create this revision lesson! This is used at the end of a unit on question 5 for paper 2 (19th/20th-21st century non fiction) and tests pupils on their knowledge of question 5. It requires pupils to create and devise their own question, in the style of question 5. This tests pupils knowledge of how the structure is constructed (tone, form, audience). Following them creating their own question they then take part in a carousel activity of speed planning, rather than speed dating! They are given a set amount of time (that is up to you as the teacher) and need to recognise the PAF of the question (created by a pupil in the group) and create device examples they can use in their answer and a structural plan - when their time is us then they swap/move on to the next question. This is about how pupils need to revise planning at speed, as they will in their exam, for a variety of different forms, audiences, and tones. Pupils really enjoyed and was a useful revision tool once they had used in lesson! Thanks for looking!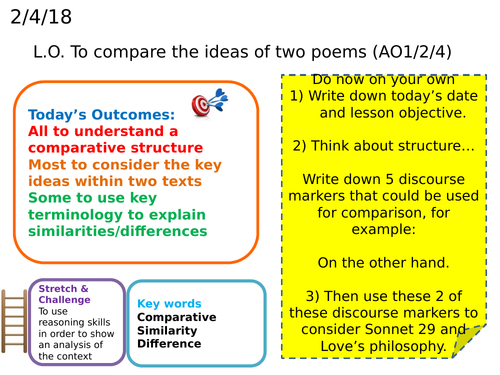 Written for the AQA English Language GCSE (9-1), this lesson is used to compare the poems Love's Philosophy and Sonnet 29 for paper 2. During the lesson; there are overviews of the two poems, question analysis, how to write a concise introduction, model example, writing frame for the essay, overview of the AO's and how to achieve level 6 (for the question band.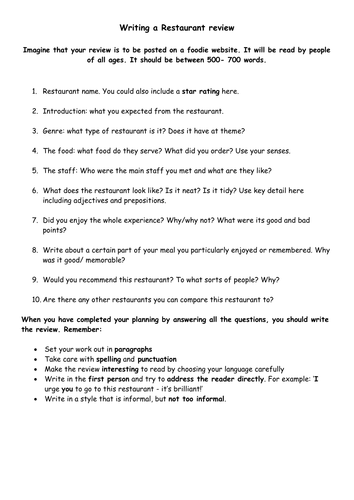 A simple, quick and easy to follow guide/plan that will allow pupils to come up with ideas to write a review of a restaurant.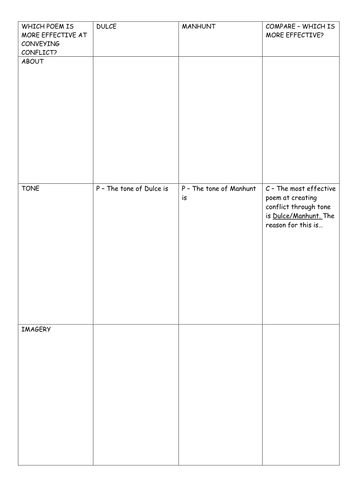 A lesson for poetry comparison towards the Eduqas English Literature exam. The powerpoint explores how the poetry question will be structured, how to structure a comparison, a model example and opportunities for self and peer assessment. In this specific presentation, pupils are required to compare 'Dulce' (Wilfred Owen) and The Manhunt (Simon Armitage). Also attached are the writing frames, differentiated, to help pupils build their comparison based on three aspects of poetry. Many thanks!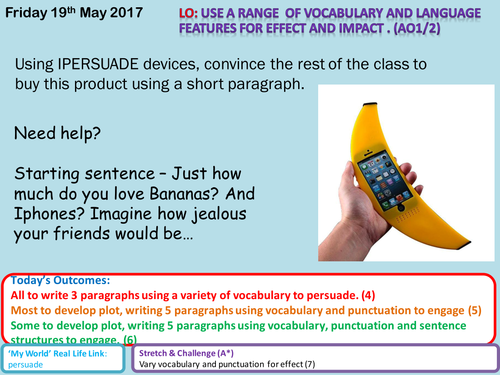 Attached is a lesson which can be adapted and used right through KS3/4. The lesson is to teach pupils about how to write to persuade using the IPERSUADE acronym which was previously taught; I - Imperatives P - Personal Pronouns E - Emotive Language R - Rhetorical question S - Statistics U - Use discourse markers A - Anecdote D - Direct address E - Exaggeration (Hyperbole) Included on the Powerpoint is a hyperlinked video to Churchill's speech and mark schemes for both KS4 (Eduqas English Language Component 2) and KS3 so you can adapt these accordingly. Also included is a writing frame/plan with sentence starters and a copy of the original speech. The task is 'You are the Prime Minister and Great Britain is about to go to war. Write a speech addressing the country about the news'. Many thanks!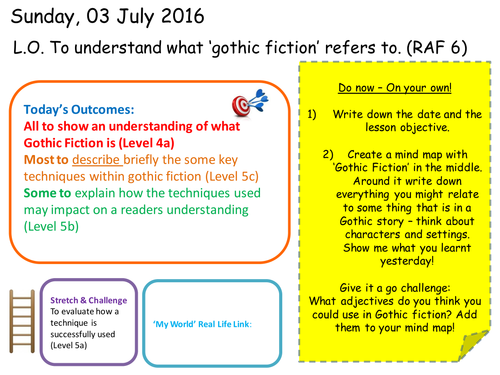 A really short scheme of work on Gothic Fiction. All lessons are linked to APP skills, as we still use them in my current academy, and cover both reading and writing skills. Have included some resources that do not feature within the actual lessons but you mind find useful for future/other planning.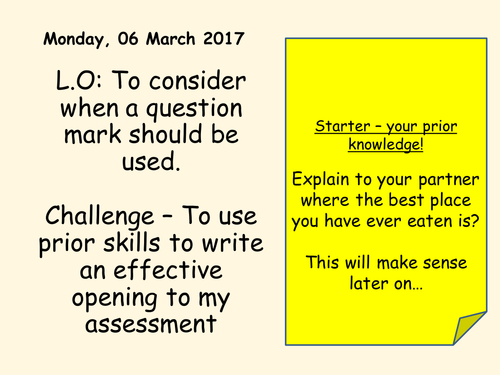 A literacy lesson for Key Stage 3 in which pupils practise their use of question marks. This will test pupils prior knowledge of question marks and how to recognise and use them within creative writing. Part of a formative assessment.

A lesson created to study a short passage of pre-19th century non-fiction; written for the new GCSE 9-1 exams. In this lesson the pupils study the language and context of Mrs Beeton's Book Of Household Management. The resource is the short extract used within the lesson. The lesson was ranged at middle set year 10 and lasts for an hour. Can easily be adapted to year 11 or even KS3. Enjoy!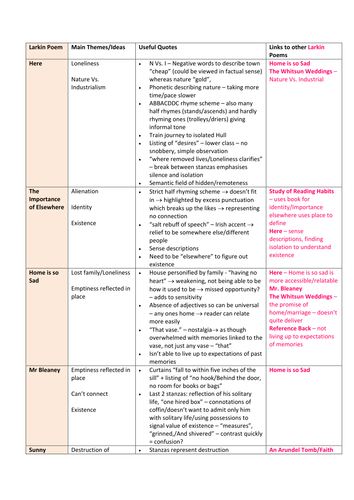 An overview of all 'The Whitsun Weddings' poems by Phillip Larkin. The table overviews what the poems are about, key ideas/techniques/words and what other 'Whitsun Wedding' poems you could compare them to. Used for A Level Edexcel.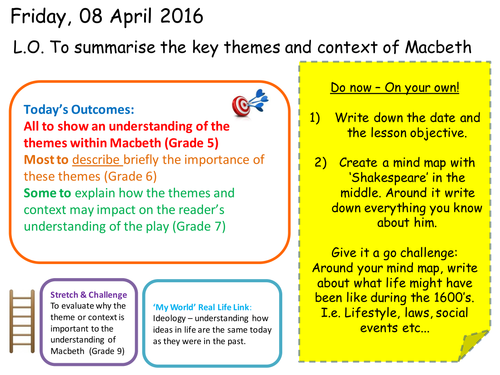 Designed for year 10 for hour long lessons. Opening lesson studies the key themes of Macbeth as a general introduction - also set the standard for the rules in the classroom as the first lesson of a new scheme. Will upload further lessons as and when created (usually weekly). Designed for the Edexcel 9-1 GCSE specification; therefore lessons will cover skills that are pretty much covered in every specification but AO's might be different - check your specification to make sure. N.B. The PowerPoints change to blue backgrounds to ensure Dyslexia friendly; you can obviously change this if you wish!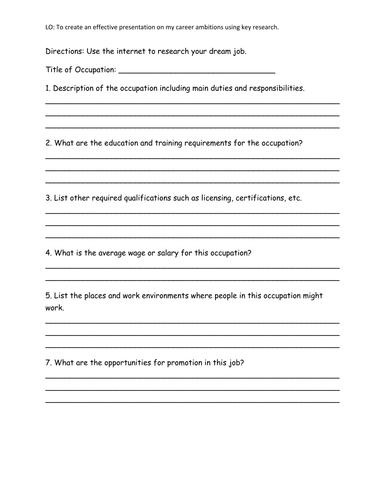 This sheet is for pupils to use when researching their dream job/career. There are 13 questions for them to research in order to consider what they need to in order to achieve their dream job. They can then easily turn these notes into a Powerpoint presentation to use for a presentation and speaking and listening skills.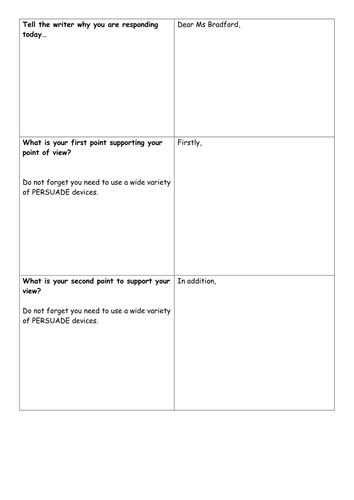 This is a one-off writing lesson for low-key stage 4/high ks3 in which pupils discuss the idea of whether teenagers get enough sleep. There is a powerpoint, writing frame and article of which is used to develop a class discussion and ideas their letter.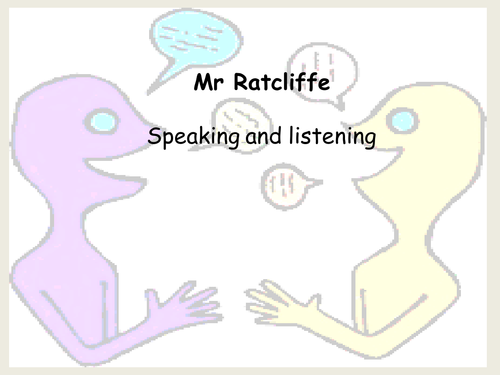 Here are five lessons to accompany the opening five chapters of Michael Morpurgo's Shadow; A very reflective novel based upon a courageous, yet modern and relevant topic. These lessons feature spelling tests, key literacy skills, comprehensive questions and speaking and listening tasks. My old role at my school was to improve reading and comprehension skills and these simple lessons will hopefully provide an easy and enjoyable start to your classes journey into this new text.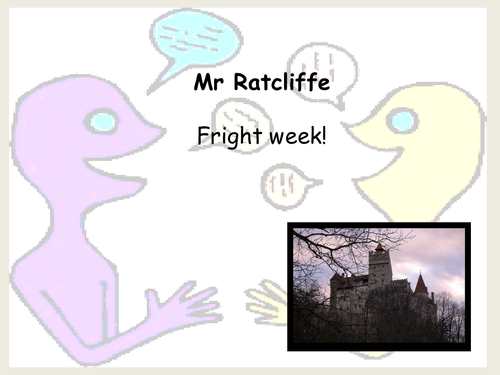 This lesson was created for a mid set year 8 group but can be used universally. It was a one off lesson for fright week (halloween week). But is a good, quick introduction to the techniques of gothic literature if you just wanted a nice, easy start to your new topic, or as a one off lesson!