Mratcliffe88's Shop
TES Author. English teacher and Whole School Literacy Coordinator. Main knowledge - Shakespeare and plays in general.
138Uploads
65k+Views
54k+Downloads
TES Author. English teacher and Whole School Literacy Coordinator. Main knowledge - Shakespeare and plays in general.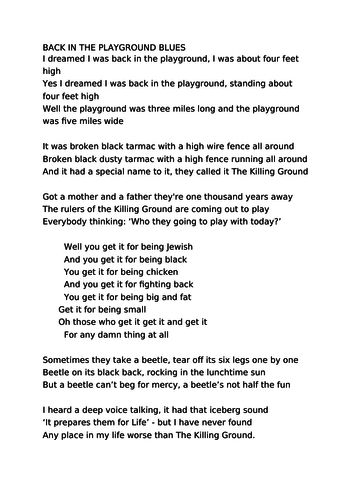 Lesson based on the analysis of Back in the playground blues by Adrian Mitchell, with the focus being mainly on Irrergular rhyme and Hyperbole. Many thanks for looking!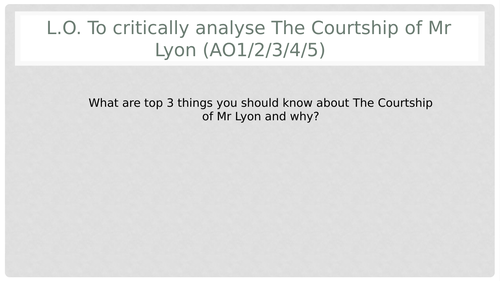 A critical analysis of The Courtship of Mr Lyon - taken from Carter's The Bloody Chamber collection. The analysis covers AO1/2/3/4/5 for OCR A Level English Literature, but these AO's are easily transferable to other exam boards. Some comparative links to Dracula as this is our comparison text.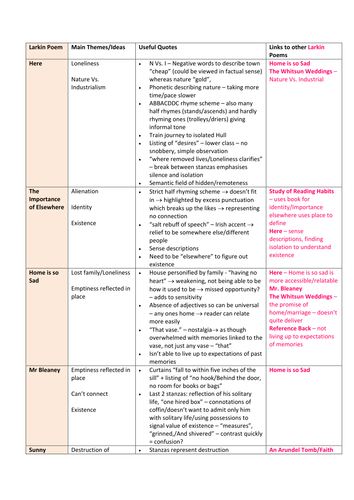 An overview of all 'The Whitsun Weddings' poems by Phillip Larkin. The table overviews what the poems are about, key ideas/techniques/words and what other 'Whitsun Wedding' poems you could compare them to. Used for A Level Edexcel.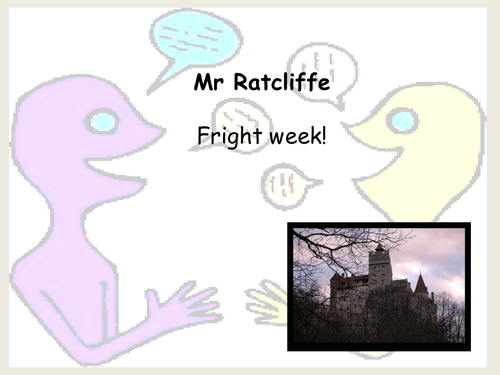 This lesson was created for a mid set year 8 group but can be used universally. It was a one off lesson for fright week (halloween week). But is a good, quick introduction to the techniques of gothic literature if you just wanted a nice, easy start to your new topic, or as a one off lesson!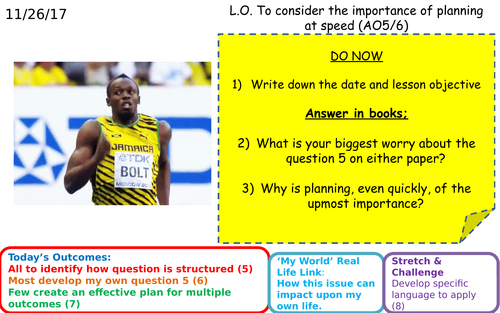 One of my all-time favourite lessons to teach! This hour long lesson can be used with any GCSE group as it all about them, they pretty much create this revision lesson! This is used at the end of a unit on question 5 for paper 2 (19th/20th-21st century non fiction) and tests pupils on their knowledge of question 5. It requires pupils to create and devise their own question, in the style of question 5. This tests pupils knowledge of how the structure is constructed (tone, form, audience). Following them creating their own question they then take part in a carousel activity of speed planning, rather than speed dating! They are given a set amount of time (that is up to you as the teacher) and need to recognise the PAF of the question (created by a pupil in the group) and create device examples they can use in their answer and a structural plan - when their time is us then they swap/move on to the next question. This is about how pupils need to revise planning at speed, as they will in their exam, for a variety of different forms, audiences, and tones. Pupils really enjoyed and was a useful revision tool once they had used in lesson! Thanks for looking!

All the detail for all AO's for A level Literature for chapters 9-27. There are some links to The Bloody Chamber as our comparison text but these are easily editable. Many thanks! Original price - £48 Bundle price - £20! better than half price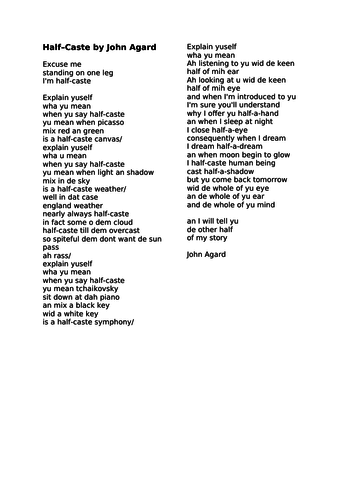 A lesson to analyse the poem Half Caste by Benjamin Zephaniah, especially considering the tone of the poem. Aimed towards KS3 but easily adaptable. Thanks for looking!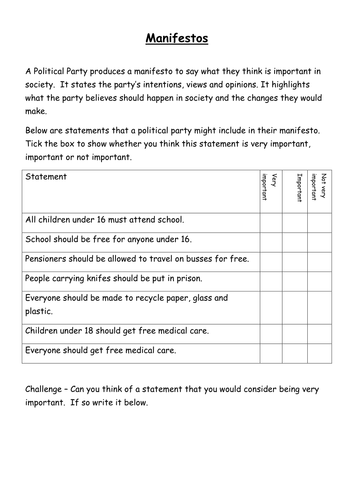 This lesson was taught to a low set year 7. The pupils are doing a scheme in which they create their own village and do this through language. In this lesson pupils consider what a manifesto is, consider brief manifestos from the 2017 election and write their own manifestos based on what they are passionate about. Attached is the powerpoint, brief manifestos and a writing frame for their own manifestos (differentiated). Many thanks!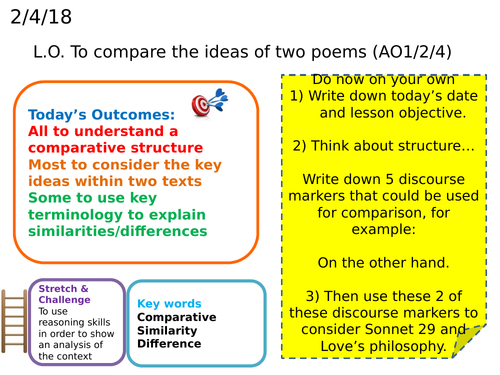 Written for the AQA English Language GCSE (9-1), this lesson is used to compare the poems Love's Philosophy and Sonnet 29 for paper 2. During the lesson; there are overviews of the two poems, question analysis, how to write a concise introduction, model example, writing frame for the essay, overview of the AO's and how to achieve level 6 (for the question band.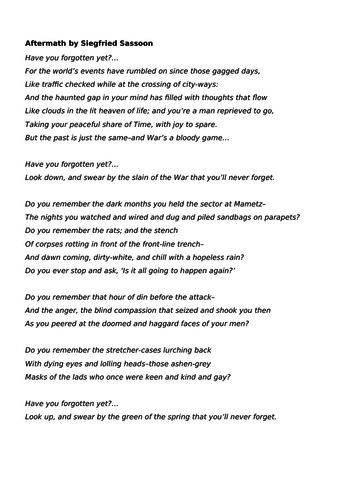 A lesson on Aftermath by Siegfried Sassoon. Big focus on structure and punctuation. Aimed for KS3 but can easily be adapted. Many thanks!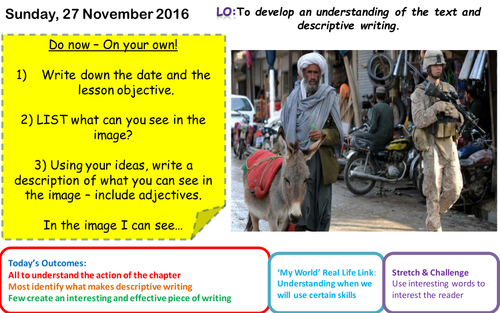 This lesson was created for a very low key stage 3 set who are also studying the Fresh Start programme. Based on the first half of chapter 2 of The Breadwinner, there is the opportunity to discuss the state of Afghanistan in the book, reading a specific part of the chapter and planning a piece of descriptive writing based on the action. Also, there is a plan for the pupils to support them in the writing of the descriptive piece.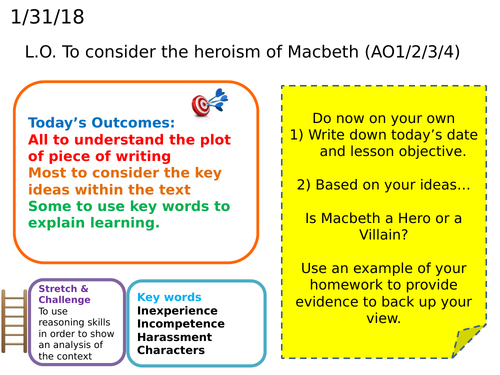 This lesson is an preperation lesson for an essay in pupils write a response to a past exam response for AQA Literature, but can be adapted to other exam boards! Pupils consider the question 'How is Macbeth considered heroic in the opening monologue of Act 5 scene 3'? Pupils then consider the whole text. Pupils can argue that he may be a hero but also how he may be a villain throughout the text. There is an example strucutre, paragraph outlines, assessment objective overviews, and how to reach top bands. Many thanks!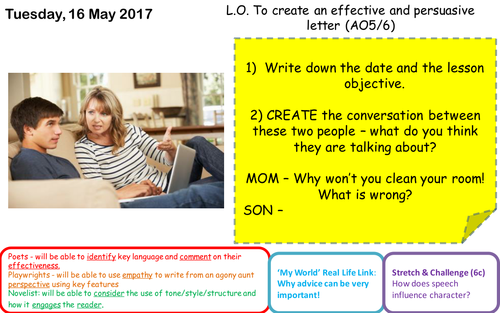 Attached is a lesson used with year 7 who were doing a scheme on Dragons - they were low ability and also doing Fresh Start alongside but it can be easily adapted. The lesson discusses what a Problem page/agony aunt letter is and the devices used within this type of letter. Also attached is a model example of a letter which pupils analyse and a writing frame to help construct their own letter. Many thanks!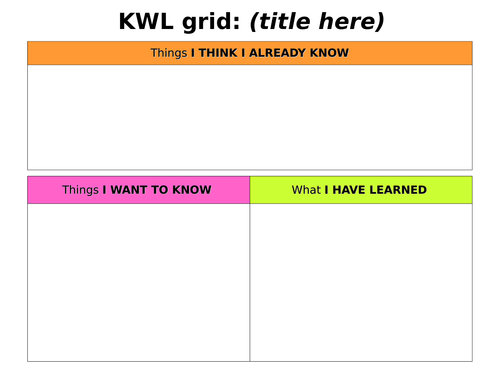 Used with a mid-ability year 8 group, these 3 lessons are used to introduce Othello and the opening scene. In the first lesson, pupils need to complete a Carousel of key characters around the room - because of copyright I cannot put the pictures on but you will need pictures of: Othello Iago Desdemona Cassio Emilia Key themes An image of Othello seeing Cassio and Desdemona together (all found on google). Lesson 2 is all about Iago's opening rant and what this rant reveals about Iago and his feelings towards the unfairness he feels that he is going through. Lesson 3 completes the first scene, analysing the racial undertones towards Othello and what this language, used by other characters, reveals about these characters as a first impression on the audience. All resources are attached (apart from Lesson 1 pictures as mentioned above) Lesson 2/3 are on the same powerpoint. Many thanks for looking, I love teaching Othello and these lessons were really fun!!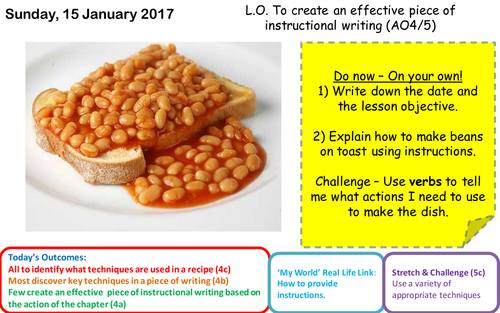 A lesson based on chapter 6 of The Breadwinner in which Parvana is turned into a boy. Pupils read and discuss the chapter and answer questions based on the chapter. Following this pupils then review what makes an effective recipe and create their own (just like the step by step actions the ladies used to turn Parvana into a boy). Included is the example recipe and a writing frame in order to create their own. Used with lower ability year 8.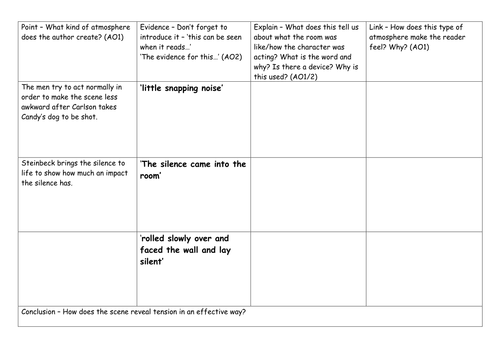 This resource is easily adaptable for differentiation. This PEEL table is a plan towards the following examination/assessment question PAGES 49-50 'He led the dog out into the darkness… faced the wall and fell silent.' [shooting of Candy's dog] How does Steinbeck create mood and atmosphere in this extract? The first page is the actual PEEL table in which you can add or take away as much support as your class will require. The AO's link to Edexcel as we, as an Academy, have brought the AO's down the key stage three. The second page is the examination question with a model answer to support pupils in considering how to structure their assessment and the level of analysis required.

A lesson based on chapter 11 of The Breadwinner in which Parvana is squeezed into a football stadium to sell her items, thinking it is a football game, when really it is the Taliban punishing criminals. Pupils read and discuss the chapter and answer questions based on the chapter. Following this pupils then review what makes an effective article and create their own. Included is a writing frame in order to create their own. Used with lower ability year 8.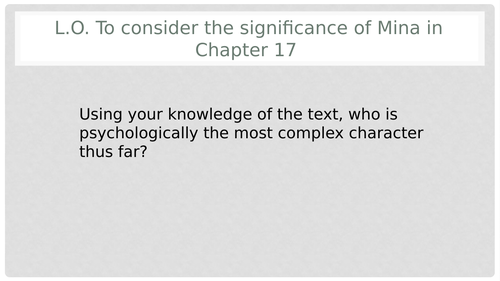 A walkthrough of the chapter for the OCR A Level English Specification.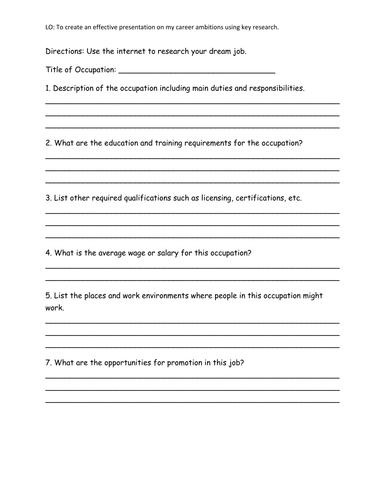 This sheet is for pupils to use when researching their dream job/career. There are 13 questions for them to research in order to consider what they need to in order to achieve their dream job. They can then easily turn these notes into a Powerpoint presentation to use for a presentation and speaking and listening skills.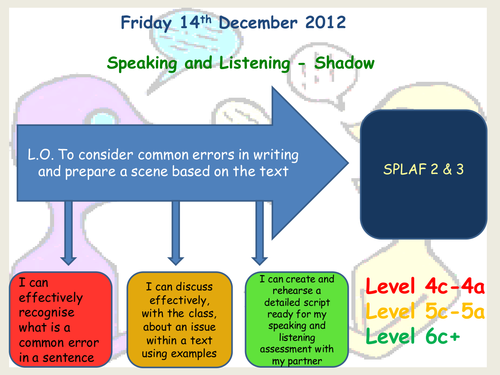 Here are five lessons to accompany the opening five chapters of Michael Morpurgo's Shadow; A very reflective novel based upon a courageous, yet modern and relevant topic. These lessons feature spelling tests, key literacy skills, comprehensive questions and speaking and listening tasks. My old role at my school was to improve reading and comprehension skills and these simple lessons will hopefully provide an easy and enjoyable start to your class journey into this new text.