Mr G's Drama Store
Drama resources designed by a Drama Teacher who teaches 11-18 in a mixed secondary school.
32Uploads
5k+Views
6k+Downloads
Drama resources designed by a Drama Teacher who teaches 11-18 in a mixed secondary school.

A 6 lesson scheme of work based on physical theatre designed for year 8 or year 9 students. This includes a 6 lesson plan scheme of work, 6 PowerPoint presentations (one per lesson) and all of the resources needed. The work and skills are centred around physical theatre company, Frantic Assembly, however, you could link this to another practitioner.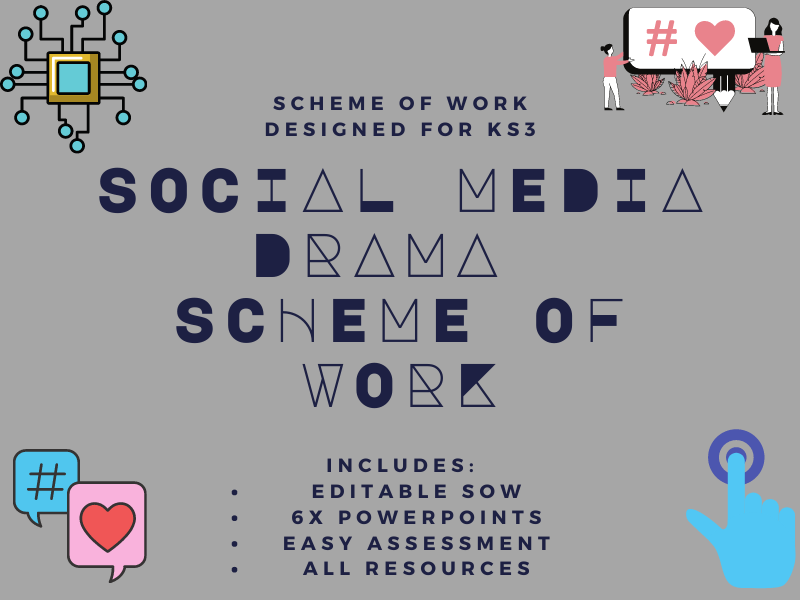 A 6 lesson scheme of work based around social media designed for year 7 or year 8 students. This includes a 6 lesson plan scheme of work, 6 PowerPoint presentations (one per lesson) and all of the resources needed including easy assessment resources! This is in an easy edit format for you to make changes to suit your department.

6 lesson melodrama scheme of work looking at stock characters, subtext and comedy. Includes a PowerPoint for each lesson and resources including a clear assessment criteria.

This 6 lesson scheme of work uses Mischief Theatre as an inspiration for creating comedy. It explores how to create drama that goes wrong, using a range of Dramatic skills and techniques. Designed for KS3, particularly year 7 & year 8, this scheme of work includes: 6 lessons, 6 PowerPoints, 6 KUBAT learning objectives, all resources and an easy assessment resource. The lesson plans and assessment are in an editable format so it can be tailored to your students and your department. *This is for designed educational purposes only and you will find links to external websites. Although every effort has been made to ensure these links are accurate, up to date and relevant, I cannot take responsibility for pages maintained by external providers. *

SAVE £3! Get four KS3 Drama Scheme's of Work for £25! Comedy Goes Wrong Physical Theatre Melodrama Social Media All schemes of work include: 6x lessons 6x PowerPoints Resources Assessment

Designed for KS3, this work booklet gives students the opportunity to explore different roles as a member of 'backstage crew' at a theatre. Students can work through this booklet on their own, making it the perfect resource for working from home or working at desks. This is also great as cover work and can be set quite easily by non specialists.

Looking for Retrieval in Drama? Look no further… This bundle is the perfect for retrieval practice in the Drama classroom or studio. You get a whole host of resources to check the understanding and learning of your students in Drama. What do you get? 100 Drama Questions - Presentation with 100 mixed Drama questions - great as a quick fire starter. Drama Plenary Spinning Wheel - PowerPoint with a spinning wheel of Dramatic plenaries - great for a quick plenary, and works well with practical lessons but would also be great for theory lessons. Drama Memory Worksheet - Great starter exercise to underpin and embed knowledge and key terminology. Icon worksheet - makes a great starter! Use icons to embed key terminology! Key Concept Map Worksheet - Great starter to check understanding. Stage Shape Quiz Worksheets - Embedding the stage shapes. Vocal Skills Worksheet - Check your students knowledge of vocal skills. Working Stage Area Worksheet - Do your students know the working stage area of the theatre? Use this worksheet to check their learning. You get over 5 resources and are suitable for KS3, KS4 and even KS5!

This scheme of work, designed for both KS3 & KS4 uses verbatim techniques as a way in to generating material. It explores how using interviews and real life events is a way of generating text. This scheme of work comes with the following as standard: Full editable Scheme of Work 6 PowerPoints Resources But, it also comes with: Printable student journal Assessment resources to adapt the Scheme of Work from performance generating to a one off unit of work (great for KS3) This SoW is designed as a way of generating performance material and is ideal for devising components. You might also find this would work great as an upper KS3 scheme of work, and I have provided assessment resources to assess. These are linked to the devising component marking criteria for practical devised performance; however, you may not wish to use the assessment material as you just want the students to generate material. This can work in devised groups but could also work with different groups. It is written to work with different groups to generate as much material as possible, however, you could adapt this. Schemes of work are provided in an editable format to give you and your department complete flexibility and control.

** SAVE £5!!!** A range of Drama Improvisation Cards to help support improvisation or character building in the Drama classroom. The bundle includes character cards, emotion cards, location cards physical cards and scenario cards. Buy as a bundle of 5 and make a saving of £5!

Cards printed with a range of emotions. Great for improvisation activities and character building.

Landscape posters with key Drama Terminology that covers physical skills, vocal skills, spatial skills and devising techniques. What you get…* A high quality PDF document for printing, posters are A3 but can be easily scaled down to A4. PNG Images of all posters to be put into student resource booklets.

The Big Scheme of Work Bundle includes: Melodrama SoW Comedy Goes Wrong SoW Physical Theatre SoW Social Media SoW Verbatim Devising SoW Save £5 when bought as a bundle - 13% saving!!!

A range of scenario's - great for quick fire improvisation and character building.

Cards with a range of characters to help with improvisation and quick fire character building.

Update and freshen up your Drama classroom or studio with these key terminology posters and Drama terminology place mat. You will get: Body Language and Movement Poster Eye Contact Poster Facial Expressions Poster Vocal Qualities Poster Performing Adjectives Poster Performing Skills Display Poster Drama Terminology Place Mat WORTH £23.00 WHEN PURCHASED SEPARATELY All posters come as a high quality A3 PDF document that can be easily scaled down to size for printing and you also get a PNG image file of every poster too, helping to create digital displays and perfect for printing in student resource booklets. The place mat is a fantastic tool to support students with key terminology and sentence starters to help with giving verbal feedback and written responses. Make sure you print it double sided on A3 and laminate it for a long lasting support structure tool. Buy as a bundle and make a saving of £3!

100 Drama Questions that are perfect for retrieval in the classroom! A mixture of questions, perfect for checking understanding of knowledge. This is a fantastic retrieval tool.

Facial expressions poster, great for the Drama classroom or studio. What you get… An A3 High Quality PDF Print - best for printing and can be scaled down to smaller sizes. High quality PNG image to reproduce in student booklets.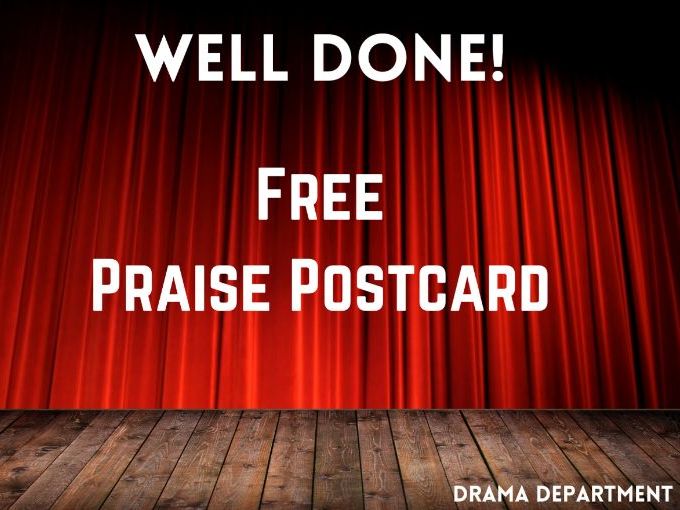 A free praise postcard for Drama departments to send home. Designed to printed double sided.

A worksheet focusing on vocal skills that can be used as a starter exercise and are great for retrieval practice at KS3, KS4 & KS5. If you liked this FREE worksheet, it is also part of a paid retrieval worksheet set that are great for ensuring knowledge has been embedded and make great starters at KS3, KS4 & KS5, so please check them out.

Free pack of improvisation Scenario cards. If you liked this product, check out the bundle of cards on sale, that aid quick fire improvisation and character building.