Mum44tops's Shop
German; French; English and 11+ worksheets and resources
138Uploads
31k+Views
2k+Downloads
German; French; English and 11+ worksheets and resources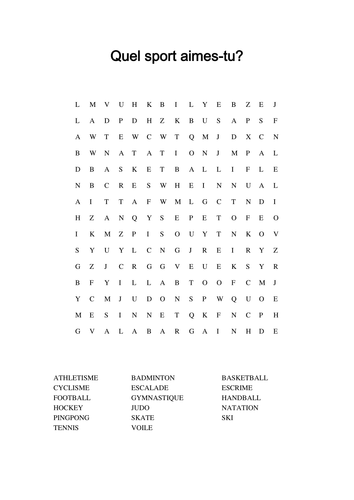 16 sports to find in French. Just for fun or great as a starter or homework.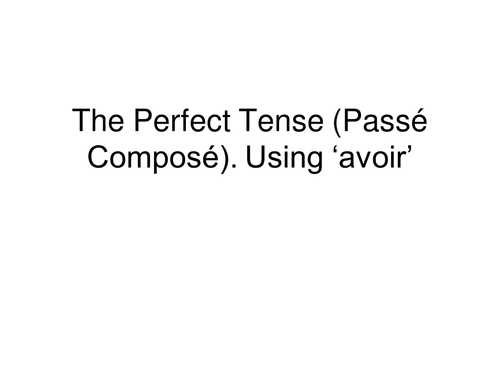 1. Power point 1: Objectif: to learn how to use and form the perfect tense in French.(passé composé) To use it to talk about things in the past. Challenge: to learn all the parts of the verb not just je and nous and also recognize irregular verbs. 2. Worksheet - match the past tenses in French and English 3. Worksheet that presents past tenses using 'avoir' and also those using 'etre' 4. Presentation showing infinitives turning into past tenses/perfect tense 5. Power point with various activities - gap fill / spot the mistake / cross word of past participles - all avoir /perfect tenses 6. A presentation showing how present tense phrases turn into the perfect tense 7. A word search - looking for perfect tenses 8. Power point that explains and practises the perfect tense with etre verbs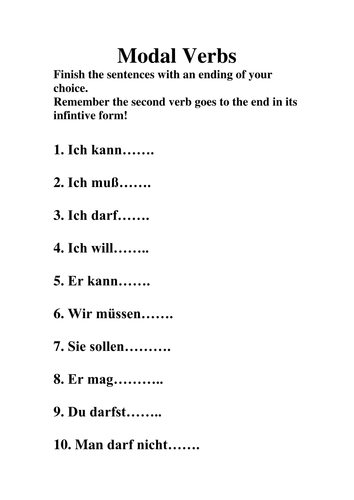 1, Simple sheet - Modal Verbs Finish the sentences with an ending of your choice. Remember the second verb goes to the end in its infinitive form! Full range of modals included. 2. Display / presentation showing 'man kann' with a variety of phrases that would complete the sentence - all linked to keeping fit. 3. Crossword with 14 clues to translate. Modal Verbs Translate the clues and then fill in the puzzle. When you have finished, write a sentence using each one.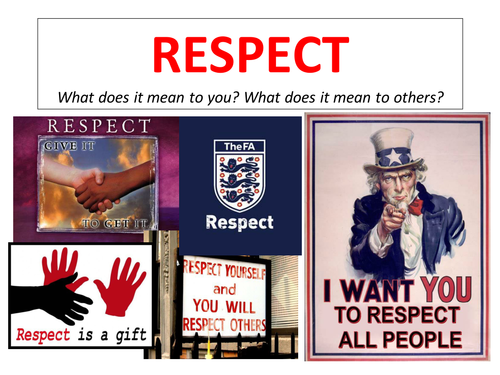 RESPECTWhat does it mean to you? What does it mean to others? Excellent assembly or tutor time resource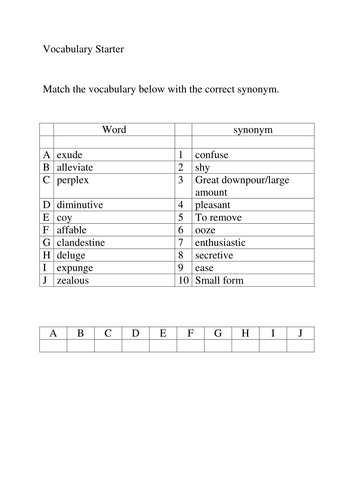 Work sheet 1 - match the synonyms Work sheet 2 - match the words with the definitions and then fill the gaps in the sentences with an appropriate word. Work sheet 3 - 20 higher level pieces of vocabulary to match with their definitions Work sheet 4 - match the words with the definitions. Unscramble the sports anagrams and then find them in the word search. Good as a starter / homework or consolidation.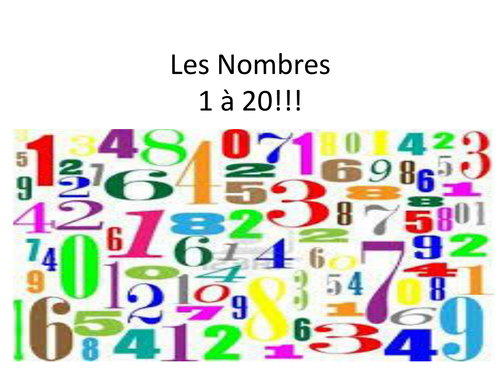 3 resources: Powerpoint introducing numbers 1 - 20 Then 2 word search puzzles - 1-10 and 1-31 Good basics practice.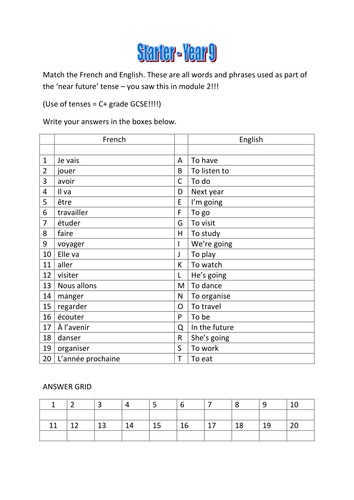 Match the French and English. These are all words and phrases used as part of the 'near future' tense.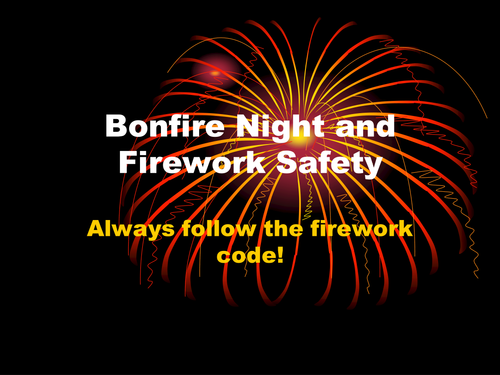 A presentation that gives the history of the event and some good advice for staying safe. Suitable for assembly or tutor time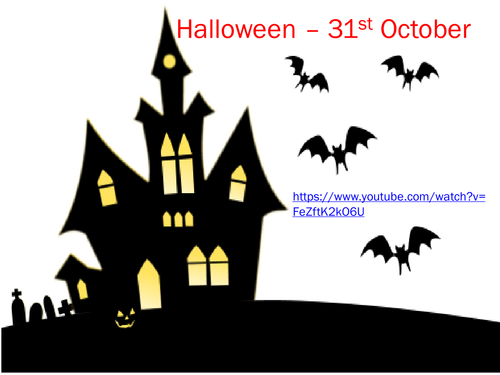 A power point on Halloween that could be used in tutor time or as a whole school assembly / presentation. Most suited to KS3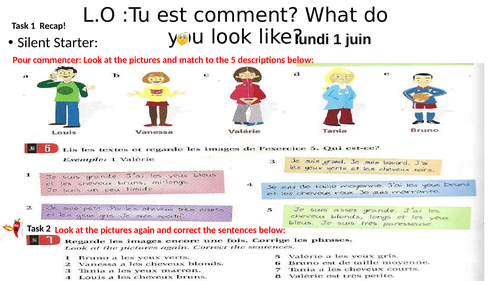 14 slide power point. Has revision of hair and eyes starter and some extension work Goes on to adjectives for height and weight. Presentation of key phrases. Presents key words Presents/recaps key verbs avoir and être Includes 2 reading tasks 2 writing task - with challenge element 1 grammar exercise to spot m/f from adjectives All slides also then present the answers afterwards Definitely enough for 1 lesson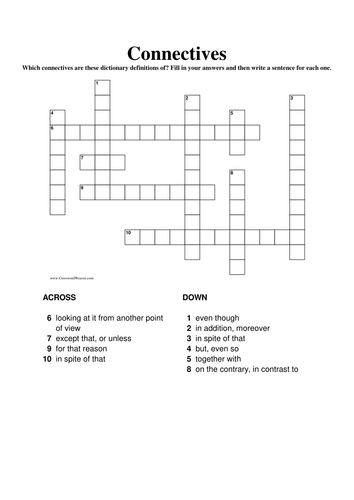 Connectives Which connectives are these dictionary definitions of? Read the definitions; fill in your answers in the crossword and then write a sentence for each one. 10 in total - answer sheet attached also.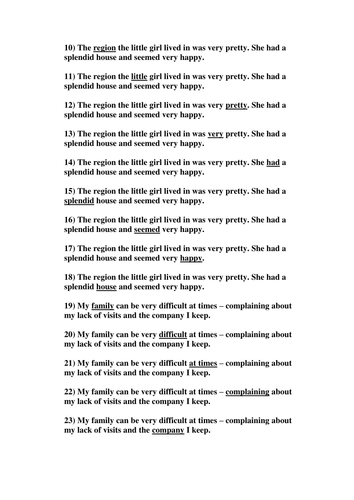 Work sheet with numerous sentences, requiring a word to be changed each time into a suitable synonym. Good for homework or starter. Thesaurus practice.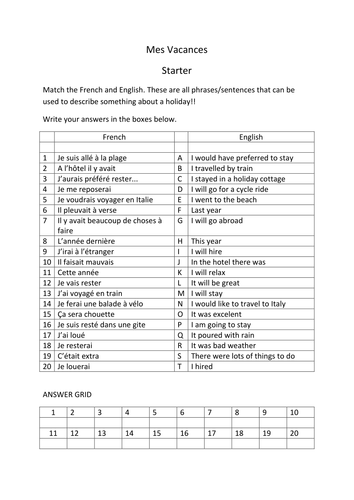 Mes Vacances Starter Match the French and English. These are all phrases/sentences that can be used to describe something about a holiday!! Variety of tenses - so good towards the end of a topic!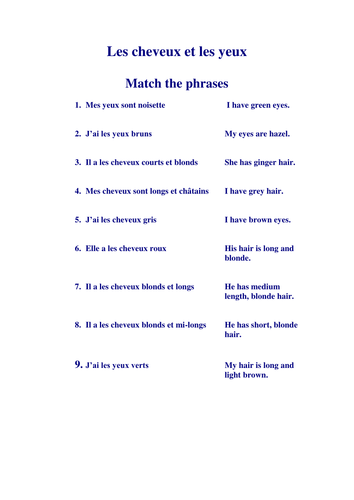 A matching exercise - good as a starter to reinforce vocabulary. A word search looking for phrases on hair and eyes - good as a starter or homework - includes key verbs - I am and I have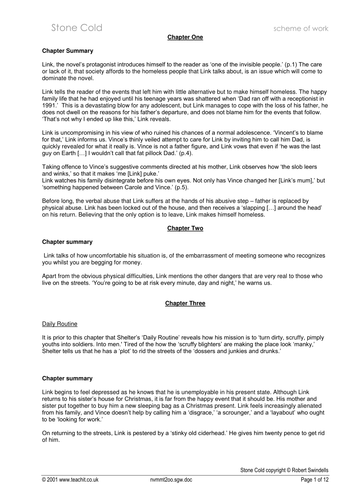 Step by step lesson plans to cover 6 weeks of lessons on Stone Cold - by Robert Swindells. Full plans - with clear activities. Unit scheme also attached and other teaching ideas and resources.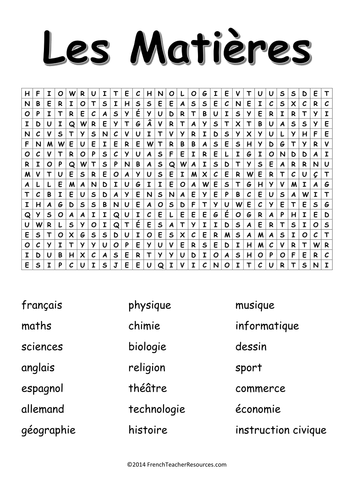 2 puzzles that require students to search for the school subjects in French - one has the solution puzzle also. 1 puzzle that has 'mes affaires' - supports Métro 1 - also with the solution puzzle 1 puzzle and the solution on the classroom instructions - introduced in Métro 1 1 puzzle on school life including: L'école maternelle = nursery school / l'école primaire = primary school le collège = secondary school / un carnet de correspondance = student planner/diary les externes - pupils that go home for lunch / un collège public = a state school les cours = the lessons / une permanence = a free lesson / devoirs = homework Ideal to reinforce vocabulary / for starters or homeworks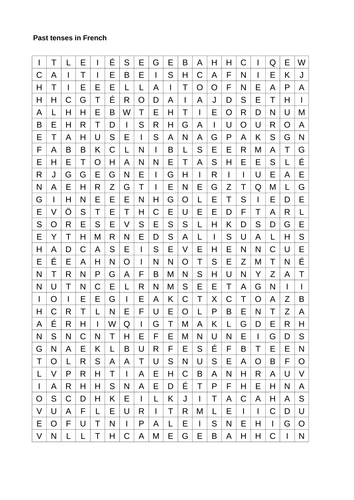 4 word search puzzles in French - perfect for reinforcing the different tenses / homework or starters 2 on the perfect tense 1 on the irregular perfect tenses 1 with the near future tense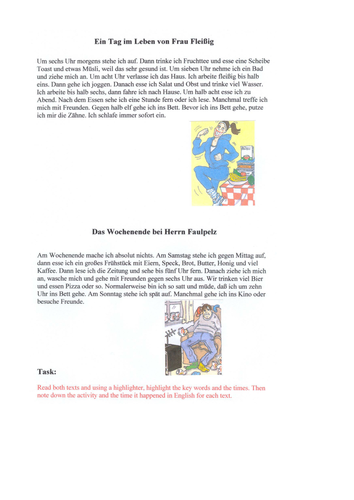 1. 2 texts to read and understand - note down the activity and time it happened. 2. A straightforward list of questions in German to answer on daily routine. 3. A worksheet asking for the times in numbers to be matched with times in words. 4. A worksheet to match the daily routine phrase to the picture.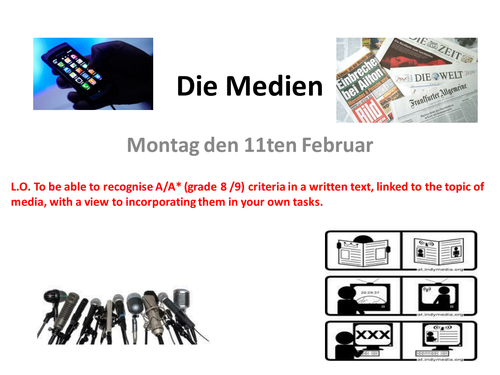 A power point including a starter and several reading texts, with comprehension - looking to identify the top grade criteria in German written work. Challenging - whole lesson L.O. To be able to recognise A/A*(Grade 8/9) criteria in a written text, linked to the topic of media, with a view to incorporating them in your own tasks.