Mum44tops's Shop
German; French; English and 11+ worksheets and resources
138Uploads
24k+Views
1k+Downloads
German; French; English and 11+ worksheets and resources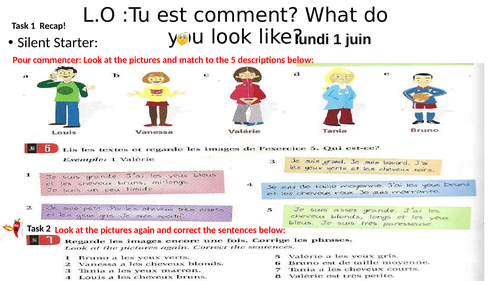 14 slide power point. Has revision of hair and eyes starter and some extension work Goes on to adjectives for height and weight. Presentation of key phrases. Presents key words Presents/recaps key verbs avoir and être Includes 2 reading tasks 2 writing task - with challenge element 1 grammar exercise to spot m/f from adjectives All slides also then present the answers afterwards Definitely enough for 1 lesson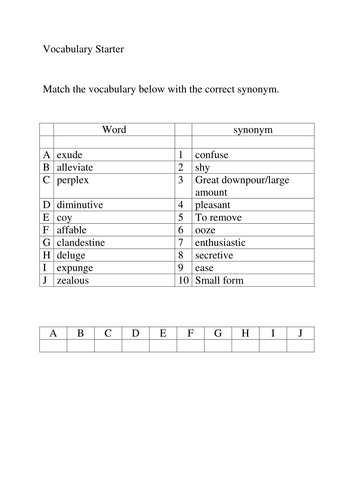 Work sheet 1 - match the synonyms Work sheet 2 - match the words with the definitions and then fill the gaps in the sentences with an appropriate word. Work sheet 3 - 20 higher level pieces of vocabulary to match with their definitions Work sheet 4 - match the words with the definitions.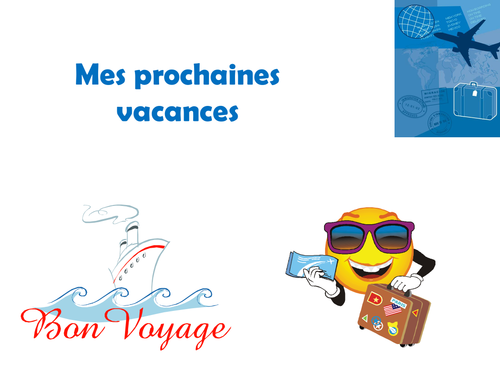 Comprehensive power point on the near future in French with translation exercises and practice.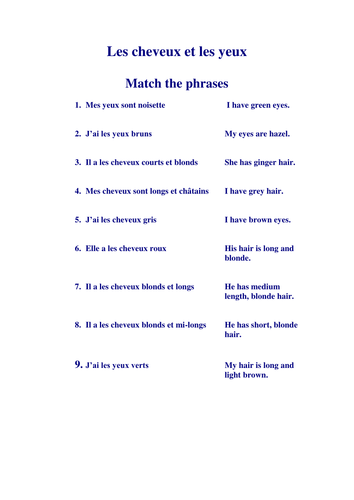 A matching exercise - good as a starter to reinforce vocabulary. A word search looking for phrases on hair and eyes - good as a starter or homework - includes key verbs - I am and I have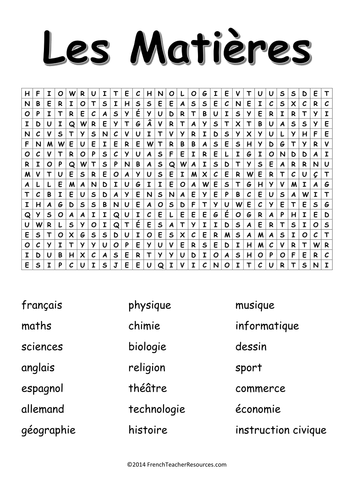 2 puzzles that require students to search for the school subjects in French - one has the solution puzzle also. 1 puzzle that has 'mes affaires' - supports Métro 1 - also with the solution puzzle 1 puzzle and the solution on the classroom instructions - introduced in Métro 1 1 puzzle on school life including: L'école maternelle = nursery school / l'école primaire = primary school le collège = secondary school / un carnet de correspondance = student planner/diary les externes - pupils that go home for lunch / un collège public = a state school les cours = the lessons / une permanence = a free lesson / devoirs = homework Ideal to reinforce vocabulary / for starters or homeworks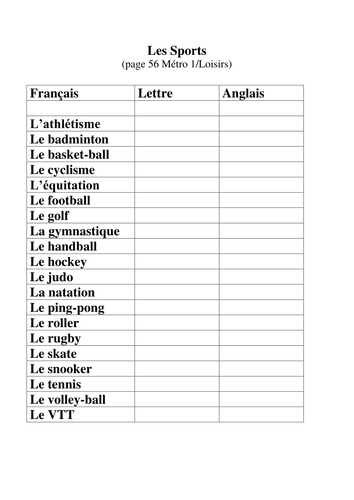 Worksheet with all the sports from Métro 1 p.56 - lists the French - just requires the English to be filled in. wordsearch - quel sport aimes-tu? Good as a starter or a homework. Crossword - fill in the sports in French Unjumble the sports and then find them in the puzzle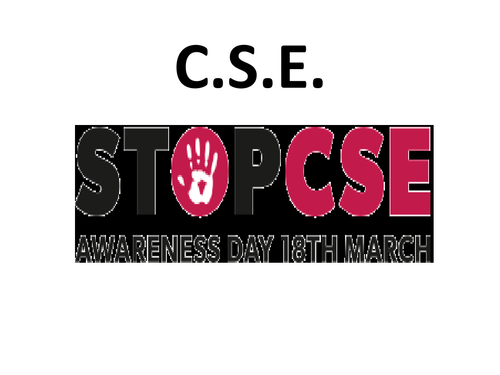 A power point that could be used as an assembly or in tutor time / PSHE time to look at CSE and how to spot it and what to do.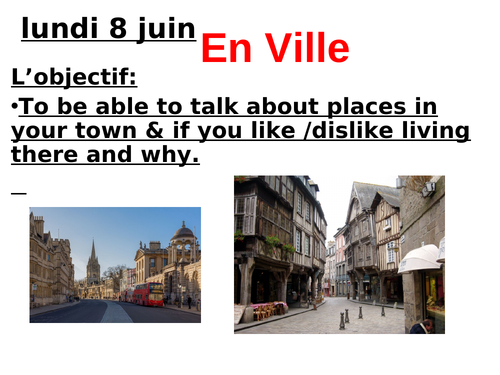 En Ville - writing a description of your town including likes and dislikes and why. Includes Vocab match starter - with dictionary extension task. Answer slide Slide to introduce / recap 'il y a' and 'il n'y a pas de' Slide - speaking or writing task - first one modelled to what you have in your town/don't have and if you like it and why. More examples of likes and dislikes sentences, justified. Listening task - 3 duplicate slides - slide 2 has the audio - pls take the powerpoint off present and then the audio will work. Final writing task about your own town. 10 slides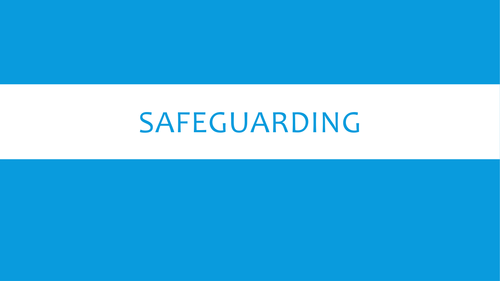 An informative presentation on safeguarding - essential for all staff within schools / CPD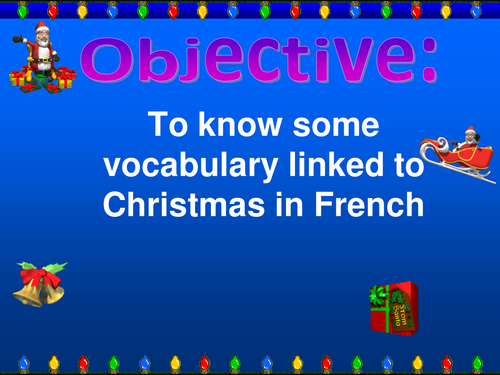 A variety of word searches on Christmas Vocab in French and a power point to introduce the words in the puzzles.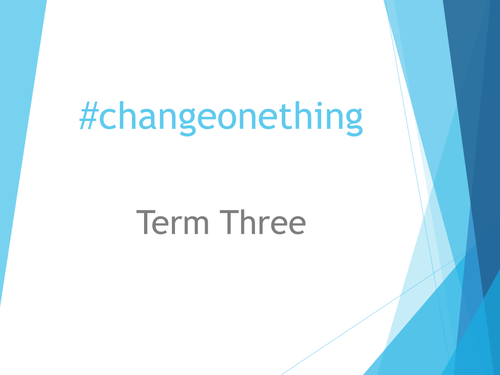 An assembly designed to make you think about making a change, with the New Year, for the better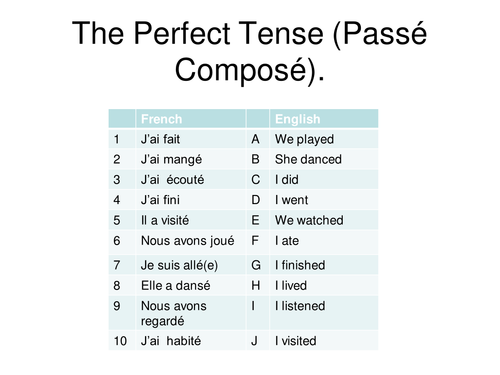 Power point - explaining how to form the past tense (perfect tense) in French Matching exercise at the start to establish patterns - 'avoir' verbs only - including irregulars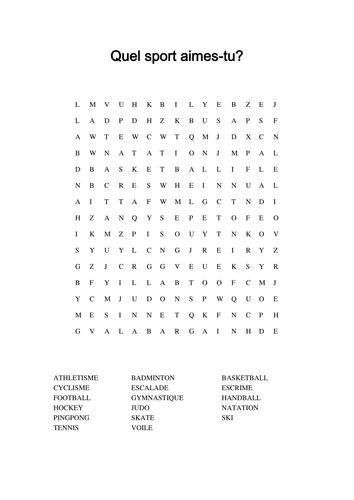 What sport do you like - 16 sports in French to find in this puzzle. Good for a starter or homework task. All ages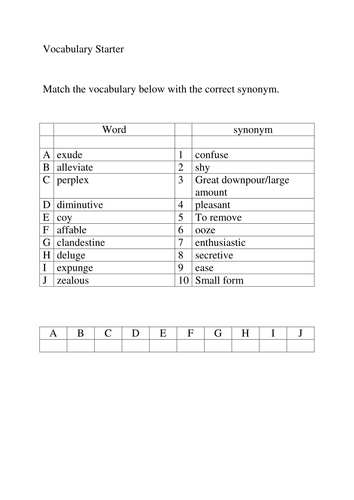 Higher level vocabulary - matching to definitions and synonyms Good exercises for expanding or consolidating vocabulary - also for dictionary practice 4 different tasks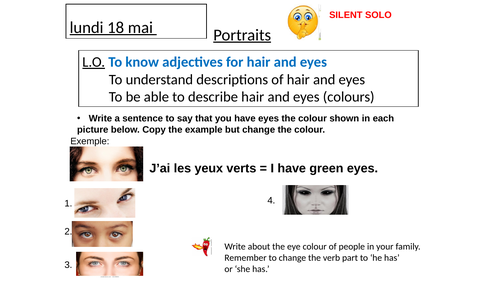 This is a long powerpoint (probably 2 lessons) that shows students how to describe hair and eyes accurately; focuses on pronunciation and accuracy - correct use of key verbs; includes 2 listening exercises and several reading and writing tasks. Nothing left for you to do except deliver it and print out the work sheets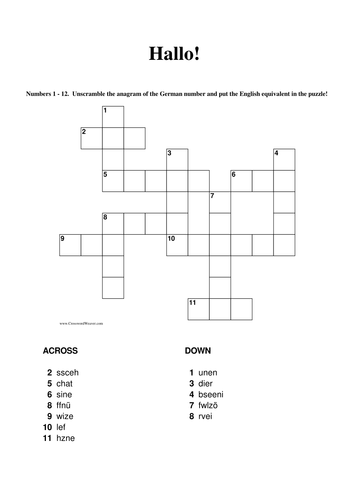 4 puzzles/crosswords: 2 that cover and practise the numbers 1 - 12. The first quite simply do you know the number? If yes, fill it in, in German in the crossword. The second, still 1 - 12, but this time anagrams of the German numbers to solve. 2 that cover numbers 13 - 31. The first that is simply translating the number into German and filling in the crossword. The second - more of a challenge! Sums, using the German words - with the student having to do the sum and then write the answer, in German, in the crossword.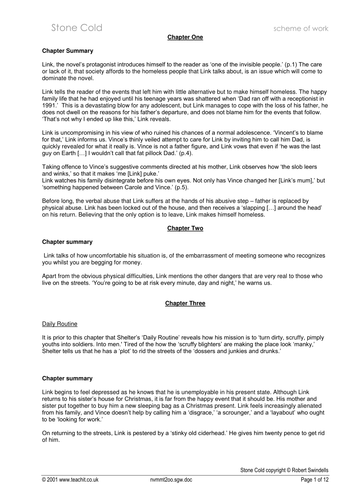 Step by step lesson plans to cover 6 weeks of lessons on Stone Cold - by Robert Swindells. Full plans - with clear activities. Unit scheme also attached and other teaching ideas and resources.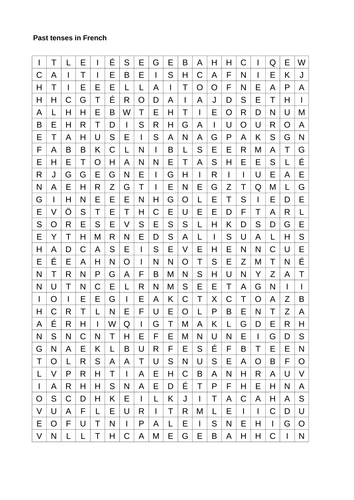 4 word search puzzles in French - perfect for reinforcing the different tenses / homework or starters 2 on the perfect tense 1 on the irregular perfect tenses 1 with the near future tense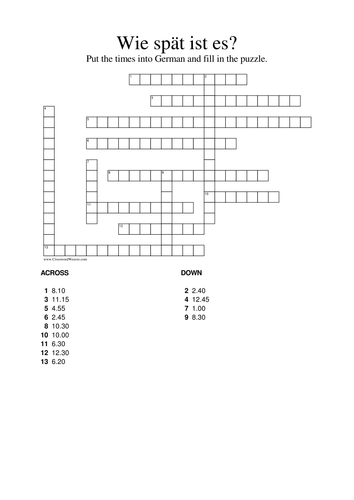 Crossword to practise putting times into German. Good homework / starter or consolidation Includes the following times: ACROSS 1 8.10 3 11.15 5 4.55 6 2.45 8 10.30 10 10.00 11 6.30 12 12.30 13 6.20 DOWN 2 2.40 4 12.45 7 1.00 9 8.30