Mum44tops's Shop
German; French; English and 11+ worksheets and resources
126Uploads
20k+Views
1k+Downloads
German; French; English and 11+ worksheets and resources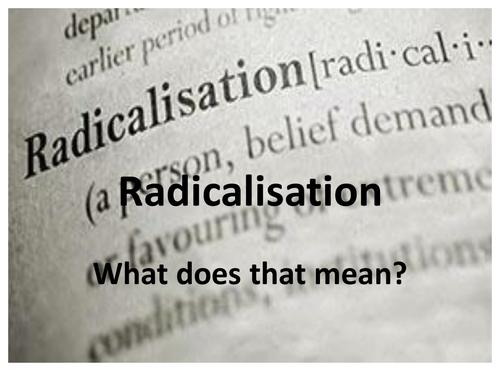 A simple powerpoint to explain what this is; the role of the school; how it can be spotted and how to get help - with an NSPCC clip Perfect assembly length - to then be expanded upon and followed up in tutor time / RE / PSHE and leading to British Values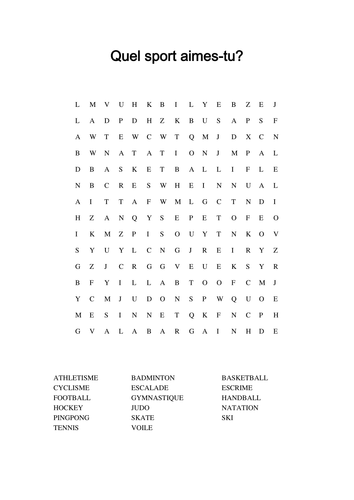 16 sports to find in French. Just for fun or great as a starter or homework.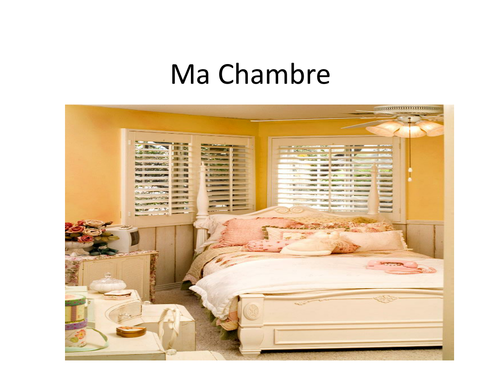 2 resources: 1. Simple power point introducing the key vocabulary 2. A word search to search for the key words - no definite or indefinite article - just the word - good as a starter / consolidation or a homework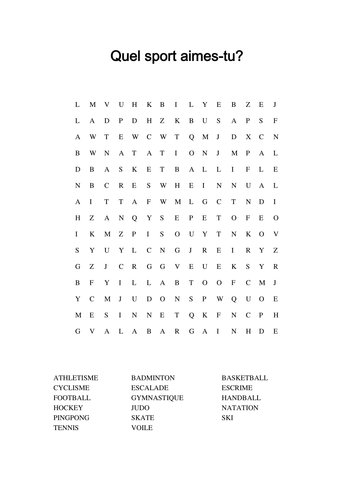 16 sports in French to find in this puzzle. Suitable as a starter or homework or just for fun! Suitable for all ages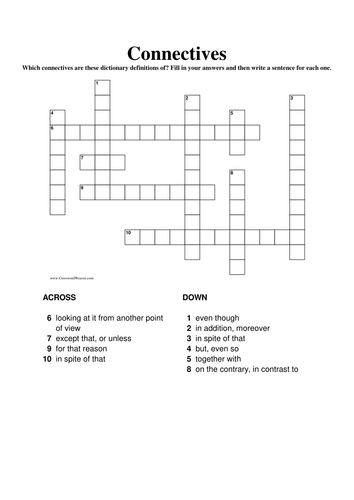 Connectives Which connectives are these dictionary definitions of? Read the definitions; fill in your answers in the crossword and then write a sentence for each one. 10 in total - answer sheet attached also.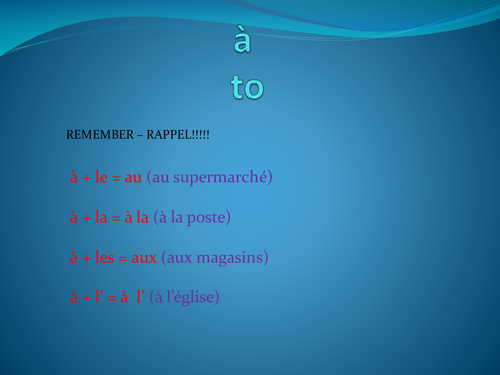 Suitable for Year 7 or 8 French students A good starter before this would be to use dictionaries to look up 5 places in the town and discuss the possibilities for the definite article. This the reminds how to say 'to the place' - with examples and own practice. There is a final task with a challenge element for the more able. This would take a whole lesson.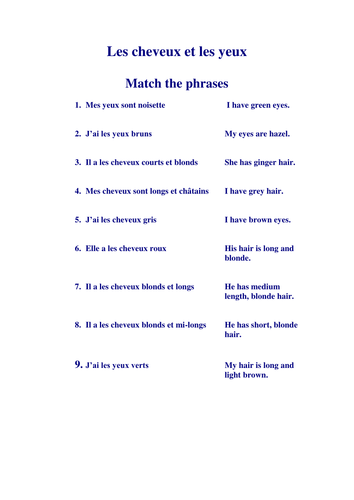 A matching exercise - good as a starter to reinforce vocabulary. A word search looking for phrases on hair and eyes - good as a starter or homework - includes key verbs - I am and I have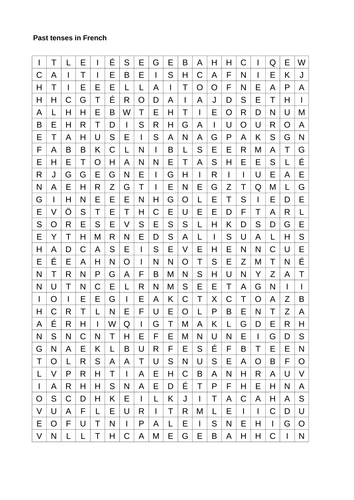 4 word search puzzles in French - perfect for reinforcing the different tenses / homework or starters 2 on the perfect tense 1 on the irregular perfect tenses 1 with the near future tense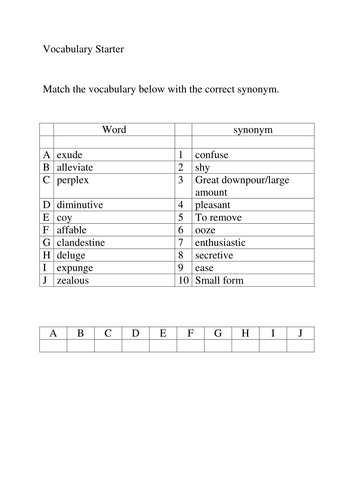 Work sheet 1 - match the synonyms Work sheet 2 - match the words with the definitions and then fill the gaps in the sentences with an appropriate word. Work sheet 3 - 20 higher level pieces of vocabulary to match with their definitions Work sheet 4 - match the words with the definitions.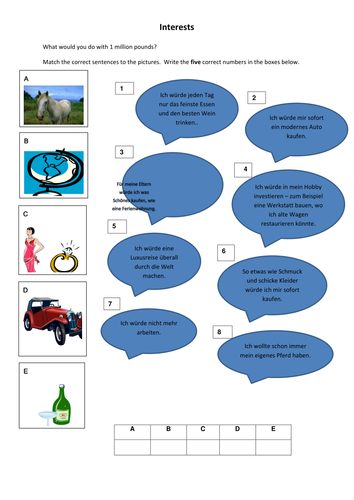 A reading comprehension sheet - highlighting the use of Ich würde + infinitive A puzzle on free time where the students have to search for free time linked words and phrases: Ich mag nicht / Klavier / Ich spiele am Computer / Ich besuche Freunde Fussball / Ich gehe Schwimmen / Ich faulenze / Ich fahre Rad / Ich lese / Ich tanze A matching exercise on free time activities - match the English and the German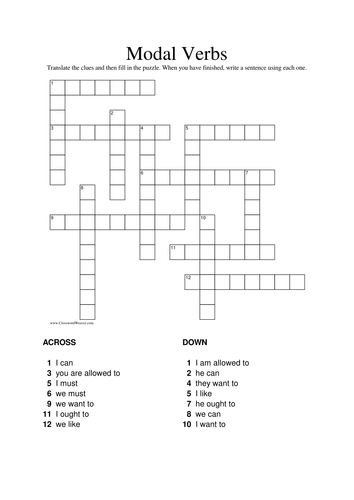 14 modal verbs in German to translate from English and fit into the crossword. Not all first person - a variety of pronouns Good as a starter or modal consolidation work - even homework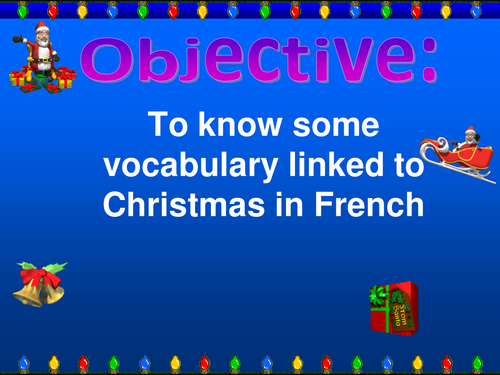 A variety of word searches on Christmas Vocab in French and a power point to introduce the words in the puzzles.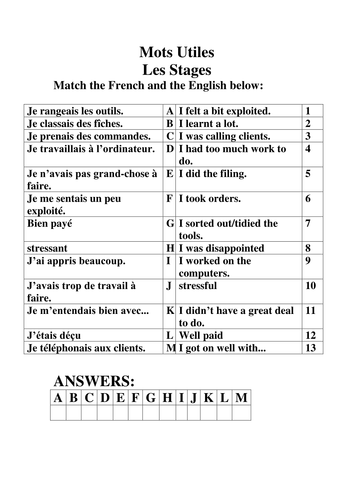 1. Work sheet matching useful phrases to talk about work experience - good as a starter or homework. Uses the imperfect tense a lot. 2. Translate the bubbles into English (they state what sort of work you would like to do) and then write a sentence to state what job you want to be. The first one has been done for you, as an example.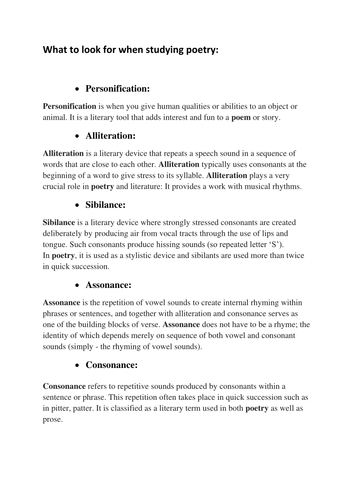 Very simple document - listing all the poetry techniques that students should be looking for - when studying poetry - especially at GCSE. Key words - with explanations of what that means.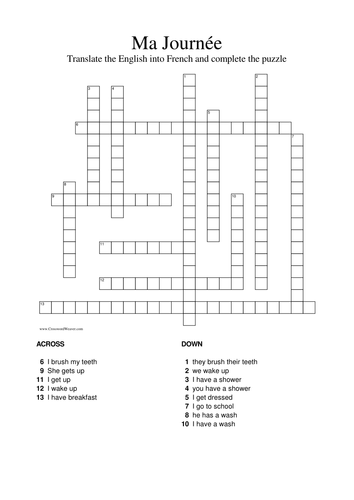 A challenging crossword that practises daily routine expressions, in the present tense - not simply first and third person.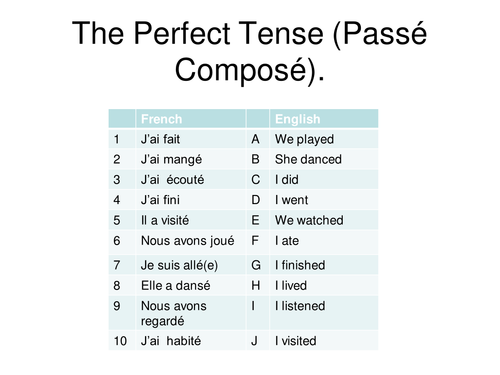 Power point - explaining how to form the past tense (perfect tense) in French Matching exercise at the start to establish patterns - 'avoir' verbs only - including irregulars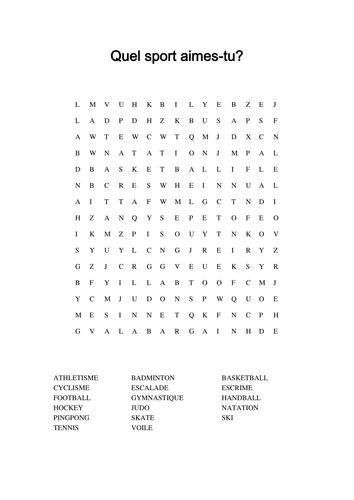 What sport do you like - 16 sports in French to find in this puzzle. Good for a starter or homework task. All ages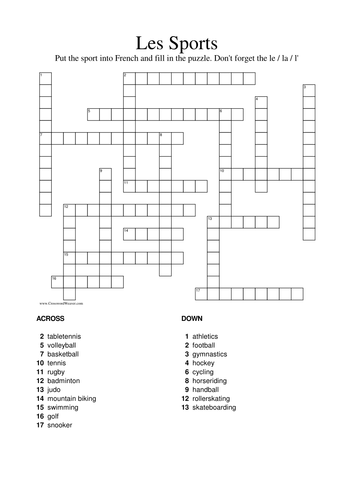 Excellent starter or homework - based on the sports on page 68 of Métro 1.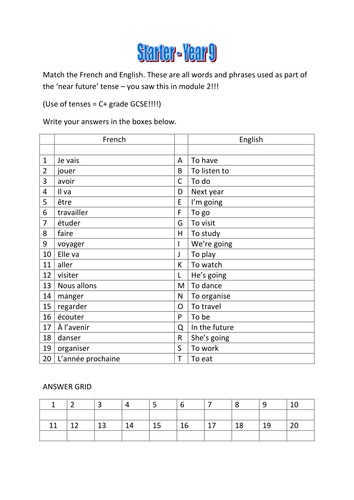 Match the French and English. These are all words and phrases used as part of the 'near future' tense.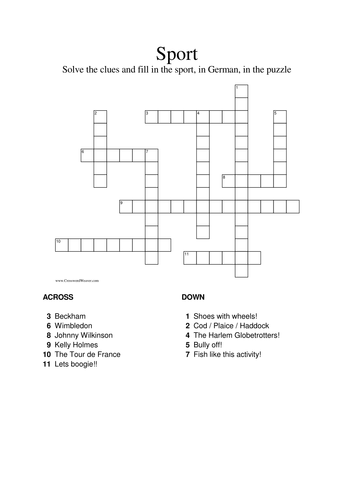 Solve the clues to get the correct sport and then translate into German and fit into the puzzle Clues are: ACROSS 3 Beckham 6 Wimbledon 8 Johnny Wilkinson 9 Kelly Holmes 10 The Tour de France 11 Lets boogie!! DOWN 1 Shoes with wheels! 2 Cod / Plaice / Haddock 4 The Harlem Globetrotters! 5 Bully off! 7 Fish like this activity!