22Uploads
27k+Views
4k+Downloads Exam questions broken down exploring markscheme and ideal response content.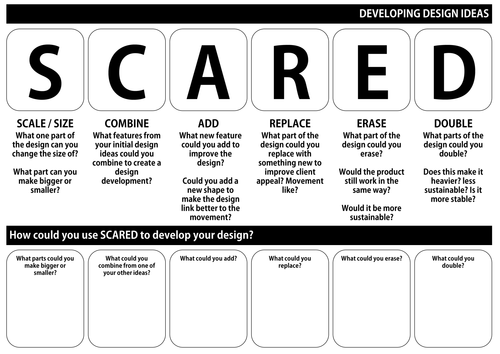 A guide to SCARED and 4x4 design activity sheet to support design development of ideas. Easy to read, visual knowledge sheet for timbers. Perfect for GCSE revision or in-class support. Connect 4 in a line revision game where students recall keywords and definitions or questions / answers to match up 4 in a line. Can be teacher created questions / keyterms or generated by students. GCSE Product Design version included in the example as well as the blank template for printing . A series of Revision & GCSE Question sheets to support the new GCSE Spec. There are a series of tabs: • GCSE Spec Map • Curriculum knowledge mapping across year groups, and opportunities for revisiting knowledge • Year/Year breakdown of project intent, implement, impact • GCSE Links to each unit within AQA DT Spec Personal Development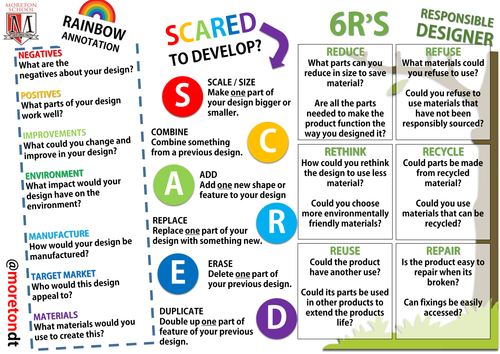 Support sheet/poster to support students in annotating, developing or considering sustainable product development. Designed for product design, but could be applied to all areas of design technology subjects.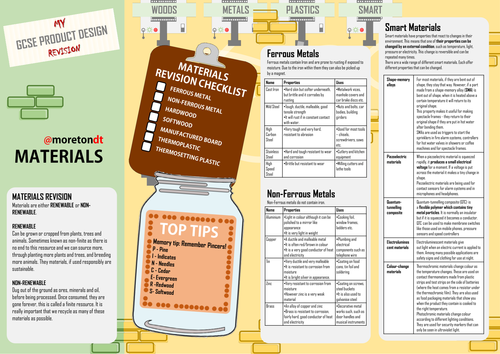 A fold up takeaway materials revision resource for GCSE product design and resistant materials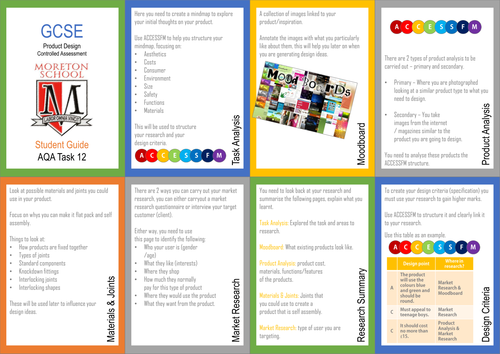 Takeaway resource on page content for product design. Great as a starting base for weaker students. Revision Recap Question Cards RULES -Cards are given out to students. -All students sit and review their answers on each of their cards. -Choose a student to read out their first question. -The student who believes they have the correct answer then stands and shares the answer from their card. -They will then read the next question that is located underneath the answer they have just given. -This is then repeated until all questions and answers have been given. User-friendly visual revision sheets: -Metals -Timbers -Polymers -Smart Materials -Paper & Board -Design Factors -Ergonomics -Anthropometrics -Inclusive Design DESIGN TECHNOLOGY SPECIFIC KS3 MARKING CRIB SHEET WITH CRITERIA BOXES TO ENABLE STUDENTS TO SEE THEIR CURRENT WORKING GRADE.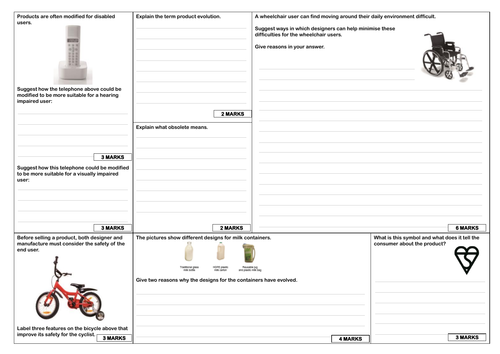 Challenge grids using GCSE exam questions. Designed to be printed A3.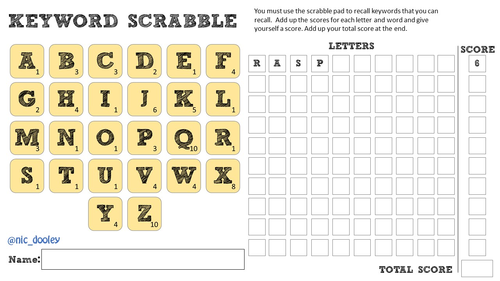 USE THIS SCRABBLE SHEET TO GET STUDENTS TO RECALL KEYWORDS IN YOUR SUBJECT / FORM. GREAT FOR LITERACY AND NUMERACY. ADD UP THE SCORE FROM LETTER VALUES, AND TOTAL SCORES TO BE REWARDED. GREAT AS A STARTER, PLENARY OR HOMEWORK TASK.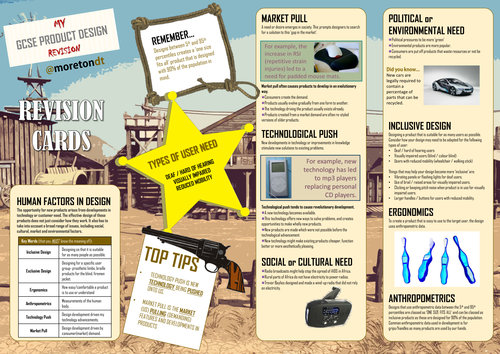 Revision into human factors, ergonomics and how they affect design decisons