10Uploads
4k+Views
9k+Downloads
Some fun and functional name tags with pictures of popular children's book characters. With space for names, a number line and pictures children are sure to enjoy as well as find it useful! These tags are editable and can be used in any way you wish!
These are a collection of slides with some questions for the children to begin the day or to start a class conversation! Each slide coressponds to a day and can be a fun way to get your class talking. With categories like Monday Moving, Tunes Tuesday, Warm-hearted Wednesday, Thoughful Thursday and Flashback Friday the slides will be able to spark deep conversation within your class! The slideshow is editable and can be used in multiple ways to fit your class!
As each child displays exceptional behaviour they can be rewarded with a hole punch (or stamp), that can not be removed from them. When they reach ten the children can receive a reward! This template allows children the opportunity to decide their rewards alongside the teacher, and this can be used as an effective way to reward behaviour and work within the classroom! This particular template is editable and colourful- excellent for all ages of children! Make it personal for you and your children. Happy teaching!
One way to help children and families get to know you before your first meeting- a meet the teacher leaflet! This meet the teacher leaflet is colourful, eye-catching and personal. The templates left are editable to be able to suit you, your class and your school! Happy teaching!
Editable rainbow coloured labels that can brighten up any toolkit. Keeping your classroom organised and bright.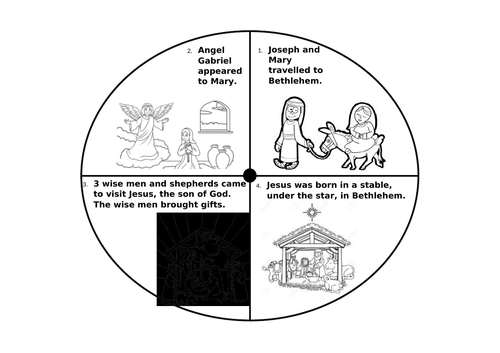 This is a fun activity for the lead up to Christmas! This activity you will need 2 pages of the activity wheel and a push pin. Children are able to colour, cut and pin this wheel which then can help reinforce the learning of the story of the nativity. Hope you enjoy!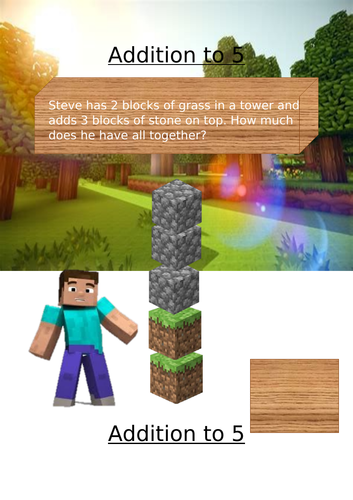 Some fun Minecraft themed addition worksheets for the children in your class! This is an editable worksheet focusing on addition and doubling to 10! Count the grass and stone blocks to work out a total. Would work great as an extension task for some children. Having fun building and mining!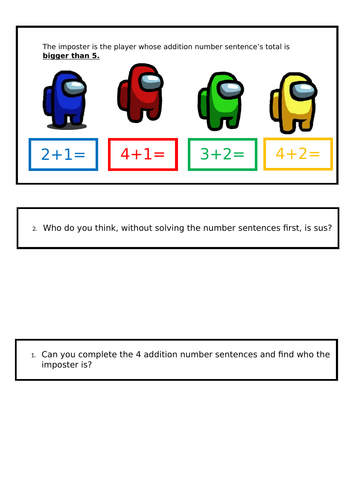 With the craze of among us sweeping the nation I thought some Among Us worksheets would be a great way to get children interested in their numeracy! These are some worksheets looking specifically at addition to 20! However, they are completely editable. Hope your children enjoy figuring out who is 'sus'!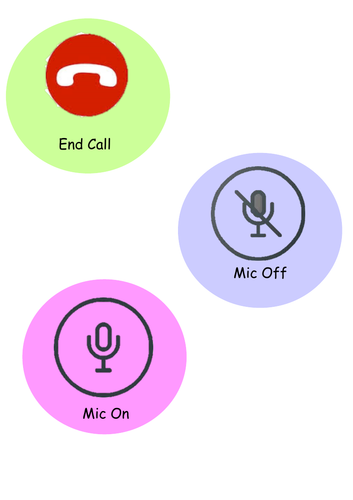 Great for your online learning, these symbols will help give you clear communication with your pupils. This set of symbols can be printed out and created into lollipop sticks for you to use during your Zoom/Teams/Webex/Online meetings with children. This resources is editable and provides a clear way of communicating without having to always speak.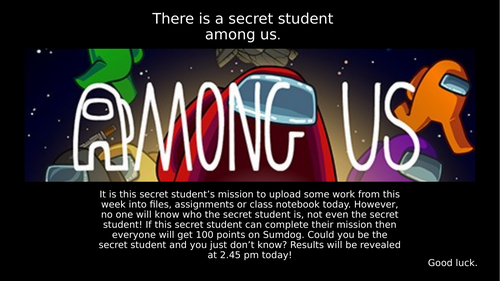 A great way to encourage engagement with online learning and motivating children to upload work. With an Among Us theme it is sure to get the children excited and desperate to win those points. Pick a secret student, reveal the message and hide the identity of the secret student. If the secret student uploads the work/logs on/answers a question then all children in the class get rewarded. If the secret student does not complete the desired outcome then they remain anonymous and the children don't get the extra points. This resource is full editable and can be used on lots of different online learning platforms.