Language Resources by Nina
Full time teacher since 2003. I specialize in fun readings and worksheets.
1k+Uploads
427k+Views
17k+Downloads
Full time teacher since 2003. I specialize in fun readings and worksheets.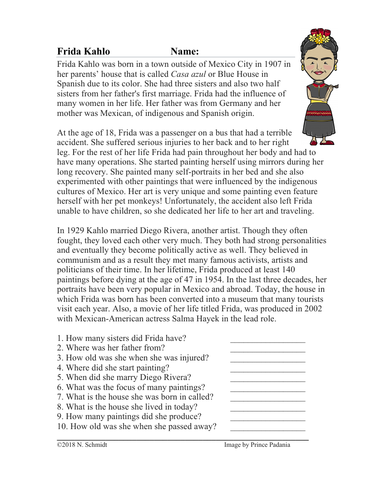 A biography of the famous and fascinating Mexican artist Frida Kahlo. It includes a short paragraph each on: her early life, accident at the age of 18, her artistic style, her relationship with Diego Rivera and finally her death and legacy. The reading includes a full glossary of new vocabulary. Includes 10 reading comprehension questions and an Answer Key.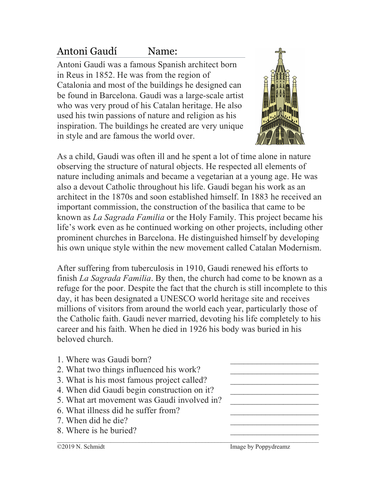 This is a great introduction to the life of the famous Spanish architect Antoni Gaudí and his masterwork La sagrada familia. This enormous cathedral is located in Barcelona and is a UNESCO heritage site. Reading includes 8 short answer reading incomprehension questions. Answer key included. A wonderful addition to any unit on art, Spain or Hispanic heritage! Note: This reading is in English, I also have a similar reading available in Spanish in my store.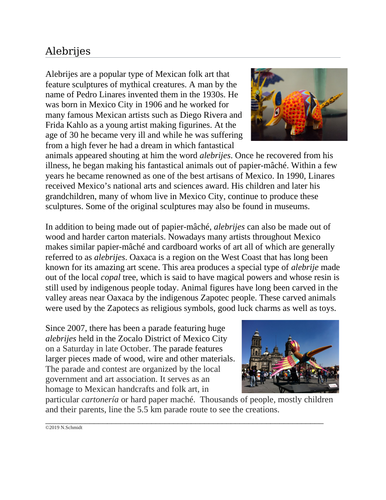 This 3-page file includes: ~A reading that describes the history of Alebrijes, a Mexican Folk Art Tradition begun in the 1930s by Pedro Linares. It discusses the various materials used create these fantastical animals as well as the importance of the Oaxaca region in Mexican Art. Also included is a paragraph on the annual parade of Alebrijes in Mexico City as well as a similar type of art created by the local indigenous Zapotec people made from the copal tree. ~A worksheet with 10 reading comprehension questions. ~Answer key. ~Editable word file. Makes for a great cultural component to a beginner Spanish class or a sub plan. NOTE: This reading is in English and features some Spanish vocabulary.