Language Resources by Nina
Full time teacher since 2003. I specialize in fun readings and worksheets.
954Uploads
295k+Views
10k+Downloads
Full time teacher since 2003. I specialize in fun readings and worksheets.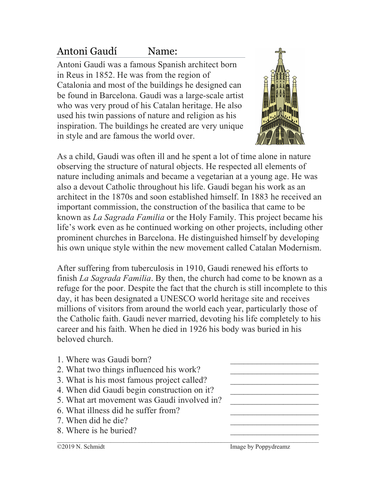 This is a great introduction to the life of the famous Spanish architect Antoni Gaudí and his masterwork La sagrada familia. This enormous cathedral is located in Barcelona and is a UNESCO heritage site. Reading includes 8 short answer reading incomprehension questions. Answer key included. A wonderful addition to any unit on art, Spain or Hispanic heritage! Note: This reading is in English, I also have a similar reading available in Spanish in my store.
This reading introduces students to traditional Latin American cuisine. In particular three dishes: carnitas, ceviche and enchiladas. Includes a glossary of specialized vocabulary and four reading comprehension questions. Great for Hispanic Heritage month or as an introduction to Latin culture for beginners at Spanish. Includes: Ceviche Carnitas Tortillas Maya Enchiladas c
This 3-page file includes: ~An English language cultural reading that explains the significance and meaning of the Mexican celebration of Día de los Muertos. It includes a short glossary of specialized Spanish vocabulary. ~A worksheet with 8 reading comprehension questions. ~Answer key. Vocabulary includes: copal ofrendas cempasúchil calaveritas Great for hispanic heritage!
This English language reading introduces students to the traditional clothing of Latin America. It includes one paragraph each on: the Poncho, Sombrero, Huipil. Spanish vocabulary appears at the top with an English translation. The reading is followed by six reading comprehension true/false questions. Great for Hispanic heritage month!