Nlevack1's Shop
PE resources to cover key stage 3, 4, GCSE and OCR Cambridge National Sport Science.
14Uploads
9k+Views
6k+Downloads
PE resources to cover key stage 3, 4, GCSE and OCR Cambridge National Sport Science.

An HRE/Fitness circuits lesson with an I'm A Celebrity theme. Various Bush Tucker trial posters are included (Stations) with opportunities to earn stars and then trade them in for Dingo Dollars which can buy prizes for their camp (team) from Kiosk Keith at the end of the lesson! There is also an academic focus on each trial poster which focuses on the muscles, activities and components of fitness used, helping to link it to examination PE and Sport qualifications. This can be adapted to suit the age/level of the students. A record sheet is also provided. This lesson requires little extra equipment and makes an ordinary fitness lesson a lot more fun!

This interactive quiz is a fun game to test pupils knowledge on the components of fitness, their definitions and relevant sporting examples. The quiz is a further developed version of the Anaerobic and Aerobic exercise quiz that is listed for free (if you would like to have a trial go) but has significantly more slides and interactive opportunities. The shapes are linked to a variety of different slides and therefore give a random question for every pupil when clicked. This starter/plenary/revision game would be ideal for anyone teaching GCSE /BTEC Sport/Cambridge National for Sport Science and looking to put an engaging twist on the components of fitness.

A useful resource for teaching tackling in Rugby. Provides confirmation to students of 4 of the key phases to tackling and can be useful for lower ability/EAL students as a visual guide to safe tackling. Also includes an opportunity for peer assessment of the 4 key phases. Works best when resource is laminated!

Inside this bundle is a full unit of powerpoints, booklets, resources, activities, worksheets, quizzes and coursework support sheets that I created whilst leading on this unit. I have included 23 different resources in this bundle which will enable you to deliver this qualification without the painful hours of planning and prep time! Each powerpoint is interactive and engaging for students and makes the content as accessible as possible for weaker members of the class. I have also provided work and support sheets for each assessment which helped my students when completing their coursework.

In this bundle are 3 presentations that cover units 1, 2, 3 and 4 of unit RO46 of the Technology in Sport module of the OCR Cambridge National Sport Science award. These powerpoints include all of the information students require in order to complete their coursework for each unit. They also include explanation slides of what is expected for each coursework assessment. I have tried to make powerpoints as engaging as possible and have included challenges, tasks and quizzes to make the course as painless as possible for students!

A useful and interactive starter/plenary game for teaching the definitions of and differences between Aerobic and Anaerobic exercise. There are also links to Sporting examples of each. Ideal for GCSE / Cambridge National Sport Science / BTEC Sport Level 1/2.

A warm up game based on Pacman for indoor PE lessons ... Even better with the pacman music!

A really fun game that isolates the clear shot skill and practices it through an adaptation of Badminton and Kwik Cricket. Included are a teachers explanation sheet and a 'Team Captain Information' resource so that pupils are responsible for explaining the rules of the game to each other.

This is an OCR Cambridge National Sport Science exam unit (R041) bundle of activities to help students revise in an enjoyable way within lessons. These revision games are very interactive and make revision fun for students. I have included 12+ different games in this bundle. I have also included a starter activity worksheet as well as a series of past papers/mark schemes which will help to support the revision activities. These activities could also be adapted for other examination courses/subjects.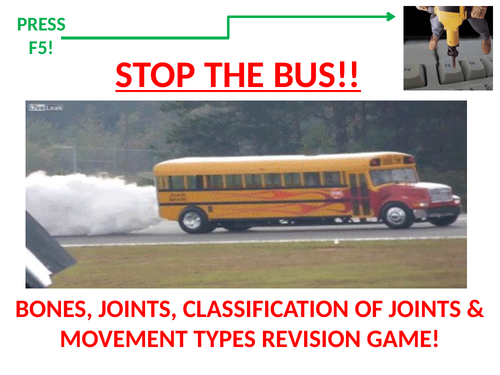 A fun and competitive starter/plenary game for the bones, classification of joints, types of joints and movement types topics that are found in Unit 1 Applied Anatomy and Physiology. Includes explanation of rules, practice game and the game along with gifs to further engage students.

Included are 10+ ready to go revision games that are adaptable for all examination courses, units of study and even different subjects. These games are interactive, engaging and fun and get the whole class involved in revising key content.

This quiz is very similar to my other resource for the components of fitness. In this activity the students pick a shape and it takes them to a question - they then have to answer the question given to them. This can be done individually, in pairs or in teams and works really well as a starter or plenary activity for this topic. I have found that PE students also enjoy the competitive nature of the game! I've also found it to be a useful informal assessment method for gauging understanding of this topic.

A Football circuit focused on improving shooting. Each station has a different focus and works on a different form of shooting technique commonly used in Football. Suitable for Years 7-11, boys and girls. Score tracking document is attached to add an extra level of competition for pupils when completing the stations.

This is a really useful resource for engaging boys who are injured, cannot take part or have forgotten their kit in practical lessons. Each badge gives the pupil specific tasks to get on with throughout the lesson which ensures they are active, focused and engaging with the learning.