NSM66's Shop
French teacher for 28 years, absolutely converted to Gianfranco Conti's methods
37Uploads
3k+Views
766Downloads
French teacher for 28 years, absolutely converted to Gianfranco Conti's methods
2 sentence builders: where you live with compass points what there is in my town with 3 tenses.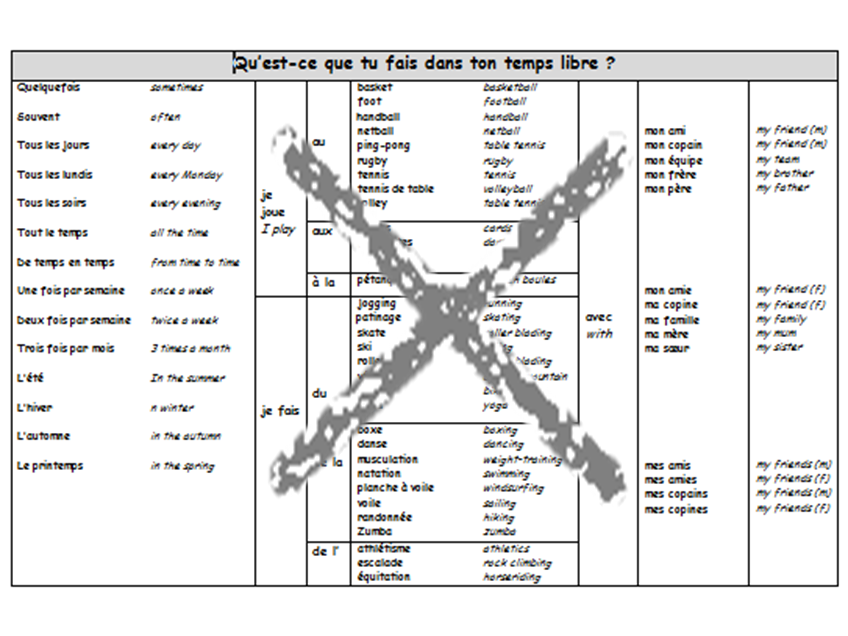 Sentence builder with time phrases, jouer à , faire de and sports.
Sentence builder and activities à la Conti. Also contains a mosaic listening and translation (differentiated) and a quick reading. Quizlet link included as well as a link to the video for the mosaic listening.
Sentence builder on marriage with activities: 2 battleships with positive opinions and negative opinions. Ping-pong translation game, French to English and English to French, differentiated.
Sentence builder based on Studio GCSE Higher in GianFranco Conti 's style.
Sentence builder on opinions about town, including what you can do there, what's missing ,what there's not enough and what there's too much of.
Sentence builder on holidays in the present tense with opinions.
Sentence builder on arranging to go out with questions, suggested answers with justifications and excuses.
Sentence builder describing hair and eyes for self and family members
Sentence builder on directions with questions, directions and prepositions
2 sentence builders on school subjects: introducing school subjects and revising days of the week revising school subjects and opinions with justifications.
Sentence builder à la Conti introducing the different members of the family. Powerpoint with starter activities and Conti's games such as sentence stealer, no snake no ladder and traditional games such as battleships.
Based on Gianfranco Conti's teaching methods. Activities to go with sentence builder: sentence stealer, ping pong game, lie detector etc… Also includes starter activities.
Bundle of Conti's style activities to accompany the sentence builder Un bon ami Higher. Ping-pong translation games: to be played in pairs, each partner translating a sentence read by the other one, can be scored out of 3. Narrow translation: pupils have to identified the mistakes made in the translations. Oral translation game: I used it as a recap. Played in 3, 2 players, 1 referee who has the answers. Dice and counters needed.
Sentence builder with activities, time phrases and opinions. Present tense.
A Close the square game to practise numbers 1-36. I usually print it and put it in a plastic wallet so that pupils can draw their lines with white board pens and erase for multiple games.