Oinkpinkmoon's Shop
Welcome to my shop! I've got lots of great English and whole-school literacy stuff. Feel free to browse!
29Uploads
201Views
57Downloads
Welcome to my shop! I've got lots of great English and whole-school literacy stuff. Feel free to browse!
Coteachable exam questions based on Chapter 5 in* Frankenstein to revise the novel and reinforce Language skills for AQA Paper 1, Section A.
A handy checklist for students to assess their confidence with writing skills. This could be linked to either English or whole-school literacy.
Activities on the short story "The Vendetta," primarily focused on structure.
A quick activity to recap writing skills and some writing tasks. Great for lower ability learners.
A grid of reading challenges to get students into reading. This could be a homework, form activity or half term competition to boost literacy.
A quick guide to the requirements of Paper 1, Question 3 on structure, with some novel openings to explore and a short, timed question on the opening to The Grapes of Wrath". I have also provided a longer version of the extract to use as practice for a full Question 3 response.
This sheet helps students record their findings in wider reading. A really useful resource.
Coteacheable tasks on Act 2, Scene 2 to revise the play and prepare students for Language Paper 1 for AQA.
Independent tasks in a handy booklet for students to work through. Great for homework or revision.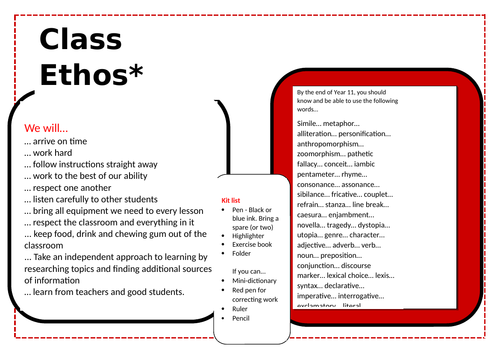 Features class expectations, equipment list and Year 11 GCSE key words list. I have used it for English lessons, but it can be adapted to any subject. Great for sticking in front of books.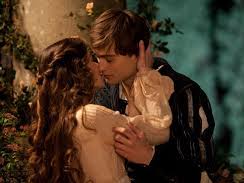 Coteachable activities on Act 1 Scene 1 to revise the play and to prepare students for AQA Language Paper 1. Great for independent work, homework or revision.
Cut-out flashcards for structure in Romeo and Juliet featuring terminology and examples from the play.
An exam-style question on* Frankenstein* for GCSE English Literature (AQA).
Revision notes, essay plan and mark scheme on progress or decay in language change.
A quick introduction to description versus narration to prepare students for Paper 1, Section B. Includes an extract from *Purple Hibiscus to identify descriptive techniques.
Plan, write and deliver a dramatic monologue by Eva Smith, persuading the other factory workers to join her on strike. This would work well as a Speaking and Listening task or a piece of persuasive writing to revise writing skills or enrich students' understanding of Eva and wider contextual issues of the play.
Quick starter - read the extract, identify descriptive techniques and note down their effects.