Olivia_b2's Shop
Secondary science teacher specialising in low ability worksheets and placemats.
32Uploads
12k+Views
3k+Downloads
Secondary science teacher specialising in low ability worksheets and placemats. A double-sided revision placemat covering the topics in AQA C1a Atomic Structure & the Periodic Table. Questions on: atomic structure sub-atomic particles isotopes ions electron structure balancing equations history of the atom history of the periodic table Group 1 and Group 7 properties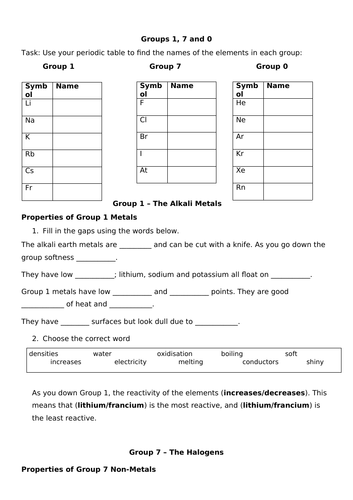 A support worksheet for AQA Atomic Structure and the Periodic Table, may also be suitable for KS3 students studying the periodic table. This covers the names of the elements and their properties. Two resources included - for lower and higher ability students. Questions ask students to calculate missing masses in chemical equations assuming mass is conserved in a closed system. Two worksheets summarising the differences between meiosis and mitosis. One aimed at higher students and a similar support sheet too. A gap fill resource describing the food tests for starch, sugars, protein and fats. Suitable for AQA KS3 and low ability AQA GCSE Combined students. A single-sided place mat aimed at foundation tier students studying AQA trilogy. The worksheet is ideal for revision, covering conservation of mass, sub-atomic particles, relative formula mass and concentration calculations. Two revision placemats for the AQA Trilogy Chemical Changes topic. These placemats are aimed at foundation tier students and cover metal extraction, the reactivity series and electrolysis. They are each one sided so can be combined on 1 A4 sheet. A worksheet to be used either throughout the lesson, as a plenary for higher classes or for revision. This worksheet covers the evolution of the atmosphere, common atmospheric gases, %'s of gases and the removal of CO2. A placemat designed to be completed throughout the lesson for lower ability groups. Suitable for KS3 and GCSE groups. The placemat is designed to aid the revision of Foundatino tier students studying AQA Combined Science. It features word fills and simple questions covering the alkanes and alkenes, fractional distillation and cracking. Placemat style worksheet designed for low ability groups, introducing elements, compounds and mixtures, and associated particle diagrams. Circuit questions on current suitable for higher tier and triple science students with answers included. Planning and question sheet for separating pure salt from rock salt using filtration and evaporation. Students have to fill in the gaps then number the steps in the method from one to eight. Once the practical is complete there are questions for them to answer. A 3 page revision resource explaining how to complete each of the calculations with practice questions to try underneath. This resources covers: conservation of mass relative formula mass Avogadro's number moles (moles = mass / Mr) reacting masses using moles to balance equations concentration calculations (moles = conc x vol & mass = conc x vol) titration calculations percentage yield atom economy molar gas equation A simple revision placemat for lower ability sets covering basic animal and plant cells, prokaryotes and eukaryotes, specialised cells, stem cells and mitosis. Suitable for AQA Combined Science or similar. A practical worksheet to support lower ability groups for the antacid practical. Students must fill the gaps for the method, state the variables and fill in the results table. Aim of the practical is to find how many spatulas of different antacids it takes to neutralise an acidic solution. Simple worksheet for lower ability students to summarise the properties of diamond and graphite. A 5 question worksheet asking students to find the percentage mass of various compounds. Difficulty increases during the worksheet. Crossword suitable for KS3 or low ability KS4. Can be used as a starter or plenary activity when teaching about respiration and photosynthesis.