Mrs Olner's Music Shop
Tried and tested resources created for - and used by - my students.
26Uploads
10k+Views
10k+Downloads
Tried and tested resources created for - and used by - my students.
Offline troubleshooting resource for students using Stykz. This resource was developed to support independent learning in the classroom. The help sheets vary from the basics of using Stykz, to more advanced concepts of creating camera angles. This resources uses Dyslexie to support learners with dyslexia. Includes 'How to...': • Get started • Change the stage size • Draw objects • Change colours • Change size or rotate • Get tool windows/palettes back • Import objects and backgrounds • Increase/decrease the frame rate • Get more Stykz figures • Zoom in/zoom out • Save an animation Documents are A4 landscape. Suitable for printing or storing on computer/server for digital access.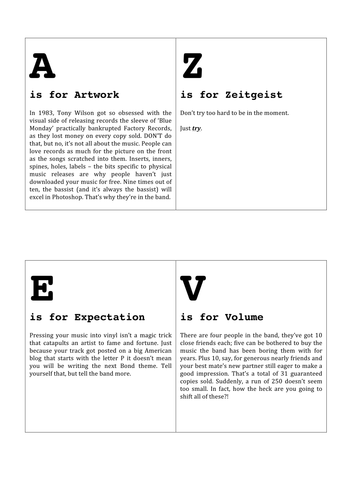 A-Z of Recording - ceiling hanging display. Cards are double sided (print and fold) to be hung from the ceiling.
Lead sheet for Harry Belafonte's 'Water Come An Me Eye' plus lyrics and supporting mp4 of the mento rhythm for the bassline and harmony. Suitable for paired keyboard work or applied over tuned percussion or even steel pans/jumby jams.
Mini whiteboards for students to use in class: keyboard, guitar, bass guitar, ukulele. • Grand staff and keyboard layout • Treble 8 clef, 6-string TAB and guitar fretboard • Bass clef, 4-string TAB and bass guitar fretboard • Treble clef, 4-string TAB and ukulele fretboard Files are PDFs. Suitable for printing up to A3 landscape. Print on card stock and laminate to use as mini whiteboards.
Uses: Professional development Initial teacher education Action research observation template About: This 60 minute learning cycle observation sheet has been developed over a number of years with trainee teachers as a practical tool to improve pace through the lesson structure, and linking additional information about teacher and student lesson activity. Trainees have found this an informative tool to lead reflective analysis about lesson planning in discussions with colleagues and in coursework, as well as a useful visual tool for checking timings when planning lessons. It has also proved a quick and useful reflective tool when trying to pinpoint, or improve, good practice. Feedback on your experiences using my resource is appreciated.
Display items for options evening or classroom display boards communicating the course requirements for Eduqas GCSE Music (first teaching from September 2016). Statements on each item are quotes from Jan Richards' course book (published by Illuminate). Files include summaries of: • Areas of Study 1-4 • All three assessment components (performing-composing-appraising) • Section headers (What will I study? How will I be assessed? Sample exam question) • Course header All files are PDFs. Suitable for A4 or A3 printing. Uses Dyslexie font to support learners with dyslexia