Paulastandby's Shop
Hispanic culture lover and A Level resources enthusiast. Bespoke resources on request. Share the love, leave a comment :).
7Uploads
3k+Views
443Downloads
Hispanic culture lover and A Level resources enthusiast. Bespoke resources on request. Share the love, leave a comment :).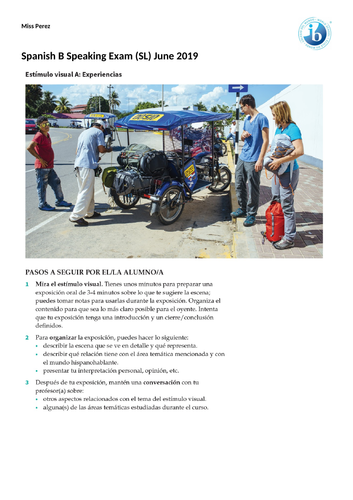 IB Standard Level Speaking Assessment following the Oxford IB Spanish Language B book This resource includes speaking cards and follow-up teacher discussion and General Conversation Questions for all the topics discussed in the Oxford IB Spanish Language B Book. This is created within the 2020 IB assessment series.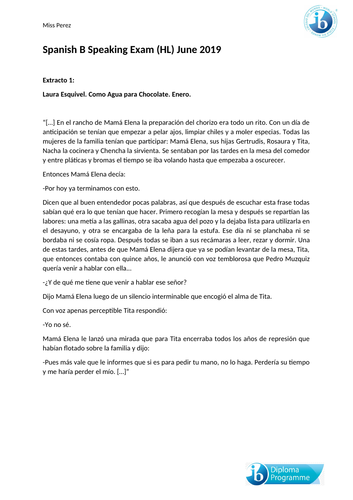 Some literature extracts and questions for the speaking assessment Spanish Language B from the International Baccalaureate program (Higher Level) from: La Casa de Bernarda Alba by Federico Garcia Lorca and Como Agua para Chocolate by Laura Esquivel This is based on the 2020 IB examination series. Higher Level assessment.
A powerpoint about the arabic arquitecture in Spain, this powerpoint includes a stimulus card that follows the new AS/ALevels AQA criteria and topics. It also includes a video and a fill in activity/worksheet so the students have a recollection of the most important arabic buildings in Spain and their history in the Peninsula. Please, feel free to ask any questions about this resource :). Paula
Cultural lesson about my hometown's big celebration: Las fallas, includes clips, a song and lots of explanations in Spanish about this popular Celebration declared Patrimonio Inmaterial de la Humanidad in 2017. It goes well with the AS/ALevels Spanish AQA topic "El Patrimonio Nacional". It is also a very good powerpoint if you want to do a cultural lesson with KS3 or KS4 students, however the texts are in TL and would need some translation. I have a KS3 version of the presentation created, please, ask if interested :). I hope you enjoy such a colourful display! Paula PD: I have attached a video about Spanish festivities as a starter , so the file might be a bit heavy, however it also has the videos embeded in the ppt notes.
New A Level AQA - Jóvenes de hoy/ Movimientos Populares - Special Spanish General Elections 28A 2019 I have created a little presentation about the candidates to the last 2019 Spanish General Elections and results so my A Level students get to understand a bit more the context. The topic is very transversal into the topics but I have linked it with 'Movimientos Populares' and 'Jóvenes de hoy, ciudadanos del manana'. This can also be used to mention what sort of policies are relevant now in Spanish society such as the different nacionalisms (la identidad regional), women in Spanish society (la igualdad de los sexos) and I have also addressed how the political campaign has gained a lot of attention in social media (ciberespacio). I think it is a good presentation as works as a recap of AQA New Spec AS topics as well. The powerpoint has external links to many news and newspaper articles related to its content to extend the information if needed. I hope you find this useful. Thank you very much. Paula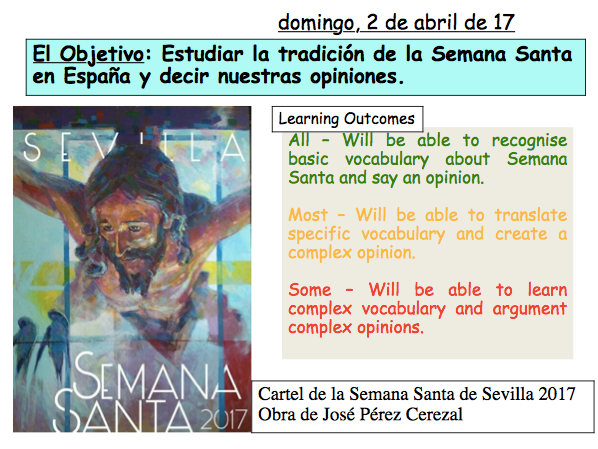 I made this powerpoint to introduce the cultural topic about Easter (La Semana Santa) in Spanish for A-Levels and AS students. It includes some slides with explanations and a vocabulary game at the end. There is also a worksheet that I made in order to follow better the lesson and complete the tasks there meanwhile listening to the cultural explanations. The vocabulary is quite complex but very interesting for Sixth form students.
A presentation on a Lesson about El patrimonio Cultural, the different characteristics that form it, and the life and works of Frida Kahlo and Diego Rivera. This topics is included in the new AQA AS Spanish specifications. There is a worksheet to work with a video and a stimulus card included. Please, feel free to ask any doubts about this resource :), Paula