Ponylaura's Shop
PSHE and humanities resources
3Uploads
505Views
271Downloads
PSHE and humanities resources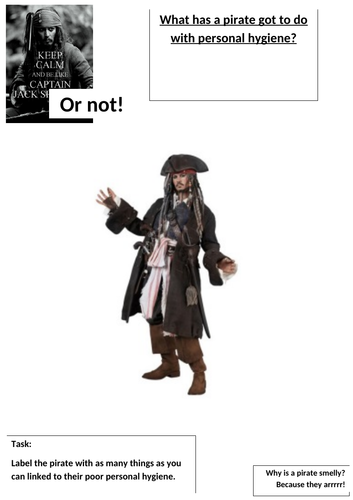 label the pirate with all the key personal hygiene issues he would face after months at sea worksheet i use this with a unit of work i have made from scratch - if needed will upload my powerpoint (?) suitable for all age groups, I use this with ks3 STEM boys but it would work with ks1, ks2 as well, good engagement - (works better than with a non descript outline of a person, i got much better responses using this than an earlier sheet i made.) everyone likes a pirate! i have used this alongside a powerpoint and for additional work after the task on the sheet, we added on how he could be more hygienic, or labelled what products he might use to keep clean after they complete the inital task so shower gel, soap etc, in a different coloured pen.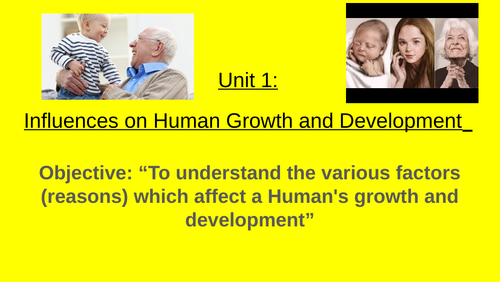 Health and social care - unit one - influences on growth and development A fully note resourced, video embedded 91slide powerpoint for the whole unit on influences on human growth and development slides can be used for notes, but there are also activities throughout the powerpoint which are engaging and interesting for the age group. used in college to lecture alongside, students made notes on each title page, but then were able to complete tasks to also show their understanding and action their learning.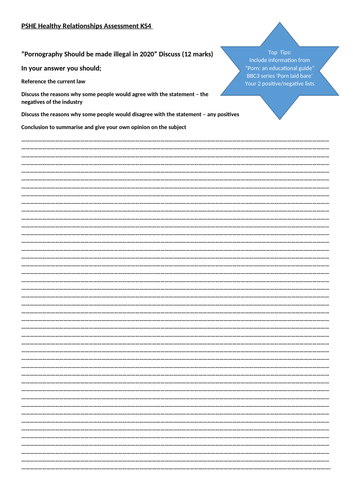 pornography assessment based on some resource leaflet handouts and the bbc documentary series 'porn laid bare.' The assessment and planning sheet could easily be adapted however and fit with whatever resources you are also using. please rate my download!