Poppynay's Shop
Teacher for 20 years. Taught all manner of subjects but specialise in Media, Film and English.
14Uploads
5k+Views
2k+Downloads
Teacher for 20 years. Taught all manner of subjects but specialise in Media, Film and English. this is a 12 paged booklet which has extensive information and activites for students, it can be split up into lessons and is easy to follow for both teachers and students alike. it will also be a revision tool as students will have edited their booklet. Booklet has been updated and spelling mistake corrected , formatted in word and some extra questions added. For future reference pdf files can be converted to word easily online Everything you need to teach effects theory and War of the World csps. Over 11 pages of information and activities with different forms. Lesson pack - 6 lessons (or more) for AQA That Boss Life with a focus on post-modern language and gender, but with aspects of media languge and representations included. Visually appealing and editable. Also some exam questions included. Designed as weekly x2 lesson pack with exercises and information. Ideal for online learning All CSPS covered with exam questions and extensive information - designed for students to revise content, key terms etc:- Board is editable via photoshop. Questions can be changed to fit your topic. Works great with any syllabus. Rules: Must roll a six or 1 to start If they can't answer a ? they have to give £5 to all players on table and go back to start. If they land on an institution the others give them £10 First back to beginning and most money wins You'll need some counters for players Monopoly money PDF also added H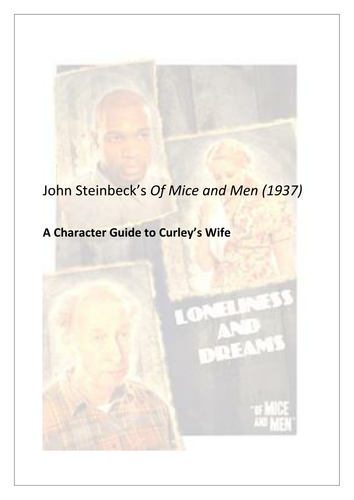 A booklet designed to focus students on the representation of Curley's Wife for controlled assessment- booklet style with activities 24 paged booklet - lesson by lesson - with questions, graphics information and research. Ideal for class and home learning and will be an excellent revision pack. Exam questions at the end, plus marking grid.