A2 exam question in order to prepare for exam on arenes apply to the new specification as well
questions on atomic structure topic for the new specification grades 3-5 markscheme also available to purchase
markscheme for atomic structure topic for the new specification grades 3-5 question paper available separately
questions on atomic structure topic for the new specification grades 5-9 markscheme also available to purchase
test on rates of reaction topic for year 9-11 class depending on your teaching order. markscheme also available separately.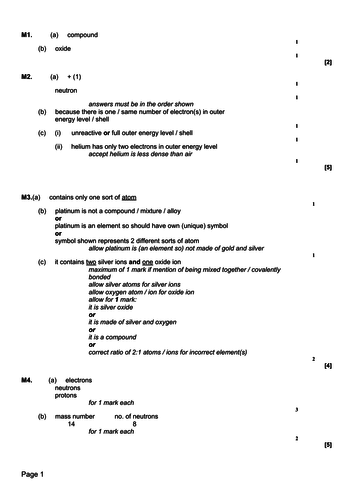 markscheme on atomic structure topic for the new specification grades 5-9 test also available to purchase
markscheme for rates of reaction grade 5-9 questions test available separately.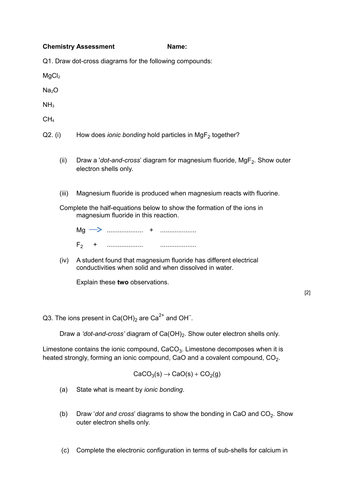 quick assessment on bonding, dot and cross diagrams, electronic configuration and calculating mass and moles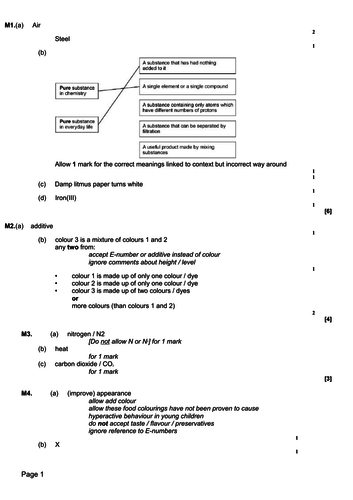 exam question on the new specification for grades 1 to 5 with markscheme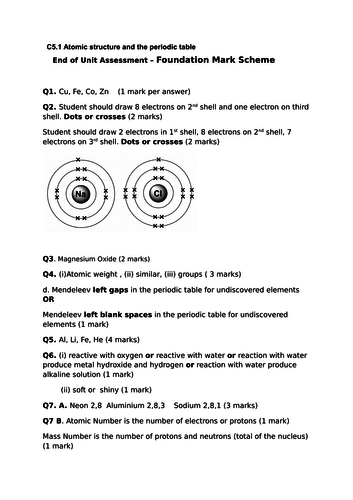 New year 9 test ;grades 3-5 with markscheme on the new specification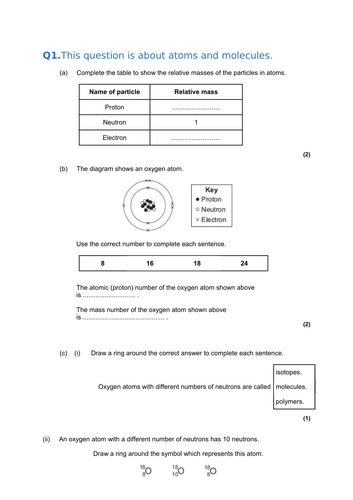 wide range of questions on new specification for atomic structure and the periodic table. Markscheme also attached.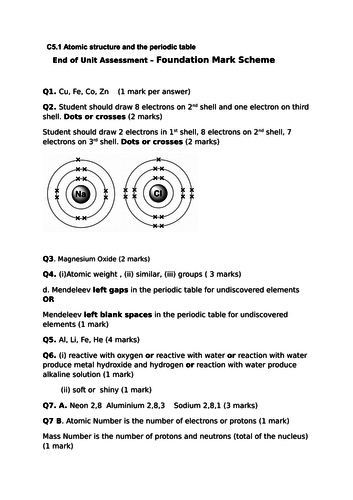 New Year 9 test on periodic table with marksheme grade 5-8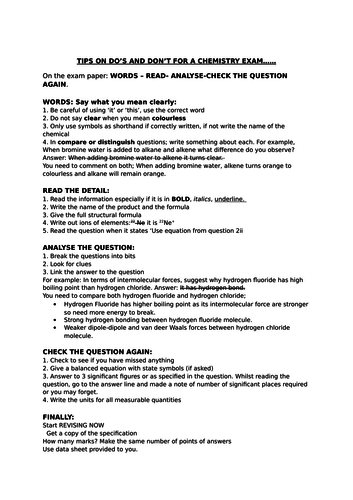 Top tips for all years GCSE and A Level for exams on Do's and Don't from different exam board examiners all summaried on 1 A4 sheet. Implement these and see your student marks improving in Chemistry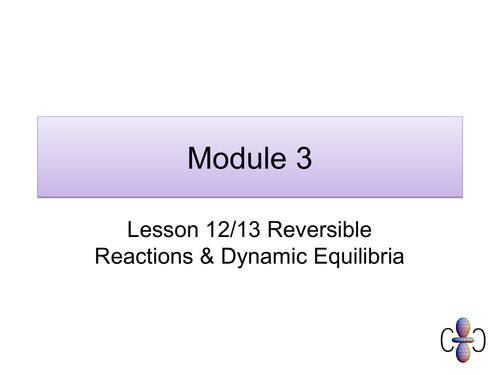 A Level dynamic equilibrium powerpoint with exam questions and answers to some questions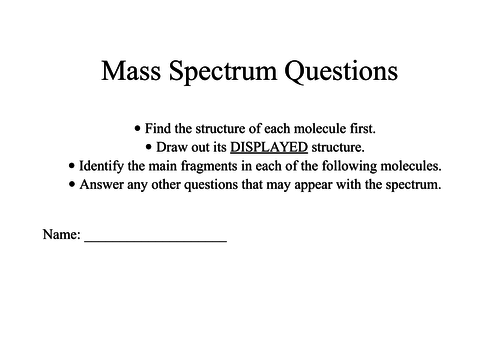 exam questions on mass spectrum including traces of spectrum. Students to identify the structure and names of molecules/compound related to the spectrum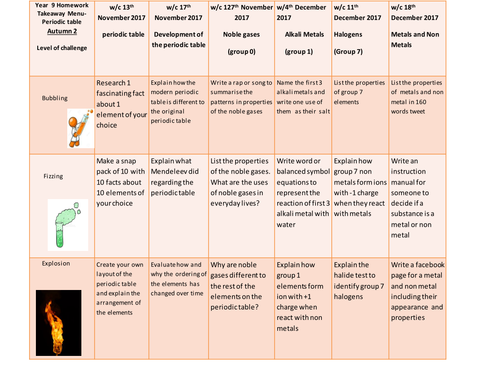 Differentiated homework take away menu for trilogy periodic table year 9 or 10. 3 different levels of homework with more challenges as you work your way down the column. Set the homework weekly, change the dates accordingly.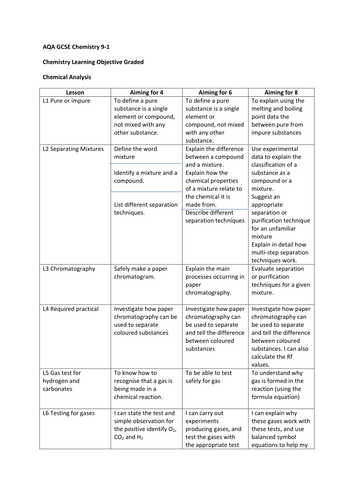 Graded outcome sheet for new trilogy on Chemical analysis Can be used at the start of the topic or use as a revision sheet All lesson objectives graded from 2-9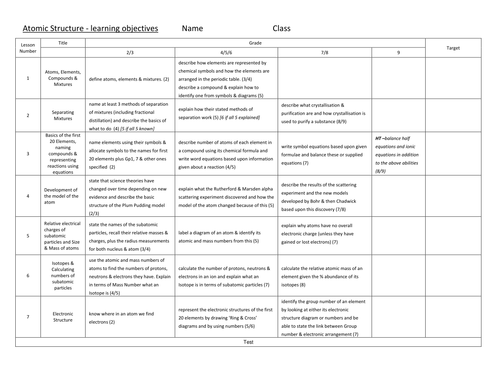 Graded objective sheet for new trilogy for yr 9-10. Give it out at the start of the topic or use as a revision tool. Sheet is divided into lessons and each lesson has graded outcomes from Grade 2-9.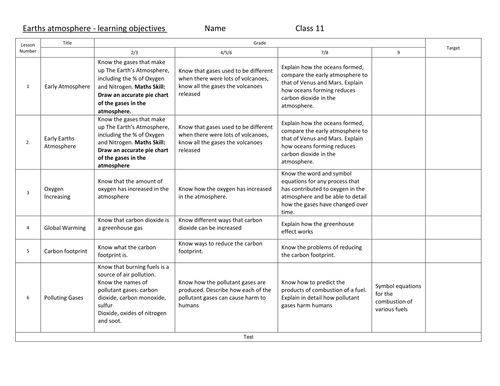 graded from 2-9 for Earths atmosphere trilogy topic use it at the start of topic or as a revision tool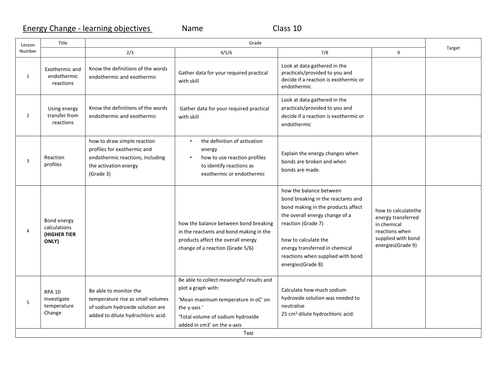 graded outcome sheet on new energy change topic for yr 10 or 11 use it at start of topic or as a revision tool. all lessons graded from 2-9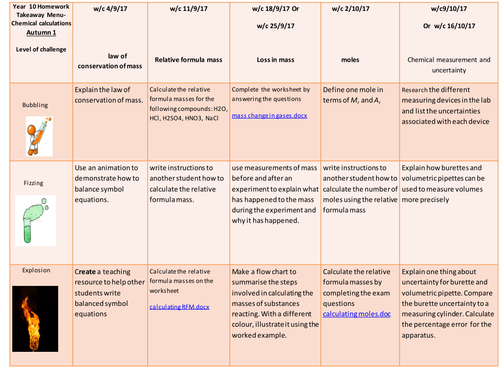 differentiated homework for the whole of chemical calculation topic for trilogy All homework can be set weekly so edit the date accordingly. Every week homework has 3 differentiated challenges depending on class ability