6Uploads
2k+Views
328Downloads A 16 page workbook for GCSE drama lighting candidates. The booklet offers tasks and exercises designed to support their group. ideas health and safety developing ideas room for cue sheets equipment audit and much more A powerpoint on how to gain top marks in section B of the AQA GCSE written exam. This powerpoint details the themes of the play - with tasks to complete, the setting, staging and style of the play. It then goes on to how to apply this to responses in the exam with example questions for students to complete. Huge PowerPoint - 77 pages Analysis of chief examiners report Synopsis Act breakdown Context Quotes by theme Character breakdown Major themes All acts with loads of activities (main bulk of the PP) Mark scheme Key words Essay tick list 4 pages of revision questions Made for AQA Theatre Studies Year 7-11 learning journey for drama - linking to Ofsted's new framework curriculum intent learning pathway visual aid poster GCSE drama scheme of work exploring 4 key practitioners: Brecht, Artaud, Stanislavski and Brook. key elements of all 4 practitioners videos exercises assessment Videos taken from YouTube.com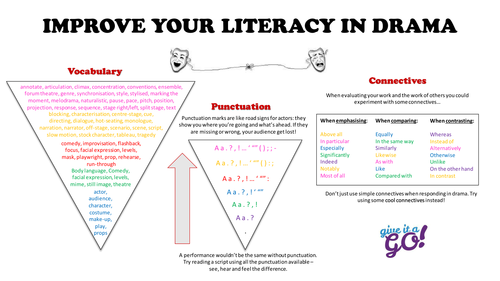 Improve student key vocabulary and literacy skills in Drama. Works KS3, KS4 and KS5 in developing terminology for written tasks and exams. Ideal for a display board or literacy mat.