Hectic Teacher's Shop
Resources for Social Sciences, PSHE and Sociology. All have been tested and used in my own classroom.
249Uploads
569k+Views
343k+Downloads
Resources for Social Sciences, PSHE and Sociology. All have been tested and used in my own classroom.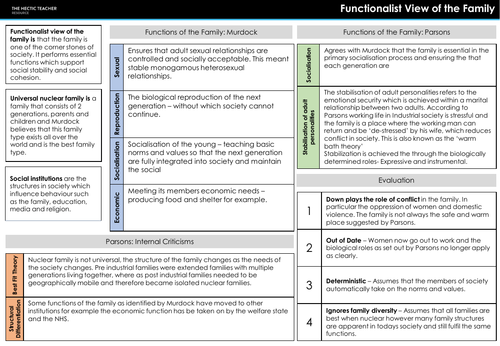 Completed Knowledge Organisers for the following topics FH1 – Functionalism FH2 – Marxism FH3 – Feminism FH4 – Postmodernism and Personal life FH5 – Social Policies FH6 – Family Diversity FH7 – Domestic Division of Labour FH8 – Consequences of Inequality FH9 – Cohabitation, Marriage and Divorce FH10 – Childbearing FH11 – Social Construction of Childhood FH12 – Changing Status of Children FH13 – Future of Childhood FH14 Demographics

These knowledge organisers are intended to be used by specialist PSHE teachers, non-specialists PSHE Teachers, parents and pastoral staff to help facility discussions around the issues that will be covered in PSHE in secondary school, rather than given out to students. Contents Physical Puberty Friendships Bullying Abusive Relationships Consent Contraception STI's Conception, Fertility and Pregnancy Parental Rights and Responsibilities Sexuality and Gender Identity Pornography FGM and Breast Ironing Types of Drugs Drugs: Effects and withdrawal Drugs and the Law Alcohol Smoking and Vaping Healthy Diet & Exercise Body Image and Eating Disorders Sleep Personal Hygiene E-Safety and digital Citizenship Social Media Mental Wellbeing Stress and Anxiety Taxation and Deductions Social Security / Benefits They are in PPT format so can be edited for your specific school.

This is the draft version of the Tutor Time Reflection and Wellbeing Journal (2020) There are three sections: Reflecting on me Academic reflection Personal Reflection 40 weekly reflection entries to support wellbeing in tutor time. It is in PowerPoint format so it can be edited to suit you schools.

Knowledge Organisers for the folowing units of work: Theory and Methods Family and Households Education Beliefs in Society Crime and Deviance

Complete learning phase for Family and social policy including lecture notes, consolidation group presentation activity and exam practice.

Complete learning phase that looks at the impact of globalisation on education. Includes PowerPoint, Worksheets, Exam practice.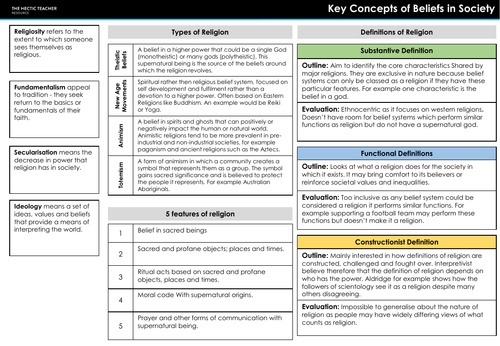 Completed Knowledge organisers for the following topics in Beliefs in Society BiS1 – Concepts of Beliefs Bis2 – Belief and Ideology BiS3 – Science and Religion BiS4 – Functionalist view BiS5 - Marxist View BiS6 – Neo- Marxist View BiS7 – Feminist View BiS8 – Postmodernist View BiS9 – Religion as a conservative force BiS10 – Religion and Social Change BiS11 – Religion and Social Protest BiS12 – Religious Organisations BiS13 – Growth of NRM's BiS14 – Dynamics of Sects BiS15 – Gender and Religion BiS16 – Ethnicity and Religion BiS17 – Age, Class and Religion BiS18 - Secularisation in the UK & USA BiS19 – for and Against Secularisation BiS20 – Religious Fundamentalism BiS21 – Globalisation and Religion

A complete lesson on different sampling methods including consolidation activity using skittles.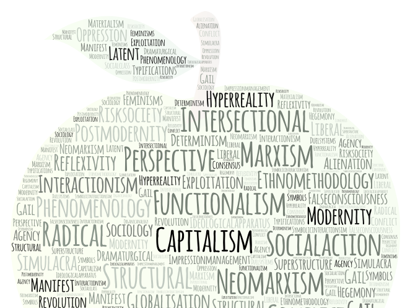 Complete learning phase looking at both primary and secondary research methods, outlining them, evaluating using PET and then applying to a topic. Fully Resourced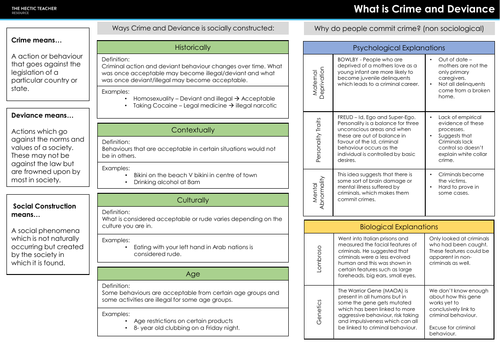 Completed Knowledge organisers for the following topics: CD1 – What is Crime and deviance CD2 – Functionalist Theories CD3a Marxist Theory CD3b – Neo-Marxism CD4 - Labelling Theory CD5 - Relist View CD6 – Measuring Crime CD7 – Gender and Crime CD8 – Ethnicity and Crime CD9 – Social Class and Crime CD10 – Media and Crime CD11 – Globalisation and Crime CD12 – Green Crime CD13 – State Crime CD14 – Crime control and Prevention CD15 – CJS CD16 – Punishment CD17 – Surveillance and Social Control CD18 – Victimisation

120 questions for each unit. Covering: Education Family Theory and Methods Crime Beliefs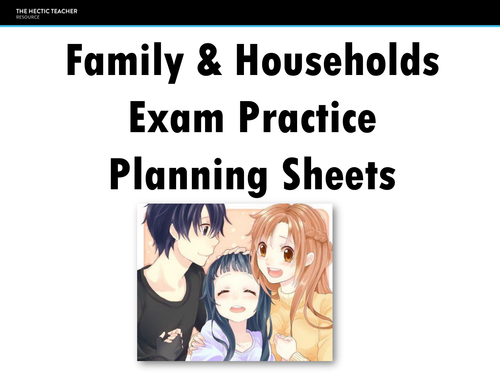 Booklet of Exam questions with planning sheets 20x 10 Marks No Item 10x 10 Mark With Item 20x 20 Mark Essay

Complete learning phase for AQA A Level Sociology, Families and Households - trends in Cohabitation, Marriage and Divorce. Includes, PowerPoint, Activities and exam technique resources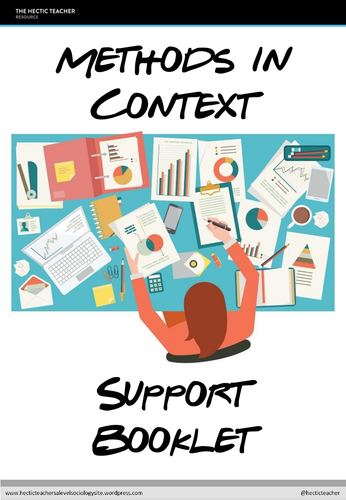 This workbook takes students through how to answer the Methods in Context question which appears on both the AS and A Level paper. It breaks down the question into the different elements and provides model examples before asking students to practice writing an answer themselves.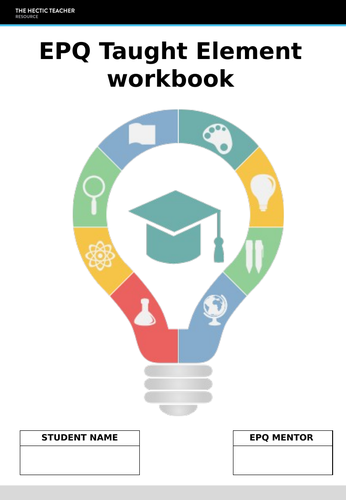 5 taught sessions to help students get to grips with the EPQ and model what is expected with corresponding workbook. Session 1 - Introduction and Choosing your Project Session 2 - Managing your project (Timelines and Project Journals) Session 3 - Using Resources (Primary and Secondary Sources, how to start your Research, Analysing your sources, Writing a bibliography) Session 4 - Developeing and Realising your project (Evidence and folder layouts, differences between dissertation and artefact) Session 5 - Review (Evaluating the project, Project Presentation) Workbook is in PowerPoint format for editing if necessary (i.e. deadline dates)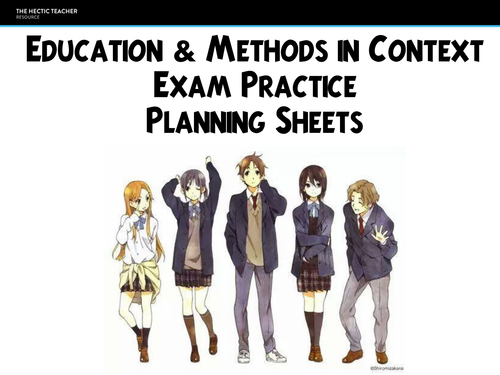 Booklet with planning sheets for exam style questions 15x 4 & 6 Mark Questions 8x 10 marks with Item 17x 30 mark Essays 13x Methods in Context

These booklets aim to help students focus their self study and continued revision. They contain worksheets to structure the process which follows the spaced study system. For each topic in this booklet there are the following resources: Topic outline sheet Topic Summary sheets Note Taking Grid Self Evaluation Consolidation / Trigger Sheets 10 Question Quick Quiz Exam Practice

Updated PSHE citizenship handbook for 2017 Includes: 1. Mapping to SMSC and British Values 2. Assessment Outline using SOLO as a basis 3. Unit outlines for Year 7 - 11 Units of work are available on TES and www.Hecticteachersite.wordpress.com

This crib sheet takes students through what is expected for each of the question styles on the new GCSE Sociology exam. I give this out at the start of the year so they can use it when doing exam practice in class or at home. I also allow them to use it in the first couple of assessments and then phase it out. I print it on bright paper and laminate it so that it lasts the year, but could also be stuck in exercise books.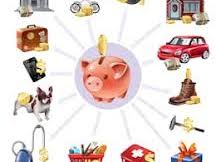 Aimed at Yr9/10 This project looks tat creating a personal budget and managing a household including grocery shopping, paying bills and making decisions.