23Uploads
635Views
88Downloads
Helpful visual poster outlining the information from the AQA Food Preparation and Nutrition Specification regarding skills levels of dishes in a more accesible document. Second poster give examples of savoury and sweet recipe skill levels.
Sensory Analysis Vocabulary Word Bank Mat. Good to help encourage students to use a variety of language during sensory analysis of food. This could be a useful resource for EAL or SEN students. Could be used as a poster for the classroom. Sensory Analysis Bingo can be used as a Starter or Plenary. Students use the blank Bingo sheet to select different sensory analysis words. with the aim of students matching the most words to the words on the (editable) powerpoint slide, with the aim of students discussing a variety of different sensory words that they may not regularly use.
Visual resources to support product analysis withing KS3 and KS4 Design and Technology. Can be used as a mat to help prompt students during their analysis or as individual cards to help prompt individual or group analysis of products.
Powerpoint presentation outlining activities teaching students to recreate the aborginial art dot technique. This could be used as a starter or main activity within a lesson or whole micro teach lesson. What do all these images have in common group discussion starter. Students are taught the success criteria and practice the dot technique. You can create dots by using small round stamps, or using rubbers on the end of pencils is quite successful. Clear modelled images of how to create a successful design. Includes differentiated images of animal silhouettes which could printed and used to support lower ability students to draw outlines of animals.
Can be used as a starter or plenary. Great to help students consider which symbols would be used in their packaging designs. Students can number/draw lines or colour code the names of the packaging logos to their symbols.
Design Specification Help mat or poster created with the aim of promoting User Centered product design, focusing on the aim of creating measurable justified specification points . This mat can be used to support SEN students. It looks at Form, Function, Materials, Target Market, Size and Safety. It can be used to support writing specifications for KS3 projects in particular.
Useful examples of smart modern and technical materials in Textiles. Could be a useful resource to support a product analysis or research lesson on technical, modern or smart textiles. Useful for SEN or EAL students.
Resources to support the teaching of running stitch, backstitch and blanket stitch. Including starter and running stitch instructions card sort. The card sort is particuarly useful for SEN students to check understanding of Demos.
Food Preparation Mock Task Worksheet. (Two Mock questions in the style of the New AQA Food Preparation and Nutrition GCSE.) These resources can be edited. Accompanying Powerpoint to help support the delivery of teaching the requirements of the Food Preparation NEA Task 2 for Year 10s. This powerpoint also contains useful checklist resources which could be used for lower ability students. Record and Evaluation Pro Forma Worksheet which could be used for differentiation, or as an example layout.
Ergonomics and Anthropometrics Card Sort. Ideal for use as a Starter or Plenary to check for understanding. Students can work in small groups to decide which definitions and missing words fit into sentences. Students are given 4 images of tin openers, they are asked to put them in order accordingly to how ergonomically sound they are.
Can be used as a starter or plenary. Powerpoint and Logo Quiz Worksheet. Students are looking at a variety of well known logos with elements removed to see if they can recognise them. They can then go onto identify key features of logos, discussing what do the quiz logos all have in common?
Useful Handout Containing Information about how to draw in Isometric, Oblique and Third Angle Projection Orthographic. Includes information about success criteria for these technical drawing methods.
Can be used as a starter or plenary. Good reminder/visual aid to help students thread a sewing machine. Students complete some of the captions and photographic instructions.
Useful resource to assist with students carrying out evaluations of their practical work within textiles. This resource has been made to support the use of star diagrams. Helpful differentiation for SEN students. Help sheet provides a variety of prompts to help generate success criteria to evaluate their work against. Includes blank star diagram sheet.
AQA Skills Levels and Recipe Levels Poster and AQA Mock NEA Task 2 resources.
Example moodboards suitable for KS3 on four interest categories 'bright and tropical moodboard' 'sportswear moodboard' 'pop culture/gaming moodboard' 'kitschy fun moodboard'. Useful for students who have not completed a moodboard homework, or for modelling in preparation for designing.
Card Sorting Activity to encourage students to look at what makes a good friend. Prompting group discussions. Sorting statements to do with friendship into different levels of being a 'good friend'.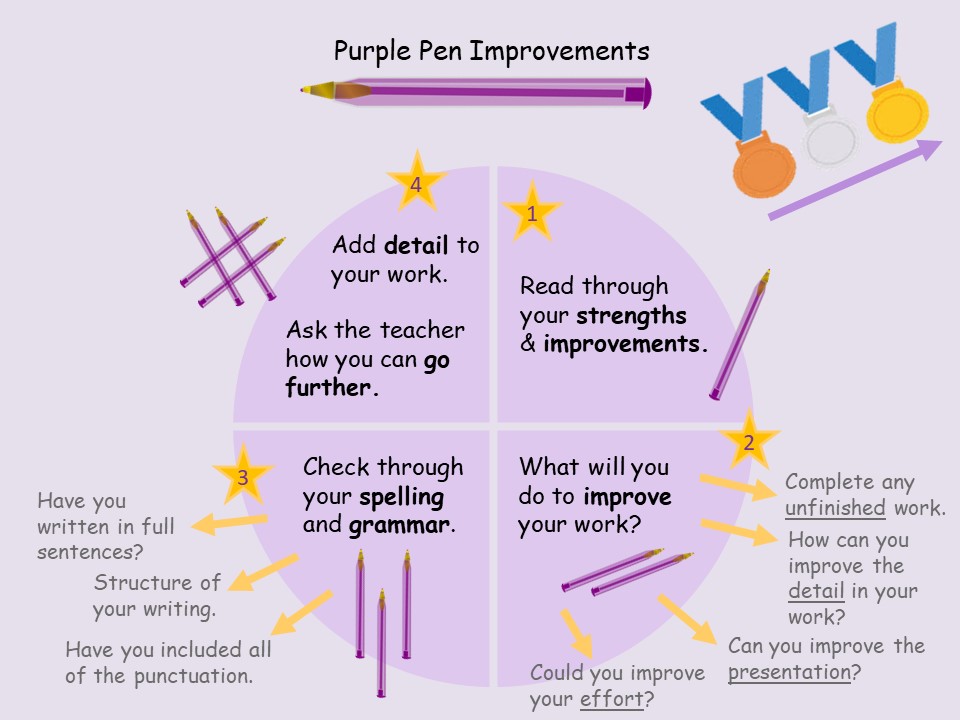 Useful poster to prompt students when doing purple pen improvement work or when responding to marking.
Photographic instructions to help support teaching patch pockets. Useful differentiation for SEN or EAL students.