RMDrama
Passionate GCSE Drama Teacher. Providing lesson plans, schemes of work, revision and resources
9Uploads
3k+Views
263Downloads
Passionate GCSE Drama Teacher. Providing lesson plans, schemes of work, revision and resources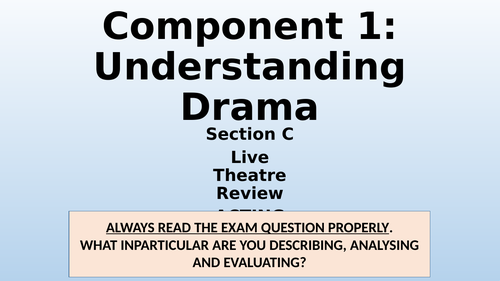 This resource is to help teach the Live Theatre review acting section, of the AQA GCSE Drama exam. In order to not infringe copyright, I have removed all pictures, not copied any questions from the Component 1 exam paper - but these could be added to help to teach the review further. The example answer at the end is made up and can be edited in places or entirely. Please feel free to tweak and print whatever you feel is required. All of this work is entirely my own, including the example answer. please insert pictures of the live piece of theatre you are focusing on to help teach the proxemics, etc. Also, if you have a copy of the play, print outs of the dialogue may help with the physical and vocal skills characters use. I have found teaching this section difficult and have found that this structure supported all abilities. The breakdown of this, I have found, helped me to break down all sections of of teaching. Enjoy! Hope it helps!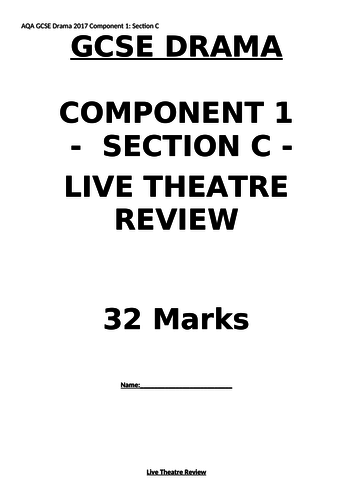 The purpose of this revision pack that I have made, is to facilitate students in the way to write a review for acting in line with the AQA GCSE Drama specification. The quesiton included in this pack has been taken directly from the AQA GCSE Drama website: http://www.aqa.org.uk/subjects/drama/gcse/drama-8261 Examples for structure have been created through reading example assessment material provided. However, they have not been copied. Examples of Live Theatre have also been made up and are not from a legit performance.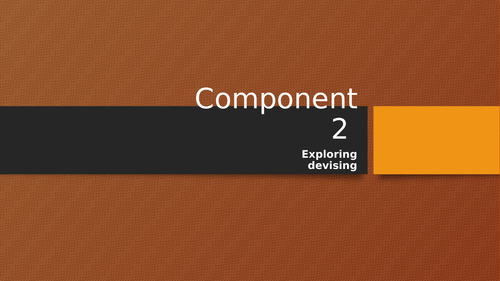 This resource is particularly ideal for Year 9. This gives them the opportunity to explore a variety of different skills, techniques and pracititoners. This project allows students to develop their skills and creativity. It also allows students to think about how to go about a devising project and how to be successful in the development and rehearsal of a project. The stimulus used is the true historical event of 'Columbine' Factual timings and names have been found through research.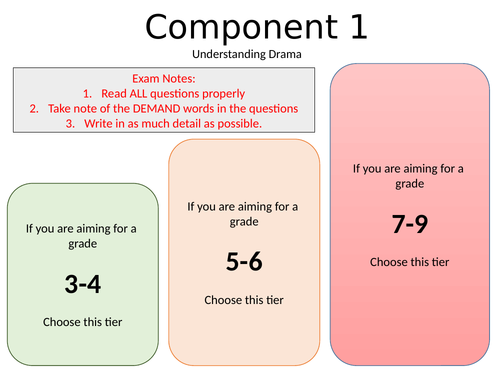 For those teaching AQA this is a differentiated resource to help students of all abilities answer the GCSE exam. Obviously, you may want to edit specific parts to suit your set text and edit the Section C to suit your style, but hopefully this provides a solid foundation for you to work upon. Answers to the section A quiz aren't added, however, should be easy to cover.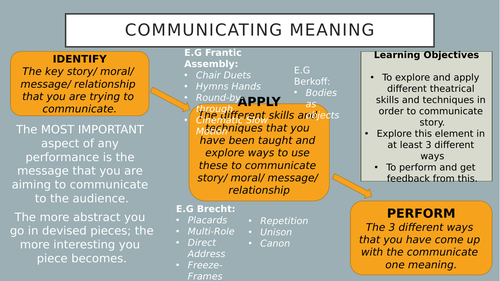 This is a one slide powerpoint to support aqa gcse drama component 2 devising. This powerpoint is a lesson plan about how to encourage students to 'communicate meaning' in their devised pieces and how to ensure that you are developing an idea by using different techniques.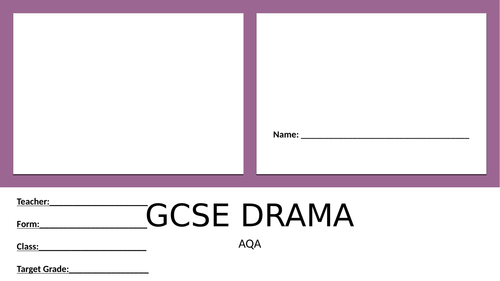 I have created this revision booklet appropriate for the new AQA GCSE Drama specification. For the purposes of copyright, I have removed all images. These will therefore need to be added to make the resource complete. For example, stage types and character images. There is appropriate revision space for Section A, B & C of Component 1 of the written exam. Suitable for both in class work and homework. All ideas for the following have been taken from the AQA GCSE DRAMA SPECIFICATION. http://www.aqa.org.uk/subjects/drama/gcse/drama-8261 Ideas have been adapted from the sample assessment materials and mark schemes within this website.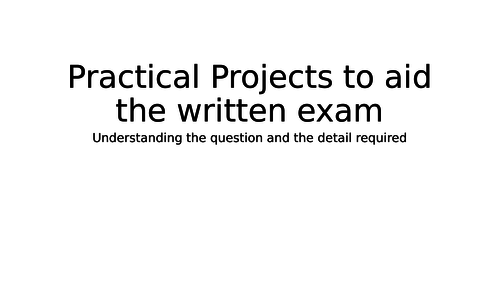 This resource is designed for students to explore the theory element of their GCSE Drama exam (AQA) As most Drama students do not enjoy the theory side of Drama, this gives them the opportunity to explore this practically, thus helping them to answer the theory questions. Each project is separate and you can edit this to fit your play and time scale for your scheme of work. This is modeled using AQA GCSE DRAMA style questions and quoting AQA GCSE DRAMA ASSESSMENT CRITERIA. https://www.aqa.org.uk/subjects/drama/gcse/drama-8261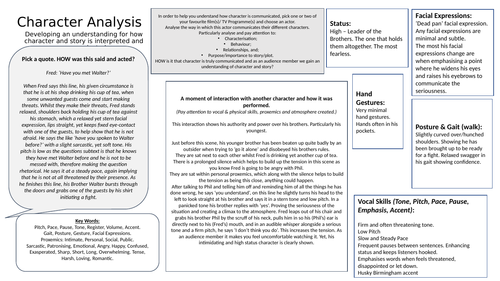 Within this file are 3 resources. A blank Resource for Higher Ability A blank resource for lower ability An example written by me. The purpose of this sheet is to help students analyse how character is created from KS3 through to KS5. These can be edited and differentiated further if you wish. Examples you can also edit to differentiate further.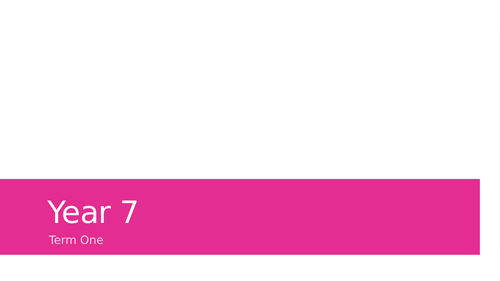 This is a lesson by lesson scheme of work with starters, mains and plenaries plus end of term assessment. Can last between 6-10 lessons. Pictures from this have been removed for copyright reasons