28Uploads
2k+Views
1k+Downloads
To be used on a quote / inspirational quotes display or as a tutor / assembly resource. Ten slides including black and white photo, brief biography (name, date, job) and quote for: Richard Feynman Carl Sagan Neil DeGrasse Tyson Dalai Lama Aristotle Marie Curie Albert Einstein Bill Nye Stephen Hawking Christopher Hitchens Can print on coloured paper or keep black and white.
First side: 10 short answer questions about the light dependent reactions of photosynthesis. Space to write notes from the lessson. Second side: Links to YouTube video and website for further research into the next lesson (light independent reactions of photosynthesis) with space to make notes. Useful for a regular and structured homework ensuring review and research is done from lesson to lesson. My pupils really like the routine and know exactly what to do - it is manageable too but i tell them its a minimum.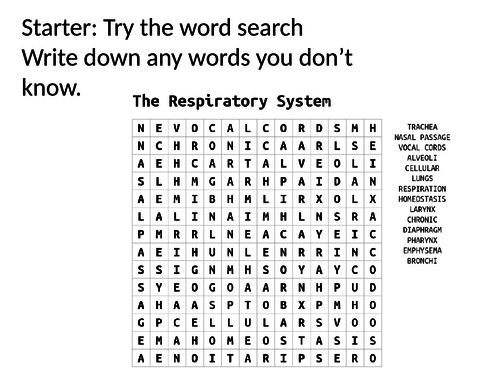 Lesson on the respiratory system with two differentiated main tasks. Word search starter with task to write down words they don't understand. Link to great animation website focused on the alveoli for discussion. Task 1: Creating a resource about alveoli split into two options. One lower on Blooms, one requiring them to use a text book (you have to provide this…) or website. Extension for task at bottom of slide. True / False task with answers. Task 2: Journey of an oxygen molecule. Two options again, one listing and labeling. The other more descriptive and creative. Another extension at bottom of slide. Plenary: 3.2.1. Task (list three… Name two… What one… etc.) focused on lesson.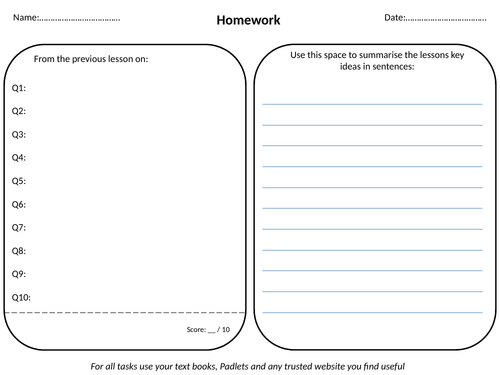 The first sheet has space for 10 questions based on the lesson just taught on the left and space for summaries of the key ideas on the right. The second sheet (the back sheet if copied front to back) has space on the left to write a link to a YouTube video and space for notes with suggested styles of note taking at the bottom. The same is laid out on the right for a website link. My A-Level students really liked the structure for keeping up to date with notes and preparation for the next lesson but could be used or adapted for KS3 and KS4. It can be taken in the following lesson and/or self assessed as the starter giving you a chance to go around and check completion.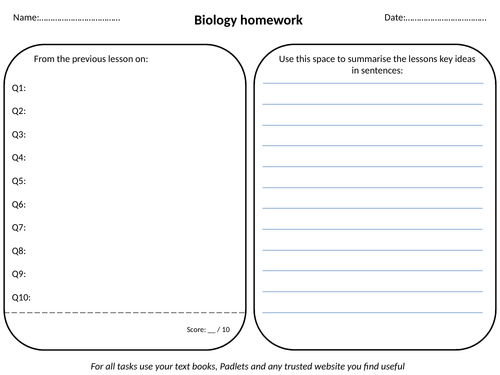 Good structure for flipped learning, especially for beginners and the kids really liked the consistency, not just "research the next lesson". Set of linking homeworks for the mass transport topic in the AQA A-Level Biology course. Structure is 10 short answer questions on a lesson on the left. Then a suggested YouTube link (and description) and Website link (and description) for further research about the next lesson. Includes: Two blank templates to use for the future The first name is what the questions are about and the second is what the research is on: Tissue fluid / Haemoglobin Haemoglobin / Oxygen dissociation curves Oxygen dissociation curves / Xylem and Phloem Xylem and Phloem / Mass Flow Hypothesis Mass Flow Hypothesis / Transpiration Transpiration / Limiting water loss
Student select, draw and describe (with possible sentence starters and endings) which emoji sums up how they feel about the task they have just completed. Can be added onto any task and adapted to include add any criteria. Printable version on separate slide for slower writers / lower abilities.
Self contained task which: Tests knowledge of the required practicals Graph drawing skills (with self assessable mark scheme) Descriptions, explanations and extension questions All tasks have marking criteria with scores Three slides that are easy to print off and write on Fourth slide includes all answers to mark-able features.
Speed up book checks and make them efficient by doing them in class. 1.Print off the small versions. 2 Take around the classroom while pupils are working. 3. Fill them in and stick into books. 4. Write into mark book as you go to note down effort. Do every few weeks to keep on top of book checking is time is tight (always).
Lesson structure at the beginning to explain what will be covered: - Pose, pause, pounce, bounce. - Review of presentations (could edit this to suit a previous piece of work) - Double blind trials - RAG the specification (included) - Essay title, structure for planning and detailed mark scheme and feedback form included on presentation.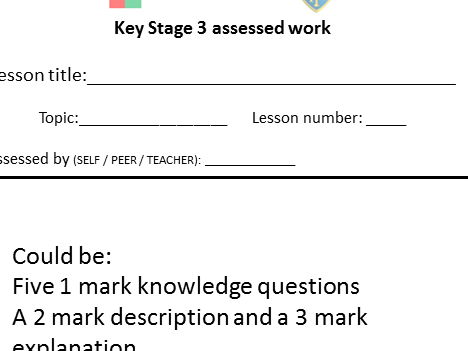 Can use for any subject to structure an assessment for KS3 (A5) or KS4 (A4). Fill out the main box in the middle with a variety of questions (5 marks for KS3 and 10 marks for KS4 - can change) and get students to identify whether it is peer, self or teacher assessed. Space for target, GRAFT, DIRT at bottom.
Lesson on reproduction in plants at KS3 level. Includes questions for a YouTube video in printable format. Starter and plenary included.
PowerPoint slide that could be printed A3 for a KS3 class to use when revising the solar system topic. Includes: Compass points Satellites Comets Data handling task Identifying solar system from image Time of day Gravity
Can use as a stand alone lesson or can set as cover if the cover teacher has access to a computer and projector. Includes: Cover form / Lesson plan PowerPoint presentation Worksheet Printables Starter: Odd one out Rules for DT and VT graphs Answers Main task explained 4 tables to draw as either DT or VT graphs and tasks to do (calculate gradient etc.) Worksheet Review rules Plenary key terms
Set of 6 lessons worth of worksheets to compliment the topic of cells. Could be used as homework or within lessons. Includes a 17 page document with tasks and worksheets to follow the 6 lessons below including a homework investigation into diffusion of squash: 1. Living vs non-living LO1: How can we class something as living? LO2: Describe what is involved in each of the 7 components or life (MRS NERG) 2. Animal vs plant LO1: State the function of the parts of a cell (e.g. nucleus controls the cell) LO2: Identify similarities and differences between animal and plant cells 3. Specialised cells LO1: Be able to identify 5 specialised cells and state their roles 4. Simple cells Label an Amoeba and Euglena 5. Cells tissues and organs LO1: Define a tissue and an organ LO2: Give at least one example of a specialised cell, tissue, organ, organ system and organism 6. Diffusion LO1: Define diffusion LO2: Explain how cells use diffusion to move substances in and out.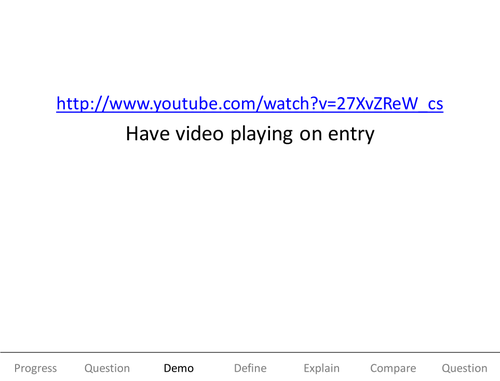 Fully planned lesson including: - Settler: Link to lava lamp clip - Starter: question re: conduction with mark scheme on next slide - Think: Question with vowels removed to get pupils to come up with the question: "how does a radiator work?" - Link: Great video introducing idea of plate tectonics to link to real world - Various questions - Convection tube demo (or link to video of one) - Match sentence to position on convection tube diagram (can print or write on own) - Linked to radiator and other questions to sum depending on time - Come back to learning objectives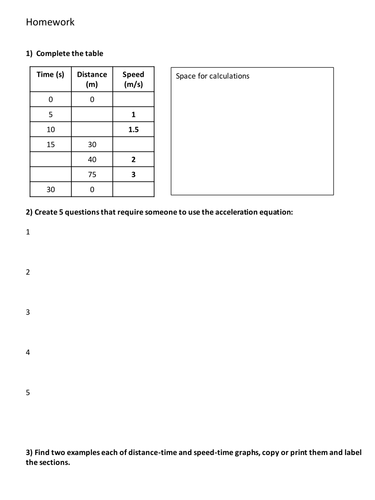 Well resourced lesson with lesson plan, homework and printable resources. Includes: - Settler: quick quiz - Starter: spot the differences on the graph - Graph drawing activity - Mark scheme presented as a "toolkit" - Plenary - Homework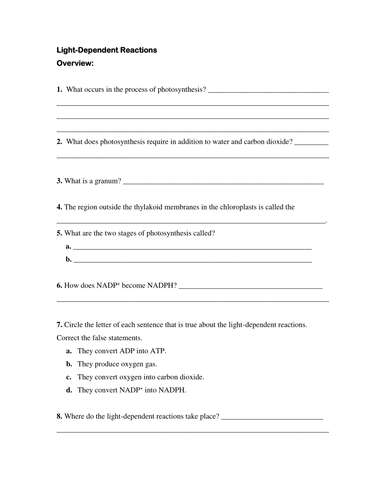 Used as an observed lesson (so have included lesson plan without student details). I used repetition in small stages to gradually build the picture of the thylakoid membrane and the students seemed very confident at the end. Use the knowledge based questions to check basic understanding before going on to the longer answer questions. PowerPoint Lesson Plan Knowledge based questions Longer answer questions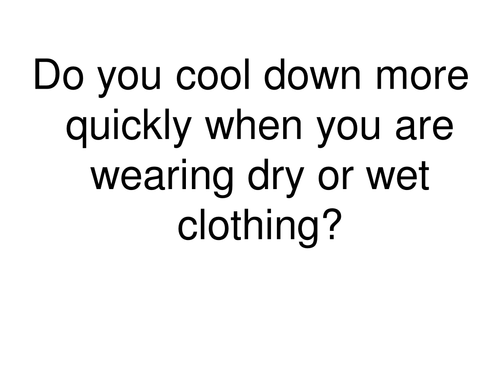 Fully planned lesson including: - Settler question. - Starter diagram of solids, liquids, gases. - Guiding questions to discover idea of how sweating cools the skin - Fill the blanks task - Method (with equipment list) for simple but always successful practical (15-20min) - Blank table for support - Guiding questions to do while performing practical. - Graph mark scheme. - Graded explanations - Further resources if needed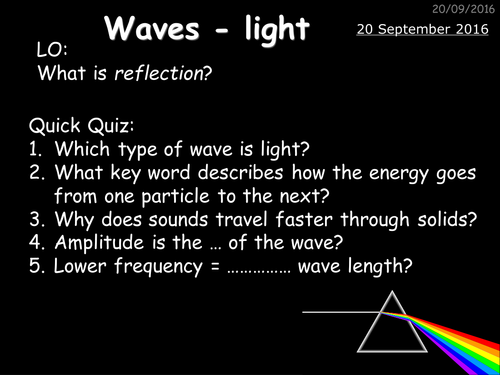 Fully planned lesson including: - Quick quiz - Answers - Labelled diagram of ear - Long answer question with support relating to sound (if previously taught) - Detailed method for reflection practical - Example table to draw or print - Other resources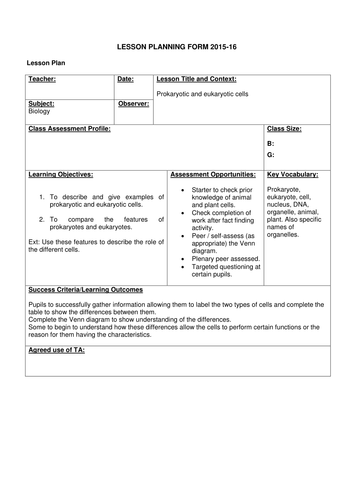 Easy to follow lesson using several activities: - Settler: Odd one out - Starter: plant and animal label recap - Fact finding task - Venn diagram - Plenary with three different question styles to show evidence of learning All resources are within PPT or at the end of it (including the information for fact finding task)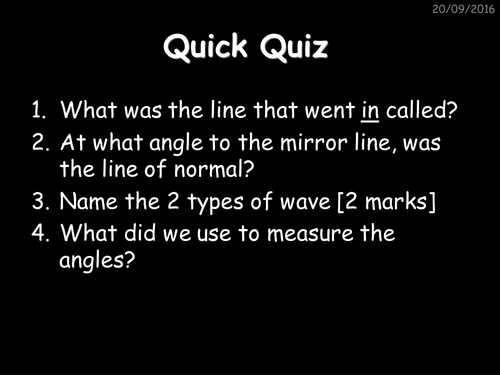 Fully planned lesson including: - Quick quiz - Answers - Optical illusions to get pupils thinking about light rays and the path of light - Theory of refraction and fill in the blanks - Method (which needs demonstrating) for refraction using a glass / Perspex block - True false plenary