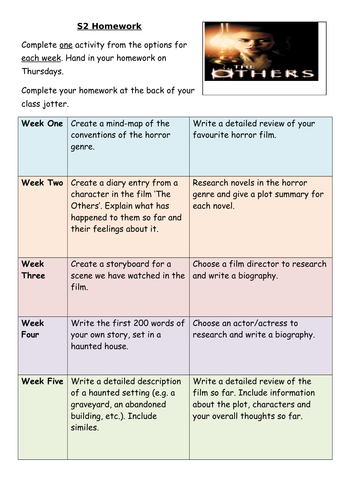 A homework sheet containing tasks for five weeks. Pupils choose one challenge to complete each week. Originally made to accompany a media study of The Others, this resource could work alongside any horror movie.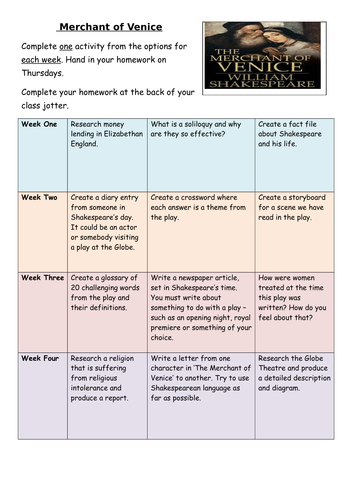 A homework resource to accompany The Merchant of Venice. Pupils choose a different challenge to complete each week.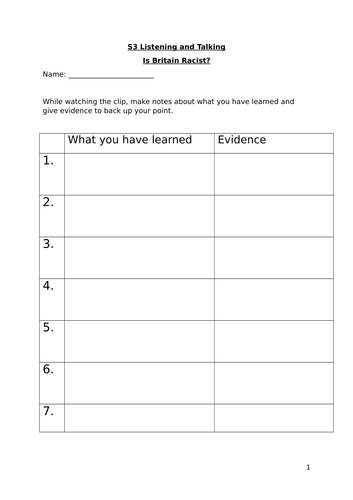 Aimed at S2/S3 BGE. Pupils are to watch the documentary and take notes, then answer the questions that follow and engage in a group discussion.
Includes Nightmare Before Christmas, The Snowman and Edward Scissorhands. Tasks and activities on each film for secondary school classes.
A unit of study for the novel Divided City by Theresa Breslin. Aimed at BGE S1 and S2 classes but could be adapted for primary. Includes understanding questions on the chapters and writing tasks.
A comprehensive range of resources aimed at improving key literacy skills. RRP £10; total saving of 50%.
Includes Boy by Roald Dahl, Jake's Tower by Elizabeth Laird, the drama adaptation of Kes, Arthur Miller's The Crucible and The Highwayman by Alfred Noyes. RRP £12; total saving of 58%/£7.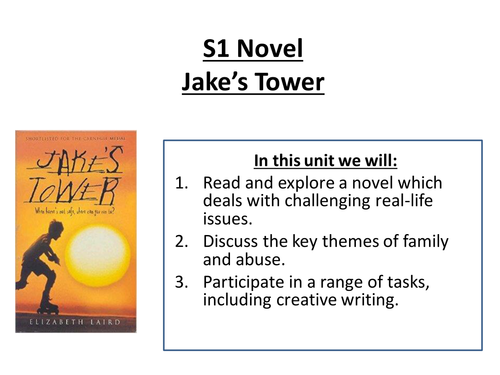 A complete unit of study on the novel Jake's Tower by Elizabeth Laird. It includes a range of starter activities and comprehension tasks to work through while reading the novel. This book is suitable for ages 11-13, depending on the ability of the class. The page numbers refer to the 2002 Macmillan Edition.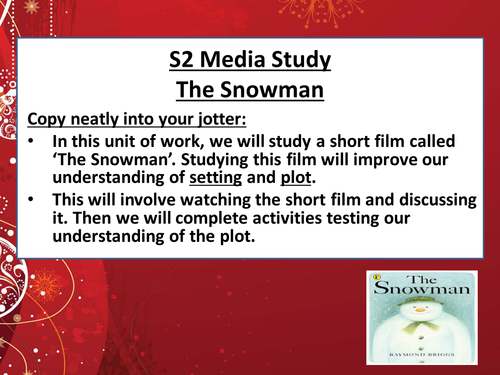 This is a short festive unit of work aimed at S1 or S2 pupils in English. It involves watching the short film 'The Snowman' (available on Youtube) and then learning about setting and plot structure. Tasks on the Powerpoint include plotting the events of the film on a plot rollercoaster and creating a storyboard.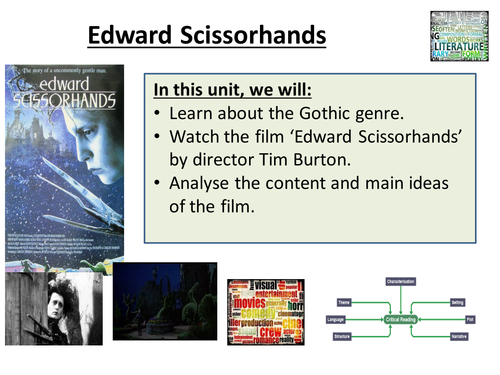 This unit contains an introduction to the Gothic genre with links to video clips, an activity on elements of film study, detailed notes, and questions on each section of the film.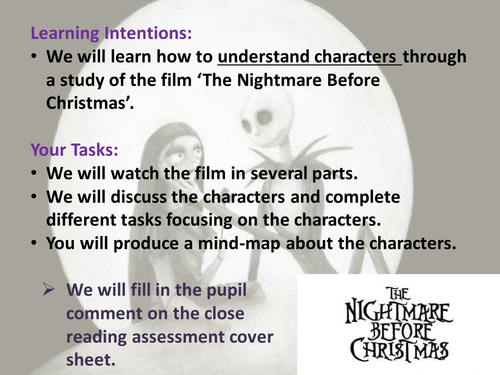 Aimed at S1/S2. A film study of Tim Burton's The Nightmare Before Christmas. it includes questions on the film and the key characters. The final task is a detailed mind-map.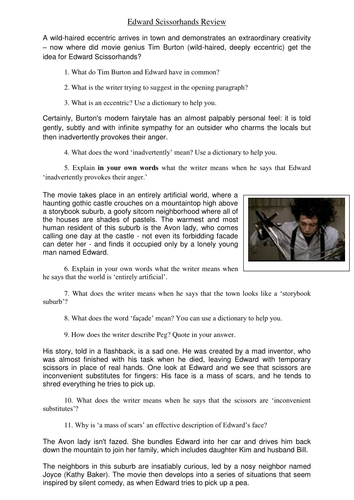 I created this resource for my N5 class, but it could work well with other levels. Pupils need to read the passage (a review of the film 'Edward Scissorhands') and then answer the close reading questions. Some of the questions involve using a dictionary, while others ask pupils to use their own words.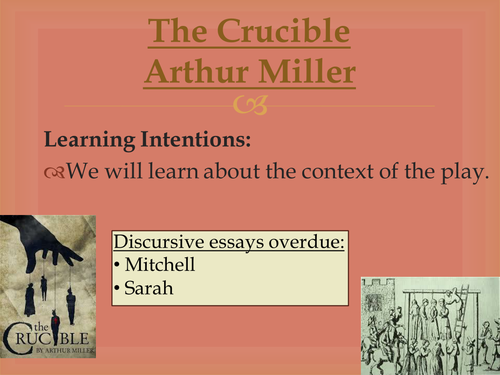 This is a unit of work on The Crucible for Arthur Miller, created for a National 5 class. It includes questions on each act, analysis of key quotations, mind maps about the characters, and an essay plan.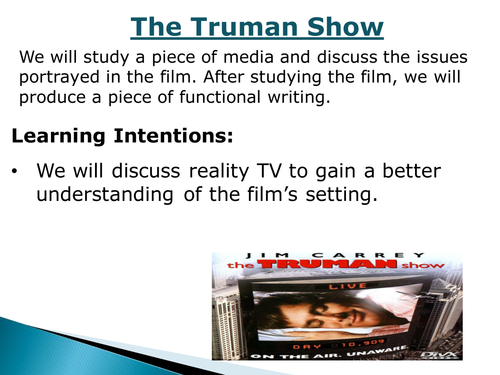 A unit of study aimed at S2/S3 BGE classes involving the study of the film 'The Truman Show'. Students will discuss reality TV, answer questions on the key scenes and then produce a letter of complaint as their final assessed piece of work.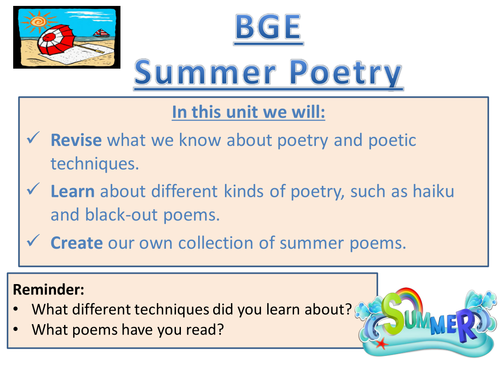 A unit of study for the summer term, aimed at BGE (S1-S3) pupils. They will revise poetic techniques and then create a collection of summer-themed poems, such as Haiku and blackout poems.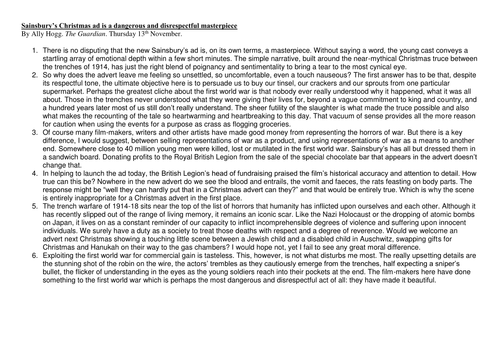 Two close reading passages with questions. I created this resource for S3 but it would also work with N4 classes to help them develop strategies for answering close reading questions. The first is on the Sainsburies Christmas advert and has two sets of questions. The second is on Band Aid and has one set of questions.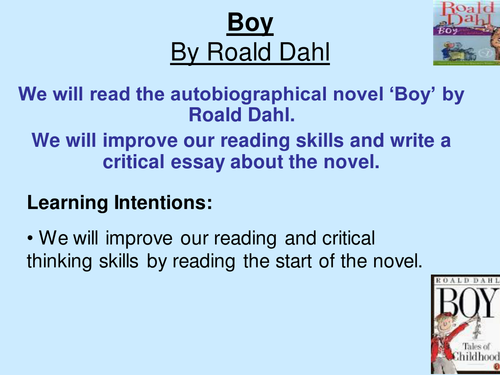 A complete unit of work on 'Boy' by Roald Dahl, including questions on the chapters, vocabulary work, research task, poster activity, letter writing task and a final essay question. The essay question focuses on how Dahl creates memorable characters. I created this for an S2 class but it would also work for S1 or a low-ability S3.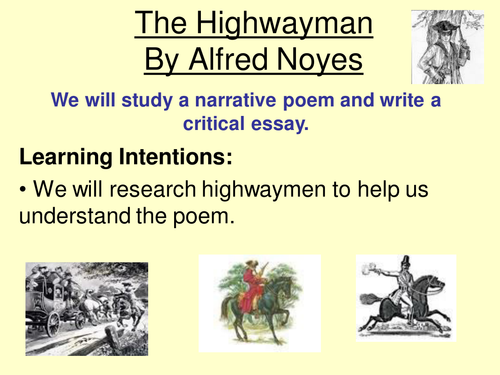 This is a complete unit of work on the poem 'The Highwayman' by Alfred Noyes. It includes a research task on highwaymen, an animated clip, questions, hot-seating activities on the characters, a storyboard task and activities on imagery. It also includes an essay task about how imagery is used to create a sinister atmosphere.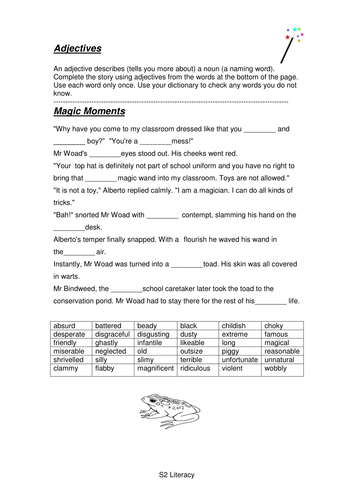 A programme of homework sheets aimed at S2 BGE. These homework tasks cover a range of literacy skills, such as punctuation, sentence structure, verbs, reading for main ideas and complex sentences.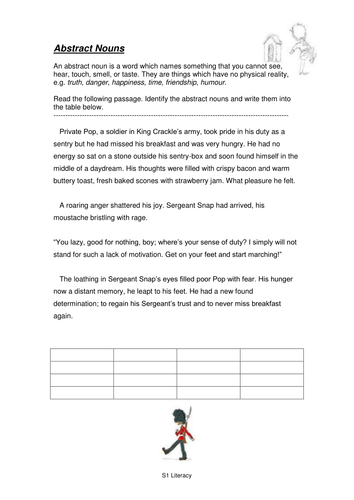 A pack of homework activities based on developing literacy skills, such as punctuation, proper nouns, verbs, jargon and interjections.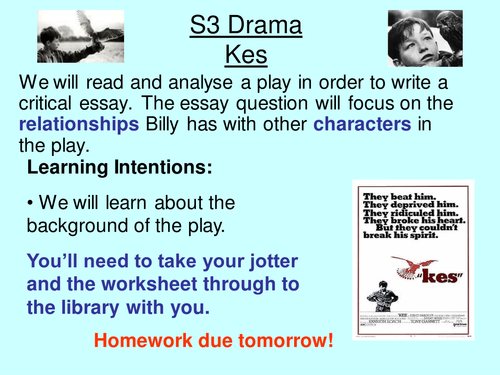 This is a complete unit of study on the play adaptation of 'Kes'. It includes a research task, questions on key scenes, a diary activity, and a final essay task about the relationships Billy has with the adult characters in the play. I used this resource with S3 but it could also be adapted for National 4.