Useful presentation about revision aimed mainly at GCSE students but could be easily adapted for use at KS3 or KS5. There are some handy study tips and advice on routine, attitude and organisation. I have used this as an introduction for discussion about aspects of revision that I sometimes take for granted as understood and am surprised to find are not part of students' routines. It useful to get them to think about the idea of head, heart and courage in their revision - it sticks with them quite easily and is a useful reference point when they get stuck, or can't get started.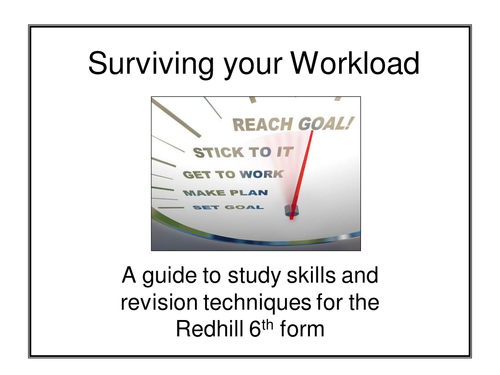 Presentation about study skills and how to organise your time in 6th form. Could easily be used for GCSE too. Presentation can be delivered over an hour with mini tasks for the students and plenty of discussion time to explore the value of good time management and organisation skills as well as giving the students time to discuss why they are doing A levels and what their motivates them.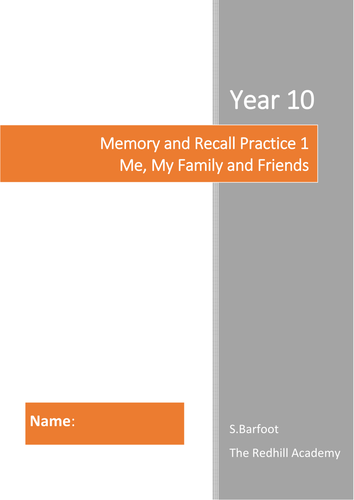 A booklet of (homework?) tasks which students can use once the unit of work is complete to help them revisit vocabulary and phrases to help keep them fresh. The tasks could be given straight after completion of a unit of work or for example at the start of Year 11 to review work covered in Year 10. This unit is based on the me, my friends and family unit of work which my students study in Year 10. I will give these tasks to them over the next 6 weeks as revision home works and then reissue the booklet in Year 11 for further revision. The tasks are best printed out as an A5 stapled booklet.
Formulation and use of conditional verb forms. Authentic text about ideal partner (written by our assistant teacher from Cologne). Emphasises use of connectives to build complex sentences. Can be used in a simple way for foundation pupils concentrating on simple sentences with a range of adjectives to describe people or in a more challenging way for more able students. Lots of opportunity for reading, writing and speaking.
A resource which will familiarise students with the requirements of the writing paper for GCSE German (AQA). The tasks are not official AQA tasks but created along the lines of what students might reasonably expect to appear on an exam. The mini mock is designed primarily for Year 9 or 10 students not yet expert in the grammar and vocabulary of the GCSE and there are several activities which might support them along the way. There is also opportunity to use a student friendly mark scheme (the grading is very roughly worked out but gives a general indication of how students might be doing in terms of grades). These tasks work well as homeworks - especially the redrafts - I will produce more on different topics as we progress through the new GCSE course - (if people would like them). Could easily be adapted for other languages by changing the tasks.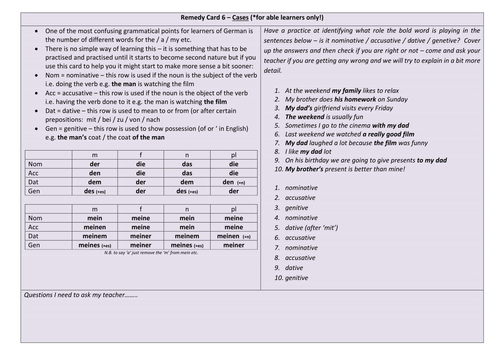 If your pupils are making the same literacy errors over and over again try giving them one of these A5 cards to help them understand the remedy. There is one for spelling, one for capitalisation, one for tenses, one for word order, one for adjective agreement and cases. Pupils use the card as a reading ruler with the next few pieces of work - checking each line of their work against the rules set out on the card. Over a short time it should help raise awareness of key errors and encourage students to check their work in a more productive fashion. When used consistently the cards help eliminate mistakes and increase independent checking of work. When students feel they have achieved their target to improve they stick the card in their book with a pupil comment about the impact it has had. These have proved so effective with my students they voted them the single most effective piece of support they were given all year last year.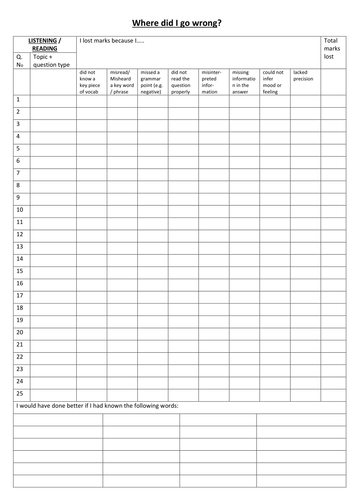 Get students to better understand where they could improve in their listening and reading exams. For each question the students work out where they lost marks so that the teacher and student can work together to improve performance. Identifying the type of question students struggle with can inform future whole class teaching. Identifying patterns can help individual students recognise what their personal targets for future learning might be. If students use this form when attempting past papers for independent revision it can help them revise more effectively.
This resource can be adapted to suit any class and any learning objective. Simply add the dates of your lessons throughout December to the second slide. Each lesson you reveal the contents of the gift for that date - in this example the gift will open to reveal a connective. The students must then use that particular connective as often as they can - every time they use it they can claim a star which is added to slide 3. (I print off slide 3 and print off some paper stars for them to stick up next to their initials). Each lesson a new connective is added. You can change the focus to adjectives, verbs, tenses, key words, opinion phrases - whatever you feel the students should focus on.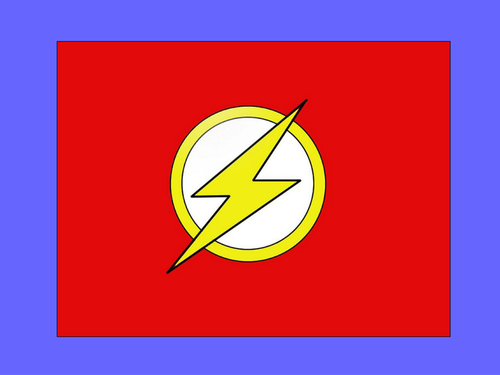 Past tense formation with verbs which use sein as their auxiliary verb. The lesson takes the students through the formation across all the subject pronouns and the word order rules. The formation help sheet will help students work with verbs which use haben and which use sein and consolidate their learning.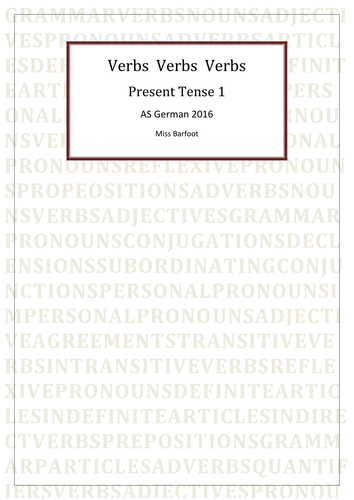 First in a series of resources to help students of German master the grammar of the language. This set deals with regular, irregular, strong, reflexive, modal and separable verbs. Ideal for high ability GCSE and first year A-level students. The initial information sheet is accompanied by a practice sheet and test sheet making them ideal for homework and independent work as well as use in class. Tried and tested - the students have found them very user friendly. Further resources will be published on TES which cover all the grammar aspects of A-level. The overview grammar sheet attached shows which aspects are covered by the resources in the series.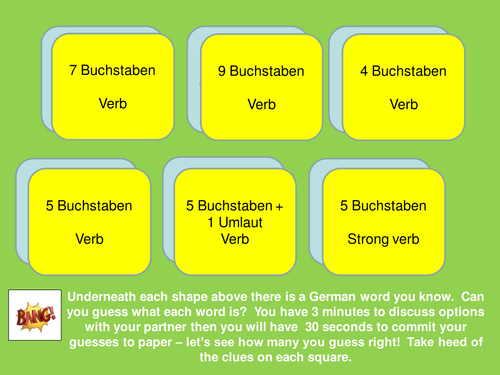 Tried, tested and loved - my 'go-to' resource for introducing the past tense with 'haben'.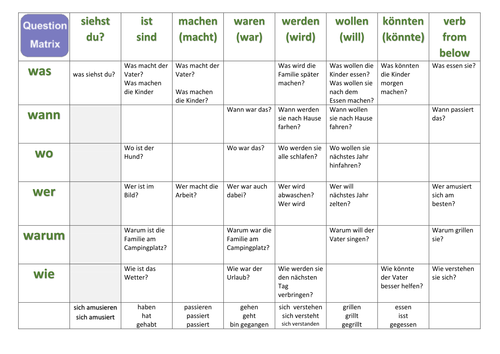 Get your students to create their own questions - ideal resource for the new GCSE. Students use the matrix to create their own questions about a picture stimuli. The example here is in German but it would be a matter of minutes to change the question words and verbs to French or Spanish. Give the students a picture and get them to work in groups on creating a set of questions to use in interview with each other. A timeless resource which can be used again and again with different picture stimuli. The resource attached is from a CPD session for a network meeting but there is a PPT attached which could be used to support explanation with students. Could also be used for A level.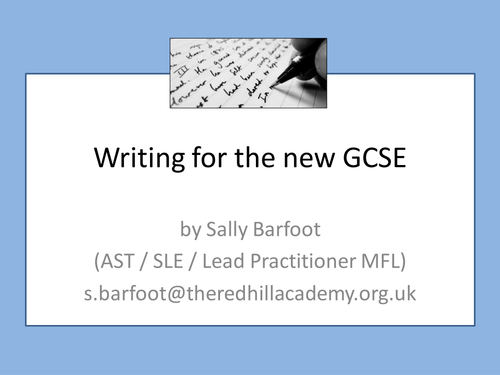 Ideas and resources to help teachers tackle the new MFL GCSE. This could be used individually or as a departmental resource to inspire staff to think about the challenges of the new GCSE; increasing spontaneity, grammatical accuracy and creativity. Some of the resources are attached and these are easily adapted to suit your own SOWs and languages including the translation maze, mood and thought board and an example of use of poetry.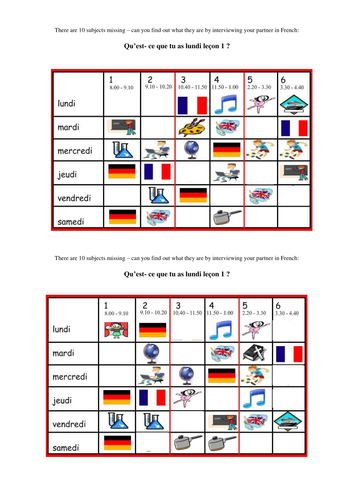 Presentations and resources to teach school subjects and opinions in French.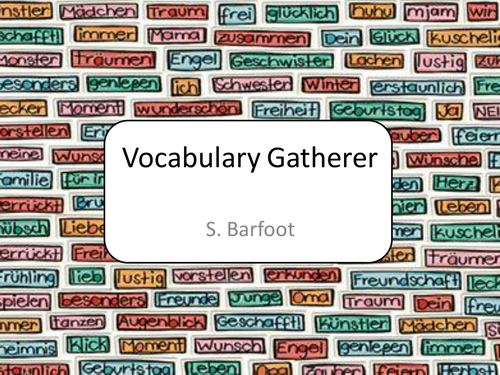 Ideal resource for exam revision or end of unit revision. Students work in small groups or pairs with an A3 version of the worksheet. As the topic areas come up on the PPT the students have a set amount of time (e.g. 2 minutes) to think of as many words related to that topic as possible. When the time is up the teacher can reveal the words they have listed on the PPT, each word carries either 1, 2 or 3 points and the students gain these points per word they have on their own lists. Any additional words which are valid that the students have which are not on the PPT earn the students 4 points. The winner is the group with the most points but the key aim is obviously to revise key vocabulary and to broaden vocabulary by discussing the options available. The resources attached are easily adaptable so you can change the words, the topic areas and even the language. Quick, easy resource to use and fun for last minute revision.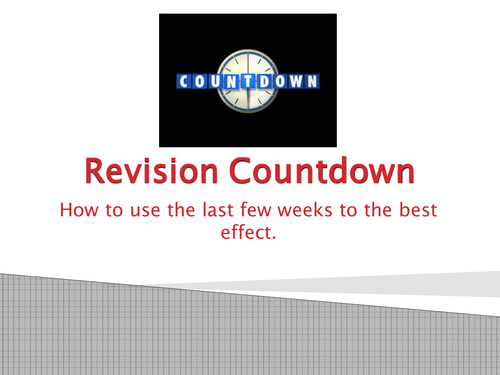 A student resource full of tips on how to use the last few weeks when the focus is totally on Reading and Listening and honing the skills necessary to get the best marks possible in the exam. There are tips on how to use exam papers, how to learn vocabulary, how to structure revision time and how to spot patterns in the types of error students make. The attached resources support the presentation and give students resources to help make their independent revision more efficient and effective.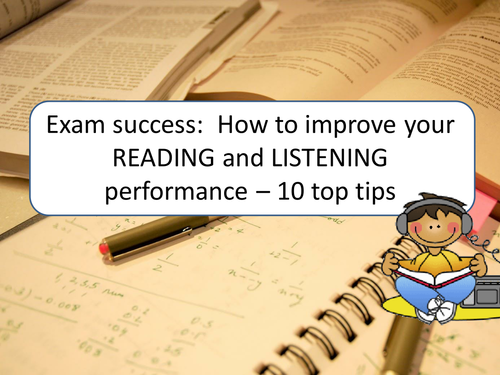 Help your GCSE classes prepare for their exams in the final run up with this PPT explaining reading and listening strategies.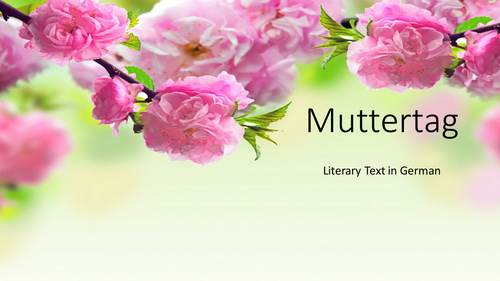 A German poem used for comprehension and reading aloud, sound spelling practice and ultimately for work on present tense endings and sentence building with 'wenn'. Can be used with beginners or intermediate learners depending on how thorough you go with the grammar and vocab. My students went on to write their own simple Mother's Day poems using the patterns on the PPT.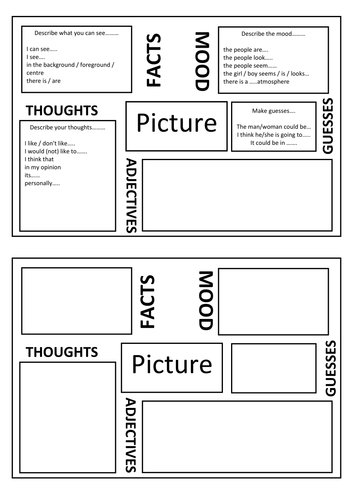 Ideal resource for current Year 9 preparing them for the new GCSE speaking exam and talking spontaneously about picture stimuli. Students think about the type of language they need to state facts, add their opinions, hypothesise (simply) and describe pictures. They use the English version as a prompt for the type of language they will add to their TL version below, add language (supported by teacher) then fold in half and use the board they have created to talk about any picture stimuli they use in the coming weeks to help them build confidence. As the progress and use more and more phrases spontaneously I issue them with a new card (different colour) and we add more advanced or different phrases to extend their knowledge of generic phrases.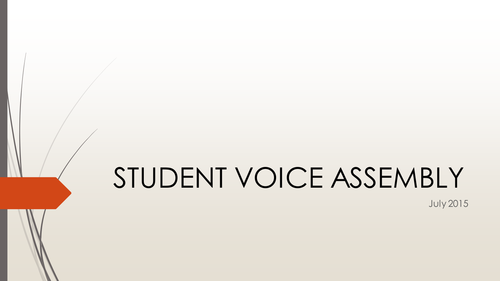 An assembly about the power of voicing your opinions based on Malala Yousafzai - pupils identify people known for having stood up for their beliefs and then look in more depth at the story of Malala and the sacrifices she has made in order to continue to champion the cause of education for everyone. I have also included a couple of slides to address the way students use their voices currently and in particular on social media, hopefully making them think about using it in a positive way to support rather than criticise or attack. This presentation was used to launch school council elections and therefore contains information towards the end about our election process. This could be removed or altered depending on your needs.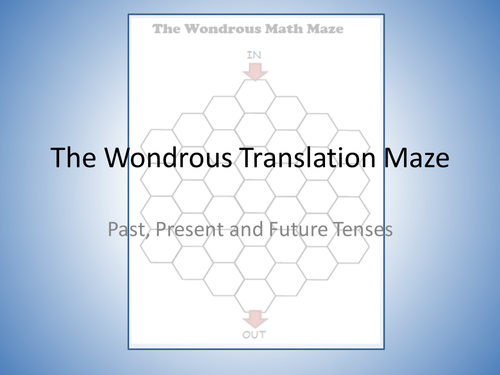 Easily adaptable for your own purposes. In this pro-forma pupils translate sentences in differing tenses to create a path through a maze of their own creating. My pupils love this activity and get increasingly excited when the numbers are revealed and they get closer to creating a path. Great activity for focussing on grammatical accuracy and gives rise to productive discussion in class about points of grammar, sentence structure and spelling.