Text Education resources
Experienced Teacher of English and Senior Examiner. Particular interest in GCSE English Literature and A Level English Language.
60Uploads
17k+Views
4k+Downloads
Experienced Teacher of English and Senior Examiner. Particular interest in GCSE English Literature and A Level English Language.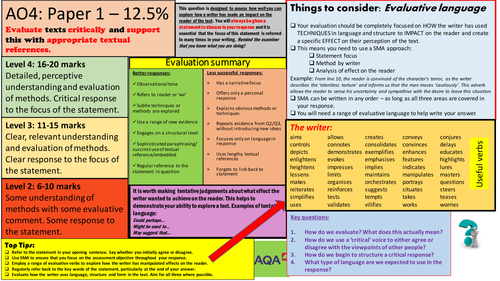 Designed to support GCSE students with approaching the evaluation question on Paper 1 English Language. The mat includes top tips, a range of appropriate vocabulary and a clear explanation of the question for students. Works alongside the Language and Structure learning mat - possibly best copied back to back.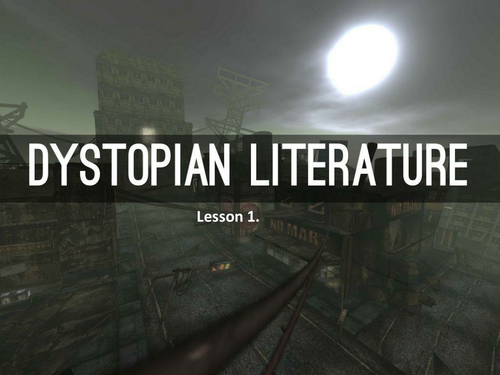 A whopping 195 slides of tasks and activities relating to the Dystopian genre. Suitable for KS3 students and an excellent vehicle for creative writing.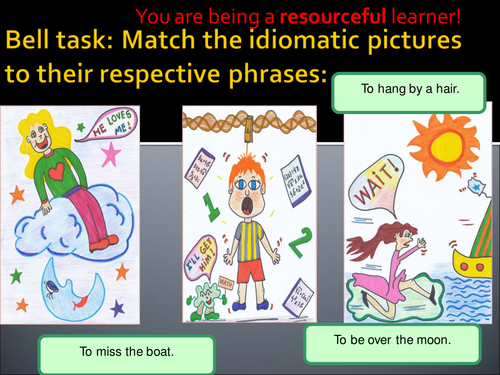 Useful for introducing Year 11 students to the topic areas and styles of teaching at A Level. Focuses on language and power.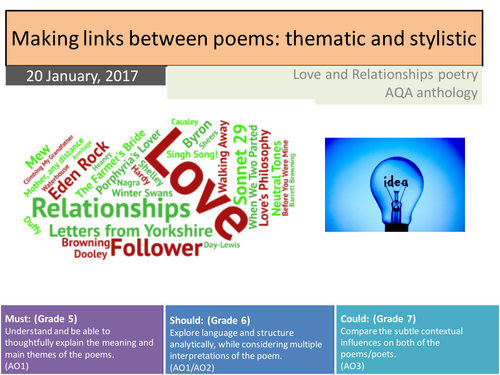 A lesson designed to encourage students to think independently about making connections in the anthology poetry, whilst trying to incorporate the Assessment Objectives into their planning. Can be used as a generic tool to approach comparisons. This is approximately 2-3 hours of lesson time as the presentation includes a peer and self assessment opportunity.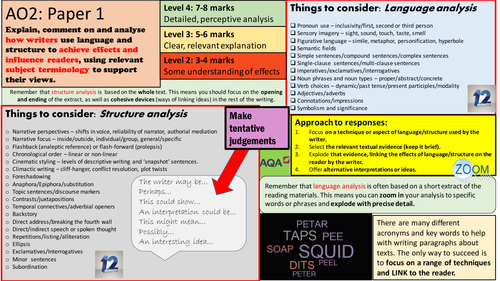 Lots of information for GCSE students on the new AQA English Language specification. The revision mat details advice on structuring a response, assessment criteria and comprehensive lists for language and structure analysis. Best enlarged to A3.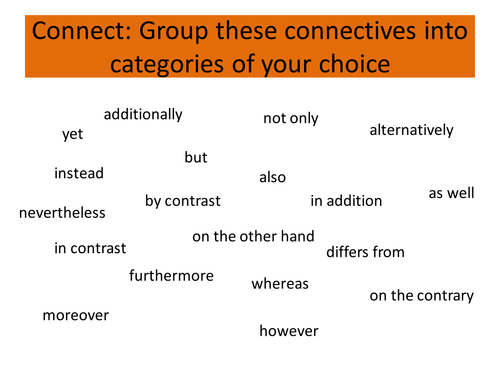 Designed to encourage students preparing for GCSE English Literature to compare the content and style of both poems. The lesson can lead into diagnostic assessment of skills.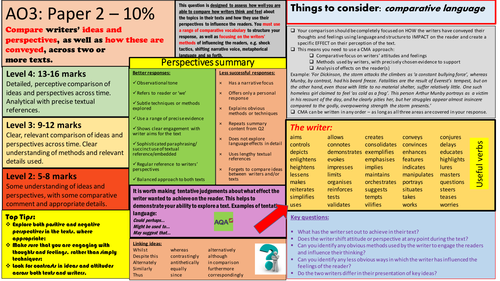 Designed to support GCSE students in the new English Language exams. Top tips and suggested approaches to the 'perspectives' question in Paper 2.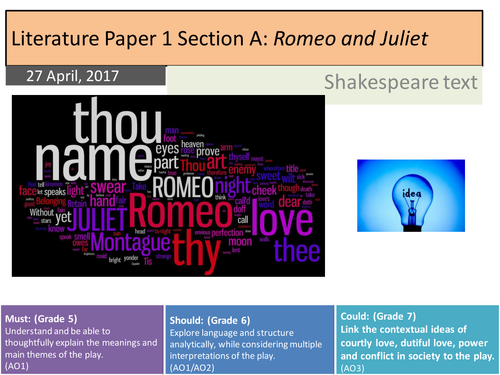 A range of extracts for students to use in groups, focusing on developing their understanding of exam questions and making links between the extract and wider play.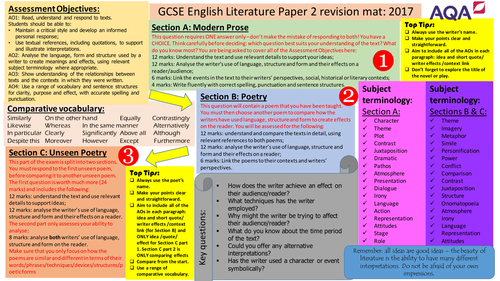 Designed for Year 11 students, following the mock examinations. The revision mat offers top tips for the exam and explains clearly what is expected of students, from responding to texts and poetry to using comparative vocabulary.
Three revision mats, covering the challenges of the new GCSE English Language papers: language and structure analysis; evaluation of writers' methods; writers' perspectives and attitudes. The mats can be used in lessons or to prompt homework, as well as traditional sources of information for revision. Also useful to teachers and tutors of this subject, to help develop understanding of the exam requirements.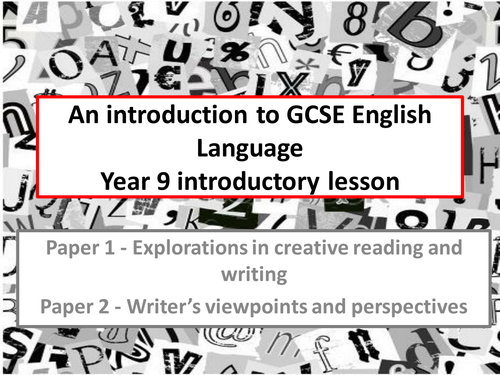 8 lesson unit of work, exploring a range of non-fiction texts and linking the new assessment objectives for AQA English Language. Suitable for Y9-10 students. Range of tasks included. The texts required are in a separate booklet with this resource.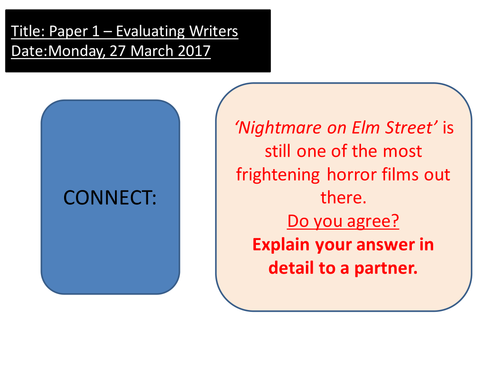 My introductory lessons to the evaluation question on Paper 1. The lessons use two texts: Dracula and George Orwell (both included).
A series of five lessons, focusing on structure of texts. The unit covers extracts from '1984', 'Dracula', 'I'm the King of the Castle' and AQA sample materials on 'Brighton Rock'. There are example responses, mark schemes, a range of key vocabulary and annotated exemplar to use with your students. All texts should be attached.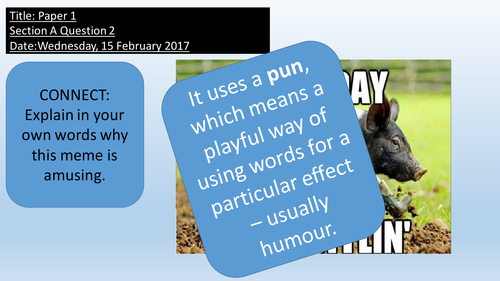 A few lessons using extracts to teach a low to middle ability group the basics of language analysis. All planned using connect and review tasks to consolidate learning. Extracts also attached as files.
A huge presentation of fully planned lessons, including a final writing assessment, this unit of work uses the learning cycle: Connect, New Information, Activity, Demonstrate and Review. Approximately 6 weeks of lessons. A range of tasks including: what is an autobiography? what is a biography? analysing extracts verb tenses language analysis structural analysis creating a 'voice' exploding images analysing front covers creating autobiography covers analysing and writing blurbs use of humour and anecdote researching myself exploring web pages writing about myself Designed for Y7 but useful across KS3 to develop analysis of non-fiction.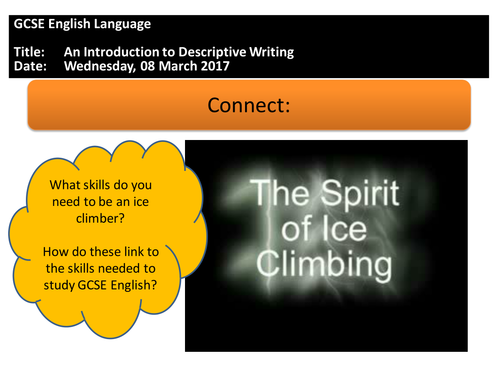 A range of lessons, with resources, to teach descriptive and narrative writing to GCSE students. The presentation includes lessons on: Describing people and places Show not Tell Narrative arcs and structures Creating characters Developing vocabulary Exploding minor details Openings Endings Planning a response All lessons have been successfully taught with a Year 10 higher-ability class.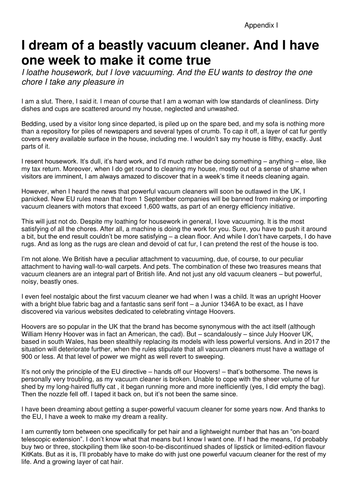 A series of lessons, fully planned, leading to an assessment opportunity for writing to present a point of view. Requires access to BBC iPlayer for one of the lessons. Suitable for GCSE English students or Y9 practising key skills. Focuses on building skills and knowledge of exam requirements.
Designed for Year 11 students to revise the key areas of the Shakespeare and 19th century text. The mat includes key specialist vocabulary and top tips to help approach the extracts and extended responses.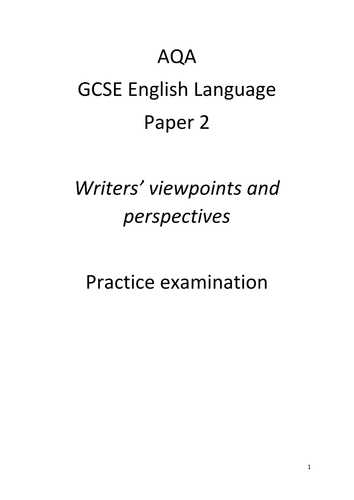 Prepared for GCSE students as practice for the new GCSE examinations, this exam contains a modern article and 19th century extract on the topic of tea and coffee. There is a full exam for students and a mark scheme for teachers, complete with indicative responses. Useful for tackling older texts and making links between writers' perspectives.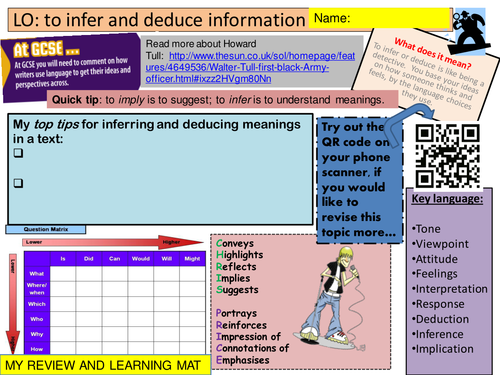 Originally designed for use with Y9 students, this lesson focuses on developing an understanding of the writer's viewpoint and perspective, exploring the effects of language and structure in a text. A good introduction to core GCSE skills for KS3 students or editable to work with new GCSE specifications, this lesson includes an example response and peer assessment opportunity.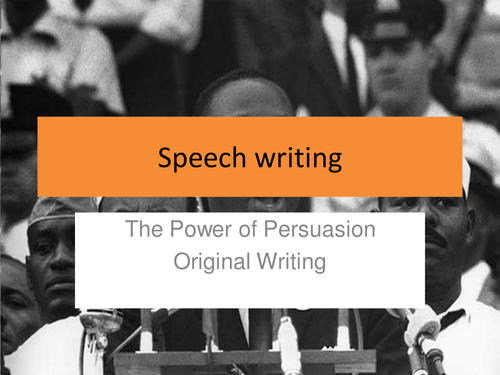 Designed to work alongside the new A Level specification for AQA, this unit of work focuses on how speeches are created and encourages students to write their own piece, with supporting commentary.