40Uploads
31k+Views
24k+Downloads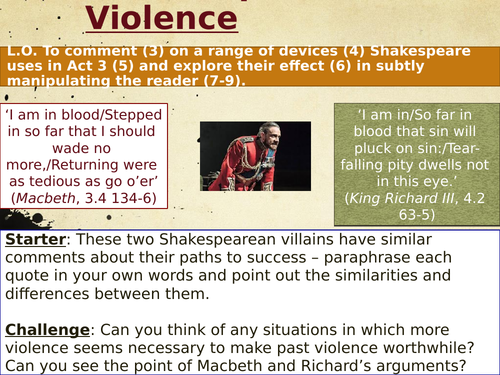 Macbeth Act 3 Scene 1 - 'Spirals of Violence' - Made for more able/ G+T top set - will need scaffolding down appropriate to group; final analysis task would need a checklist of skills/PEAL/PETAR writing frame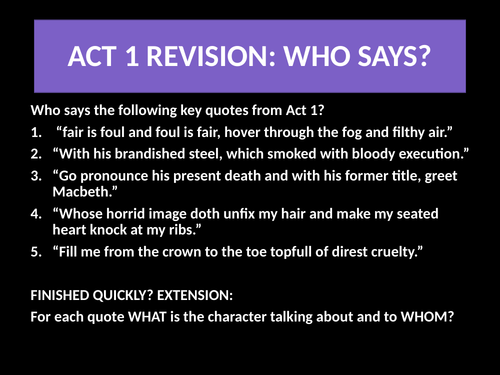 2 lessons on this scene - general annotation and understanding, then focus on the dagger soliloquy by digging deeper into allusions and alternative interpretations. Made for an engaged middle set - many ways to adapt!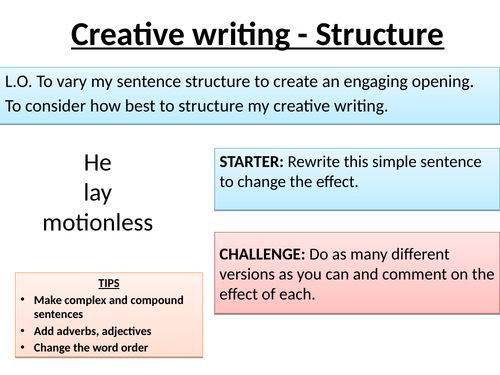 Lesson on varying sentence and paragraph structures and lengths for creative writing section of exam. Could be used for OCR, AQA, etc. Final activity reveals a piece of a picture a bit at a time for them to write a description of - produces great results!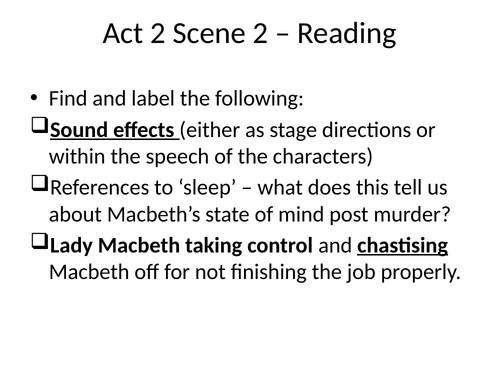 2 lesson - initial lesson on read, basic annotations and understanding (one simple slide, the rest I guided through reading as a group). Followed by a deep analysis lesson and modeling of 'exploding' key quotes; full written analysis task could be done in lesson or set as homework. Made for an enthusiastic set 3.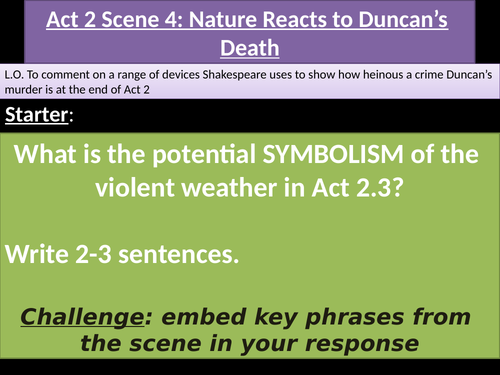 Full lesson - consideration of the chaos created in the natural world by the murder of Duncan and group work. Aimed at middle ability set.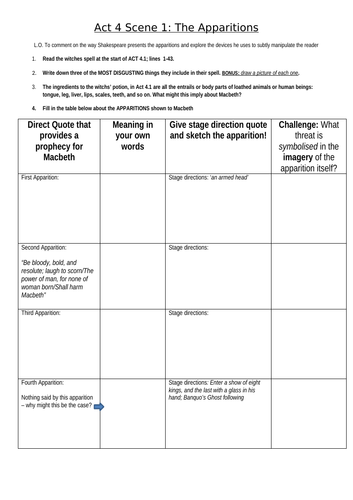 Handy worksheet to solidify knowledge of the 4 apparitions in 4.1- has support and challenge so suits all abilities!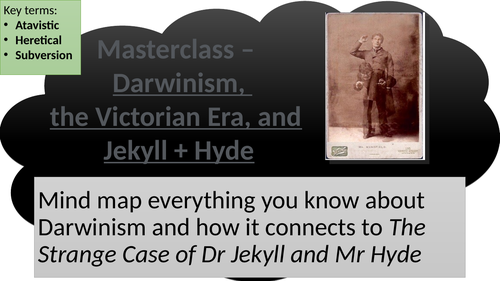 A 'masterclass' revision lesson on the importance of understanding Darwin and his influences/impact on Victorian society in relation to descriptions of Hyde. Made for a high ability top set in mind. Students must have solid foundational knowledge of the text in order for this to be useful. Students should come away with a detailed revision poster based on the questions/discussions/information given. There is also a model 'Grade 9' response at the end that could be picked apart. I have provided links in the notes of the powerpoints for source materials - I highly recommend reading them first if your own knowledge on the topic isn't vast!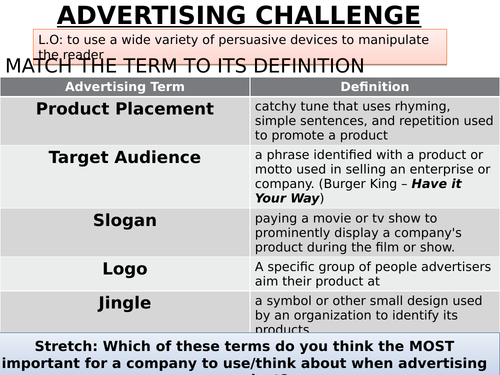 A lesson that recaps the basics of adverts and persuasive devices followed by a series of worksheets that challenge students to come up with specific devices to promote strange products (Unicorn meat! Cupcake toothpaste!). Could be fashioned as a team task or individual work. Part of a SOW looking at print adverts, analysis, and persuasive script writing.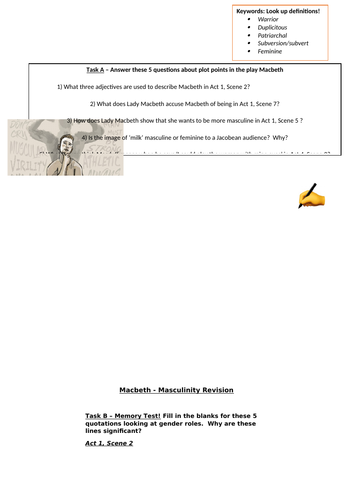 Combination of knowledge recall, quote memorisation, extended reading, extract annotation, and finally, written analysis, all in one handy-dandy worksheet! Powerpoints be damned!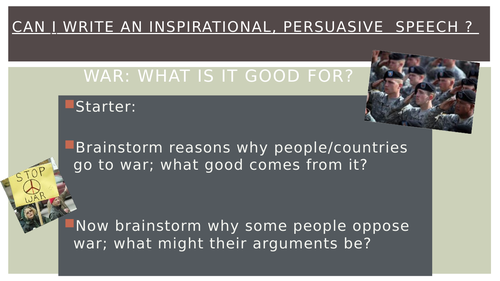 A fun speech writing lessons that can easily be adapted up or down for Year 7-11. Some background knowledge of logos, ethos, pathos and rhetorical devices needed. Otherwise, this will need to be embedded into the lesson or taught before hand.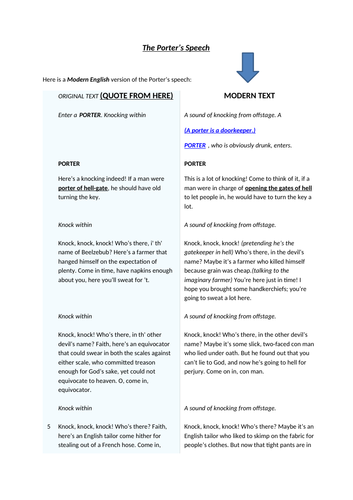 Worksheet made to support the understanding and analysis of The Porter's Speech - could be set as homework!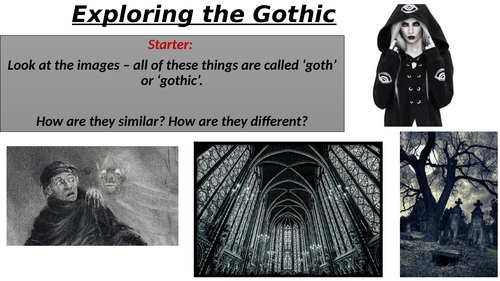 Discussion heavy lesson Post reading questions on how The Yellow Wallpaper fits certain elements of the Gothic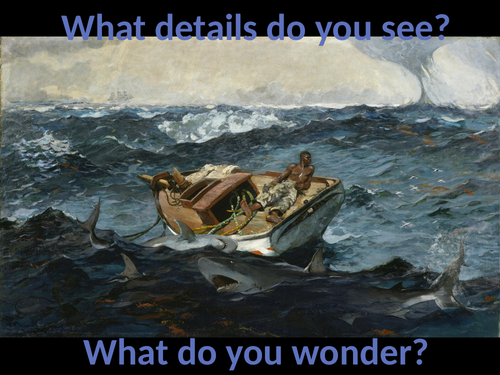 Using Winslow Homer's The Gulf Stream as a stimulus, students build on both descriptive skills and narrative creation. I have used with both high ability and a mixed set, worked a treat for each. I suggest printing off a colour copy of the painting on A4, one between two, so they can really get up close and look at detail. Could be edited to include exam board specific mark scheme.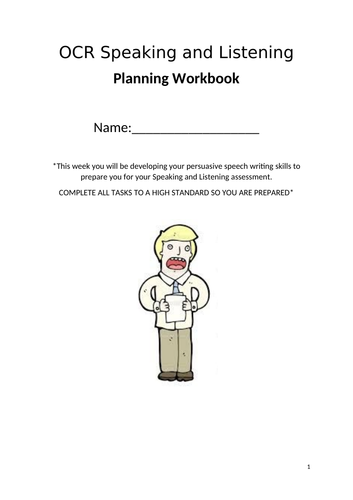 A booklet I made to prep low ability Year 10/11 for their Speaking and Listening - the topic is a persuasive speech on 'One Thing I Would Change About the World'; the booklet would need to be altered to suit ability/need. Contains the standard S+L mark scheme across all exam boards.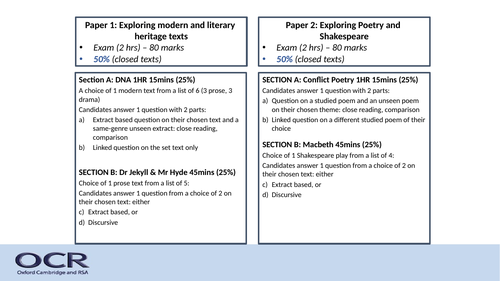 Lesson on 'Flag' by John Agard - aimed at a low ability set 5, but has differentiation and challenge available. Students are put into small groups and must do a deep analysis/annotation of a given stanza. There are prompting questions/.checklists and a 'challenge' card they can use as well. This is followed by a 'PEAL' style writing task that can be easily adapted.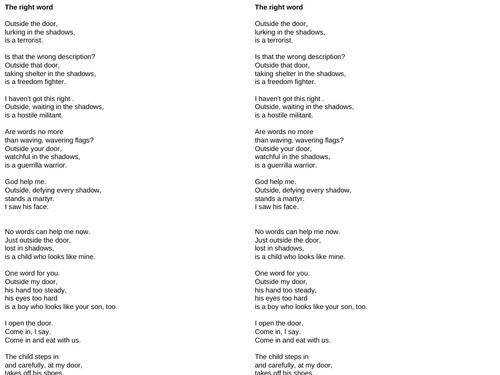 Lesson on Imtiaz Dharker's The Right Word - aimed at Year 7, part of a larger poetry unit looking at marginalised voices. Could easily be adapted up for Year 8 or 9.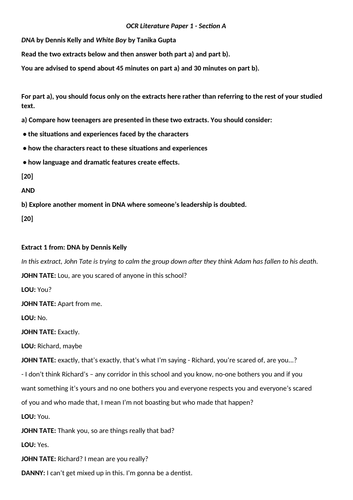 Whole mock Section A (Modern Literature) for OCR spec Part A - Comparison between DNA and White Boy Part B - Where else in the play is leadership challenged?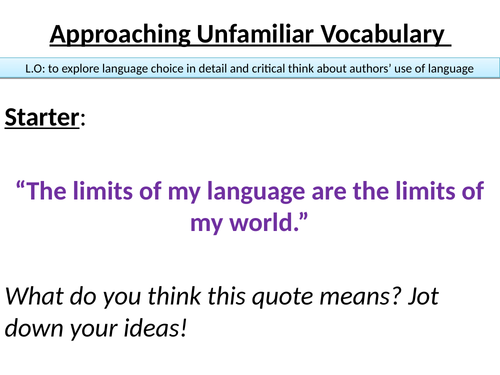 2 lessons - the first is on strategies for approaching unfamiliar language using The Great Gatsby followed by a lesson on OCR Language Paper 2 Question 2 (language and structure). There are choices for the starter task depending on personal preference and an aim to extend and challenge vocabulary. Could very easily be adapted for AQA.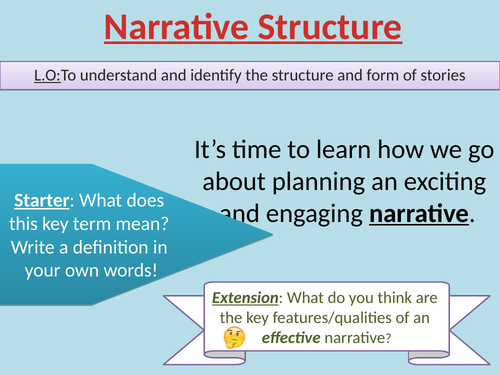 Made for a KS3 science fiction SOW, perfect for Year7/8 introduction to narrative form (or recap if they are already clued up!).