20Uploads
628Views
192Downloads
A lesson introducing the Yalta and Potsdam conferences - writing practice to finish!
A lesson which covers the Berlin Blockade, Berlin Airlift, and the impact on international relations. Historical skills practice included.
A lesson which introduces the Cuban Missile Crisis by looking at the Cuban Revolution + Bay of Pigs invasion. Historical skills embedded.
A history lesson looking at the Troubles in Ireland. GCSE practice embedded.
A lesson looking at the Cuban Missile Crisis investigating the event looking at different political cartoons. GCSE skills included.
A lesson introducing the ideas of Capitalism and Communism - and how they contributed towards the Cold War. Historical skills practice included.
An overview of the Cold War - including GCSE exam practice, and a quick overview of the key international events between 1945-1990.
A lesson introducing how the Tudors became the ruling family of England (this will need prior knowledge of the War of the Roses) includes Historical interpretation work.
A lesson introducing the Renaissance and culture. Links to GCSE Medicine through time - using Vesalius as a case study.
A GCSE lesson following the Edexcel spec for Superpower Relations - Tehran, Yalta, Potsdam. Exam practice embedded.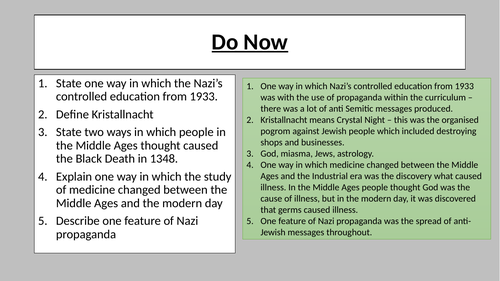 A lesson introducing the Cold War using the American use of nuclear weapons against Japan.
How war work impacted the lives of women. Embedded tasks which relate to GCSE skills. Scholarship included.
Lesson surrounding what happened to the Suffragettes once arrested - details about Cat and Mouse Act, including I do, You Do, We Do modelling of tasks. Historical interpretation on Emily Davison.
Lesson introducing the WSPU and how they took action. Tasks relating to GCSE skills embedded.
Lesson on the position of women in the early 20th century - a variety of discussion activities, then extended writing tasks and source usefulness task to end.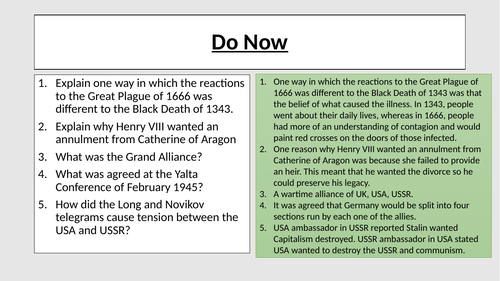 This lesson goes through how to answer an 8 mark narrative account question. Structure strips included and practice.
An introduction to the Superpower relations course - with command strips and GCSE practice attached.
A Year 7 lesson introducing the Break from Rome - links to GCSE History - Henry VIII and his ministers - historical skills embedded.