Sharonp680's Shop
Philosophy, Religion and Ethics
55Uploads
18k+Views
15k+Downloads
Philosophy, Religion and Ethics A thought provoking article by a gay writer on the theme of 'Born this way'. Arguments are given as to why the idea of a 'gay gene' has been so influential, and the author's opinion as to why the idea is neither accurate nor helpful. First found on the BBC website, I have put it into article form and added six questions for students to consider at the end. Relevant to both Sexual Ethics (homosexuality) and to Freewill and Determinism (the influence of genetics and environment on our [moral] choices).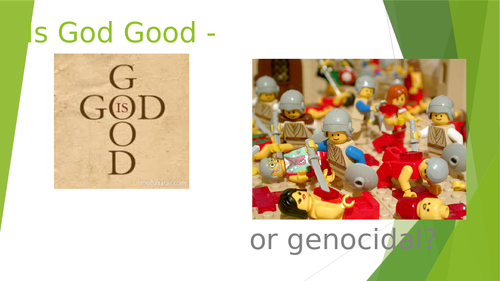 Powerpoint introduction to the Goodness of God topic. Basis of God's goodness in his character and divine simplicity. Introduction to what 'good' means for God through the Euthyphro Dilemma, and examination of two difficult texts - Abraham's call to sacrifice Isaac, and the Amalekite genocide of 1 Samuel 15. Views of Professors William Lane Craig, William Darwall, Richard Dawkins and Dr Tim Keller summarised or linked to. Includes several Youtube clips and links to wider reading.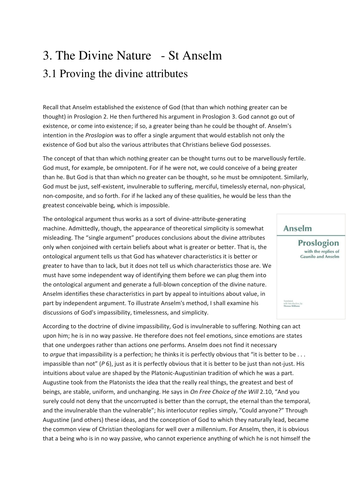 I have turned some of the work of Rev. Dr Thomas Williams' entry on Anselm in the SEP into a handout. Focusses on how Anselm develops his discussions of God's impassibility, timelessness and simplicity, from his several statements of the ontological argument in Proslogion 2 and 3. Actually not as complex as it sounds! Full article found at http://plato.stanford.edu/entries/anselm/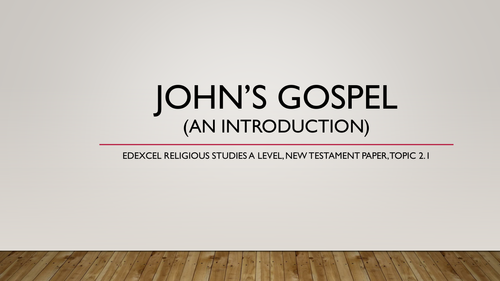 Background to the Fourth Gospel. Deals with authorship, dating, fragmentary evidence (very briefly!) Useful before diving into the Prologue.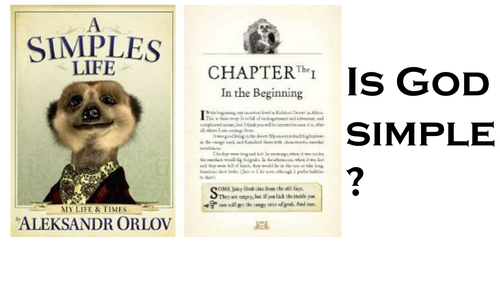 A brief powerpoint exploring the doctrine of divine simplicity - does God have parts? What implications does this idea have for discussion of such attributes as omniscience, omnipotence, eternality?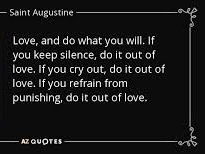 The new Edexcel specification asks for 'biblical examples of situationist teaching, such as illustrated in the ministry of Jesus' (page 21). This is my attempt at fleshing that out! Good for synoptic links between NT and Ethics papers.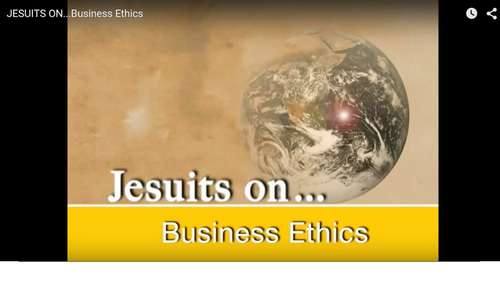 This video is mainly an excellent overview of Business Ethics, with a section on Catholic views at the end. Moving from the simple transactional ethics in an agrarian society, to the challenges of today's anonymous globalised markets, it concludes with a section on what future challenges to for business ethics might look like, and suggestions to make business practice more ethical. Very clear, excellent graphics and lots of useable case studies. 22mins. Worksheet contains headings to help with student notetaking. Explains God's omnibonevolence, with Scriptural support, and then the Euthypro challenge. Use of Abraham's sacrifice of Isaac and the Amalekite genocide as specific examples of possible arbitrary and tyrannical divine commands. Humanist and religious response given.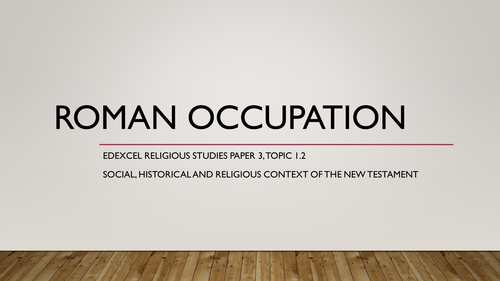 A brief powerpoint and research activity focussed on the benefits and challenges that Roman occupation brought to the world of the first century. Activity is running a campaign to challenge the Judean People's Front! (or, should that be the People's Front of Judea?!)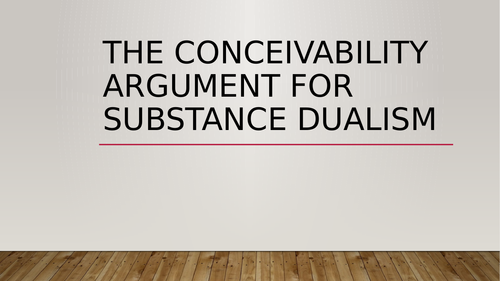 I tried to follow the AQA specification really carefully here. They aren't fancy, but I have spent hours on them, so hopefully they will be of use to someone else!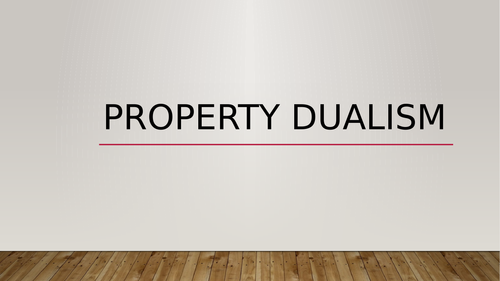 Nothing too fancy here, but I have spent considerable hours on these and tried to follow the AQA spec really closely. Hopefully they will be of use to someone else too!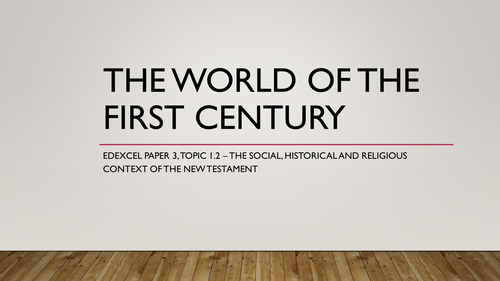 Intended for Edexcel new spec Topic 1.2 of Paper 3 - New Testament. Exploring the social, economic and geographical context of the events of the Gospels. As yet untested on an actual class - feedback welcome!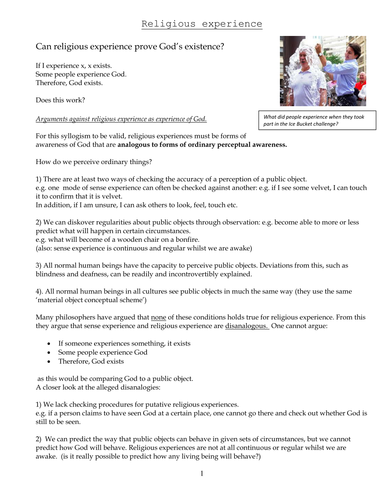 Is the experience that some people have of God analogous to the experience that each of us has of public objects? In what respects? Swinburne's Principle of Credulity, his Four Defeating Conditions, Martin's Negative Principle of Credulity and Swinburne's Cumulative argument all discussed.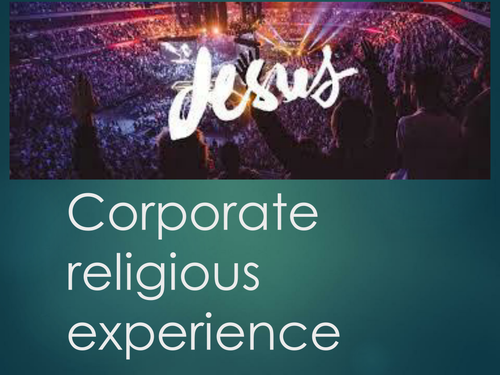 Powerpoint providing examples of corporate religious experience. From the ethereal chords of Mozart's Requiem to the base guitar and full rock band of megachurch Hillsong Australia, how does music influence religious experience? Finishes with an investigation into charismatic phenomena (signs and wonders, esp healing and glossolalia) and also a research task into the Toronto Blessing.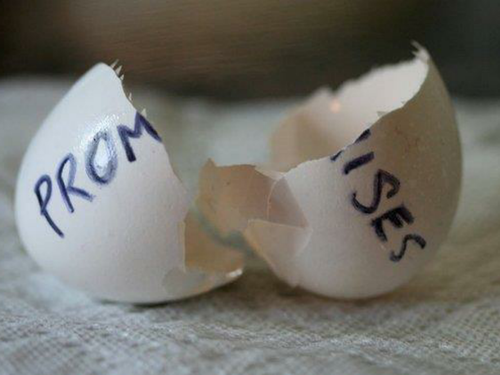 Exploration of deontological approaches to marriage and sex, with a particular focus on Immanuel Kant. Are extramarital and premarital sex irrational? Also features a youtube video, 'C.S. Lewis' famous essay 'We have no right to happiness', which proved very provocative with my students! A great discussion starter on the differences between deontological and teleological approaches in sexual ethics.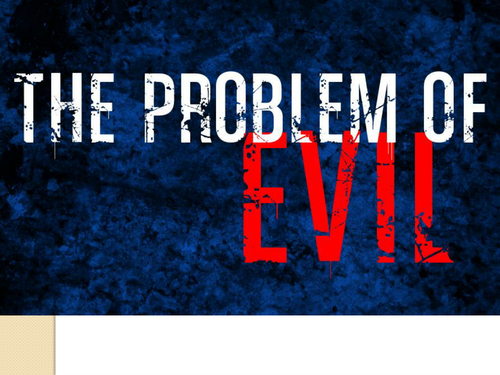 An introduction to both the evidential (Good Morning Vietnam) and logical (Epicurus, inconsistent triad) problems of evil. Students watch the interview between Gay Byrne and Stephen Fry on RTE (now has over 6 million hits on youtube) and try recreate it (God is capricious, mean and stupid to allow bone cancer in children). Students also consider whether or not atheists have a 'problem of evil', by examining the views of Richard Dawkins.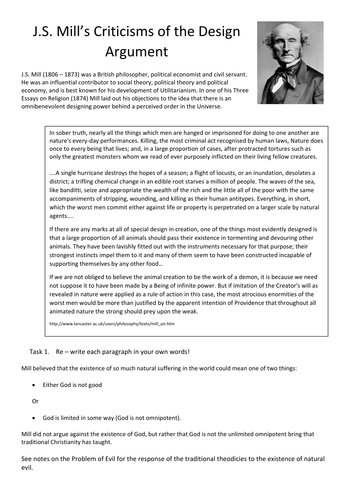 Extracts from Mill's 'Three Essays on Religion', focussing on his claim that Nature is excessively cruel. Does the amount of pain in the natural world indicate that the world is not good? Also examines Richard Dawkins' example of the Digger Wasp and his counterclaim that nature is not cruel, merely 'pitilessly indifferent'.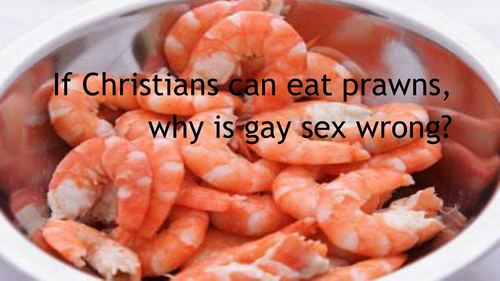 Prawns? Lycra? Gay sex?Aren't the Old Testament's prohibitions against shellfish, mixed fibres and homosexuality indicative of an arbitrary and outdated morality? This lesson on homosexuality examines Biblical texts, discusses the meaning of the 'moral' and 'ceremonial' laws, introduces a Foucaultian persective on sexuality as power, and gives three personal stories - Rev Vaughan Roberts, Mark Cannon, and Vicky Beeching (shortlised for Stonewall's Hero of the Year award, 2014). Students encouraged to analyse the differing perspectives within one faith tradition and to finish with an essay plan on the role conscience plays in sexual matters.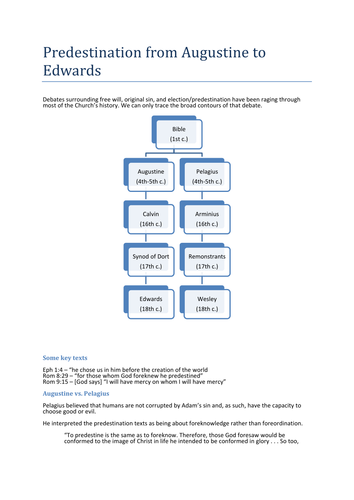 A visiting PhD student provided our dept with this (hence the excellent footnotes!) Is every human action predetermined? Where does this leave moral responsibility? 4 page handout traces history of the doctrine from Augustine, Calvin and Jonathon Edwards, and the rebuttals from Pelagius, Arminus and John Wesley.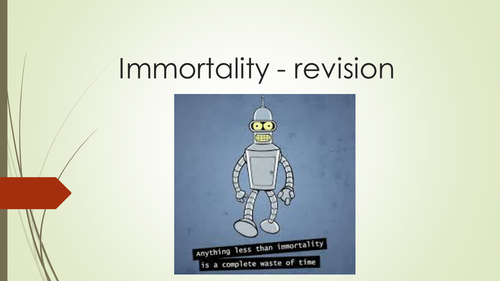 Using a contemporary Christian song and accompanying video, students will recap some of the Christian ideas of immortality. Video is excellent. This resource is evocative and particularly suited to visual or auditory learners. Bible references included.