25Uploads
6k+Views
26k+Downloads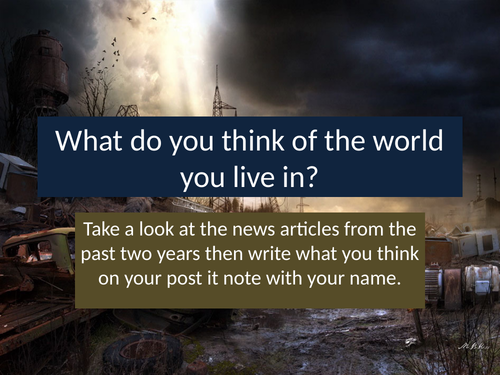 A fairly rough-around-the-edges mini SOW. It will provide a more than ample starting point for an interesting and probably fairly bleak unit.

This is a fully resourced, fully differentiated and high-quality 9 document lesson that only takes about 5mins of prep time, depending on how fast you are with scissors! It's based around creating recipes from random ingredients. Students will use imperative verbs to write recipes. I created it for my KS4 SEND class but it would work a treat for primary, early KS3 and EAL learners too. It could quite easily work as a fun transition activity on an open/taster day etc. I tried to make it as visual and fun as possible- Instructions isn't the most exciting of topics! I used it for an observation and it was graded as Outstanding. You could easily extend it to include writing restaurant reviews or using some drama etc. Included: Lesson Plan - includes WALT, differentiated WILFs, primary national curriculum targets and differentiated ability group information. 3x worksheets (fully differentiated HA, MA and LA) PowerPoint - visual with WALT, WILFs and opportunities for self assessment and challenge. Starter cut-and-stick matching activity, which can then be used as a support sheet for the main task (you could differentiate this further by scrambling the words for HA, etc.) Plenary cards Differentiated food lists for tasks …all you need is some envelopes! Hopefully, it will save you some time planning and mean treating yourself to that glass of wine, extra boxset session or bath. Please take the time to leave some feedback letting me know how it worked for you and if you can suggest any improvements. I'd really appreciate it. N.B. I've left it how I use it, really- my class are far too competitive to have red, amber and green groups- they'd figure out who's top and who's bottom very quickly and it would cause no end of bother, hence why I have purple, gold and blue groups instead. I hope it's straightforward!

This is a fully formulated spreadsheet with a promotion zone, middle of the table zone and relegation zone (I know there's no promotion zone in the Prem- humour me!) You enter reward points in as the weeks go by and you can order who's where by the points by using the 'sort largest to smallest' function. It's super easy to use, easy to introduce with classes, and if yours are as football mad and competitive as mine, it should be effective! I use the final half term points to see if they've met the class reward trip on the points thermometer on my wall. Please get in touch if you have any questions, and leave a review with suggestions or feedback. It'd be very much appreciated.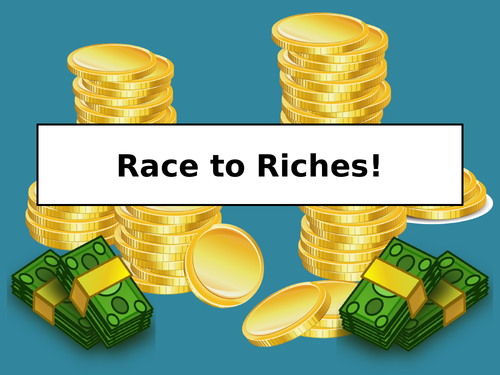 I'm super proud of this resource. I created it for an Ofsted observation and the HMI called it 'Genius'. That was a first! Aimed at KS4 SEND students, it's got clear literacy and life skills links and can be easily adapted to suit most topics. I've left the WALT and differentiated WILFs to show how I used it, but the money cards blank so you can input whatever content that is most relevant to you. Included: Colourful, funny and pacy presentation with challenge opportunities and subject matter that the students can relate to. Question cards with different monetary values (these are slides at the end of the presentation) Engaging collaborative task Opportunities for self-assessment Full, detailed lesson plan You can use fake money or create your own. I downloaded this fantastic resource and edited it to reflect my school: https://www.tes.com/teaching-resource/your-school-bank-notes-6160301 Please let me know how it goes, or leave some feedback/suggestions! I'd love to hear them.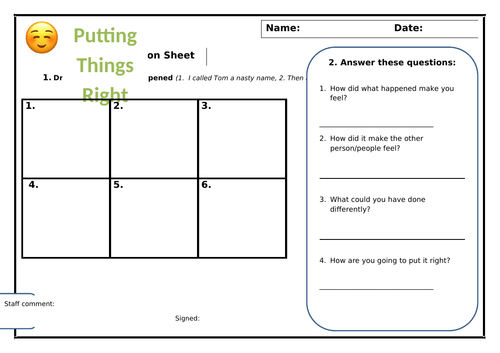 A restorative reflection sheet to be used after a behavioural incident.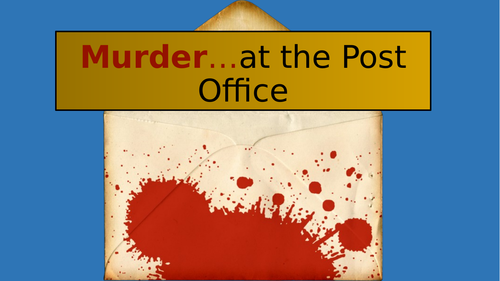 This is a fully resourced, fully differentiated maths revision lesson on measurement, and a whole heap of fun. I threw some code breaking as a starter in there to get them warmed up. My KS4 SEND students loved it as a break from Functional Skills practice papers. This could easily work for UKS2 and LKS3. This download includes: Bright, colourful and highly engaging Powerpoint presentation 3 sets of clue worksheets, differentiated four ways each- so 12 in total! A worksheet to collect their answers through the steps and to help them work through the suspect list. Hope you enjoy it and it saves a bit of time. Please let me know how it worked for you and leave a review! All feedback/suggestions very much welcome. N.B. I made this on a Mac using Word 16. My work PC didn't like it so if yours doesn't either, I've got my reformatted copy on my stick. Please just let me know and I'll send that over to you.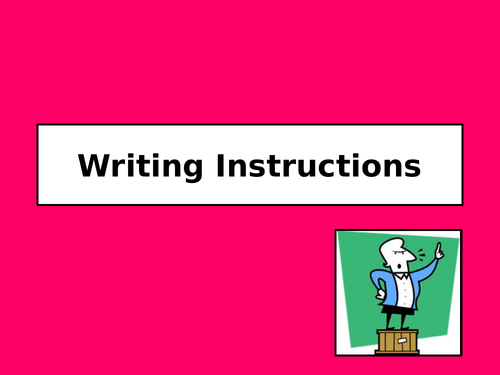 Here is a lesson that I used to get my KS4 SEND class' imaginations going, and to also gauge their resourcefulness! It was lots of fun and involved banging everything from shoes to frying pans on the wall (sorry, caretaker!). You obviously don't have to do this, though! It could be for UKS2, mainstream KS3 and EAL students too. The PowerPoint includes fully differentiated WILFs, differentiated tasks and opportunities for self-assessment. I hope you enjoy it and it saves you a bit of time! Please leave a review to give feedback or to leave suggestions. I'd really appreciate it.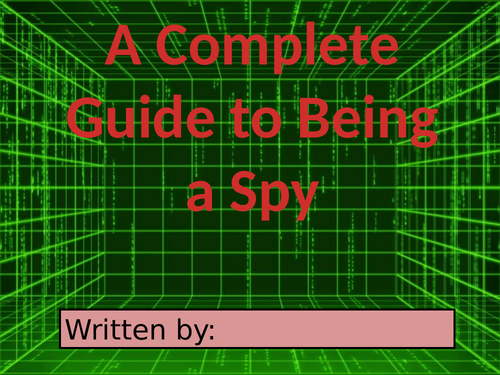 This is a short unit for refreshing using the language of instruction or a simple introduction to. Included: A colourful PowerPoint presentation, complete with WALTs and differentiated WILFs. A fun 'How to Be a Spy' guidebook template I created this for my KS4 SEND class. They really loved it. It was a revision topic more than anything else, so didn't get too much into the nitty gritty. It would suit upper KS2, lower KS3 and EAL students too! The lesson involves a collaborative discussion-based starter, a challenge opportunity and two self-assessment traffic light points to gauge understanding. It could easily run over to two lessons, so could save planning. Please review with feedback or suggestions- I'd really appreciate it. I hope it will afford you a bit of extra (and very well-deserved) time for yourself.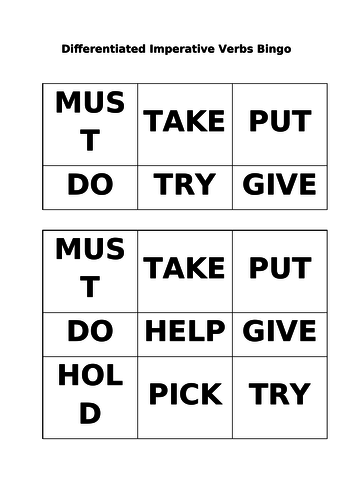 Here is a complete lesson that is fully differentiated and has clear links to the PSHE curriculum too. This lesson was observed by Ofsted and went down very well. Used as a lesson on imperatives with KS3 SEND students, they become agony aunts and answer a dilemma by writing a response. It could used successfully with UKS2, LKS3 and EAL students too! Download includes: WALT and differentiated WILFs (purple = HA, gold = MA and Blue = LA) 3 differentiated letters for the students to respond to (included on presentation slides) Differentiated Bingo Sheets *Bingo sheets and differentiated letters are included as slides after the presentation! I hope it goes well, and more importantly, saves you some crucial time! Please review with feedback and suggestions! I'd really appreciate it.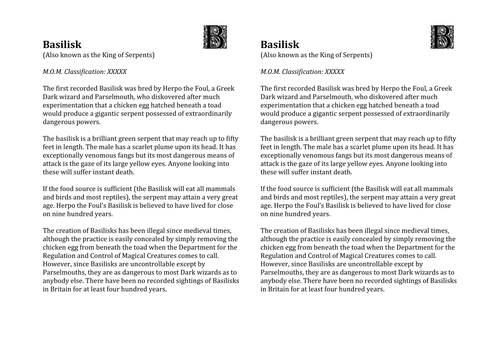 I made this SOW for my Y7s in an inner-city all-boys school as a way of getting them familiar with some canonical gothic literature before they study it later on in KS3. They produced some wonderful writing. Hopefully it will save some time and afford you a glass of wine if you find it useful. Forgive any errors- it was written bleary-eyed in my first HT as an NQT. Some of the videos are long. Start the J&H cartoon at 5mins and the Dracula clip 16mins until 19mins or so. A few bits are lifted from TES, so am carrying on the sharing that has saved me time. Contact me if you need anything else!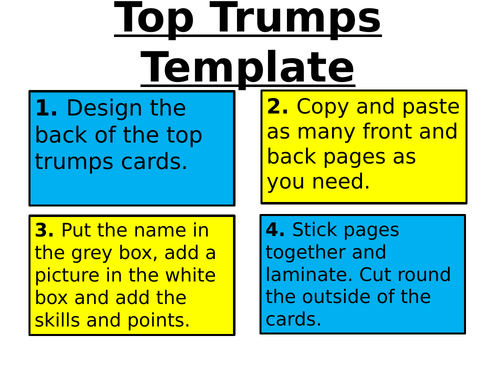 I'm reuploading this resource of a very popular card game template with a different name so I don't get another slap on the wrist! I teach SEND so these are giant sized and good for those students with weaker fine motor skills. It's an engaging activity which takes little planning and is excellent for reinforcing learning/revision/hooking reluctant learners/generating discussions/etc. They're super easy to make- get the students to populate the cards and then print, stick pages together, cut round and laminate two at a time. They can be brought back out for revision of topic areas covered and are suitable and adaptable for all subjects. Enjoy!

Very much as it says on the tin (no whistles or bells)- Behaviour report card template to reinforce good behaviour. I print them out on green, yellow and red card (green 1 week, yellow if it escalates to two weeks and red on two weeks or more). These can be linked to rewards and sanctions etc that you have in your class/school. The timetable is editable so easily adapted- I teach a high school SEND class. On the back page, there are three boxes for comments - one for school, one for home and another for the pupil to self-reflect on their behaviour. Print the file out as a double sided document and flip on the long edge. It is a Publisher file, which is a particularly awful beast at times, so if you need the file on a Word document, let me know and I'll send it over in that format. Hope it helps!

A collection of creative, fun and engaging lessons to build on and consolidate understanding of instructions. Fully differentiated, colourful and visual, these lessons will help your students get comfortable with the topic. I used these with KS4 SEND students, but these resources could work with UKS2, LKS3 and EAL learners.


This is just a pack of ready to fill lesson templates to make life a bit easier for the start of the new academic year. They are all identical and uniform, bar background colour. I've used them for different subjects, but they could easily be for topics/units at secondary level. They have spaces for WALT, WILFs and have traffic light icons for quick AFL opportunities (self-assessment).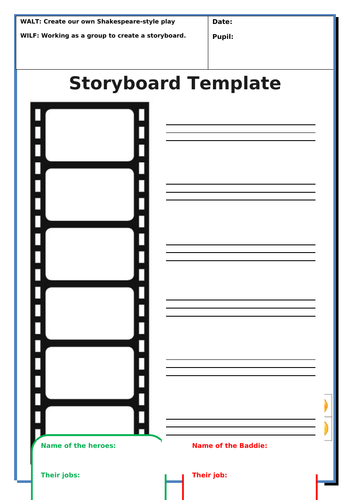 Included are two files to coordinate a lesson where students are given random cards to formulate their own Shakespeare play. The first is a document to cut up and distribute into different envelopes/boxes etc. This includes character names, plots, jobs, antagonists and so on. I've tried to keep them as Shakespearean as possible! The other is a worksheet set that includes a plot mapper and a storyboard that they plan in six parts. I've used this a few times and it's always been brilliant. I split the group into two and call them the Bards and the Players. We have a competition and develop props and staging. There are LOADS of ways you can develop this. I hope you enjoy using this. Please leave feedback or suggestions! It'd be really appreciated.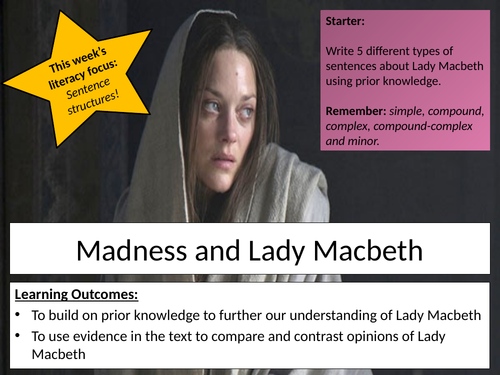 This is a complete lesson aimed at G&T level students that looks at Lady Macbeth and how she could show signs of mental health illness, including PTSD. It encourages higher order thinking and incorporates looking for evidence to match to different diagnoses. There is some reading of theory involved and an element of drama too- the students are to analyse quotes and create a prosecution and defense for Lady Macbeth in a modern court of law. This was an unusual lesson that was graded 'outstanding' in an observation. Included in download: PowerPoint lesson Mental illness conditions and symptoms factsheet Detailed lesson plans Writing frames Peer assessment proformas Hexagon matching task - blank to put quotes of your choice in Academic essay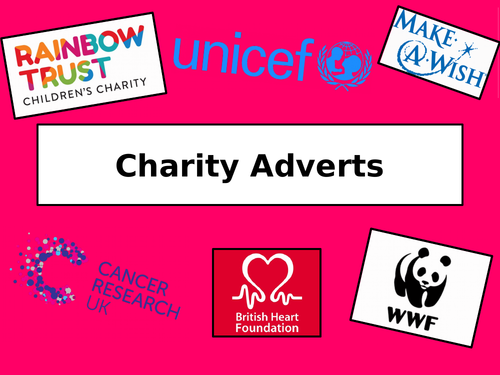 A lesson I made for my KS4 SEND class on Charity, as part of a Different Types of Media unit.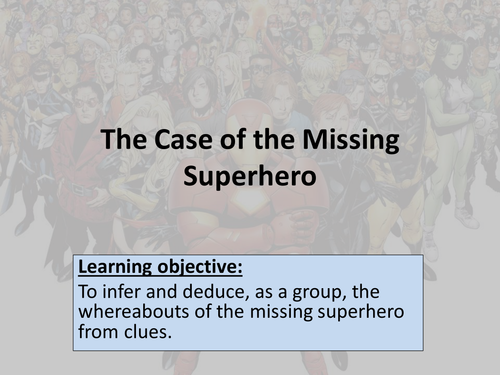 This is a one-off lesson that was team taught by myself and three of my G&T students to my high ability Year 7s. They came to me with an idea for a lesson and they worked on characters and their fact files. I planned the lesson around these and they delivered part of it. They fielded the questions (in costume!) and took on TA roles to make sure all groups knew what they were doing.The answer the newspaper groups should be getting is Idan Trueblade - the jealous best friend. There are some confusing red herrings in there though. This can be easily differentiated down. All handouts are on the presentation. Hope it helps! Any questions or if you need more information, just let me know.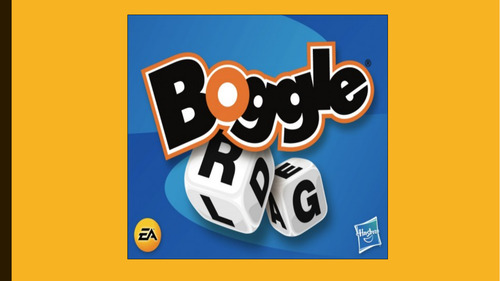 This is a lesson that uses extracts to compare two very different, very gruff characters. It introduces a bit of 19th Century literature too, getting younger KS3 students at least a little familiar with what's in store for them! This download includes: Detailed lesson plan Bright, engaging PowerPoint presentation with differentiated objectives Writing frames Quote sheets Extracts Templates for the Boggle starter Hope it saves you some time. Please feel free to leave feedback or any suggestions. I'd really appreciate that.