EthicsTeacher
Resources linked to: RE/RS Media Studies Skills for Life/PSHE Citizenship
23Uploads
6k+Views
2k+Downloads
Resources linked to: RE/RS Media Studies Skills for Life/PSHE Citizenship

Lesson that deals with the ethical arguments for and against fertility treatments, in particular, debating the ethics of saviour siblings. The lesson is usually accompanied by clips from My Sisters Keeper or other relevant documentaries on saviour siblings. it does include 3 real life profiles that could be investigated further.

PowerPoint lesson to accompany work/videos on the Hajj. The PP presentation includes details of the rituals, key words and final activity which can be used as an assessed piece of work. This PP is used in conjunction with a Chanel 4 programme: The Greatest Trip on Earth. http://www.channel4.com/programmes/the-hajj-the-greatest-trip-on-earth/on-demand/35584-012

Ideally, watch the film Fantastic Mr Fox by Wes Anderson. The powerpoint explores Anderson's use of technical codes and mise-en-scene to tell Mr Fox's story. Questions for pupils to answer and analyse culminating in a review of the film.

2 lessons designed for a year 9 group 'Skills for Life'. it gives an overview of what pressure groups are, lobbying, campaigning and why this method of political activism can be successful.

GCSE AQA *new spec* Powerpoint lesson on Reconciliation and Persecution including religious texts, and links to the AQA course text books.

Simplified lesson introducing Plato's concept of The Cave. This is a lesson that promotes questioning, reflection and group discussion and is a nice starter lesson to developing philosophical thinking.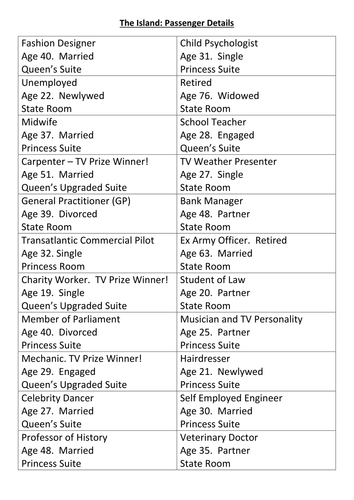 The Island incorporates philosophical thinking with the basics of RE. A 7 lesson KS£ SOW developed from the philosophical scenario where a group of strangers are shipwrecked on an island and must set up a new colony. The work encourages pupils to discuss ethical scenarios, reflect, imagine, question and empathise, and learn the importance of culture, ceremonies and festivals. pack includes a power point guide to each lesson, 2 variations of the same booklet and resources.

Story of Guru Gobind Rai and the creation of the Khalsa. A good starting point for work on religious clothing and sikhism. This lesson has worked well as a basis for discussion around honour and loyalty, presentations or group re-enactments are fun too!

Activity lesson encouraging pupils to examine the concept of truth. What is it? why do people interpret it in different ways? is it easy to define what truth is? The activities are designed to be thought provoking and some are unanswerable. the pack includes a power point, activities and worksheet to collate ideas.

Ideally show the film Wonder Woman (2017) PowerPoint exploring the key scenes, story of Wonder Woman and discussion on the films key themes.

Exploration of The Shining - in particular how the opening scene builds suspense. Use of mise en scene, in particular the use of music. PowerPoint with discussion topics and story boarding task. Basic prior knowledge of technical codes advised.

Citizenship/Skills for Life lesson promoting discussion and learning about different ways to rule. This lesson would work well with current affairs issues.

Lesson designed to introduce different styles of democratic voting; first past the post, Congress/US and Proportional Representation. The lesson is a challenging (but very rewarding) lesson for Year 8s, but can be used with older years. The lesson is for a Citizenship lesson and centred around discussion.

Citizenship/Skills for Life lesson on the different elements of our Government. The power point outlines the different parts and encourages pupils to discuss the pros and cons of having a three tier system of Government.

Ethics based discussion lesson on the arguments surrounding genetic engineering. Designed for a KS4 group.

NEW SPEC AQA GCSE RE Developed for the thematic studies side of the course. Powerpoint on the concepts of stewardship, Dominion and Awe.

NEW SPEC AQA GCSE RS. Lesson on conservation and sustainability. discussion points on how we abuse our planet, as well as ways to help it in the future. Includes links to youtube videos on stewardship, the Wallasea Island Wild Coast Conservation project in Essex and environmental campaign to 'ban the beads'. This lesson could also be used with any subject looking at conservation and environmentalism.

Revision grids designed to revise the QU3/Qu4 style questions on contrasting/similar beliefs on the themes paper. The grids are for all 6 themes and are designed to practice the 3 key topics for each section.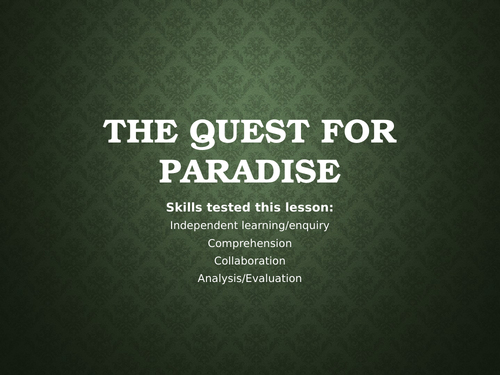 The resource encourages independent enquiry into the beliefs in paradise/heaven from the perspective of the 3 Abrahamic faiths - Christianity, Islam and Judaism. Pupils use information to compare/contrast information, and analyse the similarities/differences between and within religions. The work is suited to KS3 but could be used to support KS4 learning as well. Links to AQA GCSE AO1 question types.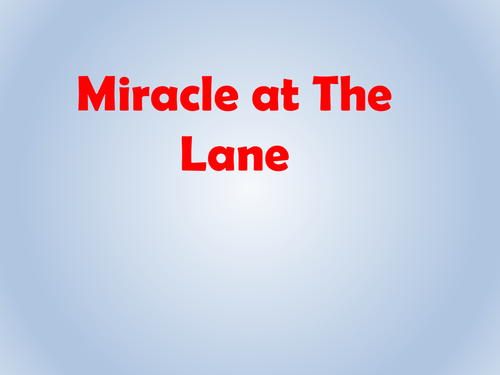 A resource designed to encourage discussion around the topic of miracles. A powerpoint with comprehension and philosophical questions for pupils to debate. Resource on Fabrice Muamba - the story of the footballer who suffered a heartache on the pitch at White Hart Lane in 2012.