17Uploads
11k+Views
576Downloads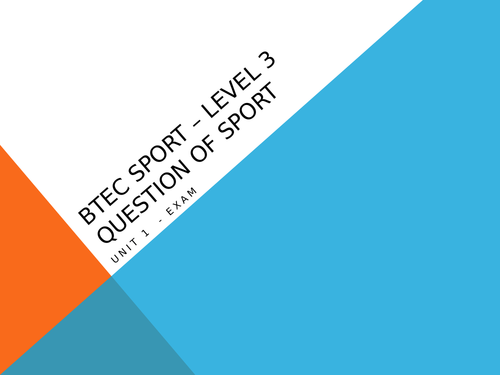 Excellent resource and a great way to summarise all aspects of unit 1. Follows the question of sport format with over a number of rounds. Can be played in small and large groups.
Useful revision cards for BTEC SPORT LEVEL 2 - UNIT 1 EXAM. Perfect for preparing for exam.
All you need to teach Learning Aim A for Unit 6 - Leading Sports Activities Complete work for students to achieve Pass - Distinction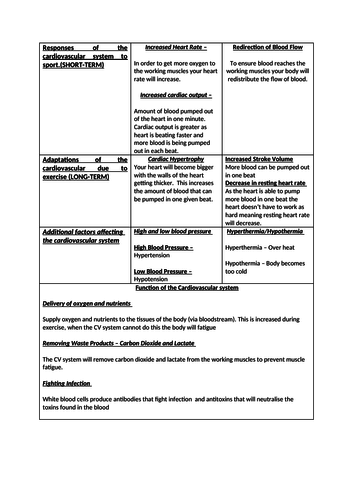 Revision sheets for UNIT 1 exam BTEC SPORT Level 3 Muscles Function of CV System Heart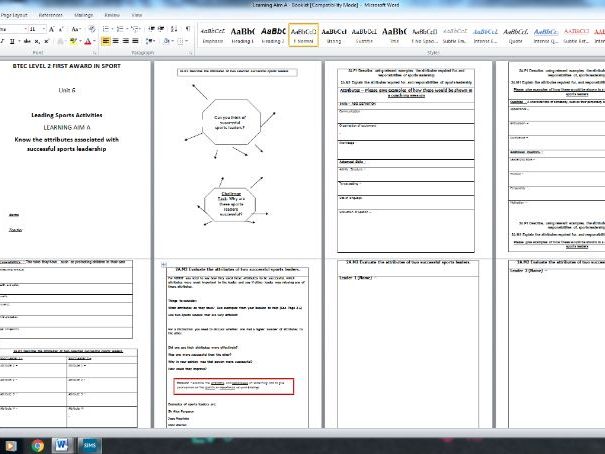 Step by Step booklet for student - UNIT 6 - Leading Sports Activities - 18 Page Booklet Gives students the opportunity to achieve all criteria from Pass - Distinction Has been approved by SV and has enabled a number of students to achieve a distinction
Student booklet that covers all grading criteria for Unit 2 - Practical Sport LEVEL 2 BTEC Sport. Has been I.Vd by standards verifier so is approved. Very useful and easy to follow for less able students. Includes assignment brief.
Tower build challenge Students given a range of famous towers to build Leadership roles also added
TOPIC SHEETS for students. Starter Questions Simple to follow table which allows students to take notes easily. A useful revision resource in preparation for exams. FREE PREZI presentation to match sheet. Please email once purchased aknott5@suttonmail.org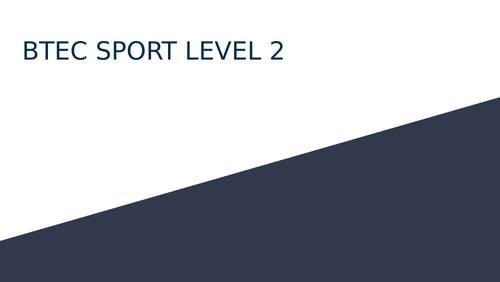 Component 1B - Common Injury PP - 90 Slides The following topics are covered - Injuries Poor Coaching SMART GOALS Basic Rehabilitation Use of Technology Importance of Warm-ups Physiological & Psychological factors (ALL COVERED FROM SPEC) People related risks Includes Do now tasks and AFL questions
Inspirational quotes from famous athletes look great in changing rooms and also on display boards.
Complete step by step SOW with individual theory and practical lessons. Step by Step booklet to support and challenge all learning from Pass - Distinction Approved by S.V on a number of occasions.
KS3 ASSESSMENT BOOKLET MIDDLE & END OF TOPIC ASSESSMENTS (THESE CAN JUST BE PRINTED AND ADDED TO BOOKLET OVER THE YEAR. KEY WORDS ATTACHED TO SUPPORT STUDENTS REFLECTION
PACE SETTING - 800m Times broken down from 100m - 200m - 400m - 800m Gives students a simple to understand of times they need to achieve their chosen time.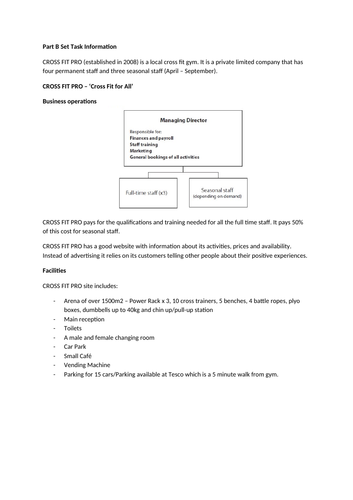 A mock exam for unit 22 - Level 3 BTEC Sport. Includes two business Staffing structure Demographics Products and Services Marketing Financial Records
GCSE PE TOPIC Sheet Can be printed out and used for students to take key notes. I use this as a starter task, students add information they know in Black Pen (5 minutes). Then I teach the lesson and students fill gaps in with Green Pen. Students can Red/Amber/Green (RAG) work at the end of the lesson. This will help them when they come to revise.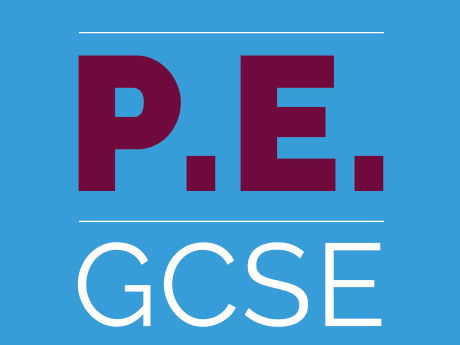 Introduction to GCSE PE lesson Discusses Course Structure Breakdown of modules Expectations