Stewstar73's Shop
AQA Physics. Refunds if not happy!!!!
150Uploads
25k+Views
8k+Downloads
AQA Physics. Refunds if not happy!!!! This took a while! Retrieval practice is the big thing in my school at the moment. Using the AQA KS3 syllabus as a base I have made a scrolling power point that covers all of it. Variety of question types. Looks nice and did I say it scrolls. Bargain.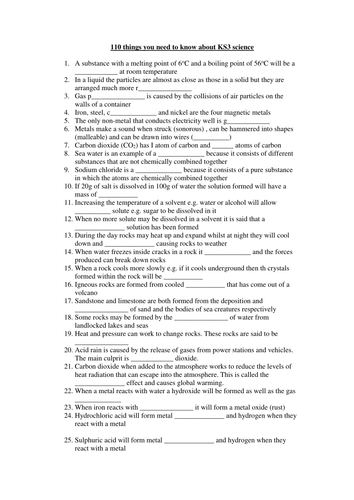 110 things you need to know about KS3 science. A long quiz that can be shortened.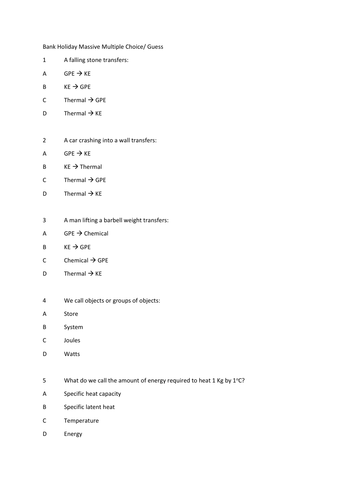 70 questions to check what is known about the syllabus. Ten cover the physics only parts. 670 slides covering the AQA combined syllabus. Pretty much exhaustive covering all of the content. This took a long time. I have done these for physics and KS3 as well. I used a simple version of this the last two years but the images really makes it 'pop' lol. I have it autolooping and used as plenaries. Easily broken down into topics. I have included answers if not obvious. These contain the slides for the content on the 2022 exam. 243 slides. If you like it then the full versions > 800 slides are cheap. Biology, chemistry available too.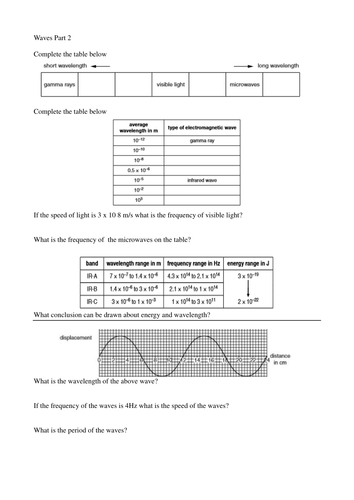 I put this together to get my students ready for their end of topic test. Variety of question styles with plenty of calculations. Is a good couple of lessons work. Simple worksheet covering elastic energy and spring constant. It is broken down into three parts with the answers after each section. Extension section with 2 part calculations. Suitable for lower ability as the numbers are fairly simple. I have highlighted where any unit conversions need to take place.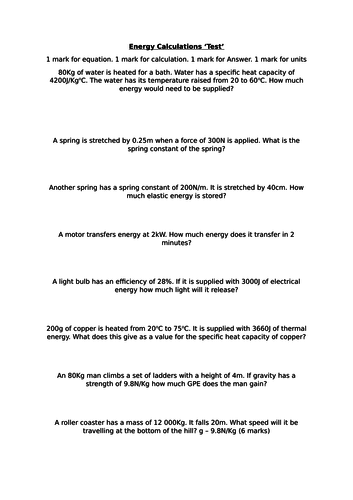 This bad boy looks at the calculations needed for module 1. Unit swaps, formula manipulation are included. I will give the 1st part as a formative type assessment which I will go through and the second half as a marked assessment.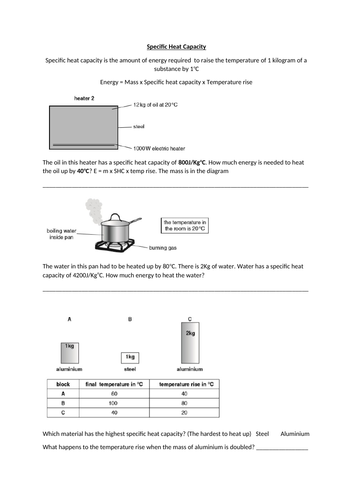 10 sums of increasing difficulty. Equation given. Finishes with a unit recap. <Grade 7 More than you will need!!!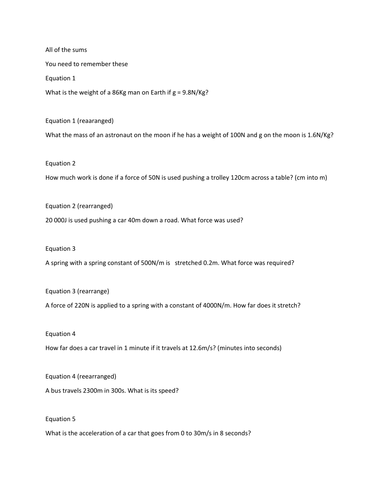 Equations with rearrangements of formula and some magnitude / unit manipulation. Covers the equations that need to be remembered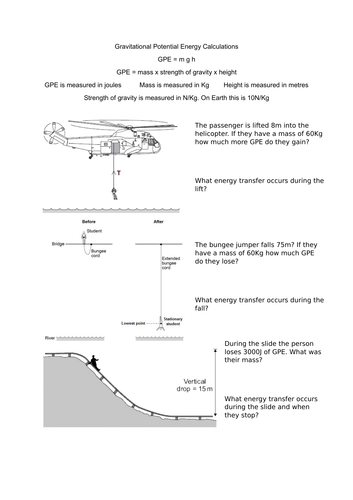 Simple worksheet looking at GPE calculations. These are illustrated with past paper images. Only three examples I'm afraid; the third with a simple rearrangement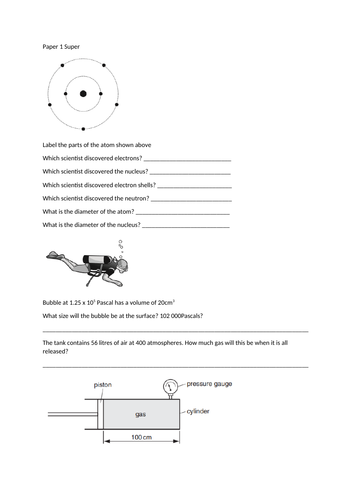 Uses past images with brand new questions. Lots of calculations, graphs and 3-4 mark questions. 2-3 lessons work. Covers circuits, energy calcs and transfers, pressure, density, nuclear equations, half life. Ideal for Triple Award and combined (with a bit of editing). Grade 5+. Good variety of activities. Please review and look at my other stuff.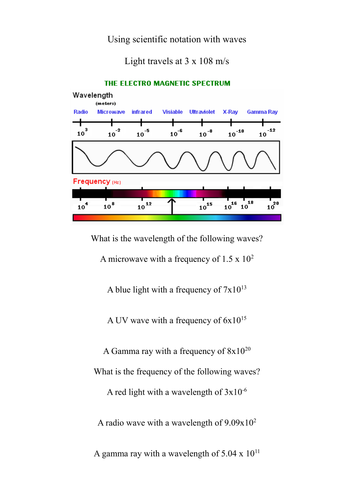 Practice on using scientific notation with regard to waves. On every paper EDEXCEL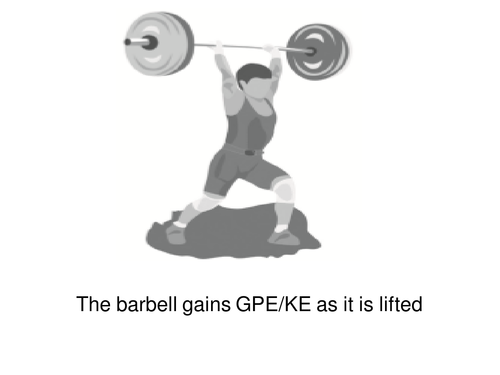 150 revision slides looking at P2. Calculations, questions etc. Uses past exam questions. Lots of content can be covered in a lesson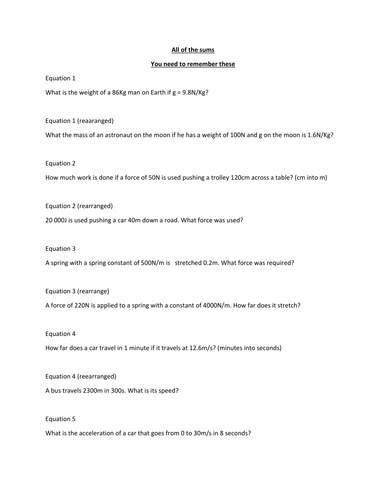 All the equations that need to be are remembered. 2 or 3 examples of each with the equation number given. Rearrangements and units are present in some questions This is a work sheet that covers all the paper 1 calculations. The formulae are given before each section. These are aimed at 7+ students as there are multi-stage calculations which require unit manipulation and substitution. > 25 different calcs.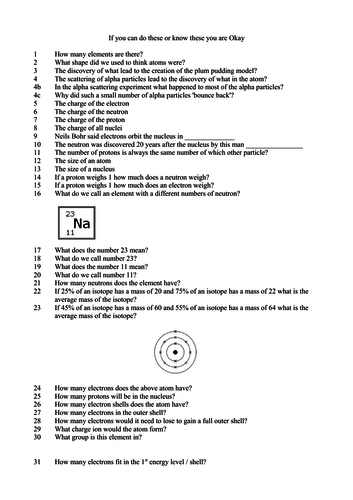 A very exhaustive question bank worksheet looking at the C1 and C2 topics. It covers atomic theory, periodic table and bonding in great detail. Includes a number of diagrams to highlight key features. Lots of forces revision for combined and separate sciences. More questions than any student could do. Goes right up to Grade 9. Bargain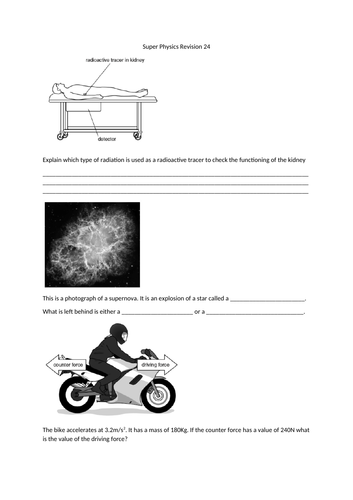 Part of an ongoing series looking at the new spec. Ideal for revision in light of the paucity of past papers. Lots of analysis, long answers and calculations. 6 pages. Please review and look at my other examples.