4Uploads
185Views
7Downloads
Private tutor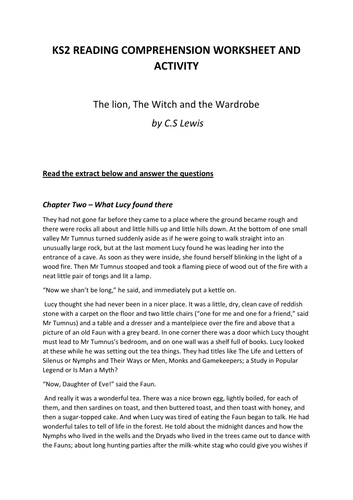 An extract from 'The Lion, The Witch and the Wardrobe' by C.S Lewis. This extract is taken from Chapter two of the book, which is titled 'What Lucy found there.' There are four questions for students to read and answer below. Let them read through the extract carefully and highlight or underline the key words. Make sure to write in full sentences and with correct spelling and punctuation.
KS2 Homophones Worksheet Activity. Sound the words aloud and then match them with the correct pictures. Simple and easy activity for children at KS2 level.
A story map template with a rainbow coloured clouds design. Ideal for KS1 and KS2
Halloween horror creative writing activity. A Halloween themed activity designed for creative thinking and imaginative ideas. There are three story ideas to choose from. Pick a prompt and let your imagination do the rest. Remember to use as many adjectives as you can!