Teaching-ict's Shop
Fun, Creative, Computing and ICT resources
32Uploads
108k+Views
592k+Downloads
Fun, Creative, Computing and ICT resources In this fun unit designed for children aged 6-11, students are introduced to the basics of animation through a fun, practical experience of Pivot Stick Figure Animator. This includes: 5 activity packed lessons Full lesson planning 5 PowerPoint presentations Example projects and characters A complete assessment with grading criteria and spreadsheet! Everything is editable! This has been very popular and your students will love it (and you) Thanks and don't forget to leave a review :) A 7 lesson set of plans, presentations, worksheets, and example projects, this fun unit has all you need. Everything has been updated to support the latest version of Scratch 3.2 - which can be found online, or as an app. I have an older version of this unit for the original version of Scratch available for free download - but I recommend this version to ensure that all activities work with the latest Scratch. I hope you enjoy it. This is a COMPLETE < FUN < PRACTICAL < EDITABLE unit of work. This ICT / Computing unit features five full lessons with planning and PowerPoint presentations, an assessment and two extension lessons. This unit introduces students to FMS LOGO. This is a simple software program with which students can create artistic designs by writing and combining simple commands. It introduces simple programming. This could be used in the upper years of primary/elementary school or in early secondary/middle school. Students learn how to: . Write commands to move the Turtle . Utilise different colours . Use the REPEAT command . Create RANDOM designs . Store and Reuse commands . Program simple music melodies And much much more! Thanks for checking out this resource. If you like this resource (or even if you don't), please don't forget to review it! Thank you :)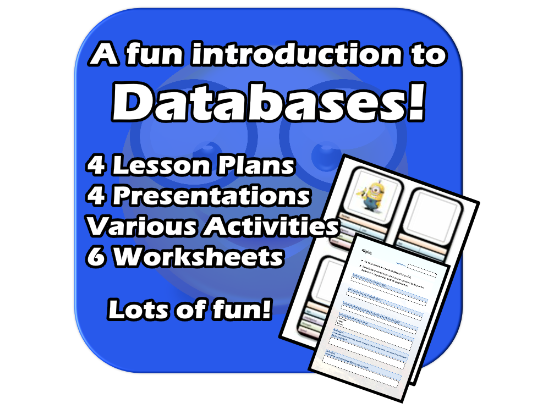 This is a fun 4 lesson unit, introducing students to some practical and helpful uses of databases. Updated for Post-Flash 2021 Students consider: What is a database? How are databases organized? How can I search/sort a database? What are the advantages of computerized databases? Activities include Creating top trumps Creating library cards Searching a library database Finding flights and hotels online Searching and evaluating an animal database Your students will thank you for introducing databases using these fun and practical activities! Thanks for checking out this resource. If you like this resource (or even if you don't), please don't forget to review it! Thank you :) First of all, WATCH THE SOCIAL DILEMMA, on Netflix Seriously, it is one of the most important documentaries you could see. Once you've watched it, show it to your family and friends. Then, teach about it at school! This Social Dilemma package includes: A letter to send out to parents A worksheet to complete while watching the documentary 2 Lesson Plans 2 Presentations An Assessment task Everything is fully editable! Then as a bonus, there is an additional lesson on 'The Facebook Whistleblower' This contains An additional lesson plan An additional presentation I hope you enjoy this package and find it useful. If nothing else, show the documentary, it's worth it! Thanks This is a fun, practical, activity-packed 4 1/2 hour training session for teachers. It is designed to teach educators the basic skills required to use Adobe InDesign through a series of interesting and relevant practical activities that can then be taught to their students. Also included are sample images to use in the activities, as well as written planning to use. Skill up the teachers, use the activities in the class. Please don't forget to review this product :) In this fun lesson, students use the ready-made and fully editable worksheet to answer questions about dinosaurs. All the answers can be found via searching a simple online dinosaur encyclopedia. Included are: . A PowerPoint presentation . 3 page worksheet . Complete lesson plan Your students will love it! Thanks for checking out this, please review the product afterwards :) In this unit, students use computers to produce a selection of images using repeating pattern techniques such as tessellation, symmetry and reflection. Students consider: How can I use technology to produce designs using repeating patterns? How can I use tessellation, symmetry and reflection to create repeating patterns? Where do repeating patterns feature in the world around us? Students will use online resources to create digital wallpapers, snowflakes, kaleidoscopes, art in the style of MC Escher and more… This unit contains a planning document with 4 lesson plans. In addition, a PowerPoint presentation for each lesson is provided and a workbook template in which students save their designs. Everything is EDITABLE!! Thanks for checking out this resource. Updated for 2021 - All links work perfectly and no Flash-based activities If you like this resource (or even if you don't), please don't forget to review it! Thank you :) Updated to the latest version of Scratch 3.2 This is what you've been waiting for… A fun, engaging, intermediate Scratch course focused around 4 major activities. . Creating an AI chat bot. (Based on the Turing Test) . Creating calculators that capture user input . Creating a laser shooting game (utilizing sub-routines) . Creating an assault course - interactive training environment [Assessment] All written planning is included. As are . A PowerPoint Presentation for each activity . A Worksheet/Cheat-sheet for each activity . Pre-made example Scratch projects for each activity The assessment has a task criteria, evaluation document, and spreadsheet for grading. Please leave feedback as you can. Thanks Learn to program with Scratch and Python. **An amazing, engaging, fun and practical 8 hours of training materials! ** Everything is FULLY EDITABLE. This training will teach you programming basics with Scratch and Python side-by-side. Topics include: What is programming and why is it important What is Python? How to create first program What is Scratch (Drag and Drop Coding Environment)? Creating first Scratch programs Using Scratch and Python, how do I: Output text to a screen Capture user input Use variables to hold data Write comments to make my code easier to understand What are conditional Statements? How does IF THEN ELSE work in Scratch and Python? What are some loops used in Python and Scratch? How can I make programming relevant? Example projects are included! **All example Scratch files can be downloaded here https://1drv.ms/u/s!Auk1cHbpCtMtiHGFWnxXLM0GYcWi?e=g7Mo7C Please don't forget to leave a review, thanks! ****Fun activities for teachers to use in the classroom when teaching Photoshop and InDesign. Learn the basics, try out some skills, take the activites and use them in your class. All you could need with fully editable planning, presentations and examples! Please don't forget to leave a review, thanks:) Wow! This is all unit need to teach your elementary students how to create a newspaper using Microsoft Word! (2022 Edition) There are 8 fun and engaging lessons - each with a written plan and presentation. Plus, 3 worksheets. 1 Quiz. A spreadsheet for grading and more! Students can produce a newspaper about a country of interest, or really any topic you like! This unit will help them learn all the knowledge and skills they need including: The essential components of a newspaper The reason that we read newspapers The different ways/technologies that are used to read the news How to insert and modify shapes and use Word Art. How to add columns and format text How to insert images and edit them How to use text boxes and format the text within them How to copy and selectively paste information from the Internet How to 'Wrap text' around elements How to add footers to documents Please don't forget to leave a review! Thanks! A fantastic, unit of work!! Students spend multiple lessons learning how to run a small business. This unit is PACKED full of fun, and practical activities. Topics include - Creating a business idea and proposal Quantitative and qualitative research Creating advertizing materials to promote your business Recording your business journey in a project journal Keeping accounts of income and expenditure ICT Skills - across a variety of different software Presenting your business successes and limitations in an oral presentation Evaluating your business Everything is included for you to teach 10+ hours PowerPoint Presentations Complete and EDITABLE written planning Grading Criteria Extension Task Worksheets for students And much more!! Don't forget to leave a review! A complete, fun, and practical 7 lesson course for introducing young children to typing. There are a range of activities, sorted into lessons to build the students proficiency in typing through fun and interactive, mostly online, free games and applications. For each lesson there is: . A Lesson Plan . A PowerPoint presentation . Several computer-based activities and games to complete Everything is completely editable! THIS HAS BEEN UPDATED FOR 2021 - ALL LINKS AND GAMES WORK PERFECTLY !!! (No Flash activities) If you like this resource (or even if you don't), please don't forget to review it! Thank you :) In this excellent 9 lesson unit students are introduced to Windows Paint. All planning, presentations and activities are provided. They are all EDITABLE! They have been updated in DEC 2020. Activities include • Matching the traditional brush to the computer counterpart • Produce simple firework displays using the fill tool and the brush tool • Representing the work of different artists (Mondrian, Seurat, Kadinsky). Produce a class display based upon Kadinsky's 1913 work 'Concentric Circles' • Using the eraser to edit an image • Using the eraser to draw a picture (white on black) • Creating scenes and landscapes based upon original imagery or photographs • Copying and Pasting Faces and changing their emotions • Creating art that 'feels' like a certain emotion • Creating custom colors and rainbows • Quiz of Windows Paint Tools • Opening and coloring, and adapting templates. • Assessment piece – combining skills to produce a self-portrait • Creating posters to promote school values • Creating animations using SaveAs Thanks for checking out this resource. If you like this resource (or even if you don't), please don't forget to review it! Thank you :) In this engaging training for teachers, participants consider: Their own biases and how best to support students from different backgrounds. How students differ as individual learners and how to help them achieve their potential. It includes a large section on differentiation techniques. This training is full of practical activities and thought-provoking discussions. Everything is fully EDITABLE and ready to go. This is ideal for your staff training and professional development. Everything you could need to teach a fun lesson creating timelines in Microsoft PowerPoint of important technological advances. Included and fully EDITABLE . Lesson Plan . Presentation . Example timeline . Images for use . Worksheet to complete This lesson could also be easily adapted for another timeline context. Lots of scope for fun and creativity.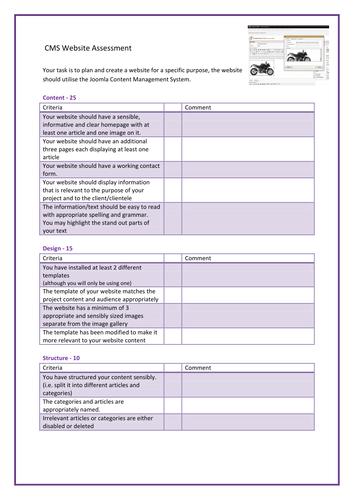 This is a fun & complete unit – planning, activities, assessment, presentations and more :) The purpose of this unit is for students to learn how to create a website using Joomla CMS for a specific person/purpose. This skills learnt in this unit are used by professional web developers all over the world. This unit has been written for upper school and post-16 students.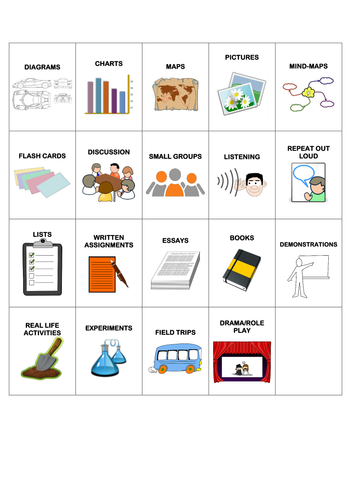 This is a fun resource to use with students or practitioners. Students/teachers are to match the various different learning activity cards to the learning styles grid. I've found that this simple activity can generate excellent discussion. ------ All images are provided royalty free from pixabay.com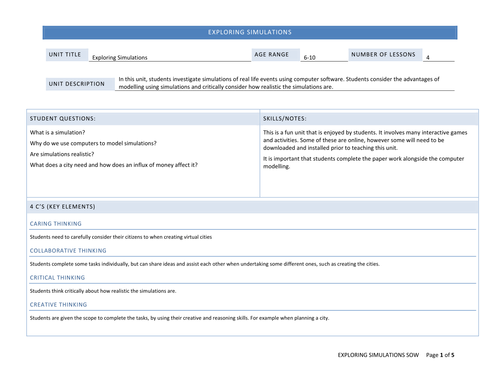 This 4 lesson unit contains all relevant planning, presentations and activities. In this fun unit, students investigate simulations of real life events using computer software. Students consider the advantages of modelling using simulations and critically consider how realistic the simulations are.