57Uploads
10k+Views
2k+Downloads
A Maths Mystery for Christmas using problems on map coordinates , metric measurements and fraction conversions to find the correct code to gain each clue. Can you find out which type of cookies were taken from Santa's workshop and solve the mystery of the cookie culprit? There are 5 clues to solve: 1. Metric Units of length 2. Graphing Problems 3. Metric Unit Conversion 4. Using Coordinate Graphs 5. Fractions Decimals and Percentages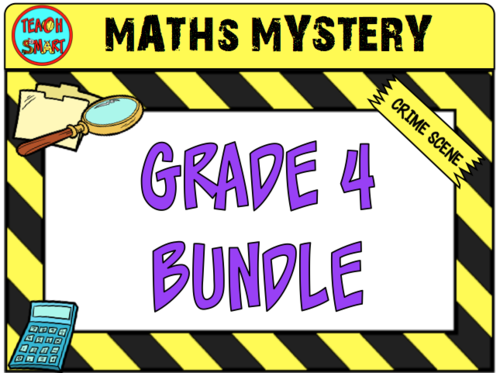 5 different maths mysteries saving 50%
A set of 4 revision jigsaws covering the key ideas on: - Energy transfers -Energy and efficiency -Electrical Appliances -Generating Electricity
A winter maths mystery using codes and puzzles. Can you discover which snowman has snuck into your house for a hot drink? Use the number grid and the code wheel to read the clues and solve the mystery There are 5 clues to solve: 1. Generating Maths Patterns From Rules 2. Multi-Digit Multiplication 3. Decimal Word Problems 4. Decimal Division 5. Conversion Between Decimals, Fractions, Percentages You can find other levels of this maths mystery here: Year 3 Year 4 Year 5 Year 6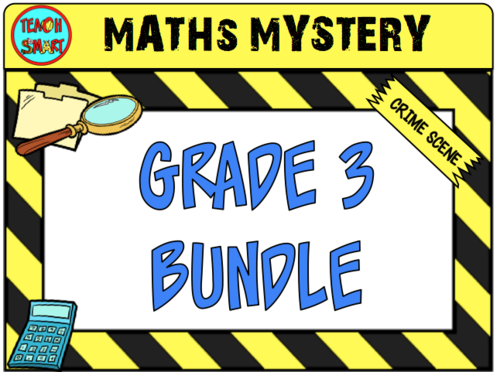 6 maths mysteries. Save 50%
"Curiouser and curiouser!" Go through an interactive journey with Alice through Wonderland as you show students about planning a science investigation. Find out about forces as Alice falls down the rabbit hole Discover dissolving at the Mad hatter's tea party Read about roses in the Red Queen's garden. Ideas include types of variables, fair testing, safety precautions, choosing a graph, analysing results and improvements. Student worksheets included.
As head of Santa's Toy Testing department your team has been working hard in the weeks leading up to Christmas. To reward your team you've made some freshly baked cookies to enjoy on their break. However it seems some of them were taken while everyone was busy. Can you find out which type of cookies were taken and solve the mystery of the cookie culprit? There are 5 clues to solve: 1. Measuring Lengths using Rulers 2. Area of Rectangles 3. Interpreting Pie Charts 4. Categories of Shapes 5. Visual fractions of Shapes This activity is available for the following years: Year 3 Year 4 Year 5 Year 6
An engaging set of activities focussed on antonyms and synonyms. Includes 40 bingo cards on varied antonym pairs. Also includes an I have who has activity and matching puzzle. Other Bingo Activities: Animal Bingo (1-4) Space Bingo (4-7) Antonyms Bingo (1-4) Onomatopoeia Sound Bingo (1-4) Christmas Maths Bingo (3-6)
A who wants to be a millionaire style spooky halloween quiz! In total there are 8 sets of 4 questions. Require an interactive whiteboard and PPT. The questions are on general science with fully clickable answers for use on interactive smartboards. The science questions covered can be edited to suit your own lesson! For best effect for Halloween use with sound on and the lights down!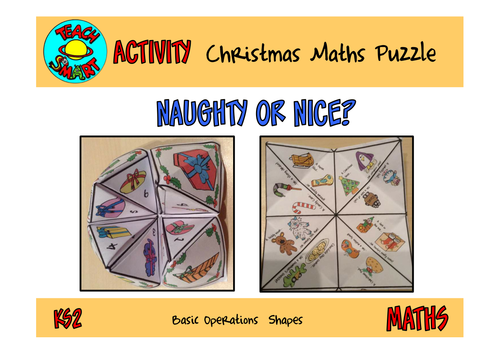 A fun Christmas game which can be used for practice with maths questions on shapes or basic operations. Depending on the answer students either get a "nice" or "naughty" gift. Comes in colour and black and white versions.
Maths Mystery The Case of the Pizza Thief Year 5 Can you solve the mystery of who has been taking pizza from your restaurant? There are 6 math clues to solve: 1 Multiplication and factors 2 Measuring Volume and Division 3 Finding area and perimeter for varied shapes 4 Predicting Patterns and Sequences 5 Showing equivalent and simplest fractions 6 Finding missing angles )
A Math Mystery for Christmas using problems on area, shape and fractions to find the correct code to gain each clue. Can you find out which type of cookies were taken from Santa's workshop and solve the mystery of the cookie culprit? There are 5 clues to solve: 1. Measuring of Length 2. Area of Rectangles 3. Reading Data Tables 4. Fractions of Shapes 5. Data Charts This activity is available for the following years: Year 3 Year 4 Year 5 Year 6
A winter maths mystery using codes and puzzles. Can you discover which snowman has snuck into your house for a hot drink? Use the number grid and the code wheel to solve the clues and solve the mystery. There are 5 clues to solve: Triple digit division Factors, prime and square numbers Pre algebraic number sequence Math rules and patterns Fractions, decimals and percentages You can find other levels of this maths mystery here: Year 3 Year 4 Year 5 Year 6
Can you solve the mystery of who has been taking pizza from your restaurant? There are 6 math clues to solve: 1.Multiplication 2 Measuring Volume 3 Identifying different shapes 4 Using pie and bar charts, tables and data 5 Division with remainders 6 Clocks and time difference
This interactive notebook uses cut and stick activities to help your class learn about sound and waves. -Investigate ..the sound waves produced by different musical instruments -Describe .. the loudness and frequency of each musical instrument -Explain.. how a sound is heard by the ear -Apply..data to a chart of the hearing range of different animals -Link.. ideas about light and sound to thunder and lightning
The interactive notebook will help your class learn about different types of dinosaurs ,their prehistoric timeline and their adaptations.Includes 20 different dinosaur fact cards. Investigate different types of prehistoric creatures Describe the meaning of dinosaur names Explain the adaptations of some dinosaurs Apply data to make a prehistoric timeline Link similarities and differences about carnivores and herbivores using Venn diagrams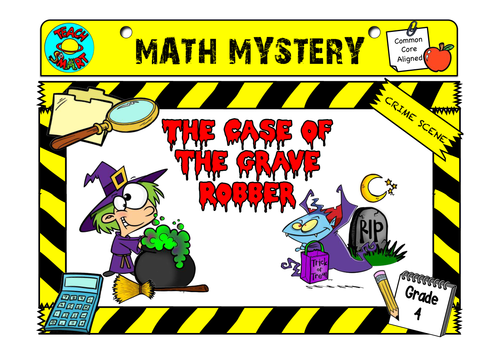 Halloween Math Mystery- The Case of the Grave Robber Grade 4 (US Version) Who has hidden all your Halloween party things? Solve each set of math puzzles to reveal clues that will help you identify who took each item and where it has been hidden. Use your map to find the grid reference from each puzzle. Will you solve the case before the Halloween Party ends? Cover common core standards: Putrid Prime numbers (4.OA.B.4) Demonic Division (4.NBT.6) Frightful Fractions (4.NF.4)
Can you solve the mystery of who has been taking pizza from your restaurant? Solve the maths question to find each clue. Use your detective skills to identify who the culprit was by process of elimination. There are 6 math clues to solve: 1 Multiplication and factors 2 Describing features of 2D shapes 3 Measuring length in mm and cm 4 Showing Sequences and rules 5 Adding, subtracting and multiplying fractions 6 Showing fractions as decimals and percentages
Can find out who your mystery Valentine is? Solve each set of problems to find out a useful clue! Use the clues to match up each pair of animals. - Chocolate box challenge x 3 - Fractions, decimals and percentages - Price Problems - Triple digits divived by single digits - Valentine's Card Puzzles Extension task
Can you solve the mystery of the missing tarts? A plate of tarts has been lost somewhere in Wonderland. Using 6 different math clues and a map to track them down. Who might have eaten them? Topics covered: Recognising and Drawing Shapes Odd and Even Numbers Mixed Skip Counting Addition and Subtraction